The OXVA XLIM Pod Kit is the latest release from this quite young vape brand who have hit the market with a Bang!
So far we have reviewed the Arbiter Solo RTA, Velocity Pod Kit, Arbiter RTA, Origin X and Origin AIO and been impressed with the quality of their devices.
What To Expect From The OXVA XLIM Pod Kit…
As you can see this is a pod kit but does appear to have a few more features than the most basic kits provide.
For a start there is an 0.42in OLED screen to display your vaping data and you can adjust the wattage output from 5 to 25W.
Another great feature is the airflow control located on the side of the device to allow you to adjust the airflow to your preference.
Inside the mod is a 900mAh battery which is charged via the USB Type C port at up to a 1A charge rate.
This uses refillable but disposable pods. Basically when the coil performance has deteriorated over time you do not need to get your hands mucky changing a coil. You simply discard the whole pod section.
As mentioned this is refillable – there are 2 capacity options which seem to tie in with the filling style. The 2ml pod has a top fill port whereas the 1.6ml version has a "PTF" (Push To Fill) port. This is like a one-way valve which you open by inserting the e-liquid bottle nozzle when filling. It then closes to help prevent leaking and access to the chamber by children.
There are 2 different pod types – both included in the kit – the 0.8ohm pod has an 0.8ohm Kanthal Coil and is best at 12-16W. There is also the 1.2ohm pod – again with a Kanthal coil and is rated 10-12W.
Here is an introduction from the OXVA Official YouTube channel.
There are 6 colours to choose from: Silver, Rose Blue, Green, Dark Blue, Gunmetal and Black.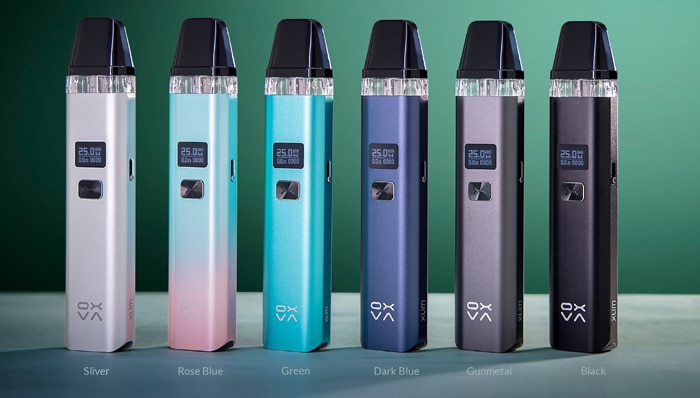 Kit Includes
OXVA XLIM device
0.8ohm pod (installed)
1.2ohm pod
USB Type C cable
User manual
OXVA XLIM Pod Kit Specs
Size: 111x24x14mm
Output: 5-25WVW
Battery: 900mAh
Capacity: 2ml (standard) / 1.6ml (childproof Push To Fill – PTF)
Display: 0.42in OLED Screen
Resistance range: Not specified
USB Type C port – 1A charge rate
Pods: Refillable, replaceable coil
Coils: 1.2ohm, 1.8ohm mesh coils
Adjustable airflow
Auto draw or button activation
Top fill

So on first glance this is a simple familiar pod kit – but looking closer this could be like the Uwell Caliburn but with more features?
Let me know your thoughts on the OXVA XLIM Pod Kit in the comments below!