Vaping News Headlines:
Complete US Flavour Ban? | New US Law For Online Vape Sales | Is JUUL In Crisis? | UK Smokers Told Vaping Is Safe | "There Is No Vaping Illness" Video and UK Vaper Expo The Return
Trump Urged To Ban ALL Flavoured Vape Products
America's anti-vaping lobby has contacted President Trump demanding he follows through with his and the First Lady's call to ban all flavoured vape products.
50 health and advocacy groups have written to the US Health and Human Services Secretary Alex Azar and Melania Trump.
It was reported earlier this week that Trump – fearful of a #WeVapeWeVote backlash which could cost him next year's election – might be backing down on the idea of a complete flavour ban.
As always with the 'Donald' things are very confusing.
After his now infamous White House press conference where he called for a total flavour ban – he immediately backtracked on Twitter suggesting he thought vaping was good.
Except the counterfeit and deadly THC cartridges and that it should be kept away from the kids.
Then we had Melania meeting with anti-vaping kids groups and likening it to 'drug addiction'!
Like I say things are always confusing when the Trump's are involved.
What we do know is the pressure from this letter could have a major impact on any decision taken.
The groups signing the letters are a powerful bunch including: the American Academy of Pediatrics, the American Heart Association, the American Lung Association, the American Medical Association, the American Cancer Society Cancer Action Network, the Campaign for Tobacco-Free Kids and the National Association for the Advancement of Colored People (NAACP).
They are calling for a COMPLETE flavour ban to include menthol and tobacco flavoured e-liquids – obviously ignoring the fact lit tobacco will remain on sale.
Part of the letter reads:
A policy that does not remove all flavored e-cigarettes will not solve the current epidemic of youth e-cigarette use.

Youth who now use mint and menthol e-cigarettes will continue to do so, and youth who use flavors that are removed from the market will simply switch to mint and menthol.
Gregory Conley, president of the American Vaping Association responded:
A ban on flavored nicotine vapes will have zero impact on the health crisis we are seeing with illegal THC cartridges.

What this will do is deprive many adult ex-smokers of the vape flavors they rely upon to stay smoke-free.
Absolutely.
As I've said, it's all very confusing over there with the FDA saying 'No Ban' planned and accepting costly PMTA submissions – whilst the White House is leaking suggestions it could ban everything but menthol and tobacco!
As always we'll keep you informed of any developments.
America Tightens Laws On Online Vape Sales
New lesgislation has been passed in America that could eventually mean an adult will have to sign for any vape related delivery.
The legislation is known as the Preventing Online Sales of E-Cigarettes to Children Act, and was co-sponsored by Rosa DeLauro – U.S. House of Representative from Connecticut.
All vaping products including pod kits – e-liquids and mods would be included – not sure about hoodies caps and t-shirts lol – and DeLauro said:
This legislation is not a silver bullet to end the youth vaping epidemic — which is why I have called for a ban on all e-cigarette products and comprehensive legislation to address the issue — but it is a good start.
Can't really argue with the idea, lets hope it goes someway to stop the current hysteria over the pond.
JUUL Sees Resignations and Job Cuts As Crisis Deepens
As the e-cigarette panic over in the states continues, vape giant JUUL is to lay-off 500 staff around 15% of its workforce.
Not only that a number of key managers have also resigned leaving investors nervous.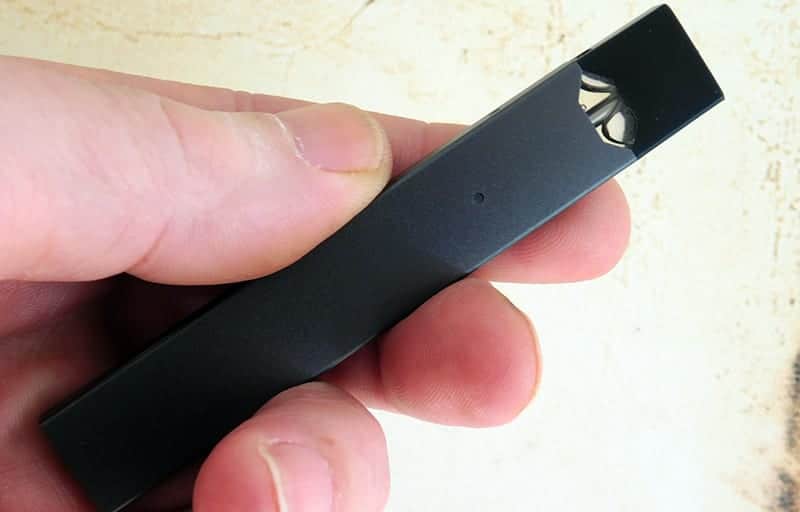 Those who left the company include the Chief Administrative and Finance Officers and also the Chief Marketing Officer.
Big Tobacco company Altria invested over $12billion in the company this year giving them a 35% stake.
And with profits in the company falling by 6% already this year – investors are anxiously waiting for its 3rd quarter report.
Yahoo Finance says major changes are needed to placate investors:
Altria's investment in JUUL continues to unravel before our own eyes as the onslaught of regulatory scrutiny continues to impact the young company's operations.

JUUL is in complete rebuild mode as it makes the cuts necessary to completely restructure the business from the ground up.

Bringing in new faces to the company as well as rebuilding the company to better appease the concerned public will be crucial to salvaging the battered start-up.
Interesting times for the company that seems to have dominated vaping in such a short time…
UK Smokers Urged To Make the Switch As Vaping Is MUCH Safer
Public Health England has once again told vapers to carry on vaping and smokers should not be concerned about the safety of e-cigarettes.
The current health scare in America has, as we all now know, been linked to illegally bought contaminated cannabis cartridges and NOT regular nicotine vape products.
With around 3.6 million vapers in the UK and upwards of 6 million smokers, PHE is concerned that lit tobacco users won't make the switch and e-cig users might go back to smoking.
Professor John Newton from Public Health England once again said vaping, whilst not risk free, is still 95% safer than smoking:
We are as certain as ever that e-cigarettes are far less harmful than smoking.

Smokers should consider switching completely and vapers should stop smoking.

We are as certain as ever that e-cigarettes are far less harmful than smoking, which kills almost 220 people in England every day.

Our concern is that the responses we have seen to the problem in the US and in other countries may increase the already widespread misunderstanding about the relative safety of nicotine e-cigarettes, deterring smokers from switching and risk driving vapers who have switched back to smoking.

There is a real risk therefore that such a reaction will mean people continue to smoke, which will undoubtedly put lives at risk.
How true is that!
I have noticed a few mainstream media sites reporting the true facts around the outbreak in America, sadly those facts tend to be buried and the work is already done on tarnishing the name of vaping.
There Is NO Vaping Illness – Vape Video of the Week
Vaping is a small world and I had a very long and detailed 'off the record' chat with Vape Club / Vape Base's Steve Prescott about all things vape at Vaper Expo.
It was a very interesting conversation it's a shame I had to run for a train before catching up with their stand – next time!
He mentioned Vape Club was now doing regular vape related videos one of which has just gone viral.
I promised to have a look and indeed feature it in the news – see below 🙂
To show just how small a community vaping is – I just had the video sent to me by JUUL's Paul Gray!
Make sure you share this one far and wide on ALL of your social media platforms – shows without doubt what that US vape scare is all about!
and finally…UK Vaper Expo 2019 – The Return
I spent Friday and Saturday at the event and had a great time.
I wasn't able to rush around like I usually do – or spend as long – given my bloody back lol – and missed more than a few choice items.
And indeed managed to miss all of the EcigClick reviewers who were there – sorry guys maybe in May – and a whole host of other reviewers!
I did spot the big 4 new releases – see my Vaper Expo 2019 write up for those and a load more photos and things that caught my eye.
I might be a bit out of touch with the YouTube vape review scene because every time I wandered past the 'Media Area' I barely recognized a soul – but then I am old lol.
Having missed the Expo in May I was glad to be back and made some great new contacts and I'm pleased to say my back held out…kind of 😉
The UK Vaper Expo returns in February 2020 in a new venue in London but will of course be back next May at the NEC so hopefully see you there!
More Vape News on Sunday!