Now's a good time to ask what is the best menthol vape juice on the market..?
The reason being, as of May 20th 2020, all menthol flavoured lit cigarettes and rolling tobacco will be banned across Europe!
The ban is one of the last acts of the original Tobacco Product Directive EU legislation [TPD] – so it wasn't just about vapers and vaping – smokers have been hit too.
Despite the UK leaving the EU – eventually lol – the UK Government is not even considering lifting the ban as it works towards a 'Smoke Free Generation' by 2022.
As you might expect, Big Tobacco is working overtime to get around the ban, for instance 'minty' cardboard 'inserts' are currently being sold , as to if they will remain on sale no-one knows.
Given EcigClick is an e-cigarette and vaping website [well spotted me lol] – we are committed as a team to help and encourage smokers to quit and make the switch.
So if you smoke menthol flavoured lit cigarettes or rolling tobacco, now would be the perfect time to make the switch.
OK, so let's take a look at four of what we think are indeed the very best menthol vape juice.
1. JAC Vapour Originals – Classic Menthol [Editors Choice]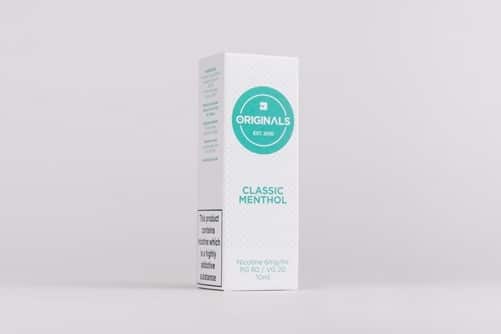 From Scotland based JAC Vapour, this one won't hurt your pocket, but is still a premium tasting menthol e-liquid.
As the name suggests, this one's from the Original line of e-liquids that helped put the company on the map.
Trust me, I've reviewed many of their juices and vape kits and rated them all extremely highly.
Indeed it was an early JAC Vapour kit that got me off the ciggies for good – take a bow the original Series E kit!
I reviewed the Jac Vapour Menthol Original e-liquid and reckoned this one really was strong!
Not harsh in any way – just a real smash of menthol on the inhale – a fantastic throat hit and a real brain freeze on the exhale.
If you like a really strong menthol flavour, this is definitely one for you – cheap as the proverbial chips too.
BTW, I HIGHLY recommend matching this e-liquid up with the awesome and dead easy to use JAC Vapour Vim AIO kit 😉
2. Dinner Lady – Ice Menthol [Best Value]
If you are new to vaping then Dinner Lady is one of the best selling e-liquid brands in the UK today. Originally known for their best selling Lemon Tart flavour they have branched out to cover all flavour profiles over the years.
Good news is they do well with pretty much all flavours they turn their hand to. They have a number of Menthol flavoured e-liquids and while all were good (all scoring 8+ on our recent review) we found Ice Menthol to be the one to do the job of replicating.
If you are a menthol vape fan then they have 5 options to keep you busy. Highly recommended.

3. Black Note V Line Reggae [Best Authentic Menthol E Juice]
Black Note e-liquids are the connoisseurs pick when it comes to NET e-liquids.
NET stands for Naturally Extracted Tobacco and the result is exactly what you'd expect – the closest you can get to the real taste of a lit cigarette or pipe.
I recently reviewed the Black Note V Line and despite not being a big fan of menthol flavoured e-liquids – this one won me over.
Rather than that ice cold brain freeze shudder on some menthol juices out there, this one is a magical blend.
With a perfect mix of tobacco, peppermint, spearmint and menthe, this one simply dances off the tongue.
It's a smooth vape for sure, but with that nice little throat hit smokers crave.
Put this one on top of your list – decent price too.
4. Black Note Solo [Best Premium Menthol E-Liquid]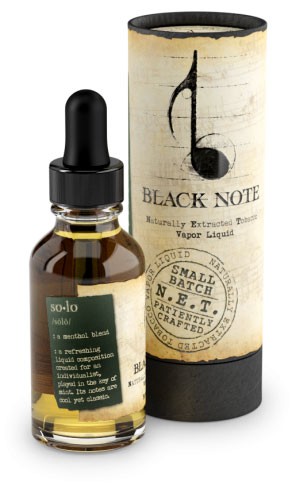 With it's mildish Virginia tobacco flavour as it's base, you might expect this one to be a little shall we say tame for smokers used to a real whack of menthol.
Far from it, our reviewer reckons this is as close as you can get to a real menthol flavoured tobacco.
It's the layer upon layer of different menthol oils that gives this one a smoky yet powerful punch.
If you like a good throat hit, this is one you really should consider especially if you like an icy blast on the exhale.
It's from the premium Black Note range, so will cost you a little more, but still way cheaper than a packet of menthol lit cigarettes.
This one definitely deserves its place among the best menthol e-liquids.
5. Apollo Tobacco – Menthol Salt Nic [Best Fruit Menthol E Juice]
Michelle was extremely surprised by just how good the Apollo Tobacco Menthol e-liquid tasted to say the least!
She was a little concerned at the smell coming from the bottle, but that first hit won her over.
A wonderful balance of menthol and tobacco flavours that just fall short of an absolute brain freeze.
Nicotine Salts are a newish type of e-liquid that in a nutshell means you can get a stronger nicotine strength without the harshness some juice can give.
However the clever and careful blending means that even the lovers of an ice cold blast will enjoy this one.
Great value too, so definitely worthy of it's place on our best menthol e-liquids list 🙂
Best Menthol E Juice – Final Thoughts
If you're a regular menthol flavoured lit tobacco smoker, you might see the upcoming ban as a crying shame and even feel angry about it.
Rather than do that, realise this really IS the perfect time to start making the switch to e-cigarettes.
I used the words 'making a start' – and trust me the quit smoking journey begins with little steps, or as we call it in vaping being a 'dual user'.
By that I mean, start using menthol flavoured e-juice in a simple vape starter kit NOW and you've got around 6 weeks to wean yourself off BEFORE the ban comes in.
For the majority of vapers, that's how we quit – some of the luckier ones can simply make the switch no bother – if that works for you then great!
BTW – if you're looking for an e-cigarette, you can see some our our best pod systems or a vape that is good For beginners to match with these menthol e-liquids – click the links! There's one there to suit every taste…
Despite what you read, see or hear in the media, vaping is considerably better for your health than smoking – and much cheaper too.
And if you have any questions at all about vaping, one of us, usually Jonny lol, is around to answer your questions – no matter how silly you might think they are!
Remember the old saying, the only silly question – is the one not asked 😉
I hope you enjoyed our look at what we think are four of the best menthol flavoured vape juice out there.
And remember, taste is subjective – what we like you might not and vice versa 🙂
So…did your top menthol flavoured e-juice make the short-list?
Can you recommend one?
Let us know in the comments below – you will definitely be helping a smoker quit 😉