It's safe to say the quest to build the best vape mods are well and truly on.
This is great news for us, the vaper, but the sheer number of devices can make things very confusing when it comes to making a purchase.
So What are the Best Vape Mods? We Take A Look At Our Top Picks For 2023
If you have found this page then you are no doubt looking for the best box mod available.
The good news is we have used and reviewed over 480 vape mods, it's a hard life but someone has to do it! From the devices tested here are our top rated mods..
DEVICE
FEATURES

Water/dust/shock resistant
Updated version of a best seller
Excellent build quality
Large TFT colour display
Powered by dual 18650 batteries
UK – Free shipping options
R.O.W – Save 10% With Code ECC

Compact Device
Dual 18650 batteries
Beautiful Design with great screen
UK – Free Shipping
R.O.W – Save 10% With Code ECC

2550mAh Integrated Battery – Long battery life
Compact device
Superb build quality
Save with code ECC

Integrated battery
Easy to use for new vapers
Great design and build quality
New customers save 15% with code ECC

BEST Built-In Battery Mod

Compact, portable device
Excellent performance
Large, clear display
Powered by 3000mAh Integrated battery
UK – Free Shipping
Save with code ECC
1. Geekvape Aegis Legend 2 – [Editors Choice]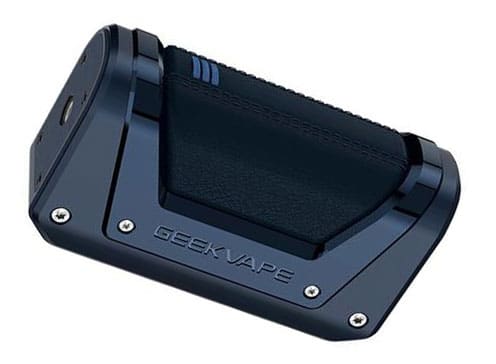 Geekvape rarely fail to impress with their vape mod releases and the Legend 2 impresses in style.
The Geekvape Legend 2 is the follow up to one of Ecigclick's favourite mods (The Legend) and is capable of upto 200W output. Powered by dual 18650 batteries (sold separately) the Legend also sports IP68 waterproof/shockproof and dust proof design for the clumsy vaper out there. It basically means this device should last you a long time.
The updated 1.08″ TFT colour screen is a delight to use and the features are fully loaded.
When it comes to build quality and aesthetics the Legend 2 tick all the boxes again with the faux leather handle finishing things off well.
An excellent quality mod that looks great, performs a treat and will last.
Read Full In Depth Geekvape Aegis Legend 2 Review
Features
200W
Mod Dimensions: 140.05 x 54.12 x 29.00mm
Powered by 2 X 18650 batteries (Not included)
TFT colour display
IP68 Waterproof/Dust-proof/Shockproof
Excellent build quality
2. Vaporesso Target 200 – (Best Duel Cell Mod)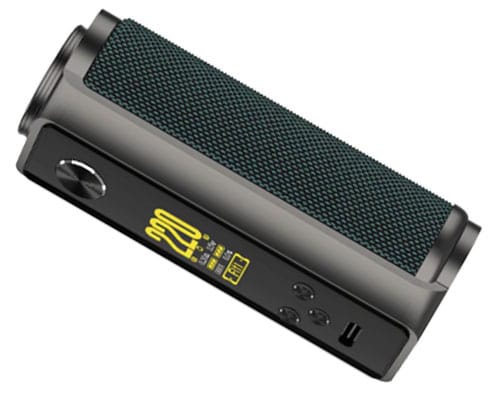 Vaporesso have always been up there with the best in vapes and the Target range of vape mods delivers again. The Target 200 is actually capable of upto 220W and despite the hefty wattage the design is compact enough to be able to carry out and about easily.
We love the design. The screen is nice and clear, buttons well placed and the central placement of the tank finishes the look of nicely.
Performance doesn't disappoint either, all you need to get up and running is a couple of 18650 batteries.
Read Full In Depth Vaporesso Target 220 Review
Features
Wattage: 220W
Powered by dual 18650 batteries
Beautiful Design with clear TFT screen
Nice grip and feel in the hand
Compact for a dual battery mod
3. VOOPOO Drag E60 – (Best AIO Style Mod)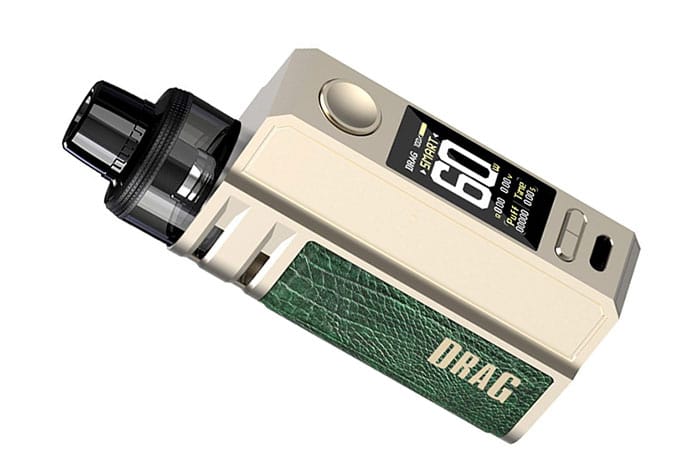 The Drag range of mods are some of the best devices on the market when it comes to quality and durability. Not only that but they look the business, we are big fans of the design.
The Drag E60 is features a big integrated battery (2550mAh) which allows good vape time even at the higher wattages. Despite the impressive battery the mod is still portable and compact.
It offers an impressive wattage of upto 60W, more than enough for most users, and comes with the new PNP pod 2 with easy to fit 'Plug n Play' coils. In our testing both coils included in the kit we received (PNP TW30 0.3ohm | PNP TW20 0.2ohm) knocked out superb flavour.
The mod is super compact and feels great in the hand with it's leather grip. It feels and looks a lot more expensive than it is.
If an all in one (AIO) style vape mod is something that floats your boat then be sure to take a look at the E60.
Read Full VOOPOO Drag E60 Review
Features
2550mAh Integrated Battery – Long battery life
Superb flavour
Excellent performance
Compact and High quality device
4. JAC Vapour Series S22 – (Best Vape Mod for Beginners)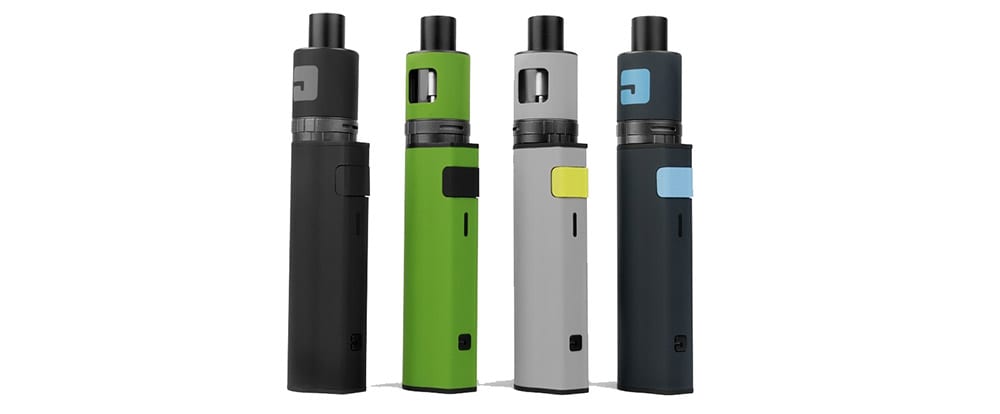 The Series S22 by Jacvapour is kind of in between a vape pen and box mod but don't let that put you off. This is a fantastic vape mod for beginners. However, if you are a newer vaper this is one of the best box mods to start your journey, it's as easy as it gets.
It doesn't have the features you may find in other devices but that's kind of the point. You fill the tank, pop it on the battery and away you go. The supplied S22 tank is a great performer as well.
It offers a mouth to lung vape and a good sub ohm coil for direct to lung vaping. The mod automatically detects what coil you have installed and delivers the power accordingly, no variable wattage settings to mess about with here.
The mod is lightweight in the hand while still retaining a top quality build. Add to this a 2600mAh integrated battery and it also offers plenty of uninterrupted vaping. This does come as a kit so may not be suitable for those wanting to use their own tank.
Read Full In Depth Jacvapour Series 22 Review
Features
2600mAh Integrated Battery
Both mouth to lung and direct to lung coils
Beginner friendly vape mod – Simple to setup and use
Small and compact design
Perfect starting point for vapers
JAC Vapour customer service is second to none.
5. VOOPOO Argus MT – (Best Integrated Battery Mod)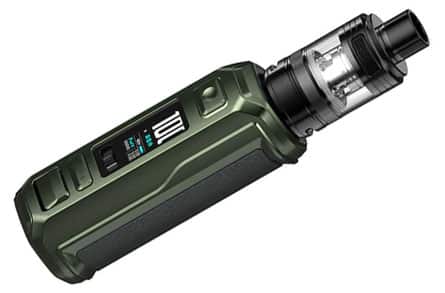 Did we mention we like VOOPOO vape mods? Well, here is another. There were two versions of this vape mod released at the same time. The Argus MT and the Argus XT. The difference being that the former features a 3000mAh integrated battery and the XT a replaceable battery (21700/18650).
Both are excellent, it really comes down to your preference on battery. The MT we are focusing on here is the integrated battery version. Featuring a 3000mAh battery, the MT can fire from 5-100W. It also has the option of various modes such as Turbo, Smart, RBA and Temp Control. So plenty to keep the more advanced vaper happy.
Add to this, what seems to be standard for most Argus devices, IP68 waterproof | dustproof | shockproof and we have a mod that can take a bash or three.
On top of the kit version VOOPOO have included the new MAAT Tank. This delivers great flavour and cloud for the direct to lung sub ohm vapers out there.
Last but not least the ARGUS MT is capable of fast charging via 3A Type C port.
Full In Depth VOOPOO Argus MT / XT Review
Features
Upto 100W
3000mAh Integrated battery
Excellent build quality and design
Great performance from MAAT Tank
6. Vaporesso Target 100 – (Best Compact Vape Mod)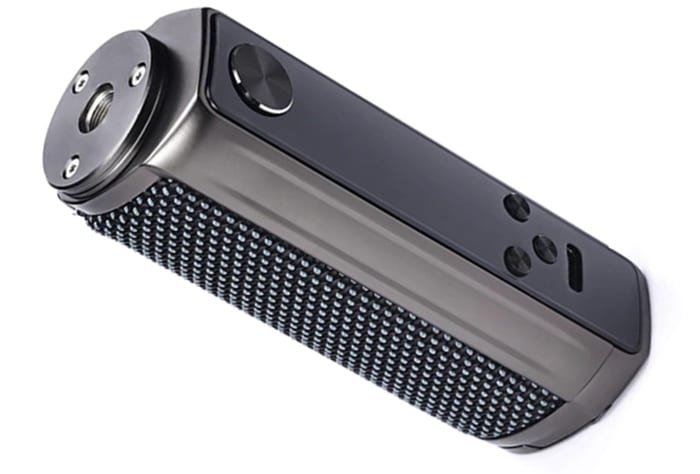 A new addition to the Target range of mods from Vaporesso is the Target 100. This device was actually released alongside the Target 200 which is the dual battery version. Both devices rated highly in our recent tests.
Back to the Target 100! What do we like about this vape mod? First we like the compact form factor and the design. The rubber micro braiding grip not only adds to the aesthetics but also makes it comfortable in the hand. Add the well sized screen and we have a very good looking mod.
Second is the performance. The Target 100 can take 18650 or 21700 batteries and power up-to 100W. The 21700 in particular adds that little extra in terms of battery life. With the range of functions available for selection from the easy to navigate menu you will easily find the right setting to get the most from your vape.
If opting for the kit version, the included iTank and mesh coils gained near top marks for flavour. So no slouch for the sub ohm vapers amongst us.
Very good setup all round.
Read Full In Depth Vaporesso Target 100 Review
7. JAC Vapour Series B DNA75 – (Best DNA Vape Mod)
The Series B DNA75 mod from Jacvapour has been an excellent addition to the box mod world.
I absolutely love this thing. It's a classy looking device, the new model features a premium black PVD finish (often found on high end watches) with a matte fingerprint resistant coating.  It's a hard wearing finish that is more resistant to chips and scratching.
It's not all about looks though – as my mother used to tell me – the DNA75 has all the functions you would expect and is powered by a removable 18650 battery. Add to that the quality of the build and we have a little star of a vape mod.
Oh… Did I mention the size, as you can see from the image above the Jacvapour Series B nestles nicely into the palm of the hand and my hands aren't the biggest.
One of the best vape mods to date and a worthy entry into our top vape mod list.
Read Full In Depth Jacvapour Series B DNA75 Review
Features
Dimensions – 88mm x 22mm x 35mm
75W
Evolv DNA Chip
Removable 18650 battery
Temperature Control
Great for first time box mod buyers
Superb build quality
Small and portable.
12 Month warranty
8. Voopoo Argus GT 2 – (Best Chip)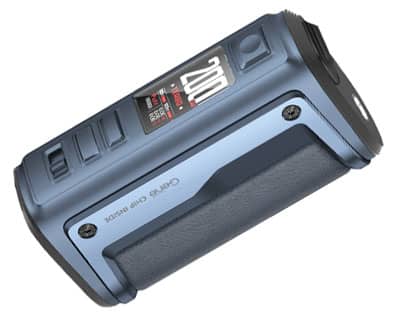 We like Voopoo. They have produced some of the better vape devices over the last few years. One of the latest is the Voopoo Argus GT 2.
It's on the bigger side but still ticks all the boxes. It looks superb, great form factor, the Gene chip is a top performer.
The device is available in 'kit form' with the new MAAT tank, if you opt for this the tank is a great performer. But you can of course use any tank on top of this.
Plenty of power is available, upto 200W, and backed up by the dual 18650 batteries the battery life is good. Plus the mod is IP68 certified so it can withstand drops and accidental spillages.
Read Full In Depth Voopoo Argus GT 2 Review
Features
200W
Dual 18650 Batteries
Solid mod that feels great in the hand
Excellent Gene chip
IP68 – Waterprrof/Dustproof/Shockproof
9. Aspire MIXX – (Best Side by Side Mod)
Have to say we love the look of the Aspire Mixx mod. I mean come on, check that out!
Aspire have partnered with Sunbox. An Italian mod maker that produces some of the best looking devices on the market. Good news is, we don't have to pay Sunbox prices for this beauty.
The Mixx is primarily powered by a 18650 battery but you can also adjust the mod, making it look even smaller, to accommodate a single 18350 battery.
It supports variable wattage/voltage as well as bypass mode and can fire upto 60W. Fairly basic when compared to other mod functions but if, like most, you just want to vape in wattage mode then you're good to go.
On the tank front as long as your tank is 24mm or under it will fit in the Mixx.
Full In Depth Aspire MIXX Review
Features
Upto 60W
Dimensions: 48mm x 24mm x 83mm/53mm (18650 mode/18350 mode)
18650 or 18350 battery
Excellent build quality and design
What is a Vape Mod?

Vape mods come in all shapes and sizes. They come with integrated batteries as well as replaceable batteries. The latter of which will require some research in to battery safety.
They also come in varying wattage right the way up to 300W. More on that below.
The image above is a basic diagram of a box mod but it gives you an idea of the features and functions that are included. These are:
Fire Button (This activates the mod sending power from the battery to the tank)
Battery (Integrated or replaceable)
Display Screen – Not all mods have a screen. Those that do display information such as wattage, coil resistance (ohms) and battery life.
Wattage adjustment buttons
Function button – Not displayed above but this button is usually below the wattage adjustment buttons. It is used to access the menu on a mod. The menu will allow you to change various settings on your mod.
USB Charge Port – It is only recommended to directly charge the battery in a mod if it is integrated. Replaceable batteries should be charged using an external charger.
510 Connection – This is on top of the mod and where the tank connects
The above, in a nutshell, are the features of a vape mod.
Vape Mod Buying Guide
For New Vapers:
Just because you've seen a MOD with a 200W or even 300W power output doesn't mean this is the best box mod or more importantly the best vape MOD for you.
The likelihood of you actually using anywhere near that much power is not a reality for most.
50-90W is one of the most popular ranges that will cater to most sub ohm tanks on the market.
So there are many ways of approaching what would be the ideal device for you.
The first is considering what kind of vaper you are and what you expect to do with your box mod.
Are you looking to move on from a pod vape or Vape Pen (Stick) style e cigarette?
Do you use normal mouth to lung vape tanks where the coils are 1.0Ohm plus? Tanks such as (or similar to) the Aspire Nautilus or Innokin Endura T18/T20?
If so then you really don't need a 200W box mod. These types of tanks typically need no more than 25-30W of power.
Our list features beginner vape mods that are great for mouth to lung type tanks.
There is an upside if you decide to go for a mod with higher wattage to use with a low wattage tank. The battery life could be extended considerably.
It's worth noting care needs to be taken if going for higher wattage devices, set the power too high and your coils will burn and of course be ruined.
Intermediate Vapers
Are you using sub ohm tanks (SMOK TFV/Aspire Cleito/ Horizon Falcon)?
Or wanting to explore sub ohm vaping but don't want to build your own RDA's?
If so you will need a vape mod capable of handling coil resistances lower than 1.0 ohm. Most of the popular sub ohm tanks use coils around 0.15-0.5 ohms.
Double check the coil resistance of your tank before buying a vape mod to be sure they are compatible. This info will be displayed clearly on the product listing.
All of the box mods above are sub ohm capable.
I use a mix of tanks, one of which is the Aspire Nautilus 2s. This is mainly used when I'm going out as the performance is good yet it doesn't spit out the clouds that a sub ohm tank does. I for one don't want to be blowing out humongous clouds when I'm out in a bar!
70% of my use is with sub ohm tanks around the 40-65W mark depending on the tank I'm using. This is perfect for me and will likely be where a high percentage of sub ohm vapers will sit.
There are sub ohm tanks that come with 0.15-0.3 Ohm coils (Aspire Cleito Pro, SMOK TFV16, Freemax Mesh Pro) and to get the best out of them they need to be used at a higher wattage, around 50-85W and for some maybe even 100W+.
So if you can see yourself using coils in this range then be sure to buy a box mod with enough power.
TIP: If a coil requires 80W output then you will want to buy a vape mod that is capable of firing 100W+. Try not to use the mod at full wattage output. This will generally result in poor battery life.
Advanced Vapers
Or are you in the more advanced bracket of vapers that uses RBA's almost exclusively?
This is still kind of similar to the advice given for sub ohm tank users above. You will need a device with a high wattage output that can handle low resistance builds.
Although if you are at this level then you likely know this already. It all depends on what resistance you are building at. So make sure the mod you buy is capable of handling any low resistance build you may vape.
This information, again, will be found on a product listing.
Integrated Battery or Replaceable?
Do you want a device that has a built in battery and you simply recharge using a USB cable?
Or do you want a box mod with a removable battery?
There is absolutely nothing wrong with buying a unit with an integrated battery (these are some of my favourite devices) but they are in essence disposable products.
When your battery dies the whole unit needs replacing. This sounds worse than it is in reality.
Under normal use a Lithium Ion battery should last a long long time although performance will degrade slightly over time.
You will most likely be well on to your new shiny new box mod before the current one dies a death.
The other option is a vape mod with removable batteries.
This allows you to just replace the battery when it dies or decreases in performance rather than replacing the whole MOD.
Most vape mods that require replaceable batteries, if not all, require you to buy batteries separately and if you don't have a suitable charger then you will also need one of these.
The most popular size of battery used is the 18650 but newer designs are catering to 20700 and 21700 batteries of which usually have better run times and can be used at higher wattages.
You will also (definitely) need to learn what batteries are suitable for each device. I can't state how important that is! Read our guide on batteries for sub ohm vaping here.
So there are lots of things to be clear with before making that purchase and it's always recommended to take a look at Ecigclicks individual vape reviews and reviews from other sources before coming to a final decision.
If you are new to sub ohm vaping please read our beginners guide to sub ohm vaping here if that's the direction you want to go.
Any questions about which vape mod to buy? Ask away in the comments below!
10 Best Vape Mods 2023
Geekvape Legend 2
Vaporesso target 200
VOOPOO Drag E60
JAC Vapour S22
VOOPOO Argus MT
Vaporesso Target 100
JAC Vapour Series B DNA75
Voopoo Argus GT 2
Aspire MIXX