Which Box MOD Is The Best? We Take A Look At Our Top Picks For 2019
The past year has seen the vaping industry boom with new advances in e cig technology and the vape mod is undoubtedly one category that has been at the forefront of this movement.
This is fantastic news for us, the vaper but makes things very confusing when it comes to making purchasing difficult. If you have found this page then you are no doubt looking for the best box mod available which is what we are going to show you today.
Now before you jump in and buy a box mod (or vape mod depending on what you call them) you need to ask yourself a few questions as not all box mods will suit all vapers.
Click here for our vape mod guide
If you just want to see the recommended box mods then keep on reading.
Menu:
Click for 1-60W Box mods
Click for 70-100W Box mods
Click for 110W+ Box mods
The box mods in the list below are a mix of external battery mods and integrated devices, the latter meaning that the batteries are in built and not replaceable. If we have missed out your favourite vape mod leave a comment below and let us know what it is!
Jacvapour Series S22 – Editors Choice For New/Intermediate Vapers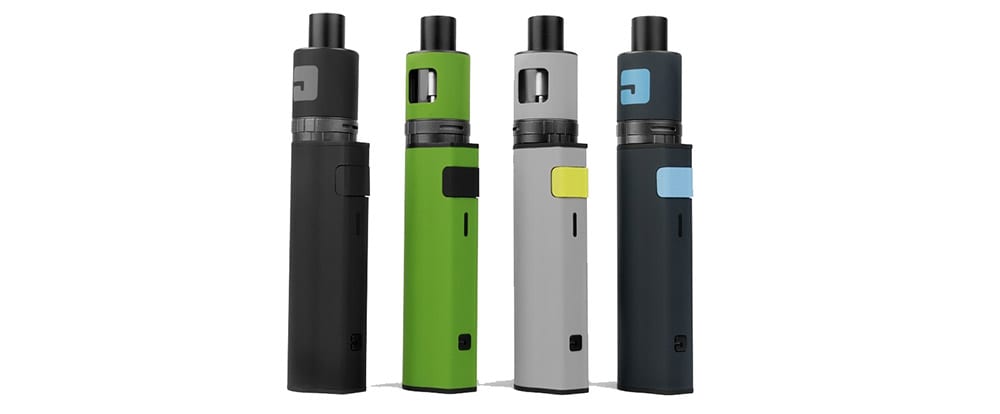 The Series S22 by Jacvapour is kind of in between a vape pen and box mod but don't let that put you off. This is a fantastic device for all levels of vaper. However, if you are a newer vaper this is a great mod that is as easy as it gets.
It doesn't have the features you may find in other devices but that's kind of the point. You fill the tank, pop it on the battery and away you go. The supplied S22 tank is a great performer as well.
It offers a mouth to lung vape and a good sub ohm coil for direct to lung vaping. The mod automatically detects what coil you have installed and delivers the power accordingly, no variable wattage settings to mess about with here.
The mod is lightweight in the hand while still retaining a top quality build. Add to this a 2600mAh integrated battery and it also offers plenty of uninterrupted vaping. This does come as a kit so may not be suitable for those wanting to use their own tank.
Read our full Jacvapour Series S22 review here
Features
2600mAh Integrated Battery
Both mouth to lung and direct to lung coils
Simple to setup and use
Small and compact design
Perfect starting point for vapers
JAC Vapour customer service is second to none.
Aspire Zelos – 50W – Recommended For New/Intermediate Vapers
The Zelos is one of the latest vape mods from Aspire, a company that have been on the e cig scene since 2013.
This MOD is sold in kit form with the excellent Nautilus 2 tank. This is a mouth to lung tank that is a great starting point for new vapers or experienced vapers who vape MTL style.
The Zelos mod actually looks far better in the hand and has superb build quality. The size is just right, fitting into the palm perfectly making it a great all round, out and about device.
I use this with both sub ohm tanks and the nautilus 2 on a regular basis and the very respectable 2500 mAh battery gives a good amount of vaping time.
Overall an excellent mod suitable for all levels of vaper and more importantly a great starting point for vapers buying their first box mod.
Read our full Aspire Zelos Kit review here.
Features
1W-50W
Excellent 2500 mAh integrated battery
Solid mod that feels great in the hand
Pass Through – Can vape whilst charging
Dimensions: 78 X 40 X 23mm
Excellent choice for first time box mod users
Auto rotating screen
Features temp control and advanced settings such as Bypass mode
Innokin EZ Watt – 35W – Recommended For New Vapers
The Innokin EZ Watt is as easy as it comes and a solid choice when it comes to entry level box mods.
This MOD is suitable for all level of vapers and for those that want that solid build that Innokin so very often deliver. It doesn't have that big wattage that the latest mods often offer but if you are just looking for a simple to use mod that can operate tanks upto 35W then this should be looked at.
It comes as a kit so you can be up and running straight away. It's not a kit for sub ohm vapers, this comes with the excellent T20S tank which is for mouth to lung vapers (closer to the draw on a cigarette).
There are no fiddly menus, just 3 vaping modes, 13-14W – 16-18W and 30-35W. These can be changed to suit the tank and coil you choose to use. All very simple to use hence the name EZ.
Read our full Innokin EZ Watt review here.
Features
3 Power modes upto 35W
Can fire coils down to 0.2ohm
Kit comes with 2 X coil (0.8Ohm and 1.5Ohm)
1500 mAh integrated battery
Superb build quality and solid in the hand
Perfect for first time box mod users
Compact and portable
SMOK MAG Grip – 100W – 18650/20700/21700 Batteries – Editors Choice For Comfort, Quality & Performance
SMOK are one of the most prolific brands when it comes to product releases and while not all hit the spot the SMOK MAG Grip is very impressive.
It may sound strange but this is one of the most comfortable mods we have had in our hands. Add to this the 'clip' style battery loading bay (that is quite addictive I may add) and this is one fun mod to use. The build quality is also up there with some of the more expensive mods on the market.
All the main features you would expect are there plus we have the added bonus of 18650/20700/21700 battery compatibility with the 18650 firing upto 85W and the rest 100W.
The mod is mostly only available with the SMOK TFV8 Baby V2 tank but the good news is it performs a treat in the flavour and cloud department. So if you already have a goto tank this could act as a quality backup.
Not much more we can say about the Mag Grip kit, it surprised us how much we enjoyed using it day to day.
Read our full SMOK Mag Grip review here.
Features
Upto 100W
Resistance from 0.1 Ohm (Wattage mode) and 0.05 (TC Mode)
Compatible with 18650/20700/21700 batteries
Solid, quality build that is a real pleasure to hold and use
Jacvapour Series B DNA75 MOD
The Series B DNA75 mod from Jacvapour has been an excellent addition to the box mod world.
I absolutely love this thing. It's a classy looking device, especially the Sandstorm edition.
It's not all about looks though – as my mother used to tell me – the DNA75 has all the functions you would expect and is powered by a removable 18650 battery. Add to that the quality of the build and we have a little star of a vape mod.
Oh… Did I mention the size, as you can see from the image above the Jacvapour Series B nestles nicely into the palm of the hand and my hands aren't the biggest.
One of the best vape mods to date and a worthy entry into our top vape mod list.
Read the Full Jacvapour Series B DNA75 review here.
Features
Dimensions – 88mm x 22mm x 35mm
75W
Evolv DNA Chip
Removable 18650 battery
Temperature Control
Great for first time box mod buyers
Superb build quality
Small and portable.
12 Month warranty
Joyetech Espion Solo – 80W

The little brother of the Espion dual battery mod. The Espion solo is a top notch replaceable battery mod capable of housing three battery types, the 18650, the 20700 and the 21700.
The mod has all the features a vaper would want but it's also an easy device to get to grips with for those newer to the vape mod scene.
It's a beauty of a device as well with it's solid build and oversized easy to read screen. There isn't a whole lot not to like about this mod.
Did I mention this still fits perfectly in the palm of the hand? Yep, despite it being packed on the inside with features it still retains a compact and portable form factor!
Features
80W
Can fire coils down to 0.1ohms
Replaceable battery – Can be used with 18650/20700/21700 types
Beautiful design
Easy to use
Compact – fits in the palm of the hand
Superb quality build
Wismec CB-80 Mod – 80W
Wismec are known for producing quality devices and the Wismec CB-80 doesn't buck the trend. The build quality isn't the only thing we like about this vape mod.
You can also take advantage of 80W power output, temperature control, and powered by a replaceable 18650 battery.
What we like about the CB-80 mod is its ease of use, large and clear OLED screen and compact form factor. This is a device that would be suited to all levels of vaper.
Features
Dimensions: 80.4 X 36.4 X 22.6mm
80W
Advanced options available (Temp Control / TCR Mode)
Resistance: Can fire coils from 0.05Ohm
Powered by replaceable 18650 battery (Not included)
Large OLED screen
Compact design with excellent build quality
Geekvape Aegis – 100W – Water/Shock Resistance
Calling all vapers who like to chuck clouds in the shower, the Aegis mod is for you.
The Geekvape Aegis vape mod is all about withstanding the elements. Unlike a lot of mods that claimed to be able to resists shocks and water the Aegis actually delivers.
We have sat this in water, dropped it from head height a number of times and finally froze it in a container full of water for a full 3 days. It survived all. Impressive to say the least.
Design wise, it's a beautiful looking device. Under the hood it has everything even the most advanced vape needs to get the most out of their vape.
The Aegis has full temp control compatibility and is powered by Single 18650 or 26650 Battery.
We really like this mod, it's solid device that's a pleasure to use and despite it's chunky appearance it fits a treat in the palm of your hand. If you are on the wrong end of the clumsy scale this could be the mod for you.
Read Our Full Geekvape Aegis Review Here
Features
Wattage: Max 100W
Dimensions: 37.8 x 46.8 x 88mm
IP67 certification (Water/dust proof) and military standard 810G-516.6 shock proof certification
Powered by single 18650 or 26650 battery
Temp Control
Great design and build quality
Simple to use even for newer vapers
Innokin CoolFire Ultra TC150 – 150W – Integrated Battery
The CoolFire mods are, for us, one of the work horses of the vape mod world. They may not look as fancy and colourful as some of the mods we see released on a daily basis but they do what they are supposed to do.
The CoolFire Ultra TC150 mod is the latest in the series and while it keeps the same form factor of the others under the hood it features an impressive 4000mAh battery.
The TC150 will also cope with pretty much any tanks or dripper you can throw at it, firing coils from 0.1Ohm.
The mod is very solid in the hand with a nice weight without being ridiculously big. The included Aethon chip makes it a pleasure to use. Very easy to get the hang of and for vapers that want a mod with an integrated battery it's a great choice. This is a mod I personally use on a daily basis.
Read our full Innokin CoolFire Ultra TC150 review here.
Features
Upto 150W
Resistance from 0.1 Ohm
4000mAh integrated battery
Solid, quality build that is a pleasure to hold and use
Wotofo Flux – 157W – Dual 18650 Batteries
Wotofo don't release vape mods that often but when they do they do it well. That's definitely the case with the Wotofo Flux mod and indeed the kit with tank.
A top quality mod but it isn't just the aesthetics and build quality that excel.
The Flux is simple in it's features, simply having variable wattage and three power modes: Standard, Powerful, and Powerful+ Mode. Powerful and Powerful + Mode gives you an increased firing speed and super quick ramp up time providing a superb vape every time.
Powered by two 18650 batteries the mod was recently reviewed for Eciglick by The Devil Vaper who summed it up with.
"Well, Wotofo have done it again. Smashed it right out the ballpark with the collaboration with Rig Mod."
Can't get more straightforward than that. Simply a great quality mod with the design to match.
Read Our Full, Hands On Wotofo Flux Review Here.
Features
Dimensions: 91.6 x 50.8 x 30.3mm
5-200W
2 X 18650 Batteries
Firing Mode: Standard/Powerful/Powerful+
Temp Control
Min resistance: 0.08ohm
Constructed from Zinc Alloy
Aspire Skystar 210W – Dual 18650 Batteries
Aspire have been on a run lately with new device releases and the latest and our favourite to date is the Skystar 210W mod.
This definitely looks different than the normal mods we see, no gimmicky design, just a simple ergonomic mod that looks the doggies and feels great in the hand.
The Skystar runs off two 18650 batteries giving a good amount of vaping time before a charge is needed (dependent on wattage). It also has the features, such as TC, to keep even the most hardcore vaper happy.
If you are a vaper that wants that padding in their available wattage and a mod capable of handling low resistance builds then this is one of the best options out there.
The Revvo tank that was originally paired as a kit with this mod is also a treat with this mod.
Read Our Full Aspire Skystar Review Here
Features
5-210W
91mm x 50mm x 33mm
1.3″ OLED Touch Screen
Powered by 2 X 18650 batteries
A beauty of a box mod with plenty of power.
Wismec RX2 21700 – 230W – Dual 21700/18650
The Wismec RX 21700 is part of the best selling RX range of mods. Firing upto 230W this mod can be powered by either 21700 batteries or 18650 by using the included adapter.
Straight off the bat the 21700 offers excellent battery life from the two supplied batteries in the kit (Please check if your kit includes batteries). It does also come with an adapter to allow the use of any 18650's you may have.
The mod has all the other features you would expect from an advanced mod as well as a huge 230W power output. The well knonw form factore of the RX mod is present making for a great hand feel and a
Despite the new bigger batteries the RX 21700 can house it's still a well proportioned device that keeps the tried and tested RX form factor and feels great in the hand.
Read Our Full Wismec RX 21700 Kit Review here
Features
230W
Dimensions: 46.03 X 37.10 X 81.50mm
Powered by 2 X 21700 batteries (2 X 18650 batteries with adapter)
Temp control
Great battery life
18650 battery adapter included
Can accommodate tanks up-to 30mm tanks
Box Mod/Vape Mod Buying Guide
For new vapers: Just because you've seen a MOD with a 200W power output doesn't mean this is the best box mod or more importantly the best vape MOD for you. The likelihood of you actually using anywhere near that much power is not a reality for most. 50-90W is one of the most popular ranges that will cater to most sub ohm tanks on the market.
So there are many ways of approaching what would be the ideal device for you.
The first is considering what kind of vaper you are and what you expect to do with your box mod.
Are you looking to move on from Vape Pen style e cigarette? Do you use normal tanks/clearomizers such as (or similar to) the Aspire Nautilus or Innokin Endura T18/T20 and plan to continue with these?
If so then you really don't need a 200W box mod. Our list starts at 30W and while these will still be overkill in terms of power output for the above tanks,the build quality and battery life are the big selling points and the features that will benefit you most.
It's worth noting care needs to be taken if going for higher wattage devices, set the power too high and your coils will burn and of course be ruined.
Are you using sub ohm tanks (SMOK TFV/Aspire Cleito/ Horizon Falcon)?
Or wanting to explore sub ohm vaping but don't want to build your own RDA's?
If so you will need a box mod capable of handling coil resistances lower than 1.0 ohm. Most of the popular sub ohm tanks use coils around 0.2-0.5 ohms.
Double check the coil resistance of your tank before buying a vape mod to be sure they are compatible. All of the devices above are sub ohm capable.
I use a mix of tanks, one of which is the Aspire Nautilus 2. This is mainly used when I'm going out as the performance is good yet it doesn't spit out the clouds that a sub ohm tank does. I for one don't want to be blowing out humongous clouds when I'm out in a bar!
70% of my use is with sub ohm tanks around the 25-65W mark depending on the tank I am using. This is perfect for me and will likely be where a high percentage of sub ohm vapers will sit.
There are sub ohm tanks that come with 0.15-0.3 Ohm coils (Aspire Cleito, SMOK TFV8, Freemax Mesh Pro) and to get the best out of them they need to be used at a higher wattage, around 50-85W and for some maybe even 100W+.
So if you can see yourself using coils in this range then be sure to buy a box mod with enough power.
Or are you in the more advanced bracket of vapers that uses drippers almost exclusively?
This is still kind of similar to the advice given for sub ohm tank users above. You will need a device with a high wattage output that can handle low resistance builds.
Although if you are at this level then you likely know this already. It all depends on what resistance you are building at.
Integrated Battery or Replaceable?.
Do you want a device that has a built in battery and you simply recharge using a USB cable?
Or do you want a box mod with a removable battery?
There is absolutely nothing wrong with buying a unit with an integrated battery (these are some of my favourite devices) but they are in essence disposable products.
When your battery dies the whole unit needs replacing. This sounds worse than it is in reality. Under normal use a Lithium Ion battery should last a long long time although performance will degrade slightly over time.
You will most likely be well on to your new shiny new box mod before the current one dies a death.
The other option is a vape mod with removable batteries.
This allows you to just replace the battery when it dies or decreases in performance rather than replacing the whole MOD.
Most vape mods that require replaceable batteries, if not all, require you to buy batteries separately and if you don't have a suitable charger then you will also need one of these. The most popular size of battery used is the 18650 but newer designs are catering to 20700 and 21700 batteries of which usually have better run times and can be used at higher wattages.
You will also (definitely) need to learn what batteries are suitable for each device. I can't state how important that is! Read our guide on batteries for sub ohm vaping here.
So there are lots of things to be clear with before making that purchase. If you are new to sub ohm vaping please read our beginners guide to sub ohm vaping here if that's the direction you want to go.
2019's Best Box Mods / Top 8 Vape Mod Favourites
JAC Vapour S22 (Beginners)
Aspire Zelos (Beginners/Intermediate)
Innokin EZ Watt (Beginner/Intermediate)
Jacvapour Series B DNA75 (Intermediate/Advanced)
SMOK MAG Grip (Intermediate/Advanced)
Geekvape Aegis 100W – (Advanced/High Power)
Wotofo Flux – (Advanced/High Powered)
Aspire Skystar (Advanced/High Powered)