What is the best vape pen? That's a good question! We understand how difficult the choice can be with all the options. Good news is, we have tried and tested over 110 vape pens so we have a good idea what the best performers are..
You may have seen this type of kit referred to as a stick pen or pen style vape.
Whatever you choose to call them they all work on the same principle.
What Are The Best Vape Pen Kits To Buy Today?
So back to the question in hand, here is our list of best vape pens for e-liquid 2023.
DEVICE
FEATURES

Easy to setup & use even for new users
Pre-filled cartridges – No mess
Excellent flavours
Good value
Draw activated – No buttons

Excellent battery life
Easy top fill
Superb quality
Save 10% With Code ECIGCLICK

3000mAh Integrated Battery
Excellent flavour
Superb build quality
Big clouds
2 X Mesh Coils

Integrated battery
Easy to use for new vapers
Great design and build quality
New customers save 15% with code ECC

BEST Selling Pen Vape Range

Great all round performance
Good battery life
Very good flavour
Easy to use
1. SMOKO Vape Starter Kit (Editors Choice – Best For Beginners)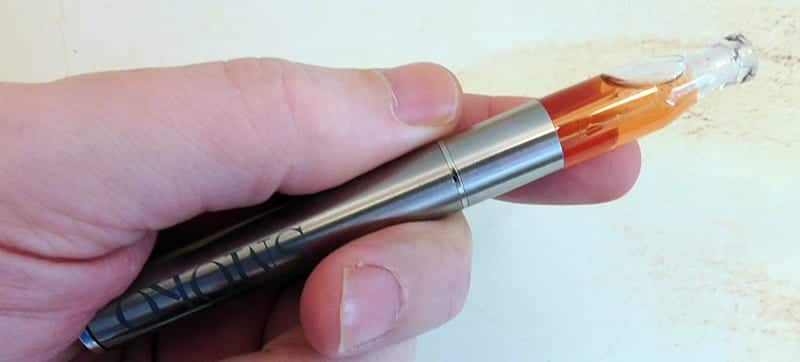 The Smoko Vape starter kit is undoubtedly the easiest vape for new vapers to get to grips with. Why is that? Well this device comes with pre-filled cartridges. So no messing about choosing and filling with e-liquid, no mess.
We weren't actually expecting much from this kit when it came in for review with it appearing, on the surface, to be too basic. How wrong were we!
The build quality is excellent throughout, the battery life very good but what impressed us the most was the cartridge flavours. The tobacco/cigar and menthol flavours on offer do a superb job at replicating the real thing and the fruit flavours have been nailed. There is also no huge cloud production for those that don't want to fog out a room.
Even the biggest smoking technophobe could have this working out of the box, crikey, you don't even need to press a button to vape as it's draw activated! Plus, with these flavours there is a high chance the SMOKO vape pen will keep you off the cigs.
As our reviewer said "One of the best starter kits I've reviewed…absolutely PERFECT for those smokers looking to quit." Believe me when I say he's pretty hard to please! If you are looking for a simple to use device with pre-filled cartridges/tanks at an excellent price then this is the one we recommend.
Features
Super simple to use – The perfect kit for a 'pick up and play' vape
Pre-filled cartridges = No mess
Superb flavours
Cheap!
Draw activated – No buttons to press
2. ePuffer Titan X (Best Quality)
The ePuffer Titan X is for vapers that want a device that is built to last. The stainless steel construction gives it an expensive feel without feeling too heavy.
Like many devices the Titan X offers both Mouth to Lung (MTL) and Direct to Lung (DTL) coils. Where this devices excels though is with it's mouth to lung coil. The flavour is superb and the throat hit and draw it provides replicates a cigarette well.
The battery life is very good with the internal 1500mAh capacity and when it comes to filling it couldn't be easier with it's top fill system. Easy to refill on the go..
One of the best quality kits on the list and one to keep in mind.
Features
Very good battery life – 1500 mAh Battery
Easy top fill tank
2 X Coil heads included – 0.4ohm and 1.0Ohm
Superb build quality
Excellent kit for new vapers.
3. Vaporesso Sky Solo Plus (Best Vape Pen for Clouds)
Vape pens aren't just for the mouth to lung vapers out there. The Vaporesso Sky Solo Plus offers a sub ohm vape pen specifically for the direct to lung vaping crowd. It's a good one as well!
It defintetly does a good job of kicking out some decent clouds but that's not the only thing it does well. The GT Mesh coils do a very good job at delivering on flavour too.
The Sky Solo Plus is an 'all in one' style of device. So rather than having a separate tank that screws off and houses the coil, you simply screw the coil into the top of the battery and the glass tank section is then fitted over the top.
The tank is a top fill so all good there and the battery offers a huge 3000mAh capacity. It's needed though as this can output upto 90W.
One to add to your list if you like a bit of cloud with your vape pen!
Features
Very good flavour
3000mAh batery
Big clouds
Includes 2 Mesh coils
All in one style device
4. Jacvapour Series S-17 (Best For Both MTL & DTL Vaping)

The Jacvapour Series S vape pen is high up there in our favourite list at ecigclick.
It manages to keep a compact form while still offering plenty of battery life with it's 900mAh battery.
The Series S17 is a plug and play type device. No variable wattage setting to be getting your knickers in a twist with. The battery recognises different resistances from your coil and sets the best output wattage accordingly.
The kit comes complete with a tank that offers very good flavour. All you need to do is add e juice. With the two coil options it also offers a vaping style to fit mouth to lung and restricted direct to lung vapers.
Tip: We would recommend buying a second battery with the kit to act as a backup and use in rotation so you are never 'vape-less' due to charging or the battery running out suddenly.
Features
1 x 900 mah battery
1 X tank
2 x Atomizer Coils (Mouth-To-Lung and Sub Ohm coil)
1 X USB Charger
Great for all levels of vaper and very easy to use
5. Innokin Endura T18II (Best Selling Vape Pen)
The Endura range of e cigs has been one of the most popular for new users for the last couple of years. In this time we've seen a few upgrades with the latest being the Endura T18II.
Innokin have done a great job with the T18II making it not only one of the best performers but also one of the easiest e cigarettes for new vapers to pick up and use. The kit comes complete with two 1.5Ohm coils and also features vape while charging technology and a top filling tank.
The 1500mAh battery offers a good amount of vaping time and comes with three heat settings and airflow control further allowing you to tweak the vape to fit you.
This really is an e cigarette that just needs e-liquid to use right out of the box.
It's also a great looking bit of kit available in a number of colours!
Features
1 X 1500 mAh battery
1 X Top Fill Endura T18II tank
2 X 1.5 ohm Coil Heads
3 X power output settings
USB Charger
Good choice for new vapers or a good choice for current vapers making a step up to a longer lasting vape.
6. V2 Vsavi Pro Series 3
Last but by no means last on our best e cigarette list is the V2 Pros Series 3 kit from V2 Cigs.
Anther slim profile device that is lightweight and easy to carry out and about. Filling and swapping the cartridge out is simpler as well with its magnetic connection.
The V2 kits also incorporate magnetic cables for charging making the kit super easy to set up and use for new vapers.
Features
Magnetic connections – No screwing/unscrewing tanks
Advanced technologies used within this device
3 Different coil resistances available to suit different PG/VG e-liquid ratios
One of the easiest vape pens to use for new vapers
7. XEO Void (Best For MTL Vaping)
If you are looking for something that little bit different in terms of aesthetics then the XEO Void kit could be the one.
A very well built device, designed in Germany, that offers both mouth to lung and direct to lung vaping although this really excels in the MTL vape department.
This is more of an All In One (AIO) vape pen. By this we mean there is no separate tank as you will see with other vape kits. The tank section is actually built into the top of the e cig.
Don't worry if that sounds confusing! This kit is new vaper friendly. Simply pop your coil in, fill with juice and vape.
No matter which resistance coil you use the battery will automatically detect and adjust accordingly, the only thing you have to worry about is what flavour e-juice you are going to pick!
Features
Good price point
Excellent quality
Everything you need to get started
Very good 1500 mAh battery
Caters to both Mouth to Lung (MTL) and Direct to Lung (DTL) vapers
Easy to use
8. Apollo OHM Go Starter Kit (Reviewers Favourite)
As stick pens go, the Apollo Ohm Go starter kit is one of the most popular for new vapers. The kit combines ease of use and performance to make it a perfect for first time vapers. Not to mention it looks fantastic too!
The OHM Go vape gives you a 1900 mAh battery and a tank that is supplied with 0.5Ohm and 1.0Ohm coils.
If you are new to vaping the two supplied coils allow you to experience both sub ohm vaping (direct to lung) and mouth to lung vaping. The latter of which is similar to how most smoke a cigarette.
It's super easy to use. There are no fiddly settings to use, the battery recognises the coil resistance and automatically changes the power output for the optimum vape. The tank is top fill cutting down on any mess made.
This is pretty much a plug and play device. Just add e liquid.
One thing to keep in mind is that with the mouth to lung (MTL) coil it may be a little looser than you may be used to from smoking a cigarette. We would however recommend this for those that would like the option to vape 2 ways.
Features
Perfect beginner vape pen kit
No confusing controls
1900 mAh battery that offers extended vaping time between charges
1 X Apollo Portal Refill Tank (Top Fill)
2 X Coils (Mouth to lung and sub ohm supplied)
USB & Wall charger included
9. Aspire Tigon (Best Aspire Vape Pen)
The Aspire Tigon kit offers a great starting point for vapers that like a mouth to lung vape but also like the idea of trying direct to lung vaping.
It's a high quality piece of kit, both the battery and the mod are finished beautifully.
Depending on where you are buying the Tigon kit the battery will either be 2600mAh (standard edition) or 1800mAh (TPD edition).
The kit also comes with a 1.2Ohm MTL coil and 0.4Ohm direct to lung coil.
But.. The stand out for this kit is how it vapes. It delivers great flavour in both vape styles.
Features
2600mAh Battery / 1800mAh (TPD)
2 X coils included
Both MTL and DTL vape styles catered for.
Excellent build quality
Great option for all levels of vaper
10. Innokin Jem Pen (Best Value)
The Jem Pen is one of the newer kits on the list as well as being one of the cheapest. Don't worry though, this is still a top quality device.
When it comes to delivering a perfect vape for those coming over from cigarettes then this is up there with the best. That's not to say it's only for new vapers. If you vape Mouth to Lung (MTL) then this is a quality option, whether it be a backup or main device.
What surprised us most about this kit though is the flavour that it pumps out. Excellent.
It's a very slim lined vape as well making it highly portable and easy to slip into a shirt or jean pocket.
Did we mention that the coils last an age and this has top fill making it super easy to use?
Features
Good battery life
Great for vapers making the switch – Vapes like a cigarette
Slimline
Great value
Very good flavour
New and current MTL vapers alike will get on well with this vape kit.
What Is A Vape Pen?
There are a number of names for these devices, from vape pens, vaporizer pens, e pens or even an e cig vape pen.. Now they are all the same thing apart from a vaporizer pen is commonly used to describe a device that can be used with dry herb or wax. If you are looking for this type of device then the V2 Series Pro above can be used to vape that type of stuff.
The image below shows the basic components of a vape pen.

E cig vape pens are basically made up of two main parts – the battery and the tank or clearomizer. They get their name as the first vape pens were of similar size to a fountain pen.
They can be refilled with any e-liquid you choose opening up a world of fantastic e-juice flavours! Although there are a handful of disposable tanks on the market that are paired with a battery. If you choose one of these you replace the whole tank rather than just the coil that sits in the tank.
All the vape pens above are available in the UK meaning they are TPD compatible.
You may have also seen cig-a-like e cigarettes that, as the name suggest, look more like cigarettes. Many smokers opt for these as their first vaping device as they provide a familiar form.
While cig-a-likes can indeed be a good springboard into vaping they can lack the battery power and flavour choice of vaping pens and this plays a big part in your success rates of staying off the fags.
What are the Different Kind of Vape Pens?
Vape Pens For E-Liquid
These vape pens are what we are focusing on with our 'best of' list. These can be filled with standard vape juice and nicotine salts.
Vape Pens for CBD Vape Oil
CBD (Cannabidiol) is very popular and luckily you can use standard vape pens to vape CBD. You will need to check the PG/VG ratio of the CBD e-liquid as you would with standard vape juice to choose the right device. You can see our best cbd vape oil here.
Vaporizers Pens for Dry Herb
These work in a different way to standard vape pens. Vaporizers feature an oven/heating chamber that you pack your dry herb or tobacco into. This oven then takes a few minutes to heat the dry herb ready to vape.
3 in 1 Vape Pens
This is where things get interesting for vapers looking to vape dry herb, wax/oil and e-liquid. Of course, not all at the same time.
3 in 1 vaporizers, such as the V2 Pro Series 3 listed above, are available with different tank/chambers that can be used with different material.
How Does a Vape Pen Work?
This is a very basic explanation but it's quite simple.
The battery provides electric current to the coil in the atomizer (tank). There is cotton wrapped around the coil that will be saturated in e-liquid. The coil heats up and then vapourizes the e-liquid that is soaked into the cotton. This results in the vapour that you inhale. I said it was simple right?
How Do I Use a Vape Pen?
Vape pens come in various shapes and sizes but all tend to work in a similar way. You have two main parts – a battery and a vape tank. The battery is the main body of the device that you hold. The tank includes a coil that, depending on what stick pen you choose, will be:
Replaceable coil – (when flavour drops simply replace the coil head)
Disposable tank – (Whole tank is replaced when coil dies)
When you take your vape out of the box for the first time we recommended you get acquainted with your tank before filling with vape juice. So, take it off the battery and disassemble and reassemble a few times. By doing this you will be in a better position when the time comes to replace the coil after use.
OK.. So you know your tank and how it all fits together, excellent. Now we move onto filling and vaping.
This is a general 'how to' and will work for most vape sticks.
First, read the instructions included with your kit 🙂
Charge your battery using the supplied cable
If a coil is already installed you can move straight to the next step. If not insert the coil according to specific instructions for your tank.
Fill the tank – This may be top fill or bottom fill. Again, follow the instructions to see what type of fill method your tank has
Once filled, allw tank to stand for 10 minutes. This allows the liquid to soak into the cotton in the coils. If you do not follow this step you run the risk of burning the cotton which means you will need to replace the coil!
If you have a push button vape pen ensure battery is turned on (Usually 5 quick clicks of the fire button)
Press the button down and inhale
You are vaping 🙂
How to Choose the Right Vape Pen For You?
There are a few thing to look out for when choosing a vape pen. Do you want a small, lightweight device that will slip into a shirt pocket with ease? Do you want something that feels solid and built to last? Do you want the longest battery life possible? Do you want to vape mouth to lung (like smoking a cigarette) or sub ohm vape (direct to lung)? All of these questions need to be taken into account.
We have all options above. All of them have the vaping industry standard safety features built in.
Sub Ohm Vapes for Direct to Lung (DTL) Vaping

These are higher powered vape pens that are for those that prefer a bigger, warmer clouds and fuller flavour. The big difference between these and your standard vape pen is that they are vaped direct to lung (DTL) style. They have wide mouthpieces/drip tips that allow a huge amount of vapour to be drawn. They should be used with a minimum e-liquid ratio of 70VG. The downside is that they use a lot more e-liquid due to the higher wattage used.
If you are a beginner or looking for a first vape device then these aren't always recommended. After smoking this can be a very odd way of getting your nicotine hit as the vapour is drawn directly into your lungs rather than into the mouth first, like you would smoke a cigarette.
The Freemax Twister above is a a great example of a superb sub ohm vape pen.
Vapes for Mouth to Lung (MTL) Vaping
These are generally smaller in size than the sub ohm vape pens above. They don't require as much power as the coils are smaller in both size and resistance (Ohms). These are perfect starting points for new vapers making the switch from cigarettes as they are closer to the style of smoking.
For a lightweight, slim device the Innokin Jem Pen is a great choice. For an all rounder that offers great flavour and excellent build quality then the Apollo Ohm Go is recommended. If you are looking for something that is pure quality in terms of build then the ePuffer Titan is the one for us.
Automatic Vape Pen or Button Press?
When we say automatic we are talking about vaping without pressing any buttons. With an automatic firing vape you simply inhale and the device activates.
With a button operation vape you need to first press the fire button and then inhale. There are benefits to both, I personally prefer a fire button as it allows me to 'pre-heat' the coil for a split second before I vape.
Variable Wattage
There are a number of vape pens on the market that offer variable wattage. This just allows you to control of the wattage you vape at. Maybe you have an fruit e juice that is best a lower wattages and a dessert e juice that shines at higher wattage. With this type of device you can adjust to your preferences.
The Twister by Freemax is one such vaping device.
Conclusion
So there we have it.. Our top picks to help you choose the best vape pens in 2023. You really can't go too far wrong with the above products, very simple to use and great for beginners and pretty much all experience levels.
As always, any questions you may have on what vape pen to buy please ask in the comments below!
Frequently Asked Vape Pen Questions
What E-Liquid Can You Use in a Vape Pen?
It all depends on the vape pen. For Mouth to Lung (MTL) you can use nic salts, 50PG/50VG as well as 60VG in most. For a true sub ohm vape pen you will want to use 70VG+.
Let's break down the two main vape pens that you will come across on your search for the best pen style vape.
Mouth to Lung (MTL)
The first is where you vape mouth to lung (like a cigarette) and will generally use a coil resistance above 1.0 Ohm. I say generally as pen vapes do now include sub ohm coils that can also be used for MTL vaping.
For this type we recommend the following vape juice:
50PG / 50VG e-liquid
40PG / 60VG e-liquid
Nicotine salt e-liquid
Sub Ohm/Direct to Lung (DTL)
The second are sub ohm vape pens that has coils with a resistance below 1.0 Ohm. So it could be 0.15 or 0.2Ohm coils that are included with the Freemax Twister. These coils are BIG and can be used with higher VG (thicker) e-liquid! These are what we like to call 'true sub ohm vapes'.
For true sub ohm vape pens we recommend the following e-juice:
A minimum of 30PG / 70VG right up to 100VG.
Some Vape Pens Offer Two Types of Coil
For those above that offer two types of coil (1.0 Ohm+ and a lower resistance coil under 1.0 Ohm) it is best to use the recommended coils above for mouth to lung.
For the coils that are under 1.0 Ohm with these types of vape pens, while they can offer a direct to lung vape and are technically sub ohm, the coils are small so provide more of a restrictive DTL vape. Devices such as the Jacvapour S17 and Apollo Ohm Go fall into this category.
We recommend the following e-liquid:
40PG / 60VG
30PG / 70VG
Nic Salt
50PG / 50VG
How Do You Charge a Vape Pen?
Your kit will include a USB charge cable. This is generally used to charge your vape using a laptop, PC or compatible adapter plug. Simply plug one end of the cable into the battery and the other into your PC
There is usually a light that indicates when the charge is complete. The charge light may simply go out as well. Without sounding like a broke record, your instructions will tell you what to look out for.
It can take anywhere from 1-2 hours to charge fully. This will be dependent on the battery capacity. The larger capacity the longer it will take.
Quick note on safety: Please only use the charging cable supplied with the kit. Do not use phone chargers or any other type of charger that was not intended for e cigarette charging.
How Do You Clean A Vape Pen?
We would recommend cleaning your vape tank on each coil change. Here are a few easy steps to follow:
Remove tank from battery
Take tank apart and remove used coil
Rinse/soak tank in warm water
Ensure you clean the threading at the base of the tank
Use a paper towel to dry or simply leave to air dry
To clean your batter simply use a paper towel (dry) and clean the threaded section
How Much Does A Vape Pen Cost?
You may have seen cheap vape pens in your local gas/petrol station but we would recommend buying one that offers a bit more in terms of quality. That doesn't mean they have to be expensive though.
You can buy good quality, cheap vape pens from £10.99. Check out the JAC Vapour S17 and Innokin Jem Pen above. All you have to do is then add e-liquid. Even our favourite options for new users comes in at less than £20, that's with e-liquid!
Where Can I Buy Vape Pens?
If you have a local vape shop then you can pay them a visit. Any good vape shop will have samples that you can use or at the very least talk you through the different types of vaporizer pen available.
Like many, I personally like to shop online as that is where I find the best prices and deals. All of the options above have links to the best places to buy online.
What Are the Best Brands?
There are many trusted brands that make vape pens. Our favourites are:
ePuffer
SMOKO
Aspire
Innokin
For sub ohm then the Freemax Twister is excellent
If you are looking for a UK vape pen brand then JAC Vapour are our go to.
What Are The Benefits to Using Vape Pens?
They are usually compact, easy to carry around and they are very easy to use which makes them a good entry point for new vapers.