After an influx of squonkers hitting the shelves over the past year we are firmly on the hunt for the best squonk mod money can buy.
It used to be the case that a regulated mod was pretty much the only choice. Since squonking has reached the mainstream though we have see an increase in regulated squonk mods. Which is good news indeed.
What Are The Best Squonk Mods Currently Available? We Take a Look At Our Top Picks for 2022.
After trying over 40 squonk mods we have reached, what for us, are the best we have reviewed. If you are buying a squonk mod just be sure you go for a mod that fits your experience. If choosing an unregulated mod then be sure you are up to scratch on battery safety and Ohms law.
Ok.. enough of that, let's take a look at the best squonkers that we have tried.
1. Dovpo Topside Dual (Editors Choice)
Another collaboration, this time Dovpo have teamed up with Youtube vape reviewer The Vapor Chronicles (TVP).
The Dovpo Topside Dual has taken the vaping world by storm and is classed by many as one of the best squonk mods available.
Capable of firing upto 200W the Dual is powered by dual 18650 batteries and has all the advanced features a vaper could need, if they choose.
It's a solid device that is constructed from zinc alloy and has a large 0.96 inch OLED screen. The main feature on the Topside Dual has to be it's top-fill squonk bottle, making this a mess free breeze to use.
Features
Dual 18650 batteries
200w max output
10ml capacity bottle
Top fill squonk bottle
2. Vandy Vape Pulse V2 (Best Selling Squonker)

Vandy Vape were one of the first to release a squonk mod (in collaboration with Youtube reviewer Tony B) to the masses and it goes without saying they have been huge hits. The latest in the range is the Vandy Vape Pulse V2.
They have tweaked and improved on many areas, the most noticeable being the form factor. Now we have smooth rounded edges giving it a great hand feel. There is the bottom fill bottle design with a whole host of vape modes for you to go at. Can be vaped in voltage, power, bypass and TC mode.
Inside it is capable of running off three battery types – 18650, 20700 and 21700.
Power wise it allows for a respectable 95W output fully controlled through the crisp OLED screen on the side of the mod.
A great looking squonker, a worthy upgrade to the original Pulse models and a great starting point for most vapers.
Features
Compatible with 18650 | 20700 | 21700 batteries
Regulated – Upto 95W
Bottom fill design
Great hand feel
3. Dovpo Topside Lite (Best Squonk Mod For Beginners)
Dovpo, Dovpo, Dovpo. I bet you are sick of seeing Dovpo devices in this list. Well, let me just say, there is a good reason. They make a mean squonk mod.
The Topside Lite is a great looking device that can fire upto 90W with either 10700 or 21700 batteries and (with the kit we reviews) a 18650 battery by use of the supplied adapter. The large, clear OLED screen displays everything clearly and best of all this can be also be switched to use as a standard mod if you fancy a squonk break.
All of the above makes for an easy to use and nice introduction into the world of squonking.
Features
Beautiful design with quality to match
Great option for those new to squonk mods
Single 18650/20700/21700 Battery
Can be used as a standard vape mod
4. Dovpo Topside (Best Single Battery Squonker)

The first version of the Dovpo Topside was this single cell mod that can house 20700/21700 and 18650 batteries.. A great option it is too. With easy top filling, as the name suggest, there is no removing the squonk bottle and parts here..
The build quality and ergonomics are excellent and with a 10ml squonk bottle and power output upto 90W this will keep the heaviest of vapers vaping between fills.
Finishing the mod off we have a nice 0.96″ easy to read OLED screen that allows you to select Wattage, TC and bypass modes.
Features
Regulated squonk mod
Can accommodate 20700/21700 and 18650 batteries
10ml capacity bottle (3 included)
Top fill function
5. Geek Vape Aegis (Waterproof Squonk Mod)

Geek Vape are the leaders in vape hardware when it comes to hard wearing mods. The Aegis line covers all vape mod types including the latest Aegis Squonker.
So IP67 waterproof, shockproof and dust proof comes as standard. Always handy of you tend to work your mods hard.
Not only can you squonk, obviously, but the Aegis can be turned into a 'normal' vape mod by switching out what they call the Skeleton. It's basically just a replacement grip but it comes in handy.
The device can fire up to 100W and is powered by a single 18650 battery.
It's a top, top device in both squonk and standard mod that is finished off by an easy to read 0.96″ OLED screen.
6. Dovpo Topside SQ (Best Mech Squonk Mod)

The SQ by Dovpo is their latest collaboration between Signature Tips and The Vapor Chronicles.
The device is one of the best designs of any recent squonk mod. Constructed from Aluminium with a shot blasted and anodized finish it screams quality.
Now, no matter how much you like the look of this squonker it is a mechanical mod. As such it's meant for experienced vapers only.

7. Vandy Vape Pulse Dual (Best Dual 18650 Squonker)
Another version of the best selling Pulse line of squonk mods. This time a dual 18650 battery option.
Still featuring removable panels to change the look of your device the Vandy Vape Pulse Dual squonker can reach upto 220W and includes temp control and bypass functionality. All is controlled through the large OLED screen on front of the device.
In kit form the Pulse V2 BF RDA is included, a solid RDA.
We really like this device, it feels great in the hand and performs a treat.
Features
Excellent build quality
Regulated squonker
220W max output
7ml bottle
Replaceable panels
Best Squonk Compatible Atomisers | Bottom Feed (BF) RBA's
Wotofo Profile RDA
Mesh coils are a popular choice and a choice that has gained traction in 2020. One of the best is the Wotofo Profile BF RDA. A collaboration with #Mr. JustRight1.
Wotofo are known for their RBA's and for squonking, this is a top choice for those flavour chasers amongst us. The Profile has a deep juice well and the 24mm diameter RDA houses a deck that is easy to build on.
If mesh isn't your thing you can also pop a single coil in their so it's versatile as well.
24mm Diameter
Mesh
Switch between mesh and coil
HellVape Dead Rabbit BF RDA
Onto a look now at some of the best squonking atties available.
Whether using as a standalone dripper or on top of your squonker the Dead Rabbit is one of the best performers currently available.
This is the RDA that got our reviewer Neil back to using drippers, he loved it.
For dual or single coil builds this RDA kicks out flavour in the bucket loads and isn't too shabby in the cloud department if that's your thing.
The juice well is deep enough to ensure over squonking is hard to do and the clever deck design is easy to build on.
This is what Neil had to say about the Dead Rabbit:
"As I say all the time I'm not much of a dripper but squonking has brought me back to the RDA family and of the ones I've tried the Dead Rabbit is as close to the perfect BF RDA I've had the pleasure of using."
24mm
Gold plated Bottom feed pin
Dual or single coil options
Easy to build on
Deep juice well
Excellent flavour
Digiflavor Drop BF RDA
Digiflavor hare know for some great releases as of late and they are carrying that trend forward with the Drop RDA.
In collaboration with YT reviewer Vapor Chronicles the Drop is a beautifully machined atty. There is plenty of room on the deck making it suitable to all levels of builder.
Onto the performance.. Well, lets just take a little excerpt from Neils recent review:
"Flavour wise I can't fault it – it really does pick out layers of flavour I didn't know existed in some of my go to juices – definitely one for the flavour chasers – though the cloud production is excellent too!"
Check out our full list of the best squonk RDA's
24mm Diameter
Large build deck
Hard to over squonk on this atty
Superb flavour
What is Squonking?
Squonking is a term you may have seen an awful lot of recently and is fast becoming one of the most popular vaping methods around.
Offering the convenience of a tank, with the flavour benefits of an RDA.
Not only that but they enable you to vape all day long with the large capacity bottles found with most squonk mods.
Squonking has really entered the mainstream of vaping recently, with many major manufacturers such as Kanger, Steamcrave and Aspire releasing squonking units and squonking compatible products.
You might be left scratching your head as to what squonking actually is though, so we have put a guide together at the end of our 'best of' list that will explain what squonking is, and make things a little bit clearer!

What Is Squonking and Who Is It Aimed At?
Squonking is a style of vaping that involves a squonk mod, and a bottom fed rebuildable tank atomiser.
It's aimed at any style of vaper, with products available to cater to everyone's needs, but more specifically people who are looking for an 'all in one solution'.
The bottles contained within squonkers tend to be of large capacities, doing away with the need to carry around separate bottles of juice through your day.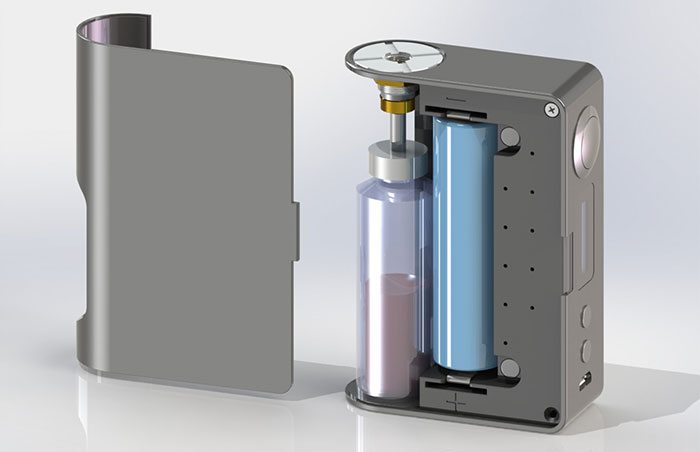 The atomisers used are rebuildable dripping atomisers with bottom feed pins, meaning you get the very best flavour and vapour!
Unless they have been specifically converted, or fitted with a compatible bottom feed pin, you can't use an RDA with an every day 510 connector, as there will be no way for the juice to be fed up from your mod to your atomiser.
Likewise, you don't want to use an RDA with a bottom feed pin fitted on a standard mod, as juice will drip down through the bottom feed pin and get into your mod through the 510 connector.
Which can of course give you some serious issues with your mod.
Only use an RDA with a BF pin on a squonk mod, never on a standard every day mod.
How Do You Squonk?
It's actually pretty simple, and easy to get to grips with.
You'll need a specific squonk mod (We have some of the best squonk mods listed below), which is a mod that has a removable squonking bottle and a hole cut out for you to squeeze the bottle.
Squonkers come either regulated or unregulated (mechanical).
Popular chips such as the Evolv DNA series and Yihi's SX series can be found in many high end squonkers.
You'll also need an RDA with a bottom feed pin fitted, squonking will not work with regular RDA's.
When you squeeze the squonk bottle juice will be fed up from the bottle into your RDA from underneath, which will coat your wicks with juice.
You then hit the power button of your mod to take a puff.
A quick couple of squeezes on your juice bottle every few puffs or so is usually enough to keep your wicks coated and your vape dry hit free.
It's dripping without even needing to remove your top cap!
What Kit Do You Need?
Squonk mod
Squonking bottle
Bottom feed compatible RDA – Will not work with standard RDA
Bottom feed pin
Juice!
Squonking – The Good
One of the best things about squonking is that you have the convenience of a tank, with the flavour and vapour benefits that a dripper provides.
Most squonk mods come with bottle capacities of 7-10ml. This means that you can carry around an entire day's worth of juice on you, with no need to refill throughout the day, making a squonk mod extremely convenient to carry.
Plus, the bottles only tend to feed juice up to your atomiser with a squeeze, so you can carry your squonker around with you with no fear of leaking.
One of the biggest plus points in my opinion is that on top of your squonker, is a fully fledged RDA.
Many of the best and most popular RDA's have bottom feed pins either included or available, which means they can be used with squonk mods.
It is no fuss dripping, a simple squeeze of a bottle feeds juice up and re-juices your wicks with little mess (unless you squonk too hard and flood your deck). You can drip all day long without needing to remove the top cap of your atomiser.
There's real value for money to be found as well, with quite a few 'all in one' kits available that provide you with a squonk mod and bottom fed atomiser, at very competitive pricing too.
Kits such as the Council of Vapor Wraith and Kanger Dripbox 160 are well priced all in options, which can work out cheaper than many vape mod and sub ohm tank combos.
Squonking – The Bad
Under-squonking and Over-squonking
Unless you have a clear cap on your bottom fed dripper to see your build, you might struggle at first with ensuring your wicks are juiced correctly. This can result in Under-squonking, which gives you dry hits. Never a pleasant thing.
Or Over-squonking which floods your deck, causing leaking and spit-back. That's never a nice thing either!
You might find you have an adjustment period whilst you work out the best balance and what works best for your mod and atomiser.
Limited choice.
The squonking market is rapidly expanding, and with major manufacturers involved it is only going to get bigger over time.
However, at present you are limited if you are looking for a squonk kit that is widely available and cheap.
There is a huge market from artisan high end suppliers. However, they are limited to what they produce which in turn means the chance of you finding rocking horse crap may be a more likely outcome.
If you stick to the more well known manufacturers, there isn't a whole lot of choice right now, (or at least at the time of writing) but what there is will certainly do the trick.
Will Squonking Be For Me?
If you already use drippers for the vast majority of your time, trying out a squonker should be an absolute no brainer.
There are squonk mods and atomisers out there that cater for just about every style of vaping.
Bottom feed pins for various popular drippers are now available too in order to make them compatible with squonk mods.
I would recommend squonking to everybody, beginner to experienced vaper.
It's something that every vaper should try at least once due to the excellent all in one solution it provides, and the market is only getting bigger in size.
Have a look at our 'Top Squonkers' guide above to get a feel for the best products available right now in the squonking market!
We have a mix of the rare and high end, regulated and unregulated, right down to more budget friendly alternatives that still offer excellent performance.
So there are some recommendations to get the ball rolling. Do you have a favourite Squonk Mod?
Let us know what it is in the comments below!