What Are The Best Squonk Mods Currently Available? We Take a Look At Our Top Picks for 2019.
Plus, All You need To Know About Squonking.
Menu:
---
---
Introduction To Squonking
Squonking is a term you may have seen an awful lot of recently, as squonking is fast becoming one of the most popular vaping methods around.
Offering the convenience of a tank, with the flavour benefits of an RDA. Vapers have become enamoured with squonkers recently as they offer an excellent all in one solution.
Not only that but they enable you to vape all day long with the large capacity bottles found with most squonking mods.
Squonking has really entered the mainstream of vaping recently, with many major manufacturers such as Kanger, Steamcrave and Aspire releasing squonking units and squonking compatible products.
You might be left scratching your head as to what squonking actually is though, so we have put a guide together at the end of our 'best of' list that will explain what squonking is, and make things a little bit clearer!
Top Picks – Budget Friendly Squonk Mods
Vandy Vape Pulse

There are a number of squonkers on the market getting nearer the budget range and the Vandy Vape Pulse squonker is one such mod.
If you're ready to get into squonking and understand all that comes with ohms law and unregulated mods then this is a good place to start.
This is a pretty cool looking unregulated squonker that can take an 18650 or 20700 battery. It's lightweight, can take 25mm atomisers and holds 8ml of e-liquid in the silicone squonk bottle. It also includes a safety switch for the power button that stops any accidental firing.
OK this is a no frills device that would I'm sure look great with the Vandy Vape Pulse 22 squonk ready RDA!
Remember if you're thinking of getting this – what is technically a mech mod – then make sure you understand Ohms Law!
Compatable with 18650 and 20700 batteries
Mechanical mod (unregulated)
8ml capacity juice bottle (food grade material)
Replaceable panels (front and back)
Locking power switch
Wismec Luxotic Squonk Mod
We recently carried out a review of the Luxotic and it's a little cracker. Not only does it look the business it's compact and performs an absolute treat with the paired Tobhino BF RDA.
It's refreshing to see a quality design and performance going hand in hand and Jaybo (designer) has done a superb job. The mod has a max output of 100W the RDA itesl, despite being pretty small, is simple to build on. Highly recommended and for us, one of the best squonkers to date.
Beautiful design with quality to match
100W max output
Removable/replaceable side panel cover
Sigelei Fuchai Squonk 213 Mod
One of a few regulated squonk mods on the market and the good news is it's good one! The Sigelei Fuchai Squonk 213 mod was a pleasure to use in our recent review.
A quality build with a good hand feel this single battery mod can accommodate three battery types, 18650, 20700 and 21700.
Capable of firing upto 150W this is a great choice for vapers that don't want to go down the mechanical mod route. You can also use this as a standard variable wattage mod with any sub ohm tank or RDA without a BF pin.
Excellent build quality
Regulated squonker
150W max output
5ml bottle
Eleaf Pico Squeeze – 50W
The Eleaf Pico mod proved to be a winner and they have taken this on board with the creation of the 'Squeeze', a squonking version of the mod.
The Pico squeeze is one of the smallest squonk mods on the list with dimension coming in at 46 x 23 x 75mm. Don't let the small size put you off. The Squeeze squonker still has 50W of power, a 6.5ml capacity tank and is powered by a replaceable 18650 battery.
If simple and straightforward is what you want then this could be a good choice. If you want more control or temperature control capabilities then this may not be for you. There is no variable wattage selection or TC, this mod utilises direct output voltage that changes the power according to your battery level.
Available as a full kit, including Pico Squeeze Squonker and Coral RDA
50w max output
6.5ml capacity bottle
Single 18650 battery
Stentorian Ram Squonk Mod by Wotofo
Coming in a choice of quality finishes the Stentorian Ram is another squonker that sites in the mech mod category. Don't mean to keep bleating on but know your stuff about vape batteries and ohms law before even thinking about using a mech.
Neil reviewed the Ram and was impressed by the performance. He had an issue with the the fire button breaking on the first batch he received. This has now been rectified!
It features an easy turn safety lock on the fire button to prevent accidental firing and a peek insulation ring on the 510 to prevent overheating.
The Ram also features 24k gold plated parts for better conductivity and the spring loaded 510 is suitable for 22mm and 24mm BF RDAs.
The kit comes with three food grade 7ml squonk bottles that aren't the softest in the world but squonk and keep their shape well. A top choice that packs a punch.
Unregulated mod
Can accommodate 22mm and 24mm bottom fed RDA's
7ml capacity bottle (3 included)
Single 18650 battery (not included)
Aleader X Drip Squonk Kit
Powered by single 18650 battery this unregulated mod by Aleader looks a lot more expensive than it actually is with it's resin finish. It's not all about the aesthetics but the good news is this squonk box performs as you would expect for a mech mod.
Add to this a respectable 7ml squonk bottle and this should keep you vaping for a good amount of time in between refills.
Quality resin finish
7ml capacity squonk bottle
NO Safety lock switch
Single 18650 battery
Geekvape Athena Squonk Kit
Another unregulated squonk mod powered by single 18650 battery. The Geekvape Athena is a great little device constructed from anodised aluminium.
The safety lock switch below the fire button is a nice touch that helps prevent accidental firing and the auto adjusting 510 pin has a good range of movement to prevent chances of leaking with a number of different RDA's.
The Athena RDA that comes in the kit is a good match that uses a top angled airflow system to reduce the chances of leaking and give flavour a boost.
To finish it off you can load up the squonk bottle with 6.5ml of e-liquid.
Available as a full kit, including the Athena RDA
0.15 – 2 ohm resistance
6.5ml capacity bottle
Auto-adjusting 510 pin
Safety lock switch
Single 18650 battery
Lost Vape Therion BF Mod – 75W
Lost Vape have taken the vaping world by storm recently with their Therion range of mods. The first noticeable things with these mods is that they look the business.
Luckily for us we now have the Lost Vape Therion BF mod. This is powered by the same DNA75 chip found in the standard Therion although the squonker features just one 18650 battery.
The Therion BF is Escribe ready, can be fully customised with with various sleeves and also comes complete with temp control functionality and the Therion BF RDA.
75w max output
11ml capacity bottle
Single 18650 battery
Squonker Compatible Atomisers
HellVape Dead Rabbit BF RDA
Onto a look now at some of the best squonking atties available.
Whether using as a standalone dripper or on top of your squonker the Dead Rabbit is one of the best performers currently available.
This is the RDA that got our reviewer Neil back to using drippers, he loved it.
For dual or single coil builds this RDA kicks out flavour in the bucket loads and isn't too shabby in the cloud department if that's your thing.
The juice well is deep enough to ensure over squonking is hard to do and the clever deck design is easy to build on.
This is what Neil had to say about the Dead Rabbit:
"As I say all the time I'm not much of a dripper but squonking has brought me back to the RDA family and of the ones I've tried the Dead Rabbit is as close to the perfect BF RDA I've had the pleasure of using."
Read the Full HellVape Dead Rabbit Review Here
24mm
Gold plated Bottom feed pin
Dual or single coil options
Easy to build on
Deep juice well
Excellent flavour
Vandy Vape Pulse 22 BF RDA
Paired with the Vandy Vape Pulse squonker or available on it's own.
Providing a smooth and flavourful vape the Pulse 22 BF RDA is up there with the best affordable squonking atomisers available.
The airflow holes are set high to avoid any over squonking and possible leakage and the deck relatively easy to build one. Our reviewer found this atty really shone with a 3mm diameter coil build around the 60-70W range.
Read The Full Vandy Vape Pulse 22 BF RDA Review Here.
22mm Diameter (24mm available)
Gold plated Bottom feed pin
Post-less deck
Great airflow
Digiflavor Drop BF RDA
Digiflavor hare know for some great releases as of late and they are carrying that trend forward with the Drop RDA.
In collaboration with YT reviewer Vapor Chronicles the Drop is a beatifully machined atty. There is plenty of room on the deck making it suitable to all levels of builder.
Onto the performance.. Well, lets just take a little excerpt from Neils recent review:
"Flavour wise I can't fault it – it really does pick out layers of flavour I didn't know existed in some of my go to juices – definitely one for the flavour chasers – though the cloud production is excellent too!"
Read The Full Digiflavor Drop BF RDA Review Here
24mm Diameter
Large build deck
Hard to over squonk on this atty
Superb flavour
Wotofo Nudge RDA

The Wotofo Nudge 22mm RDA is an absolute steal, and it makes the list as one of the cheapest compatible RDA's available.
Cheap doesn't mean a compromise on quality however, with the Nudge offering performance on a par with some of the more higher priced RDA's available.
It's a compact 22mm RDA, with some of the best flavour we have seen from an RDA.
You have a dual post build deck that offers an extremely easy build, and great build quality that belies the price! You will need to buy bf pin separately at the time of writing.
Bottom feed pin not included
Superb flavour
Two post build deck
Simple to build on
What Is Squonking and Who Is It Aimed At?
Squonking is a style of vaping that involves a squonking mod, and a bottom fed rebuildable tank atomiser.
It's aimed at any style of vaper, with products available to cater to everyone's needs, but more specifically people who are looking for an 'all in one solution'.
The bottles contained within squonkers tend to be of large capacities, doing away with the need to carry around separate bottles of juice through your day.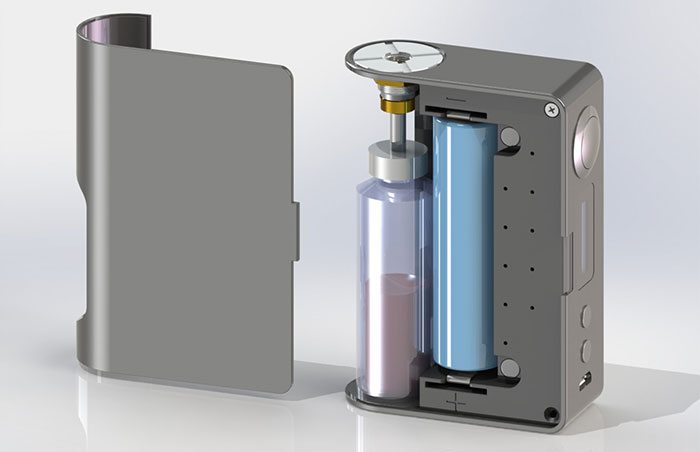 The atomisers used are rebuildable dripping atomisers with bottom feed pins, meaning you get the very best flavour and vapour!
Unless they have been specifically converted, or fitted with a compatible bottom feed pin, you can't use an RDA with an every day 510 connector, as there will be no way for the juice to be fed up from your mod to your atomiser.
Likewise, you don't want to use an RDA with a bottom feed pin fitted on a standard mod, as juice will drip down through the bottom feed pin and get into your mod through the 510 connector.
Which can of course give you some serious issues with your mod.
Only use an RDA with a BF pin on a squonking mod, never on a standard every day mod.
How Do You Squonk?
It's actually pretty simple, and easy to get to grips with.
You'll need a specific squonking mod (We have some of the best squonk mods listed below), which is a mod that has a removable squonking bottle and a hole cut out for you to squeeze the bottle.
Squonkers come either regulated or unregulated (mechanical).
Popular chips such as the Evolv DNA series and Yihi's SX series can be found in many high end squonkers.
You'll also need an RDA with a bottom feed pin fitted, squonking will not work with regular RDA's.
When you squeeze the squonk bottle juice will be fed up from the bottle into your RDA from underneath, which will coat your wicks with juice.
You then hit the power button of your mod to take a puff.
A quick couple of squeezes on your juice bottle every few puffs or so is usually enough to keep your wicks coated and your vape dry hit free.
It's dripping without even needing to remove your top cap!
What Kit Do You Need?
Squonking mod
Squonking bottle
Bottom feed compatible RDA – Will not work with standard RDA
Bottom feed pin
Juice!
Squonking – The Good
One of the best things about squonking is that you have the convenience of a tank, with the flavour and vapour benefits that a dripper provides.
Most squonking mods come with bottle capacities of 7-10ml. This means that you can carry around an entire day's worth of juice on you, with no need to refill throughout the day, making a squonking mod extremely convenient to carry.
Plus, the bottles only tend to feed juice up to your atomiser with a squeeze, so you can carry your squonker around with you with no fear of leaking.
One of the biggest plus points in my opinion is that on top of your squonker, is a fully fledged RDA.
Many of the best and most popular RDA's have bottom feed pins either included or available, which means they can be used with squonker mods.
It is no fuss dripping, a simple squeeze of a bottle feeds juice up and re-juices your wicks with little mess (unless you squonk too hard and flood your deck). You can drip all day long without needing to remove the top cap of your atomiser.
There's real value for money to be found as well, with quite a few 'all in one' kits available that provide you with a squonking mod and bottom fed atomiser, at very competitive pricing too.
Kits such as the Council of Vapor Wraith and Kanger Dripbox 160 are well priced all in options, which can work out cheaper than many vape mod and sub ohm tank combos.
Squonking – The Bad
Under-squonking and Over-squonking.
Unless you have a clear cap on your bottom fed dripper to see your build, you might struggle at first with ensuring your wicks are juiced correctly. This can result in Under-squonking, which gives you dry hits. Never a pleasant thing.
Or Over-squonking which floods your deck, causing leaking and spit-back. That's never a nice thing either!
You might find you have an adjustment period whilst you work out the best balance and what works best for your mod and atomiser.
Limited choice.
The squonking market is rapidly expanding, and with major manufacturers involved it is only going to get bigger over time.
However, at present you are limited if you are looking for a squonking kit that is widely available and cheap.
There is a huge market from artisan high end suppliers. However, they are limited to what they produce which in turn means the chance of you finding rocking horse crap may be a more likely outcome.
If you stick to the more well known manufacturers, there isn't a whole lot of choice right now, (or at least at the time of writing) but what there is will certainly do the trick.
Will Squonking Be For Me?
If you already use drippers for the vast majority of your time, trying out a squonker should be an absolute no brainer.
There are squonking mods and atomisers out there that cater for just about every style of vaping.
Bottom feed pins for various popular drippers are now available too in order to make them compatible with squonking mods.
I would recommend squonking to everybody, beginner to experienced vaper.
It's something that every vaper should try at least once due to the excellent all in one solution it provides, and the market is only getting bigger in size.
Have a look at our 'Top Squonkers' guide below to get a feel for the best products available right now in the squonking market!
We have a mix of the rare and high end, regulated and unregulated, right down to more budget friendly alternatives that still offer excellent performance.
So, lets take a look at some of our favourites.
So there are some recommendations to get the ball rolling. Do you have a favourite Squonk Mod?
Let us know what it is in the comments below!