Once you get the best vape tank for your vaping style you will never look back.
Thing is, there are thousands of options so the choice can be a little difficult.
Here at Ecigclick we have reviewed over 260 mouth to lung and sub ohm tanks, it has to be said the quality varied quite a bit!
What is the Best Vape Tank for 2022?
As a collective group of vapers the following best vape tank list is what we have found to be top performers. It has been narrowed down to offer something for both the beginner and advanced vaper.
This list is focusing on stock coil tanks. If you prefer rebuildable tanks then check out our best RTA's.
Let's get straight to it.
1. Geekvape Zeus Sub Ohm Tank (Editors Choice – Best Vape Tank Overall)
Following on from the successful RTA range Geekvape moved the Zeus into stock coil territory.
Like the popular RTA version this has the top airflow design which should minimise the chance of any leakage from the airflow inlets. The airflow is of course fully adjustable and during our review the leak proof airflow system seemed to do its job!
Also on review the quality of the tank really impressed as did the flavour with either of the supplied coils. You get a Kanthal mesh 0.4ohm and 0.2ohm coil included.
Talking of coils these are a simple push in and pull out design. There were zero issues with wicking or dry hits.
Features
Top adjustable airflow inlets – leak proof
Excellent flavour and performance
Easy to change coils
5ml capacity bubble glass option
2. Freemax Mesh Pro (Best Vape Tank For Flavour)
Well what is there to say about the incredible Mesh Pro? I reviewed this and it got almost full marks from me! It is still by far my favourite Sub Tank ever!
The flavour from this rivals some RTAs – indeed some rebuildable enthusiasts on the EcigClick team love this tank too.
There is a huge range of mesh coil heads including the standard single coil, double, triple, quad and even Sextuple coils!
The coil life is amazing and this keeps kicking out the flavour for weeks with a good quality e-liquid.
With the bubble glass installed you can take the e-liquid capacity up to a huge 6ml and a slide top filling cap allows for easy refilling.
This is a large diameter tank at around 26mm for the resin versions (the carbon versions were slightly smaller) so you might need to make sure you have a mod that can accommodate this without overhang.
Features
Flavour is comparable to RTA's
Huge range of coil options
Coil life is fantastic
Great e-liquid capacity
2. Aspire Tigon Tank (Best Mouth To Lung Tank)
The Aspire Tigon tank can be used in MTL and DTL configurations.
On review it really shone when used with the 1.2ohm MTL coil and mouth to lung (MTL) drip tip installed. In fact this coil even coped with thicker e-liquid mixtures of 70%VG so it is pretty versatile!
There are also 0.7ohm mesh and 0.4ohm Kanthal coils to choose from.
The coils have been designed to be really easy to remove and install having a push in and pull out fitment. In addition to easy installation a seal prevents the e-liquid still in the tank leaking out when you remove the coil.
The flavour was found to be excellent and the tank has a dual adjustable airflow set up – holes for restricted MTL and slots for DTL vapers.
To refill the tank has a child safe mechanism which involves first lifting the top cap up and then sliding across. Obviously this increases safety plus less likely to accidentally slide open.
Features
Capable of wicking up to 70% VG e-liquid
Easy coil installation with sealing mechanism for when coil is removed
Child proof slide top fill
MTL (holes) and DTL (slots) adjustable airflow inlets
4. Smok TFV16 (Best Vape Tank For Clouds)
The TFV16 is a huge monster of a tank – boasting a maximum 9ml e-liquid capacity and is 28mm in diameter.
Obviously the size might have to influence the mod you can use this on without overhang!
A new range of coils were created for this including single, dual and triple mesh coil versions. The single and Dual can be used at power levels up to 120W!
To accommodate larger airflow inlets the height of the base was increased and there are two large slotted inlets which can be opened or closed with the adjustment ring to your preference. The big airflow seemed to really kick up the flavour and vapour production in our review.
The top fill cap has a button to lock and has be redesigned so that the gasket is now below the swing cap to make access to the fill port easier and prevent leaks from the top.
Features
Huge juice capacity – maximum 9ml
Large adjustable airflow inlets for increased cloud production
3 mesh coil heads available
High wattage and high flavour stock coil tank
5. Horizon Falcon (Best Mesh Vape Tank
The Horizon Falcon tank was released in the early days of stock coil mesh tanks and also had some experimental wicking options!
This was quite a breakthrough including flax fibre, wood pulp and cotton wicking. In particular the single Mesh (M1) coil combined with the Wood Pulp and Cotton was a little flavour monster. There are also regular wire style coil heads.
I reviewed this tank and found it to be an excellent performer with the mesh coils but since then Horizon have released some more coil options including dual and triple mesh.
Like the Freemax tank this is a chubby fella with a 25mm base diameter so you will need a mod which is able to accept this without overhang.
The tank is filled via the top and the cap is a screw fit so no accidentally sliding open. The triple slotted airflow inlets are adjustable using the bottom airflow control ring.
Features
Amazing flavour from a stock coil tank
5ml maximum capacity with bubble glass
Great range of coils including multiple mesh options
Screw top fill cap
6. Innokin Zlide (Best Selling MTL Vape Tank)
The Innokin Zlide tank is an updated version of the popular Zenith tank designed for MTL vapers.
The Zlide uses the same Z range of coils including the new Z-Plex3D mesh. As you would expect the airflow is adjustable via the airflow control ring at the base.
To refill there is a sliding top fill cap but this also has a locking feature to prevent children accessing the e-liquid and also useful to prevent accidental opening.
Another feature added for the Zlide was the flat top cap – removing the drip tip platform which was seen on the Zenith – making custom drip tips look neater.
To make the Zlide more cost effective the e-liquid control valve found on the Zenith has been removed and the tank glass can be replaced if damaged.
Features
Compatible with all the Z range of coils
New Z-Plex3D mesh coil introduced
Ability to replace the tank glass
Locking top fill cap
7. Aspire Nautilus 2S (Best Vape Tank For Beginners)
The Aspire Nautilus tanks have become legendary as a high benchmark in stock coil MTL vaping!
So to update the range the 2S was released this time with the ability to accommodate DTL vapers too whilst still being one of the best performing MTL tanks.
The airflow has a similar style to the Tigon – for MTL vaping the airflow can be turned to the round inlet holes and for DTL vaping there is a slot airflow option.
You will be pleased to hear the BVC coils are still compatible with the 2S and a new DTL coil at 0.4ohm resistance has been included. You also have an option of a new 0.7ohm mesh coil available separately. On the TPD version the coil also has a childproof lock.
The curvy design element is still apparent and there is a slide top fill cap which has a childproof lock too.
Features
DTL and MTL airflow options
New DTL 0.4ohm BVC coil
Compatible with existing BVC coils
Locking slide top fill cap
8. JAC Vapour S22 (Best For Both MTL And DTL)
The JAC Vapour S22 tank is one of those worth having in your collection. A solid workhorse of a tank with excellent build quality.
The tank glass is protected with the steel cover so less chance of smashed glass leaving you stranded! Especially if you are someone who subjects their vaping gear to a hard life!
Originally the S22 had a bottom fill design but there is a top filling version now you will be pleased to hear.
Another great feature of this tank is there are many coil options to choose from – MTL, Turbo and even DTL variants should keep most vapers happy.
At the base of the tank is the adjustable airflow control ring which during our review combined with the applicable coils managed to achieve both MTL and DTL airflow!
Features
Solid well-built rugged tank
DTL and MTL coil options to choose from
Top filling version available
Airflow is adjustable and works well with DTL and MTL coils
What is A Vape Tank?
The build and parts of a vape tank can differ from tanks to tank but the general idea is the same.
The tank above is made up of 5 main components.
Mouthpiece (You may also see this referred to as a drip tip)
Top cap/Atomizer tube (Chimney) – These are one machined piece. Although with many sub ohm tanks today the coil acts as the atomizer tube (chimney) and the top cap is a single piece.
Glass tube.
Coil/atomizer head
Tank/atomizer base.
For new vapers it may look like a lot of moving parts but it really is quite simple. The only time you will see your tank in bits will be when cleaning.
The tank will not work without the coil head. The coil head contains a wire coil that is wrapped in cotton (wicking material).  When you fill a tank the cotton soaks up the e-liquid.
When you press the fire button on a mod it heats up the wire coil which in turn vaporizes the e-liquid on the cotton. This is what produces the vapour you inhale.
Vape Tank Buying Guide
Before buying any kind of vape tank you first need to decide what kind of vaper you are.
This is very important. There are two main types of vaping style.
Mouth to Lung (MTL)
Direct to Lung (DTL) – These are predominantly sub ohm tanks.
So which way do you vape? We have a full MTL and DTL vape guide here.
Let's give a very brief overview.
Are You a MTL or DTL Vaper?
MTL Tanks
Mouth to lung vaping is where most new vapers start with their first e cig kits. This is due to it being the way most people smoke cigarettes. Inhale into the mouth and then to the lungs.
Vape tanks for mouth to lung operate with higher resistance coils (1.0Ohm+) at lower wattage. Generally no more than 18/20W. They also come with a narrow mouthpiece to restrict the draw you take.
MTL Tanks, as a general rule of thumb, work better with Nic Salt e-liquids and PG/VG e-liquids that have a max ratio of 60VG/40PG. 50/50 is generally recommended.
DTL Tanks
Direct to Lung vaping is usually a 'next step' in a vapers journey. This vaping style requires you to draw the vapour directly into the lungs. No holding the vapour in the mouth first.
For new vapers this can really take a bit of getting used to.
Vape tanks for DTL have lower resistance coils (0.5Ohm and below) and tend to operate at higher wattages, generally anywhere above 30W dependent on the coil.
These tanks have a wider bore mouthpiece that allows that vapour to flow freely.
DTL (sub ohm tanks), as a general rule of thumb, work better with e-liquids with a PG/VG ratio over 60VG/40PG. 70VG / 30PG is one of the most popular ratios for sub ohm vaping.
That's simple right? Good stuff.
As you can see it's not just a case of buying a vape tank. You need to take a few factors into consideration.
Can I Use Any Vape Mod For Any Vape Tank?
Good question. In short no you can't.
The first thing you need to tank into account when choosing a vape mod to go with a tank or vice versa is if the mod will work with the tank you have.
How Do We Know if the Tank Will Work With My Vape Mod?
Check the coil resistance (Ohms) and recommended wattage of the coil that comes with your vape tank. The coil resistance is generally displayed on the coil itself.
If not it will be on the packaging. As an example you may see the coil display the following:
1.8Ohm
1.2Ohm
0.8Ohm
0.5Ohm
0.3Ohm
0.15Ohm
Once you know the resistance/ohms of your coil you then need to check for two things on your vape mod.
The minimum resistance the box mod will work at.
The maximum wattage the mod will operate.
You will find this information on the spec sheet of the mod you have or are going to buy.
Try to Keep Well Within The Mods Max Wattage
So if you have a coil where the recommended wattage is 70-80W (and you actually vape within this range) and your vape mod only outputs a max of 80W the battery life will likely suffer. Reason being you are operating the mod at its maximum that will drain the battery quicker.
We recommend leaving plenty of wattage wiggle room and not firing at the mods maximum as your go-to vape. Yeah sure it's OK to do on occasion but with the example above we would recommend using a mod that has a minimum of 100/120W output.
Looks Matter?
I'm not talking about how pretty your mod and tank combo is, although it's always nice to have a great looking setup.
What we are talking about here is the diameter of the tank and mod.
Diameter of the Tank
Look out for the diameter of the vape tank and what diameter tanks the mod will fit.
Now you might not mind your tank overhanging your mod slightly, but if you do here's what to look out for.
The diameter of a tank will be on the mod specs.
To see if the tank will fit onto a vape mod, again, check out the specs. You will be looking for the smallest measurement on the dimensions.
In the example above the tank on the left is 0.5mm wider than the mods smallest dimensions. The tank on the right is 26.5mm so will fit with zero overhang.
Now the 28mm tank will still fit and as there is very little in it so will look OK. But if the tank had a 30mm diameter and the mod was 26mm width then there will be overhang and the tank may look a little silly.
Using A Vape Tank For The First Time
When you get your shiny new vape tank through the post we highly recommend doing the following before filling with juice.
Take it apart and put it back together a few times.
Seriously, it's no fun trying to figure out the mechanics of a tank if you have e-liquid everywhere. This will also stand you in good stead for when you come to replace your coil.
2. Optional: Remove the coil from the tank and give the other parts a quick rinse under warm water. Then dry with a paper towel. Do not soak the coil, you will kill it.
Cleaning isn't 100% necessary but from time to time we have see tanks arrive that have residual machine oil on the parts.
Not much of an issue nowadays as manufacturing processes are more thorough but you may want to make sure.
How To Fill Your Vape Tank For The First Time
OK.. You will have your coil installed of course so double check first.
Most new vape tanks now have a top fill function. This is brilliant news for all vapers making filling super easy!
This is a broad instruction and it may change slightly for your tank.
Top Fill Slide
Push the top cap to the side
Fill With E-Liquid
Take your time filling to avoid overflowing vape juice
Top Fill – Full Cap Removal
With some tanks the top may unscrew fully.
Priming Your Coil – Very Important!
OK.. So you have a vape tank full of e-liquid, now you just vape away right?
Whoa! Hold your horses!
Step away from the tank and allow the vape juice to soak into the cotton in your coil. To be on the safe side give it 10 minutes.
Ermmm Why?
If you vape immediately after filling you run the risk of the cotton being dry that will result in the dreaded dry hit. Once you get the dreaded burn, we've all been there, this makes your coil unusable. That is unless you like the taste of burnt cotton.
An extra tip is to take a few drags on the tank WITHOUT pressing the fire button. The idea behind this is to help draw e-liquid through to the cotton. You can close up your airflow while you do this. Go easy though, you don't want to flood your tank.
Extra Priming
For extra priming you can actually drip e-liquid directly onto the cotton that you can see on your coil. This needs to be done before filling the tank of course.
To do this remove your coil from the tank. You will see cotton peeking through holes on the side of the coil. A drop or two of e-liquid in each opening will help give you a head start.
Secondly, look into the top of the coil head. You will see the wire sitting over some cotton.
You can also drop a couple of drips of juice down the inside wall of the coil.
Tilt the coil head and turn the coil as you drip and you will see the cotton suck up the liquid.
I don't personally bother with this step but it adds an extra layer of protection from burning your cotton.
How Do I Get Big Clouds From My Vape Tank?
If clouding out your living room with vapour is your thing then be sure to get a tank that helps you do that to start with. The SMOK TFV16 is a real cloud chucker. No surprise really as the coils are massive.
You can also open up your airflow fully and take a long draw.. Then sit back and watch as the person sitting next to you disappears.
In addition to the above using an e-liquid with 80VG+ will help with dense clouds.
Please don't do this in a public place. Be a conscientiousness vaper hey!
How Do I Make My Coils Last Longer?
The nature of the beast with stock coil tanks is that coils will need replacing every now and then.
Different vape tanks can have varying coil life. If you get 2 weeks out of a coil then we would class this as pretty good going. Especially if vaping at high wattage.
To help prolong your coil life take a look at the juice you are using. If you like sweet, cloying e-liquids the sugars will build up on the coil resulting in dry, burnt flavour coming through.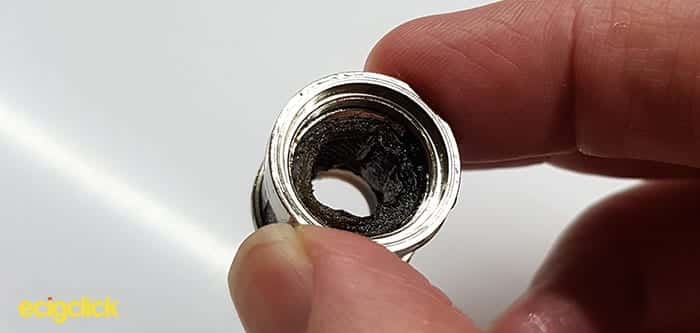 If you don't want to change your juice flavour then just expect to change coils more often.
We have also tried cleaning stock coils under water and/or using a clear alcohol such as vodka. Personally, coils are never the same after doing this. Save yourself the hassle and just replace.
You can see our full guide to cleaning vape coils here.
Burnt Taste Coming Through?
Try not to chain vape, especially if your coil can't handle it.
When you become a little more experienced with vaping you will recognise when the cotton is running dry and a nasty dry hit is on the way.
It's there in the background as you notice the flavour drop off slightly.
Make sure there are no air bubbles trapped around the holes on the coil head where the e-liquid soaks in. If you see any bubbles trapped in this area then the e-liquid is likely not fully reaching the coil.
Tip the tank or remove the top of the tank (Slide top across) to release the pressure. You should see the bubbles rise to the top. The burning flavour should subside.
Vape Tanks For Temperature Control
Temperature control may be an area of vaping you want to explore. In short, the technology is there to detect when your coil is getting too hot due to the absence of e-liquid. This prevents you vaping on a dry coil.
Great technology but you can't use all coils in TC mode.
So Which Coils Can You Use in TC Mode? And Which Coils Not to Use
Stainless Steel (SS) – Can be used in both wattage and TC mode
Titanium (Ti) – Only TC mode – Not to be used in Wattage mode
Nickel (Ni200) – Only TC mode – Not to be used in Wattage mode
Nichrome (Ni80) – Only Wattage – Not to be used in TC mode
Kanthal – Only Wattage – Not to be used in TC mode
To Finish
OK.. So you should now be ready to rock with your new vape tank. As we mentioned above, here at Ecigclick we only recommend products we have used, and we have used a large number of tanks between the team over the last 9 years.
If you have any questions then we are happy to answer where we can. Just keep on scrolling to reach the comments section. Happy vaping.
Vape Tank FAQ's
What Is a Good Vape Tank?
There are many good vape tanks but it is only a good tank if it fits with your vaping style. We have listed out top rated vape mods above and we talk about buying the right vape tank for you.
What is the Best Vape Tank to Buy?
We rate the Freemax Mesh Pro for DTL and the Aspire Tigon for MTL as our top pick vape tanks.
What are the Longest Lasting Vape Coils?
This is a 'it depends' question. It depends on how you vape (chain vape?) and the type of e-liquid you use.
You should expect between 1-2 weeks before your coil needs replacing. We did, however, find that the Freemax Mesh Pro and Geek Vape Zeus X gave us some longer lasting coils.
What Is the Best Type of E-liquid for Sub Ohm Vaping?
Sub ohm vaping is best suited to e liquids that have at least a 60VG ratio. 70VG/30PG is the optimal ratio of e-liquid for many who sub ohm. The higher VG ratio helps provide a smoother throat hit.
Are Mesh Coils Better?
Mesh coil technology proved to be a major breakthrough for vape tanks in 2019. In our opinion mesh stock coils offer superior flavour to most other types of coil material.
What are the Best Coils for Vaping?
If you can we'd recommend going for a tank that has mesh coils. The flavour can be outstanding.
Why Does my Vape Taste Burnt Even With A New Coil?
Your vape likely tastes burnt for the following reasons.
Your coil wasn't primed correctly (See above).
Be sure you didn't accidentally press the fire button on your vape before you have filled the tank with e-liquid (Yes, I have done this many times).
The e-liquid you are using may be too thick (high VG) for the coil you are using. Try a lower VG e-liquid to see if that improves things.
Why do my Vape Coils Burn Out So Fast?
If you notice your coils are burning out quickly check the following:
Try not to chain vape. Give the coil time to re-soak that e-liquid you have just vaped
Ensure you don't allow the tank to run empty. Keeping your tank topped up ensures your coil is always saturated.
Your vape juice may be too thick or too sweet. E-liquids with sweetener can clog coils.
Is it Bad to Vape on a Burnt Coil?
Why would you want to do that? Get that coil changed ASAP.
How Long Should I Let My Vape Coil Soak?
After filling we would recommend a minimum of 5 minutes to allow the e-liquid to soak into the cotton.
How Much Does it Cost To Replace A Coil in a Vape?
Replacement coils can range in price from £2 to £3 per coil. Not bad if you get 1-2 weeks out of each coil.