Finding the best sub ohm tanks for flavour and/or clouds can be a difficult task in 2023. Luckily we have tried and tested more than 200 tanks over the years so feel we are in a good place to help!
If you have been vaping for any amount of time you have likely come across the term 'sub ohm' or 'sub ohm vaping', if you are not sure what this is then take a moment to read the guides at the end of this post.
What Are The Best Sub Ohm Tanks To Buy? We Take A Look At our Top Picks For 2023 – So Far…
This post will purely look at some of the best sub ohm tanks (stock coil) available today. And believe me there are lots to choose from!
If sub ohm vaping isn't for you, check out our best mouth to lung vape tanks.
DEVICE
FEATURES

Easy top fill
Clean, crisp flavour
No leaks
Includes 2 mesh coils

25mm Diameter
Top fill system
Very good flavour
Flawless build quality

Best Sub Ohm Tank As Voted By Readers

26mm Diameter
Easy swap coil system
Comes with 2 x mesh coils
Super smooth vape with bundles of flavour

26.6mm Diameter (2ml)
32mm Diameter (5ml)
Comes with 2 coils
For high powered vaping
Excellent flavour

Best Sub Ohm Tank for Clouds

31.6mm Diameter
One for clouds
Excellent build quality
Comes with 2 mesh coils
1. Voopoo MAAT Tank New (Editors Choice)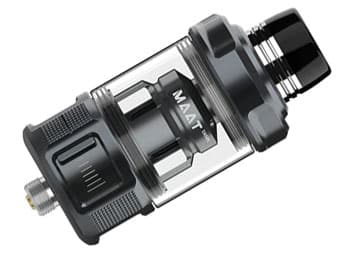 The Voopoo MAAT Tank New is, as the name would suggest a new version of the MAAT tank. We have tested this tank when it came with the Argus GT 2 mod and Argus XT/MT mods. It's a 26mm diameter tank (check it will fit your mod) and has superb build quality.
On our tests the new TPP-DM mesh coils (2 included) kicked out plenty of clouds and more importantly the flavour was clean and concise. Very impressive.
Voopoo have introduced a 'Volcanic Crater Design' which helps catch any condensation, which in turn helps keep the tank leak free. The latter of which we had zero of.
Airflow adjustment is on point. If an airy, cloudy vape is your thing then you can open this right up.
Excellent stuff from Voopoo.
Features
Clean, crisp flavour from the 2 TPP-DM Mesh coils
Good design and solid build
No leaks on our testing
Capable of some impressive clouds
Full Voopoo MAAT Tank New Review
2. Vapefly Kriemhild 2 (Best Build Quality)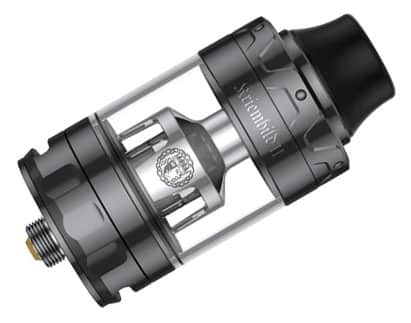 Maybe not one of the best known brands in the vape space but Vapefly have brought us some excellent atomisers in the past. The Vapefly Kriemhild 2 is a clean looking, 25mm sub ohm tank that should fit the majority of vape mods and has a lot to offer.
The dual airflow offers a good airy vape for those that like that style. The build quality is flawless and the top fill slots are big enough to poke the biggest juice bottle nozzles through.
The mesh coils (2 included) provide very good flavour although a touch on the cooler side. So depending on the type of flavours you vape this may be something you want to keep in mind.
If you like vaping at around 40-60W this is a great choice.
Features
25mm Diameter
Superb build quality
2 X Coils – 0.2ohm Mesh and 0.3ohm Mesh
Top filling system
Very good flavour
Full Vapefly Kriemhild 2 Review
3. Geekvape Zeus (Best Sub Ohm Tank As Voted By Readers)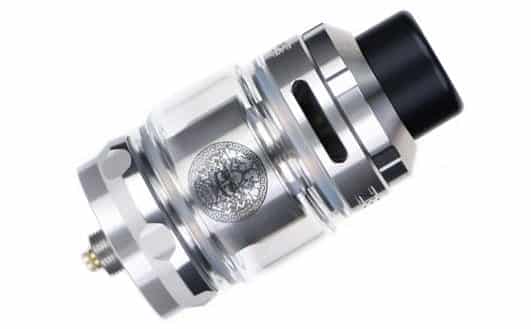 The Geekvape Zeus sub ohm tank follows on from the incredible RTA line of tanks.
This time around they have taken the excellent flavour and smooth vape of the Zeus and created a sub ohm tank that really shines.
It looks solid, in fact, it doesn't just look solid, it is solid. They haven't scrimped on the design from though as the Zeus sub ohm tank looks great on most vape mods.
All the features you would expect from one of the new sub ohm tanks to market are included. Easy swap coil system, easy top fill and some huge adjustable airflow holes.
As most of the winning tanks in the market today, the Zeus is powered by mesh coils. The Z2 – 0.2Ohm Kanthal Mesh coil is rated for use between 70-80W and the spare Z1 – 0.4Ohm Kanthal Mesh coil is rated for use at 60-70W.
As already mentioned the flavour on this tank is superb, not only that though, the smoothness of vape is there too. We struggled to get a dry hit from this even after some heavy chain vaping.. Oh.. and leaking non existent too.
The Zeus sub ohm tank was voted 'Best Sub Ohm Tank' by vapers in the 2020 Ecigclick Awards.
Features
26mm Diameter
Comes with 2 Coils – 1 x 0.2 Mesh Coil (pre installed) and 1 x 0.4 Mesh Coil
Easy swap coil system
Super smooth vape with bundles of flavour
Full Geekvape Zeus Tank Review
4. SMOK T-Air (Best SMOK Sub Ohm Tank)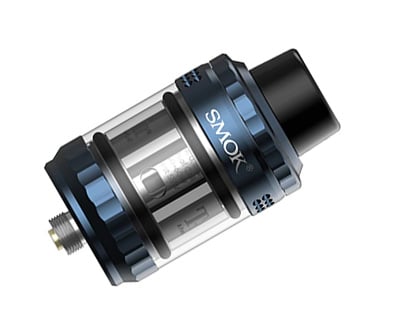 The SMOK T-Air is the latest (and long awaited) sub ohm tank from a brand known for their cloud chuckers, Smoktech.
The latest is a good looking, solid tank with a top fill design and top honeycomb airflow.
In our review the tank was a 9/10 when it came to flavour and while clouds haven't been as dense as previous SMOK tanks it was no slouch.
There are a number of coils available to play around with with the T-Air. The 2ml UK version comes with two mesh coils. The 0.15Ohm (40-60W) and 0.2ohm (50-70W).
The T-Air is great a great adition to the sub ohm tank scene and one that is worthy of a shortlist place.
Features
26.6mm Diameter (2ml) – 32mm Diameter (5ml)
Comes with 2 coils:
Top fill
Excellent flavour and good cloud
5. SMOK TFV18 (Best SMOK Sub Ohm Tank)

The SMOK TFV18 sub ohm tank is the latest in the long line of TFV edition tanks to be released by SMOK. We have to say they have done a great job although it's not for everyone. This is sub ohm vaping on steroids, like many of the TFV tanks.
If you are looking for superb flavour and huge clouds then this is a tank for your shortlist. Just keep in mind, like many of the tanks in this SMOK series it does like to drink that e-liquid!
As always there are lots of coil options to keep you busy and for vapers that like to build their own coils there is an option for that, available separately. To get the best favour out of this tank you may need to adjust that airlfow as this is an airy tank when fully open.
Finish it off with a solid, trademark SMOK build quality and this is another sub ohm tank we can advise you to add to your shortlist. SMOK are definitely back with the TFV18. Just be sure your mod is big enough to allow teh TFV18 to sit on top without any overhang.
Features
31.6mm Diameter
Comes with 2 Mesh Coils
A Sub ohm tank for cloud chasers
6. Horizon Falcon 2 (Best Mesh Sub Ohm Tank)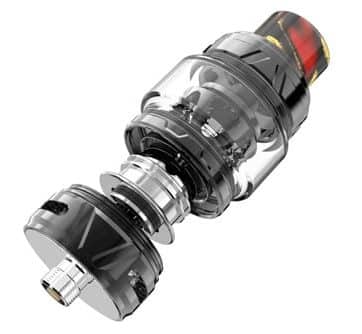 The Horizon Falcon 2 is a follow up to the fantastic Falcon sub ohm tank. What a brilliant update this is. It quite simply looks the business and the mesh coils deliver flavour by the bucket load.
The tank, as with many sub ohm tanks requires at least 50-70W minimum to get the best from the coils. It's recommended to have head room above this wattage as well so you can explore vapes at different wattage.
The kit comes with 2 X coils and features a bottom airflow and top fill design.
The Falcon range of sub ohm tanks are still some of the best to this day, this version is no different.
Features
25mm Diameter
2 X Coils
Top filling system
Superb flavour
7. Apollo Portal Tank – (Best Beginner Sub Ohm Tank)
We first used the Apollo Portal sub ohm tank when we reviewed the Apollo Ohm Go vape kit. We were very impressed the performance from a compact sub ohm tank and found it a great entry point for vapers into sub ohm vaping.
Not only that but it's actually a great looking tank with a top quality build. The top fill feature makes the tank a breeze to use. The added bonus with the Portal tank is the coil selection.
There are three coil resistances available (0.5Ohm and 1.0Ohm) offering a couple of great sub ohm vaping options as well as mouth to lung vape. Best of both worlds allowing you to use a variety of PG/VG e juice mixes.
The Portal tank you buy comes as standard with two coils (0.5ohm and 1.0Ohm) in the pack.
The setup of this tank also makes a very good option for newer vapers looking to explore the sub ohm side of vaping.
Available in three colours with the black being rubberised. Just keep in mind this tank has a diameter of approx 19mm so may not look the best on big mods.
Features
19mm Diameter
0.5 ohm Coil (pre-installed) & Spare 1.0 ohm Coil
2ml capacity tank
Top-fill design making it easy to fill on the go.
Available in 2 finishes – Stainless steel and rubberised (Black and White)
Full Apollo Portal Tank Review
8. Uwell Valyrian 2 Pro (Best All Rounder)
The Uwell Valyrian 2 Pro is a beast when it comes to both cloud and flavour.
There is also something we haven't seen in other sub ohm tanks to date. Self cleaning technology that helps prevent leaking. In short it recycles residue juice back to the coil. Gimmick? Well, we had minimal leaking on our testing so if that was the reason then I guess it does work 🙂
It's a big tank, at 32mm diameter and includes 2 X coils – 1 X 0.32Ohm single mesh coil (90-100W) and one 0.14Ohm dual mesh coil (80-90W) in the kit. So it goes without saying ensure your mod not only has the wattage to cover the coils but also that your mod is big enough to accommodate the tank.
For the vapers out there that like to go even bigger on the cloud and wattage then you may want to check out the 0.15Ohm quad coil that is rated for use between 100-120W.
Finishing things off the tank itself is very solid with a flip top, top fill function making refilling on the go nice and easy.
Features
32mm Diameter
2 X Coils included
Top filling system
Superb flavour and huge clouds
For higher wattage vapers
Sub Ohm Vaping – Things to Keep in Mind
Just a few things to keep in mind if you are new to sub ohm vape gear. These are important –
Be sure your e cig device or batteries can handle the extra battery power these tanks need to perform. Check out our best vape mods for sub ohm compatible vaping devices.
Not all devices are compatible with the most popular 0.5ohm coil.
Many devices aren't compatible with tanks that use 0.2ohm coils!
Sub ohm tanks are not for use with standard vape pens / EGO batteries.
Just because these kind of tanks are available doesn't mean you need one.
Sub ohm vaping is generally geared towards direct lung inhale vapers.
They also spit out huge clouds so if you are planning on using one of these vape tanks when you go out then it may not be suitable. These aren't made for stealth vaping!
They can go through e-juice in double quick time!
Reading back it sounds like I'm trying to put you off! Far from it, sub ohm tanks can provide a fantastic vaping experience that can surpass 'most' standard vape tanks.
We focused on the best sub ohm tanks with replaceable stock coils. If you are looking for rebuildable atomizers then check out the following:
Learn More About Sub Ohm Vaping – What it is, How to do it and the best type of e-liquid for sub ohm vaping.
What is the best sub ohm tank you have used? Let us know what your favorite is in the comments below!
Sub Ohm Vaping FAQ's
Is Sub Ohm Vaping Dangerous?
If you are using regulated mods then sub ohm vaping is a safe way of vaping. If using mechanical mods for sub ohm vaping these are a difference beast altogether and only recommended for advanced users that know what they are doing. It's essential you understand batteries and how they work in different devices. Read more about vape batteries here.
Is Sub Ohm Vaping Right For Me?
That's a question you will need to ask of yourself. The first question you should ask yourself is 'Can you vape direct to lung'? If not then sub ohm vaping is not for you.
What Is the Best Type of E-liquid for Sub Ohm Vaping?
Sub ohm vaping is best suited to e liquids that have at least a 60VG ratio. 70VG/30PG is the optimal ratio of e-liquid for many who sub ohm. The higher VG ratio helps provide a smoother throat hit.
What Nicotine Strength Should I Use For Sub Ohm Vaping?
This style of vaping is best suited to lower nicotine strengths. Due to the higher heats delivered to the coil the nicotine strength is amplified. We recommend 6mg or lower. The most common nicotine strength for sub ohm vaping is 3mg.
Why is Sub Ohm Vaping Better?
It all depends on the individual. It may not be better for you. For many it helps provide richer flavours and denser clouds.
Why Should I Choose Sub Ohm Vaping?
For us it provides better, warmer flavours and opens up a larger range of e-liquid flavours to enjoy. It also feels more substantial than a mouth to lung vape..
Does Sub Ohm Vaping Use More E-Liquid?
In short – Yes. In long – Hell yes. E-liquid consumption does change depending on tank/brand/coils. Basically, sub ohm vaping requires higher heat (wattage) to get the coils going which in turn vaporizes more juice.
How Do I Inhale a Sub Ohm Vape?
The method is know as Direct to Lung (DTL) or Straight to Lung (STL). As it says on the tin, you inhale vapour directly down into your lungs without holding in the mouth. Read more about the difference between DTL and MTL vaping here.
Does Sub Ohm Vaping Taste Better?
Again, it's a personal preference. For me yes it does. The higher heats and bigger coils in sub ohm tanks allow more flavours to come out. Vaping at different wattages can also offer different flavour experiences from the same e-liquid.
Does Sub Ohm Vaping Produce Formaldehyde?
You may have heard research studies carried out that say vaping at high heats releases formaldehyde. The basic test they used was flawed to say the least given the temperatures used to simulate a 'dry hit' was so great that no vaper could possibly stand it! Read more about that here.
Can I Sub Ohm With My Vape Mod/Device?
Most newer devices are sub ohm compatible but not all. Two things you need to check – First what resistance coils does the tank you are considering use? As an example you will see 0.2Ohm/0.5Ohm etc.
Manufacturers usually have a recommended wattage range for their coils. As an example a 0.5Ohm coil may have a recommended wattage of 30-50W. Once you have that information you need to check what the maximum wattage of your vape device is. Could it handle 30W or 50W? If not you either need to look for a different tank or a new mod that can handle higher watts.
Why is Sub Ohm Vaping Too Harsh on my Throat?
The main reasons are likely that your PG ratio or nicotine strength is too high. Try a higher VG ratio in your juice. The higher the ratio the smoother the vape will be. If you are new to vaping then it could just be a case of getting used to the act of vaping. Drink plenty of water while you vape.