When it comes to the best RTA's on the market we are lucky to have a good selection to choose from.
It's not a case of one type of RTA (Rebuildable Tank Atomizer) fits all in most cases. You will likely fall into one of the following searchers:
Best RTA for Beginners (Which would mean they are easy to build on)
Best RTA for Clouds
Best RTA for flavour
Last but not least the best RTA for Mouth to Lung (MTL) vapers.
What is the Best RTA To Buy in 2023?
So, now you have narrowed down the type of RTA vape that fits your needs we can move swiftly on to the reason you are here.
From over 100 RTA's reviewed we break down our favourites.
DEVICE
FEATURES

Easy to build on
Intense flavour
Cloud chucker!
Very good quality
WorldWide Delivery – Save 20%

28mm Diameter
Excellent all round performance
Mesh | Single & Dual Coil Wire Builds
Very good cloud/flavour
Free WorldWide Shipping – Use Code ECIGCLICK

25mm Diameter
Simple to build on
Superb Flavour & Cloud
Single Coil
Top airflow
WorldWide Shipping – Save 20% With Code ECC

BEST For Flavour & Ease of Build

25mm Diameter
Simple to build
Superb flavour
No leaking
Single & Dual Coil
1. Hellvape Fat Rabbit RTA (Editors Choice)
Heelvape have a long history in producing some quality RBA's and the Fat Rabbit RTA is one of their best yet.
It's not for the faint hearted or small mod holders as this RTA is 28.4mm diameter. So be sure you have a device that can cater to the size.
In review we found it hard to find any cons which is a feat in itself. So what did we like?
The postless deck can accommodate single or dual coils and it makes for an easy build. The flavour and clouds were excellent. The dual airflow was very quiet and the build quality top notch.
Did we mention the flavour and clouds were immense?
Features
Postless build deck
Single/Dual Coil
Intense flavour and impressive cloud
Easy to build on
All round quality
2. Wotofo Profile X RTA (Best Mesh RTA)
Wotofo have been at the forefront of RBA's since 2012. In that time they have delivered numerous fan favourites including around 6 or 7 'Profile' RBA's.
The latest is this particular line-up is the Profile X RTA, which our reviewer found hard to pick a fault with.
First up, it's a great looking RTA that is exceptionally well built.
It's a single mesh RTA with the option to accommodate single/dual coil wire builds. The deck is easy to build on so those new to building may want to add this to your shortlist.
It also features top honeycombe style airflow that provided a nice smooth vape on testing.
The overall performance of the tank was rated at a max 10 by our reviewer (he's actually quite picky).
Features
28mm
Accommodates Mesh, single and dual coil wire setups
Excellent quality
Plenty of clouds at higher wattage
Easy to build on
3. Hellvape Dead Rabbit M RTA RTA (Best For Cloud)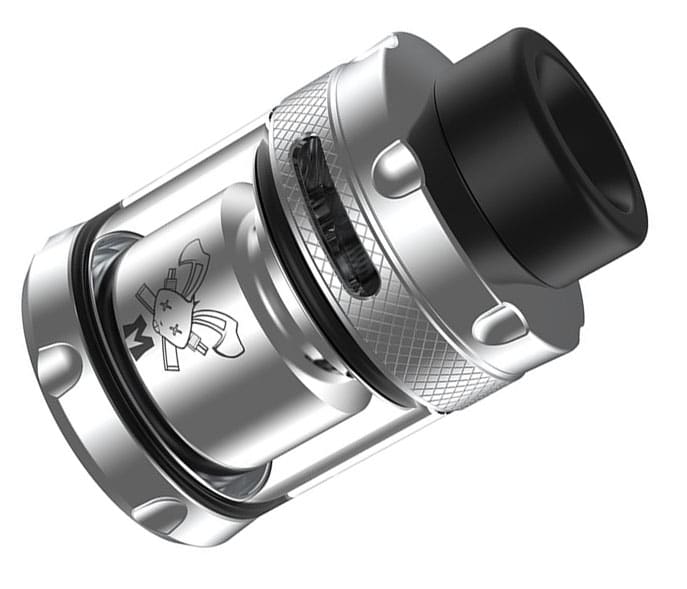 So many Fat and Dead Rabbits! In the vape world that's only a good thing. The Dead Rabbit M may be down as an impressive cloud chucker but it's 100% not a one trick pony.
This 25mm RTA offers a mesh and single coil build deck which is easy to build on. The top adjustable airflow allows for some serious clouds and up above this we have the top fill port.
Build quality is up there with the best and when it comes to flavour it's well above average.
Features
25mm Diameter
Easy to build mesh/single coil deck
Adjustable airflow helps with the cloud
Good flavour
4. Geekvape Zeus X RTA (Best RTA For Flavour & Ease of Build)

We are big fans of the Geek Vape Zeus range of tanks ant the latest Zeus X RTAis no different. The Zeus design is superb throughout the range, solid without any over the top branding.
The Zeus X measures in at 25mm in diameter and can accommodate dual and single coil builds. Everything is easier on the latest deck design from wicking to building.
But we are ultimately interested in performance right? Well it's on the Best RTA list for a reason. The flavour is outstanding and if you like chucking clouds along with it then you won't be disappointed here either.
Features
25mm Diameter
Great design
Easy to build on
Superb flavour
No leaking
Single and Dual coil builds
5. Dovpo Blotto RTA (Best for Flavour)
Another collaboration, this time with Youtube Vape reviewer Vaping Bogan. Has to be said it's a good one at that!
The Dovpo Blotto is all about the airflow and the when you see the build deck you will see what we mean. The deck can handle single or smaller dual coil builds, it performs with both.
The 25mm diameter makes it vape mod friendly even though the spare bubble glass will boost the width further up the tank upto 30mm. Either way, it still looks the business on most devices.
The RTA is simple to build on, is fairly forgiving when it comes to wicking and has an easy top fill.
It's the flavour and cloud where the Blotto really impresses though.. Bucket loads..
Features
25mm Diameter – Fit on most vape mods
Simple to build on
Superb flavour and Cloud
Excellent Airflow
Single and Dual coil builds
6. Vapefly Brunhilde RTA (Best RTA For Hobbyist Vapers)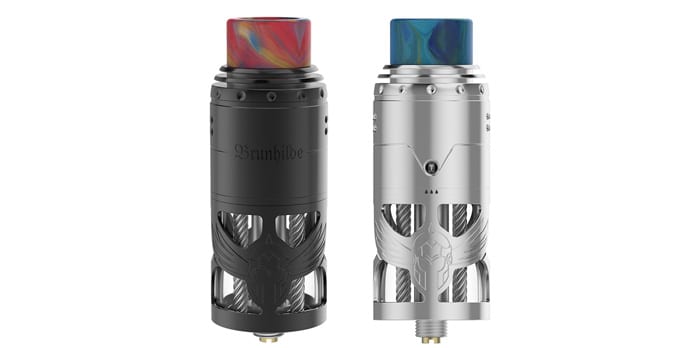 The design of the Vapefly Brunhilde is a bit retro going back to the days of wire ropes for wicking as the deck is located above the e-liquid chamber – similar to a RDTA.
To get the e-liquid from the chamber the stainless steel wire rope wicks bring the liquid up to deck level. From there you wick as usual with cotton to transfer the e-liquid to the coils. Plus you get everything you need in the kit to get you started including SS wicks, coils and cotton.
The deck is a dual coil design with velocity style posts and there are nice wide clamp holes for some chunkier coil builds. I think experienced builders and those who really enjoy tinkering will find this satisfying to master!
You can adjust the airflow to your preference using the top airflow ring and there is a side refilling port.
Features
Easy to coil build deck
Large e-liquid capacity – up to 8ml!
Top airflow inlet helps reduce chance of leakage
Deck near to the mouthpiece for more flavour and vapour
Hybrid friendly 510 pin
Generous kit contents including coils, wicks and Firebolt cotton
7. Hellvape Dead Rabbit RTA (Best For Ease of Use)
Of course most people into rebuildables will have heard of the Dead Rabbit range – a huge success for Hellvape and the vape reviewer Heathen.
The RTA version was eagerly awaited and seems to follow on in the tradition of the "rabbit ear" style deck.
The Rabbit Ear shaped posts give plenty of room for single or dual coil builds and it is much easier to trim the coil legs down after installation. Plus the side screw clamps make clamping flat coil legs easier without chewing up the metal.
Also on review the size of the post holes was impressive allowing for some more ambitious wires to be installed. In dual coil mode the flavour and smooth vapour was impressive!
Top airflow inlets mean there is less chance of leakage through the airflow and of course you can adjust the airflow to your preference.
Features
Easy spacious versatile build deck
4ml bubble glass option available
Single or dual coil builds
Top airflow to reduce chance of leakage
Large post holes with horizontal screw clamps for wider and flat coil builds
So there we have our favourite RTA's. This top rated list will of course change over time when new and improved products hot the shelves. Or if any of the above atomizers are discontinued.
We have had many emails asking for the best RTA clones. With the quality the big brands are producing along with cheap prices we don't quite see the attraction of cloned RTA's. So none of them here.

8. OXVA Arbiter Solo RTA (Best MTL RTA)
Oxva seem to be able to so it all. Mods, pod systems and their excellent range of RTA's. The Oxva Arbiter Solo RTA is the MTL version of the ever popular Arbiter RTA.
Capable of both MTL and DTL vaping it really does knock it out of the park in the flavour department on both styles of vape. Not a common sight to see a tank do both well.
Build quality is what we would expect from OXVA and for the newer builders out there this could also act as a good entry into rebuildables, being very easy to build on.
Add no leaking (on our testing) and we have ourselves a winner. Be sure to check it out.
Features
Beautiful quality RTA
Flavour is excellent in both MTL and DTL vape styles
No leaks on our tests
Easy to build deck (Not a rebuildable coil option like so many other dual use tanks)
9. OXVA Arbiter 2 RTA (Best All Rounder)
Well it's safe to say that our reviewer Will being impressed with this RTA is an understatement.
The OXVA Arbiter 2 is an updated edition to an already very good RTA and this time around they have managed to make it even better. The flavour is wonderful and single coil mode has been smashed out of the park. Dual coil is no slouch either.
The airflow is spot on and delivered to the coils very well indeed. If clouds are your thing then it has you covered.
Overall a good looking RTA that delivers on flavour, clouds and in our testing zero airflow leaks. Excellent.
Features
26mm Diameter
Simple to build on
Superb flavour and Cloud
Excellent Top to Bottom Airflow
No leaks
Single and Dual coil builds
RTA Frequently Asked Questions
What is an RTA in Vaping?
RTA is an abbreviation of Rebuildable Tank Atomizer and is part of the RBA (Rebuildable Atomizer) family of vapes. Under this category we have RDA's (Rebuildable Dripping Atomizer), RTA's and RDTA's (Rebuildable Dripping Tank Atomizers).
All of the above vapes allow you to build your own coils and wick with your own cotton. They are true DIY vapes. RTA's can offer the flavour of RDA's with the convenience of filling a tank.
How Do You Vape an RTA?
Place your coil on the deck and feed the cotton into the coil. Fill the tank and vape. OK, that's a simple version but we have in depth RTA reviews that show you in detail 🙂
What Does RTA Stand For in Vaping?
The term RTA stands for "Rebuildable Tank Atomizer".
What is the Best RTA Vape?
If you landed on this page take a look at our top rated RTA's for flavour, RTA's for mouth to lung vaping, RTA's for beginners and more.
Which is Better - RTA, RDA or RDTA?
It's really a personal preference and comes down to your style of vaping. Me? I prefer RTA's as the tanks can be filled whereas RDA's need e-liquid to be dripped onto the coil regularly.
What is the Best RTA for Beginners?
We have some great RTA's for beginners to rebuilding. The Blotto and Ehpro True MTL are just 2 recommendations.
What is the Best RTA For Flavour?
We really enjoyed the Hellvape Fat Rabbit RTA but all of the options on our top rated list are great for flavour.
How Long do RTA Coils Last?
RTA coil lifespan is dependent on many things. Mainly being the type of e-juice you vape and how much you vape. Good news is they can be cleaned. Even better news is building your own coils can be very cheap. For this reason many vapers will change their coils regularly.