Pod mod vape systems seem to be everywhere. Confused with what to choose? Well, we have collectively tried and tested over 330 pod vapes. We're about to tell you exactly what our top picks for 2023 are.
What Are the Best Pod Vape Kits Out There?
Every pod mod in this list has been personally used by the review team, not just randomly picked.
So let's dive straight in and look at our picks for the best vape pods released so far.
DEVICE
FEATURES

Excellent flavour
Very good coil life
Refillable pods
Good battery life
Simple to use for all levels of vaper

Best Pod Vape for Flavour

Excellent quality
Mesh coils provide top flavour
Durable
Easy to use
Save 10% With Code ECC (Not USA)

Great first time kit
Pre-filled pods
Tobacco/Menthol do well at replicating the real thing
No leaking on our tests
Currently Free (Yes, Free) with purchase of refill pods

Good Battery Life for small device
Impressive flavour
Refillable, leak free pods
Great design and easy to use
Save 10% With Code ECC
USA – Free shipping options

BEST High Wattage Pod Vape

Excellent flavour
Upto 60W
Refillable pod vape system
Superb build quality
Replaceable coils
OLED screen allowing you to customise your wattage output
Save With Code ECC
USA – Save 10% With Code DNA10
1. Oxva XLIM PRO – (Best Open Pod System)
The Oxva XLIM Pro pod system follows on from the excellent XLIM pod system. Oxva may not be one of the best known brands in the pod vape world but wow, they have developed a superb range in the XLIM.
The XLIM Pro has pretty much everything you need from a pod system whether you are a new vape or are a more experienced vaper looking for a pocket friendly device.
We have adjustable wattage, upto 30W, visible via a clear OLED screen. A 1000 mah battery that is enough for most to see a full day of vaping. It's also easy to fill, has adjustable airflow control, looks the part and has a quality to match.
I personally use one of these as my go to 'out and about' vapes and, in fact, find myself using it more and more on a daily basis. Our reviewer Shell also thought highly of the Xlim saying the 0.8ohm pods had immense flavour. She's a hard one to please as well!
If this device sounds like one you'd like to try we don't think you will go too far wrong. Well done Oxva.
Features
Lots of features yet still beginner friendly
Top build quality
Great pod life
Excellent flavour
Manual or auto draw (The latter just means no buttons to press when vaping)
Well priced
2. Vaporesso Luxe X Pro – (Best Pod Vape Flavour)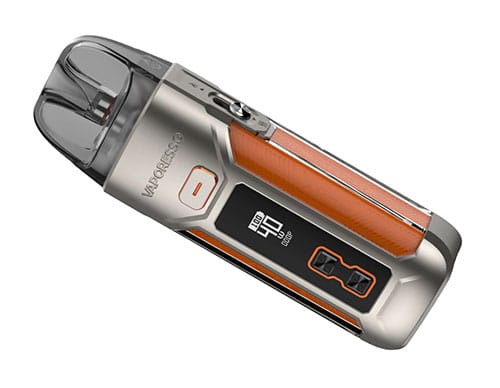 The Vaporesso Luxe X Pro, it has to be said, is up there with the best pod systems we have tried this year.
We love the look, the flavour from the mesh coils is incredible, we had zero leaks on testing and for those that like a warmer vape this device is capable of firing upto 40W.
Add the 1500mAh battery and dependent on what wattage you vape this could last a good couple of days in between charges.
Not a lot else we can say apart from to make sure this is on your shortlist.
Features
Great for all levels of vaper
Durable build
Easy to use
5-40W power output
Comes with 2 excellent mesh coils
3. SMOKO Vape Pod Kit – (Best Pod Vape For Beginners)
SMOKO are a UK based brand and while not one of the big brands many of us are familiar with what they do they do very well.
They are focused on offering the new vaper an easy way to switch from smoking. They do this by first giving you the most simple product in terms of use and second, by offering tobacco/menthol flavours that are close enough to the real thing that you have a better chance of sticking with vaping.
In short, you aren't getting anything fancy in terms of features like some other pod mods have on this list. Just simple out of the box vaping.
This is not a kit for those wanting options and flexibility such as refilling pods with your own e-liquid.
If you want a simple pod mod kit with good flavour, no leaking (on our testing), good flavours that replicate tobacco well (other flavours available) and is super simple to use even for the first time vaper then this is one to look at.
Features
Great for new vapers
Tobacco/Menthol do well at replicating the real thing
Good battery life
No leaking on our tests
Pre-filled pods
4. Vaporesso XROS 3 – (Best Vaporesso Pod Vape)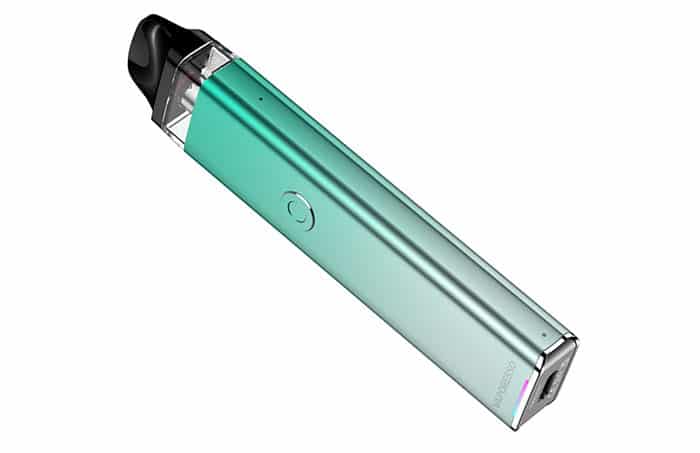 Vaporesso rarely make a mistake when it comes to vapes and the lates XROS 3 pod system doesn't buck that trend.
If you are looking for a refillable pod that easy to use, is portable yet still has an excellent battery life (1000mAh Battery) then this should be on your list.
It's simple enough for all levels of vapers to get to grips with and the two pods that come included in the kit offer excellent flavour.
The auto draw function means those that find pressing a button to vape too taxing will be kept happy. There is also an adjustable airflow on the side that enables you to tinker just a touch with the 'tightness' of vape.
On our testing we also found it to be leak free, which is always one of the main selling points for any pod vape.
All in all, excellent stuff again from Vaporesso.
Features
Slim and portable
Impressive flavour
No leaks on our testing
Easy to use
Comes with two pods
1000mAh Battery
5. Voopoo Drag E60 – (Best High Wattage Pod Vape)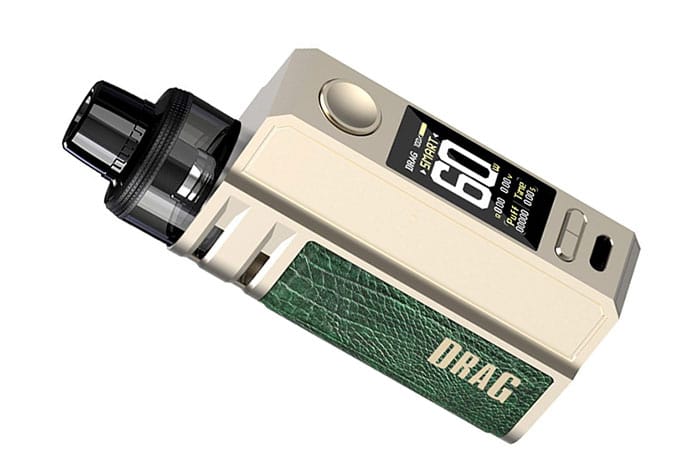 Design wise the Voopoo Drag E60 pod mod is one of our favourites, it looks superb, is compact and feels great in the hand.
In fact, when it comes to performance it sits right near the top of the pile as well. The included PNP Pod 2 paired with the PNP TW coils makes for great flavour and a good cloud.
The E60 has an integrated 2550mAh battery that supports the included coils wattage output well. It is also able to power upto 60W.
94*24.9*46mm
The kit comes with the PNP-X tank which delivers some great flavour and has a wide variety of coil options.
If you want something that little different than your standard pod mod then the Drag S or X PNP-X kits are worth a gander.
Features
Dimansions: 94 x 24.9 x 46mm
Superb quality
2550mAh Integrated battery
Top fill, refillable vape pod
Replaceable Coils
6. SMOK Nord 5 – (Best SMOK Pod Vape)
The SMOK Nord range has been out for a while now and even we are struggling to keep up with the number of options available! Not a month goes by where it seems like a new Nord is being released! ha..
Of course, exaggerating a little there but there are a lot of Nords.
One of the latest, the SMOK Nord 5, has gone down the bells and whistles route and offers an impressive 80W output. This is the Nord for vapers that want more control of their vape as well as having that higher wattage power to work with.
It has all the usual attributes to make it on to the best pod vape system list such as top build quality, good battery life, great hand feel, all that stuff.
We also have good airflow options and of course wide wattage ranges so you really should be able to tailor a vape that is perfect for you. If you are a direct to lung vaper then the coils included in the kit will fit the bill.
We also like the new leather trim that is available, looks very nice indeed.
All of this comes at a very reasonable price… yeah, this is definitely a pod mod you should consider buying!
Features
Dimensions: standard series kits – 105*32.5*23.74mm
Weight: 107g
Very good flavour
Very good battery life (2000mAh).
Refillable pod vape system
Replaceable coils
Adjustable airflow
OLED screen allowing you to customise your wattage output
7. Elf Bar Elfa Pro – (Best Disposable Vape Alternative)
Yep, you may know Elf Bar as a disposable vape brand. did you know they also have refillable/rechargeable pod vapes as well? This particular one is called the Elfa Pro and it's actually very good.
If you have been a disposable vaper and have recently been looking for a cheaper alternative (in the long run) where you don't have to throw a battery away every time you finish then this could be an excellent option for you.
The reason being is that you are basically getting the familiar Elf Bar disposable flavours in a rechargeable device.
The Elfa Pro features a 500mAh battery, USB-C fast charging and comes with a 2ml pod. All for just a touch more than one disposable vape.
The refills are available in a number of flavours that will be sure to keep you busy and most importantly off the disposable vapes.
Features
Dimensions: 16 x 108.2mm
Simple to use
Prefilled Pod cartridges
Great flavour
Excellent price
8. Apollo Brez – (Best Closed Pod System)
If you are looking for a Juul alternative then the Brez by Apollo is one of the best pre-filled pod devices.
The Brez is lightweight but still well built, it's super compact making it highly portable and barely noticeable in your pocket.
It's perfect for new vapers that want a device that is simple to use, you can literally pick up this pod and be vaping within minutes or seconds really if you don't count taking it out of the box.
One of the things that impressed most was the pod flavours. They rock. The kit comes complete with 5 nic salt pods included.
Apollo are known for their quality e-liquids and these are no different. Being 20mg nic salts they also hit the spot and satisfy that nic craving quickly.
If you are looking for a good looking pod mod of a certain type and style then this is a great contender.
Features
Plug and play easy to use. Great for beginners or current vapers looking for back up
Pre-filled nic salt pods. Couldn't get any easier to get started.
Superb pod flavours
One of the best salt nic vapes
Slim and lightweight
1.8ml
Good battery life
9. JAC Vapour Wee VIM – (Best Value Vape Pod)
For size, performance and price this was a no brainer for our top rated pod mod list.
The JAC Vapour Wee VIM is as simple as it gets for new users while still being a great out and about / backup device for the more experienced.
The Wee Vim is available with pre-filled Vim pods (can be purchased in packs of 3) for plug and play ease of use. These come in 4 flavours that hit the spot and satisfy nicotine cravings – Smoking Tobacco | Smoking Menthol Tobacco | Blackcurrant Squash | Strawberry Chew.
If you want to use your own e-liquid and refill yourself you can opt for the Vim refillable pods.
This is great for new vapers as it gives you the option of being a little more adventurous with your e-liquid favours as your vape experience grows. These can be added at a later date.
Operating the device is simple with little to no learning curve, simply pop a pod in the battery, press the button and inhale. Even my dad could use this and that's saying something!
The 900 mAh battery should see most users through the day but when it comes to charging you can vape this while it is plugged in and powering up.
One of the best things about this kit? The price. It's a bargain. If you have a smoker in your life it also makes a great little gift.
Features
Dimensions: 70mm x W: 21mm x L:38mm
Good Battery life
Can vape whilst charging
E-Liquid pods last a long time
Both Pre-filled and refillable pods available
UK based brand
Very easy to use even for those who have never vaped before
10. Voopoo Drag Nano 2 – (Best Mini Vape Pod – This is tiny)
They say small things come in small packages and that is certainly true when it comes to the Voopoo Drag nano 2 pod vape.
Measuring in at 72 x 44 x 14.2mm and weighing in at approx 57g. This fits with ease into a pocket and can even be worn around the neck with the supplied lanyard.
Some pods can feel a little on the cheap side but this feels quality in the hand and looks great too.
The 800 mAh battery is also good for the size and should see you through 6-10 hours of use depending of course on your vape style and pod type used.
The pods are made for simplicity. No replaceable coils. Once the pod dies then just replace with a whole new pod.
The kit comes with 2 pods (1.2Ohm & 0.8Ohm) both of which offer good flavour.
One of the main selling points of pod system vapes is that they are easy for new vapers to use. The Drag Nano 2 is as easy as they come to use and with the added build quality should last a while too.
If a small square vape is what you want then look no further.
Features
Dimensions: 72mm x 44mm x 14.2mm
Weight: 57g
Refillable pods
Battery capacity: 800mAh
Good quality
Draw activated – No buttons to press
Small, lightweight and easy to use
Full VOOPOO Drag Nano 2 Review
11. Vaporesso Luxe PM40 – (Best Pod System For No Leaks)
Vaporesso are known for their quality and the Luxe PM40 pod system has plenty of it. The zinc alloy chassis with resin inlays really make this stand out from the crowd.
The Vaporesso Luxe PM40 has a lot more to offer than just good looks and build quality. The coil options that come with the kit provide excellent flavour for both mouth to lung and restrictive direct to lung vaping.
The battery life is also impressive with the 1800mAh battery allowing for a good days use depending on your vape habits. The USB-C charging also provides a quick charge.
Add to all this ease of use and a good sized OLED screen and you really can't go too far wrong with this device. Impressive.
Oh.. Did we mention we had zero leaks from our time testing the device?
Features
Dimensions: 96.4mm X 30mm X 21mm
Very good flavour
Excellent battery life.
Solid build quality – Looks great too
Replaceable coils
We experienced no leaking during use
Full Vaporesso Luxe PM40 Review
12. Uwell Caliburn G2 – (Best Juul Alternative)
The Caliburn range of pod mod vapes have long been regarded as one of the best options available. We agree and the introduction of the new Caliburn G2 has upped their game further.
If you have seen the Juul pod system then this is a far better alternative and you can refill the pods too.
The pods are refillable and the 750mAh battery in terms of life is impressive. Not only that but it is super lightweight making for a perfect pocket pod.
Above all the Caliburn G2 offers great flavour with the new G2 1.2ohm coil.
Suitable for established vapers wanting a 'back pocket vape' and for new vapers dipping their toes.
Features
Dimensions: 110.5 x 22.5 x 13mm
Weight: 36g
750mAh battery
Excellent flavour
Simple to use for beginners and excellent performance for established vapers
Refillable pod system
Push to fit coil system
Compact – Easy to carry in pocket
13. Innokin Sceptre 2 – (Best Innokin Pod System)
Innokin are one of the powerhouses in the vape world producing quality products that are trusted by vapers worldwide.
The Innokin Sceptre 2 is an update of an already very good pod system. This one betters the original all round.
The device looks fantastic and the build quality is up there too.
In our testing we were blown away with the flavour from the 0.5ohm coil and battery life was very good.
The Sceptre 2 is also very easy to use for those that may be newer to vaping.
A great option from a trusted vape brand.
Features
Dimensions: 104.3 mm x 27.93 mm x 17.62 mm
2 power settings
Superb flavour
Excellent battery life (1400mAh)
Refillable pod vape system
Replaceable coils (2 included)
Auto Draw available
Pod Mods – Something For Every Vaper
Pod Mod vape systems are designed to be clean, quick and easy vaping devices to use out and about and on the go.
What we really love about them is that they are perfect devices not only for new vapers but also for more the more experienced, making a perfect back up/secondary vape.
Pod mods are mainly suited to the mouth to lung [MTL] style of vaping (which is the style of inhale most smokers use) so a great starting point.
Above all else they offer true simplicity.
Perfect for new vapers making the switch from smoking. If you are coming off the smokes then we recommend pairing your pod device with nicotine salt e-liquid, this will give you a more effective nicotine hit to help keep you off the cigarettes.
Pod mods are a great addition to a vaping arsenal or of course for the brand new vaper.
The beauty is there's pretty much one out there for every taste and budget and of course style of vaping.
To be honest serious sub ohm vapers might find the lack of power a little off putting.
However, I highly recommend them for when you can't chuck clouds and need a quick stealthy vape.
Check out the SMOK Nord with the 0.6Ohm mesh coil for that little bit more oomph.
They are ideal to leave in the car or on your desk and to use when popping out.
I absolutely love the Jacvapour VIM pods for ease of use as well as giving you a refillable pod option. The Lot Vape Orion Go DNA pod, if your budget can stretch that bit further, is a high quality vape.
For those that like the JUUL style but not the flavours then the Apollo Brez is one to pay attention to. In fact, the flavours are some of the best for a closed pod vape system.
If you are looking for a truly tiny device then the SMOK Mico is the one to look at. You will be surprised at the performance from such a little thing.
So there's definitely a place for a pod mod or two in your vaping arsenal and I hope we've helped you choose the right one for you.
What is the Best Pod Mod Vape in 2022?
Oxva XLIM
Vaporesso Luxe X Pro
SMOKO Pod Kit
Vaporesso XROS Nano
Voopoo Drag E60
SMOK Nord 5
Elf Bar Elfa Pro
Apollo Brez
Jacvapour Wee Vim
Voopoo Drag Nano 2
Vaporesso Luxe PM40
Uwell Caliburn G2
Innokin Sceptre 2
Let us know what your favourite pod system is in the comments below!
Pod Mod FAQ
What is a pod mod vape?
A pod mod vape is made up of two main components. The pod, which contains e-liquid and a rechargeable battery (mod). Pods can be refillable or come pre-filled.
How do vape pods work?
The pods contain a coil. When the battery is activated on your pod system it heats the coil which in turn vapourises the liquid in the pod. Simply inhale. You're vaping!
How long do vape pods last?
This life of a pod will differ and is dependent on the type of e-liquid and of course your vaping habits. If you are a heavy vaper you may get 2-6 days. A moderate user may get upto 2 weeks before flavour starts to deteriorate. Once that happens it's time to either change the coil (if the pod you use allows) or replace the entire pod.
Can I use regular vape juice in a pod system?
Yes you can. On the cautious side you should not use more than 60VG. Although some pod vapes will happily work with a 70VG vape juice ratio.
Why does my pod taste burnt?
Your pod may taste burnt for many reasons. First, if there isn't enough e-liquid left in the pod the coil will become dry. If you didn't wait long enough for your vape juice to soak into the cotton. Ideally, after filling for the first time you should wait 10 minutes before vaping. You can see other reasons for your vape tasting burnt here.
Can vape pods be refilled?
There are closed pod systems and open pod systems. If you want to refill your pods then be sure to buy an open pod system. Devices such as the SMOK Nord and Jacvapour Vim offer refillable pods.
Do pod vapes have coils?
Yes, pod vapes have coils like any regular vape tank. Depending on what device you choose the coil will either be built into the pod (when the coil is finished you swap for a new pod) or replaceable (when the coil is finished you swap only the coil).
What vape juice should I use in a pod mod?
You can use regular vape juice and nicotine salt e-liquid. If you are looking to switch from smoking we recommend using nic salts as they are more efficient with nicotine delivery.
What is the best refillable pod mod vape?
After using numerous devices we would recommend the SMOK Nord and the JAC Vapour VIM pod systems.
How do I use a pod mod?
Simply fill the pod with vape juice (if it's not pre-filled), push the pod onto the battery, wait 10 minutes for the e-liquid to soak into the coils then vape. Simple.
Can I use a pod system to vape CBD oil?
Yes you can. We recommend using a coil with a resistance of 1.0Ohm or more.