The Stick V9 Max Kit By Smok Previewed
The Smok Stick V9 Max kit is a new vape pen kit from Smok following on from some of their previous Stick mods – Stick Prince Baby, Stick Prince, Stick AIO and of course as its Smok the list goes on and on usually with or without a suffix like "baby" "beast" or "prince".
Full SMOK Stick V9 Max Review Now Live
So yes as stated above there have been (what feels like) billions of different Stick kits so why is the V9 Max any different?
Well the mod part has a huge 4000mAh battery capacity – much bigger than the Stick V8 at 3000mAh.
Plus the mod is a whopping 28mm diameter – I suppose that is to balance out the big fat vape tank sat on the top.
There is a single fire button which has a backlight. With just 2 clicks the colour code will tell you the battery capacity remaining – Green = above 70%, Orange = 30-70% and Red = below 30%.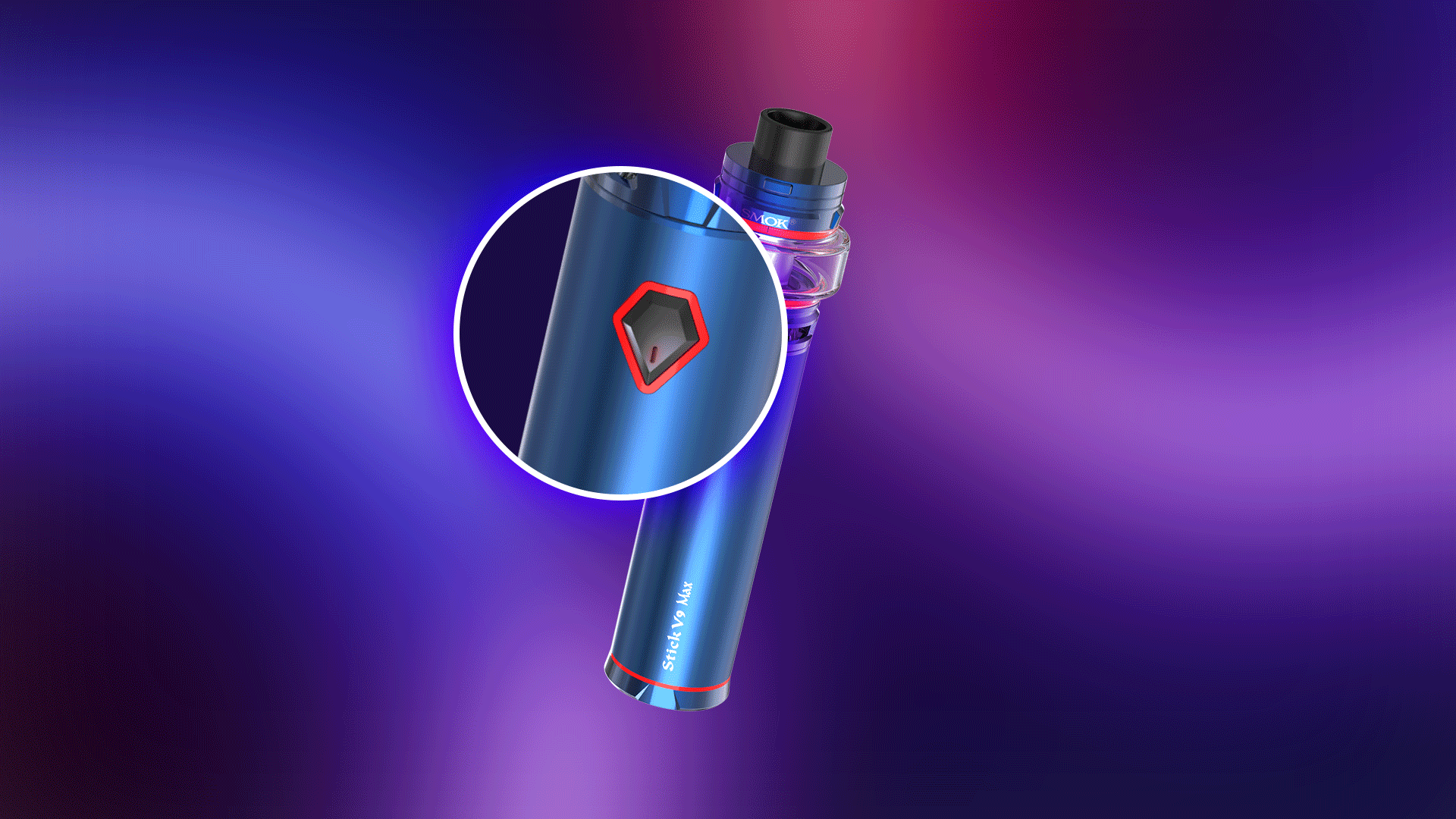 The included tank is the Smok Stick V9 Max tank which is bloody huge with an 8.5ml capacity. 
There are different glass options to change the tank capacity which you can buy separately.
The kit includes the S1 single mesh and S2 quad mesh coils. However it isn't as straightforward as that is it – ooooh no. The coil could be either the Mini or Baby V2 depending on whether the kit is the Standard Version or the International version – how easy is that…
There are 6 colours to choose from – 7 Colour, Red, Blue, Black Plating, Gold and Stainless Steel.
Kit Includes
Smok Stick V9 Max Mod
Smok Stick V9 Max tank
1xBaby/Mini V2 S1 single mesh coil
1xBaby/Mini V2 S2 quad mesh coil
Spare parts
USB Cable
User manual
Smok Stick V9 Max 
Mod Specs
Size: 87.8x28mm
Weight: 133.5g
Battery: 4000mAh internal
Output: [email protected] (3.3-4.2V)
Fire button
LED indicator light for battery charge
Smok Stick V9 Max Tank Specs
Size: 35x54mm (inc bubble glass)
Capacity: 8.5ml
Coils: Smok Mini V2 (international edition) / Smok Baby V2 (Standard Edition)
3 glass size options
Slide top fill
Adjustable bottom airflow
This does look like a handy kit to have around when out and about with the massive battery and tank capacity.
Will you be buying the Smok Stick V9 Max Kit? Let me know what you think in the comments below!