The Aspire K1 Stealth kit is from a brand that have been around for a long time now, and it's pretty rare that they come out with a dud.
Most people who have been vaping for a while will probably have used an Aspire product at one time or another: in fact I feel like I'm going back to my roots with this review because my first ever device was the Aspire PockeX (still a good little AIO).
So What Can We Expect From the K1 Stealth Kit From Aspire
The Stealth K1 Kit stretches the definition of an All In One (AIO); you could use the tank on any mod and, if you could find a tank with the right dimensions, you could just screw the magnetic adapter onto it and use it in the mod section.
It's an interesting design – the tank fits inside the aluminium block of the battery and has three generous windows to allow you to see the tank and e-liquid level.
Aspire has recently been on a bit of a roll with pod vape kits and AIOs with the likes of the Aspire Minican. It's an increasingly crowded segment, so does the Stealth K1 do enough to stand out?
This device was sent for the purposes of review. As always my thoughts are my own.
In the box
I've always liked Aspire's packaging. The sleeve shows the device and the information on the back, and then everything is packed into foam cut outs inside the plain black box.
Stealth Mod
K1 Plus Tank
16mm 510 magnet adapter (more on this later)
Preinstalled 1.8Ω BVC coil
Spare 1.6Ω BVC coil
Micro USB cable
Warranty card
Manual

One thing you should note is that with the coil preinstalled, you have to remember to fill your tank before you put it on the battery (otherwise if you accidentally fire it you'll end up with some singed cotton!) Happily you do get a spare in the box if you manage to do this.
Aspire K1 Kit Specs
Dimensions: 21mm x 39mm x 80mm
Weight: 125g
Battery: 1,000 mAh
Tank Capacity: 1.9ml (TPD)
Tank Capacity: 2.4ml (rest of the world)
Variable Wattage 8, 10 and 12 Watts
Design and Build Quality
K1 Plus Tank | Magnetic adapter
I was a little bit worried initially by the fact this kit uses magnets to hold the tank in place.
Rather than screwing your tank onto the mod you get a little 16mm magnet with 510 threading that you screw onto the bottom of the tank, and then the whole thing slides into the battery.
It's important to note that you can screw the magnet on upside down, you want to see the magnet itself with the engraving at the bottom of the tank, the shiny chromed side should be screwed towards the tank.
If you screw it on upside down the tank won't fire (although the light will still come on) and the magnetic connection will be really weak. Also don't, whatever you do, try and put the magnet in the mod without attaching it to the tank, it's a devil to get out again!
Once it's screwed on the right way it slots into place on the battery with a satisfying snap:
I was really impressed with how strong the hold was, and pulling out the tank takes a little practice.
It certainly means that you're not going to have it disconnecting in your pocket. I've even tested it by dropping it onto carpet to see if it would end up shooting the tank out, but it stays in place as if superglued.
Filling
The K1 Plus tank has a couple of other nice details.
It's a top fill that you access by unscrewing the built in drip tip. On the TPD version it's a "child proof" thread, so you need to push it down and unscrew at the same time, like a bottle of e-liquid.
You don't need to take the tank out of the battery to refill, but since you have the magnetic attachment, I find it's just as quick and a little easier to do so.
Under the top cap there's a little black self-sealing fill port (TPD only), so you just push your bottle in and squeeze.
Because it's a tiny little tank it doesn't take long, but I'd be careful of squeezing too aggressively or you'll end up with an airlock and e-liquid getting backed up, especially as there's no secondary hole for the air to escape from.
Once you pull your bottle out the seal closes off the tank, and it does a really good job of preventing any spills if you knock it over without the top cap on. I tested this by holding it upside down, and nothing escaped.
Airflow Control
The airflow control ring has two cut outs, one on each side, so what you see is mirrored on the other.
There are 4 equally sized holes and you can open them up by twisting the ring.
Although I'm sure it's possible to change your airflow with the tank inside the mod, I found it easier just to pull it out, set the airflow and pop it back in again. Because the ring is protected by being inside the battery, it also won't get knocked and change your airflow without you realising.
Changing the Coil
Changing the coil is done by unscrewing the base of the tank with the airflow ring.
As the airflow control doesn't have any stops and just spins 360 degrees, you need to press the control ring in towards the tank to get it to catch and allow it to be unscrewed (similar to the child proof top cap, this is only on the TPD version).
You don't need to remove the magnet and you can also change the coil when you still have some e-liquid in your tank.
Stealth Mod
The Stealth mod is a relatively simple rectangular affair, reminiscent of the NX30 from Aspire.
But you can tell that there's been some real attention to detail. You have lovely polished chamfered edges that really catch the light, but more than just looking pretty, they also make it more comfortable to hold.
The four big windows allow you to easily keep an eye on your e-liquid level, but they also mean give your tank some protection if you knock or drop it. The chamfered edges continue around these windows, and I really like that attention to detail.
Despite having taken the tank in and out of the mod numerous times over the past week, I can't see any wear on the aluminium inside.
Controls
There are 2 buttons and 4 lights on the battery and that's it.
On the bottom is a black plastic panel with 3 lights, these lights represent your current wattage:
One light is 8W
Two is 10W
Three is 12W
The button allows you to check your wattage with a single press, or move it between the three settings with a double press.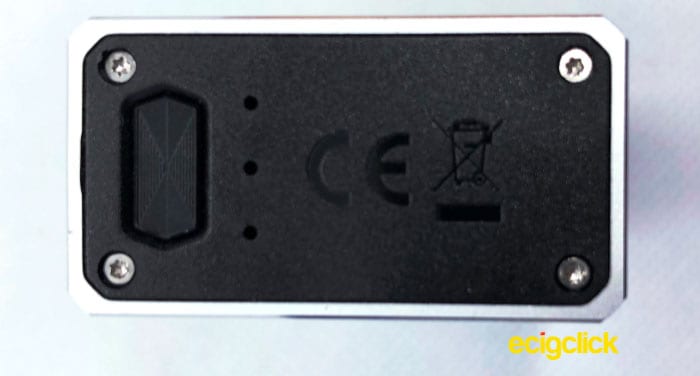 The fire button is located on the side of the device, with a multifunction LED and the micro USB charge port on the same side, it's a nice clicky black plastic affair.
5 clicks to turn the mod on, 5 clicks off. The LED will flash white 3 times to let you know you've done it correctly.
When you're vaping the LED will light up to give you your remaining battery indication:
Green is 3.8V and above
Blue means 3.5V to 3.8V
Red means you are at less than 3.5V.
It will still vape for a little while when you get down to the red indicator, but it won't be long before it flashes red several times and won't fire. Time to charge!
How does the Aspire K1 Stealth Kit perform?
The BVC coils that the K1 uses have been around for a while and they've always been known for their excellent flavour.
I'm pleased to say that this tank continues that tradition, and with a nice fruity e-liquid it really shines.
Flavour and Vapour
1.8Ohm – Preinstalled coil
I tested the preinstalled 1.8Ω coil first with some of my favourite 50/50 Berry Ice by Simple Juice. I left it to sit for about 10 minutes to give the liquid time to soak into the cotton.
I got great Berry Flavours coming through with a nice cooling kick. You'll never get huge plumes from a little 12W Mouth to Lung (MTL) device, but the vapour production is pretty much on a par with other AIOs and a step above most pod mod systems I've tried.
I've been vaping on this coil for just under a week, and I haven't noticed any drop off in terms of flavour.
Based on other experiences with Aspire's BVC coils, I'd expect you to comfortably get a couple of weeks out of a coil, potentially a lot longer depending on your juice and if you clean your coils.
1.6Ohm Coil
Switching out to the 1.6Ω coil you immediately notice an increase in vapour production, however this comes at the expense of flavour.
The normal cool hit from Berry Ice feels a bit muted with this lower resistance coil.
You can also use the Aspire original BVC coils which are used in the following:
I don't have any of these to test currently.
The nice thing about having changeable coils is that you can test them out, and see which one suits the e-liquid you prefer to vape and your style of vaping.
Wicking – Best PG/VG E-Liquid Ratio To Use
Both the coils have small wicking holes (where the e-liquid soaks through to the cotton), so this is definitely aimed at vapers using 50PG/50VG e-liquid.
I tested it out with some other vape juice (in the interests of science, you understand) and I feel you can get away with 60VG/40PG but nothing much higher than that.
The 60VG/40PG Time Bomb by Bukshot Vapours definitely gave a good taste, and slightly more clouds than the 50/50. But I definitely started to get the feeling that I was heading for a dry hit if I chain vaped on it.
For Mouth to Lung (MTL) Vapers
With the tiny BVC coils and the restricted airflow, this was always going to be a MTL device.
Even with the airflow fully open you're not going to be able to get a DTL draw on it. However this is perfect for people who are just giving up the cigarettes, or prefer a stealthy little vape.
For more info on MTL vs DTL have a look at the great guide by Laura-Ann.
Compact and Portable
The whole device is lovely and compact: I don't have the biggest hands in the world, but even I was able to happily palm it and conceal it in my hand.
It makes a great little stealth vape, and is certainly less conspicuous than some of Aspire's other AIOs. As it's mostly made of metal, and Aspire have gone for just the two colour ways (brushed aluminium and black) it's a really classy little device that would feel right at home if you're out and about for any occasion.
I made a total switch to this kit whilst I've been reviewing it, and so I've used it in all the circumstances I would normally be using an 18650 mod with an MTL RTA.
Battery Life
Battery life has really impressed me. It consistently gave me a day and a half to two days of use, and recharges nice and quick.
It also allows pass through charging, so you can take a vape on it whilst it's on charge.
Due to the rectangular body and the location of the USB port, it also stays pretty stable when you set it down to charge.
Sturdy
I especially love how the tank is protected inside the Aspire K1 Stealth mod. I feel like if I dropped this outside, then I'd have a fair chance of the tank surviving.
However, although this design and the magnet makes for a really slick connection I noticed there's an almost imperceptible amount of "wiggle" in the tank.
This is absolutely fine when you're sat down, or standing still, but if you're walking and vaping, then you quickly become aware of the fact the tank and device are not totally locked together like they would be with a screw.
Pros
Classy looking device
Common BVC coils
Great flavour
Good battery life
Innovative magnetic connection
Cons
Slight wiggle in the tank
Limited to 50/50 or 60/40 eliquid
Final Review Verdict
The Aspire K1 Stealth kit is priced a little bit higher than a starter kits on the market. Despite this I think it makes a viable alternative for someone looking for something small and classy who doesn't want to get stuck into a closed pod system.
The BVC coils have been around for ages, and it's easy and cheap to pick up replacements.
Although it's not quite as easy changing a coil and refilling the tank as a pod system might be, I think Aspire deserves serious props for the work they've done to make it all as simple as possible.
The magnet especially is a great feature that I've grown to really like. I'd not only recommend the K1 Stealth kit to people as their first device, but also for an experienced vaper that wants a little pocketable stealth vape.
Have you used the Aspire K1 Stealth Kit? Let us know your thoughts in the comments below!