The Damn Vape Nitrous+ RDA is a fierce sounding new RDA release from this low profile brand.
Although you might be stuck to think of a previous device from Damn Vape they have quite a back catalogue including the Doom RTA, Mongrel RDA, Fresia RTA, Intense Mesh MTL RDA and the Wotan Mesh Sub Ohm Tank.
What To Expect From The Damn Vape Nitrous+ RDA?
So as you can tell this is a "RDA" which stands for Rebuildable Dripping Atomiser – with a DIY deck where you install your own coils and wicking.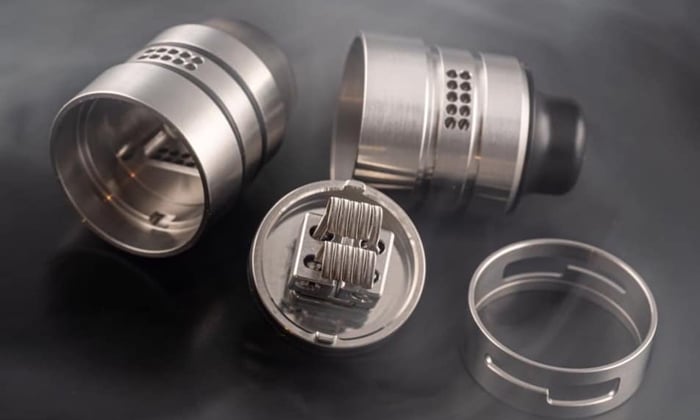 The deck of the Nitrous+ is suitable for single or dual wire coil builds despite only being 22mm in diameter. Included in the kit is a beauty ring to take the diameter up to 24mm to improve the appearance on larger mods.
In fact the kit contains 2x 0.45ohm Fused Clapton and 1×1.45ohm Fused Clapton coils and a tool to help cut the coil legs to the right size.
This can be used as a Dripper with the installed solid 510 pin or you can install the included hollow 510 pin to use this on a Squonk mod.
The juice well can hold 1.5ml of e-liquid which is ideal for squonking or if dripping will give you longer periods between adding more e-liquid.
The airflow is adjustable by rotating the top cap – there are honeycomb style airflow inlets and a stepped adjustment.
Included in the kit are 2 different top caps to be compatible with single or dual coil builds.
There are 7 colours to choose from: Stainless Steel, Gunmetal, Black, Blue, Gold, Matte Black and Matte Grey.
Plus you can also purchase additional beauty rings and AFC rings to customise the look of this further in Purple, Blue, Gold, Red and Green.
Kit Includes
Damn Vape Nitrous+ RDA with single coil top cap
Standard (solid) 510 pin
0.45ohm fused Clapton coil x2
1.45ohm fused Clapton coil x2
Spare drip tip
Hollow BF squonk 510 pin
Beauty ring
Spare parts bag
Dual coil top cap
Coil lead guide
User manual
Damn Vape Nitrous+ RDA Specs
Size: 22x20mm (a 24mm diameter beauty ring is included)
Material: Stainless steel
Capacity: 1.5ml
Drip tip: 810
Single / dual coil deck
Two different top caps for single or dual coil
Honeycomb stepped adjustable airflow
Optional AFC and Beauty rings to customise appearance
I can't deny I love the look of the customised versions and this has plenty of build options and the ability to use as a dripper or squonk RDA makes this even more versatile!
Let me know your thoughts on the Damn Vape Nitrous+ RDA in the comments below!