The M VV Special Edition Mod By Dovpo
The Dovpo M VV Special edition is a new funky version of the original M VV mod.
Now the special editions come in 2 finishes – Classic and Gold.
On top of the finish you can then choose the pattern on the side – there is Skull, Gorilla, Samurai and Batik.
This is a mechanical mod which uses 2×18650 batteries – the batteries are not included.
The back cover is removable to install batteries and is held on with magnets.
When you buy batteries for this you will need to make sure they can safely output the power you require.
The limits of this mod are a maximum of 35A and 1-8V output.
The output will depend on what batteries you have and also the resistance of the coil you are using.
On mechanical mods it is soooo important you are aware of Battery safety and Ohms law.
However this mod does have a few safety features – protection from reverse polarity, over current, low voltage and overheat protection.
To make it even easier – Dovpo have put this table on the same page as the mod to remind you.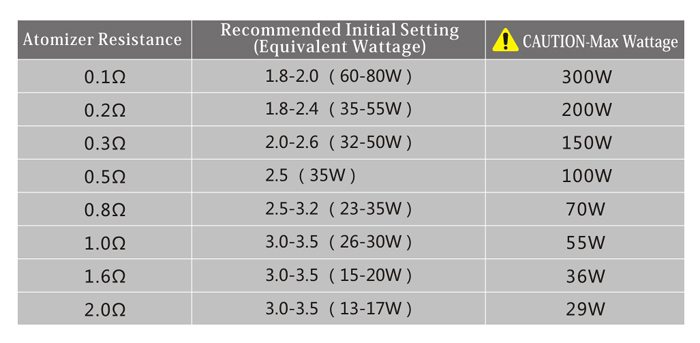 There is a potentiometer to adjust the voltage – and therefore the watts – but there is no screen. You do get a battery indicator light though.
Kit Includes
Dovpo M VV Special Edition Mod

User Manual
Dovpo M VV Specs
Size:91.0mm X 51.0mm X 24.0mm
Material: Zinc alloy
Operating Voltage: 6.2V – 8.4V.
Output Voltage range: 1.0V – 8.0V.
Low Voltage Protection.
Overheat Protection.
Overtime Vaping Warning.
Battery-reversal Protection.
Requires 2 X 18650 high-drain external batteries.
This isn't a badly priced mod – it's pretty reasonable.
On top of looking very steampunk it also looks pretty rugged.
No screens to drain your battery – just a simple potentiometer to turn to adjust output and an LED to display battery capacity. So hopefully there should be little to go wrong with this.
Has the Dovpo M VV Special Edition caught your eye?