The Eleaf iSolo Air Kit is a new pod mod style kit.
The kit includes the iSolo Air mod and the new GTL Mini Pod. The pod is based on the earlier GTL Pod found in the GTL Pod kit – but smaller!
More Details On The Eleaf iSolo Air Kit
Firstly looking closer at the actual mod – this has a compact pod mod styling and the pod is held magnetically into the mod. There doesn't appear to be a standard 510 connector or an adaptor at time of writing.
Inside the mod is a 1500mAh internal battery which is charged via the USB Type C port. The charging rate is up to 2A and this should be fully charged in 40 minutes.
The output is variable between 1-40W and your vaping data is displayed on the LED screen – the size of screen is not stated.
At the top of the mod is the airflow control lever which rotates the airflow on the pod to your preference.
The GTL Mini Pod is designed for Mouth to Lung (MTL) vapers – we tell you what this term means in our Guide To Vaping Styles.
It is compatible with the GTL coil range and the 1.2ohm and 0.8ohm GTL coils are included in the kit.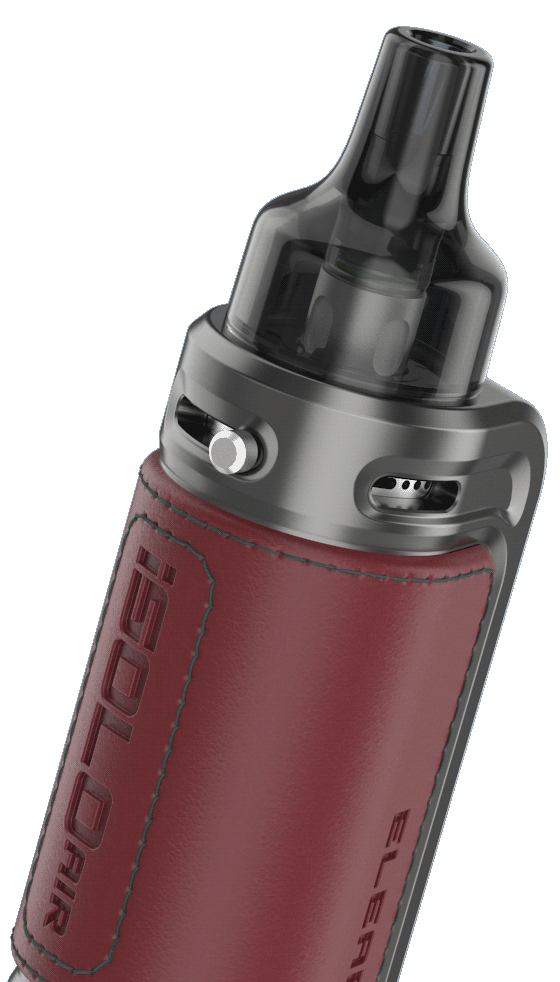 The GTL coils are also compatible with the GTL Pod Tank Kit, Pico Compaq and Glass Pen Kit.
On the base of the pod is the airflow control ring which is turned by the control lever on the mod, there are slot and hole airflow inlet options.
Refilling is taken care of via the fill port located on the base of the pod.
Here is a short video from the Eleaf YouTube channel to show you more.
There are 4 colours to choose from: Red, Blue, Light Brown and Dark Brown.

Kit Includes
Eleaf iSolo Air mod
GTL Mini Pod
1.2ohm GTL coil
0.8ohm GTL coil
Type C USB Cable
User manual
Eleaf iSolo Air Mod Specs
Size: 34x27x91mm (including pod)
Battery: 1500mah (internal)
Display: Screen – size not specified
Output: 1-40W VW
Type C USB charging – 2A charge rate – 40 min charge time
Resistance range: 0.2-3ohm
Eleaf GTL Mini Pod Specs
Size: 26.1×50.8mm
Capacity: 2ml
Coil: GTL coil range
Adjustable airflow
Bottom fill port
The Eleaf iSolo Air Kit could be the GTL vape for MTL fans – in opposition to the Pico Compaq kit with GTL coils which did not cater for MTL vapers.
Let me know what you think in the comments below!