VT250 by HCigar – Is This The Best Vape I've Ever Had?
HCigar might not be a vaping name familiar to everyone out there – but trust me if it's high end high-spec vape devices you're looking for these guys have it nailed down and then some.
This is the HCigar VT250 and looks to be the jewel in the Chinese company's crown given it's powered by the much loved DNA 250 chip.(Learn more about DNA mods here).
So we know it should operate to perfection – but what about the way it looks?
I reckon you're either going to absolutely love it – or absolutely hate it it's as simple as that.
There's no getting away from the fact this is a stand out piece of vaping kit and as I can attest most definitely a 'conversation starter'.
So let's take a look at the HCigar VT250 designed by 'Heartbeat' and see if it gets my blood pumping.
As always my opinions are my own.
In The Box
I'd like to say it's a classy box – and it kind of is given once you remove the card sleeve it's black with a kind of silver foil effect – but it's not what you'd call 'luxurious'.
Inside you'll find:
1 HCigar VT250 Box Mod
1 MicroUSB Cable
Instructional Manual
Not a lot in there and I was a little surprised the USB cable was your normal bog standard plain white one.
Not sure why but I was expecting at least one that was a little different – like the Vapresso flat ones for instance – not sure why it bothered me it just did.
However the instruction manual is at least a bit 'special.'
It's a nice quality orange coloured card that comes inside a matching envelope.
The user manual itself certainly gives you all the information you'll need – though as we've come to expect the English used is a little shall we say naïve – but to be fair it all makes sense.
HCigar VT250 Specs and Features
Powered by Evolv DNA250 Temperature Protection Board
On board and mechanical reverse polarity protections
Triple 18650 cells setup for long-lasting power.
Magnetic battery cover with customized colour.
Body material: Zinc Alloy
SS 510 atomizer connector
Battery Cover Material: Zinc Alloy+ Genuine Leather
Multiple Ventilation Stripes
Reverse Protection System
Temperature Limit: 250°F – 600°F
Output power: 1 Watt – 250 Watts
Dimensions: 95 mm*51 mm*40 mm
Escribe Software
OK I'm not going to go into great detail about exactly what the Escribe software can do.
Suffice it to say by connecting your HCigar VT250 to the website you will be able to tinker around with the settings to the max degree and of course upgrade the firmware.
Fans of the Escribe software behind the DNA chips swear by it and if you really want to set you DNA powered device up to your exacting requirements then the world is your oyster and I mean really!
Such is the sheer amount of detail and settings and fine tuning involved I'd be here all week [literally].
So here's a link to an interactive tutorial showing you how to get the best out of the HCigar VT250 and indeed any other vape device powered by a DNA chip.
This will cover:
Installation and updates
The general tab
The theme tab
The screen tab
The mod tab
Device monitor
Saving and loading settings
Follow that simple interactive guide to find out all you need to know about your DNA device and the Escribe software.
You can also get help and advice from other DNA vapers via the busy Evolve forum.
Key Features of the HCigar VT250
OK we've already touched on the fact given this is a DNA 250 powered device you can fine tune it to the 'unth degree.
Straight out of the box and this device is capable of 1 to 250 watts with a temperature range of 250 to 600F.
It's powered by x3 18650 batteries and has a standard 510 connector – which can take up to a 30mm tank.
HCigar VT250 Quick Start Guide
As soon as the batteries are inserted the device powers up.
Device asks if new or old coil
Click fire button x5 to lock device and it won't fire and screen will go off
Click x5 again to unlock and turn screen back on
For stealth mode hold the fire and down button together for five seconds – screen will go off but device will fire – doing this again will turn stealth mode off
Hold the up and down button for 2 seconds will 'power lock' the deive – it will still fire and settings will be locked in.
There are other options such as power preset mode – where you can load your selection of pre-set temps etc.
You can set different pre-sets for each atomizer/coil you use – something that Evolve recommends.
Safety and Error Message Features
As with most of the newer higher wattage mods there's a raft of safety features built into the HCigar VT250.
These include
Cell-by-Cell Monitoring
Cell Balancer
Atomizer Protection
Low Resistance Protection
Short Circuit Protection
Overheat Protection
Low Voltage Step Down Protection
The company says you can recharge your batteries via the USB cable – however this is not something I recommend.
Design and Build Quality
Build wise everything is very nicely done.
The magnets in the battery compartment are extremely strong and there's no rattle at all – this door isn't going to open easily.
The battery compartment itself is very clean and whilst there's no ribbon I had no issues removing batteries when they needed changing.
The top with the 510 connector might raise a few eyebrows given it's raised – very raised.
However, I quite liked this as given I don't have any 30mm tanks the ledge or lip gives makes sure the tank isn't lost on there with even 22mm looking OK.
Design wise like I said at the start you're either going to love it or hate it.
I've heard it likened to an electric shaver and yeah once that idea is in your head it really does!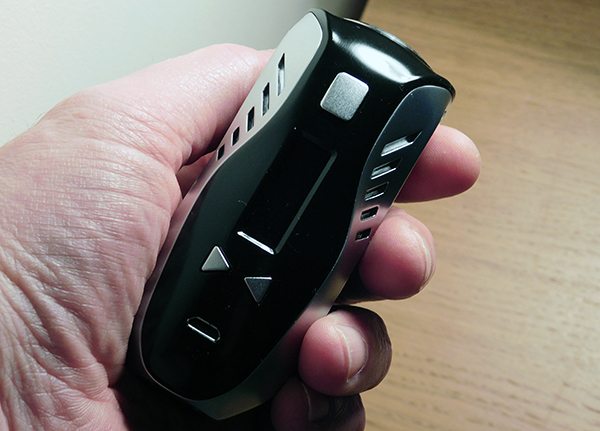 However I can honestly say whilst it is heavy with the x3 batteries inside – the shape is probably the most ergonomic I've ever tried – it's extremely comfortable.
The black front is rather like a woman's hour glass shape however the shape of the up and down buttons above the USB port makes it look as if the device is scowling – maybe that's the idea.
Now to the back and the battery compartment cover.
OK we have a quite stunning device that's let down for me by that weird ass robot face on the 'leather' cover – they say it's genuine leather and I can't honestly tell.
However – what the heck is that robot head all about?
Luckily because it's black on black you can't really see it that clearly – but personally?
I hate it and think it turns an extremely classy – stylish grown up vape device into something that just looks well cheap and gimmicky.
But like I said you do have to look hard to see it so it's not all bad.
Apart from that I really love the look and feel of the HCigar VT250 – and each time I've taken it out – including to my local vape shop – people have wanted to know more about it – especially the younger vapers lol.
How Does the HCigar VT250 Perform?
Given this is the first DNA chip device I've vaped on I wasn't sure what to expect.
I've also famously said in the past that I'm more interested in tank performance than those of a device – oh how that's changed!
From the moment I pressed the fire button and took my first vape everything seemed crisper if that makes sense.
I can only go on a complete beginner's impression as I'm no expert nor do I have any way of measuring the exact wattage – but what I'm trying to say is as vape experiences go this is extraordinary.
At 65 watts on the Augvape Merlin Mini the whole thing was smooth – effortless and well just incredible.
On the Aspire Cleito at 70 watts it was the same and as soon as I popped on the awesome Smok TFV12 Cloud Beast King at 250watts it was just unbelievable.
The HCigar VT250 simply purrs in your hand and doesn't skip a beat whatever you throw at it.
I'll be honest here and say I did venture into the Escribe software and looked at setting up various pre-sets but you know me by now – I'm not that kind of vaper lol.
Neither do I dabble in temperature control much.
What I can say from gauging the
temperature [no pun intended] from other reviews out there – this little beauty handles absolutely everything you can throw at it in its stride.
What I Like
Front on and from the side I love
the design – I've just begin shutting the robot head out lol.
Despite its weight I love the feel of it in my hand – it fits my average sized hands comfortably.
I like the ridge or lip around the 510 connector which means smaller tanks don't get lost on top.
And I absolutely adore the way this device vapes – it's as if it's in cruise control and nothing makes it break into a sweat.
What I Don't Like
Obviously the robot head design and if they were to bring out different covers I'd be the first in the queue.
I also don't like the screen – it is tiny.
What's on there is of course all you really need to see – but it is tiny and does seem a little lost on there.
And from a design point of view the shape of the up and down buttons are a little gimmicky – but again that's just my taste and they are beautifully clicky!
As for battery longevity I was able to get around 7 hours between 50 and 70 watts but the evening I spent using the Cloud Beast King I halved that easily.
Final Review Verdict
There's no getting away from it the HCigar VT 250 is both a striking piece of kit to look at and a wondrous vape device to use.
Having never used a DNA device before I'm seriously impressed and don't have the words to explain what a real difference an amazing chip and board can make to you vape experience – it is incredible if a little mysterious!
Get past that weird robot head and you have a mod that I can say is the best I've ever used.
I'm now looking for a DNA that has a more 'grown-up' feel to it;)
Pros
Evolv DNA250 inside and all that entails!
Firmware upgrades
Temp control
Max 250 watts
Stylish
Long battery life at lower wattage
Up to 30mm tank
Some good deals on at the moment!
Cons
That bloody robot head!
Pricey – but I have seen some great deals