A Dated Design But The SMOKO Vape E-Cigarette Is PERFECT For Beginners
The SMOKO Vape E Cigarette is from a British vape manufacturer with just three devices currently on the market all of which are definitely marketed towards beginners to vaping or those of us more established vapers who enjoy a mouth to lung vape (similar to that smoking feeling).
The SMOKO VAPE E-Cigarette is shall we say the mid range of the trio and is a simple pen style device topped with pre-filled 2ml cartridges. These contain a wide flavour range of UK made e-liquids that come in 18mg/20mg nicotine strength…like I said these kits are ideal for those of you coming straight off the cancer sticks.
The other two vape kits are the very old school- the cig-a-like they call the Smoko Best E-cigarette Starter Kit and the slightly more advanced Smoko V Style Vapourizer. All come ready to vape straight out of the tin with simplicity – as we'll see – one of the key factors.
OK the kit I'm reviewing – the VAPE E-Cigarette – is like all the setups, very competitively priced and comes with a choice of flavours and x2 spare cartridges. It was sent to me by SMOKO – thank you – free of charge for the purpose of this review. It goes without saying freebies don't impact in anyway on my thoughts and opinions.
Incidentally I do think the name is a little close to SMOK however a quick Google shows "smoko" is a term for a fag break in both Australia and the UK…
So…very old school in design let's see how this one vapes in this day and age.

Inside the Tin
A very nice tin rather than a box with a cardboard sleeve:
X1 Smoko battery
X1 Flavour cartridge
X1 USB cable
Smoko VAPE E Cig Starter Kit Quick Start Guide
Battery should be fully charged out of the tin
Remove all silicone covers from cartridge
Screw onto battery
No fire button – draw activated!
Green light = fully charged
Do NOT charge with cartridge attached!
When charging red light flashes
Key Features
The Smoko VAPE E Cig Starter Kit is powered by an 1800mAH internal battery and topped with 2ml pre-filled 18/20mg nicotine cartridges. I've had a look but can't see what wattage is being pumped out but with my limited techno skills I'll hazard a guess at between 15w and 20w…me on the fence? Naw lol.
There are a number of flavours to choose from – Raspberry – Original tobacco – Energy – Apple – Virginia Rolling – Menthol – Mint breeze – Gold tobacco – Absinthe – Coffee –Havana.
When buying the kit you have a choice of just the Original – Virginia or Mint however you can of course add as many other flavoured cartridges as you like and they come in packs of two.
The Smoko itself is pen style and very reminiscent of those early set-ups that came topped with a plastic clearomizer however as I've just explained you can't re-fill these.
The key here is simplicity to say the least – screw on your cartridge and vape – no button to press! It is made for the mouth to lung (MTL) vape experience which is how you would smoke a cigarette. More on the two main styles of vaping here should you wish to learn more about that.
Design and Build Quality
The threads from the cartridge to the battery are very good indeed as is the rest of the build. The 'tank' is made from very thick plastic and I have done a drop test and the device bounced with no damage. I'm guessing that plastic can take some knocks.
The battery is made from some kind of alloy and is also tough and very light in the hand.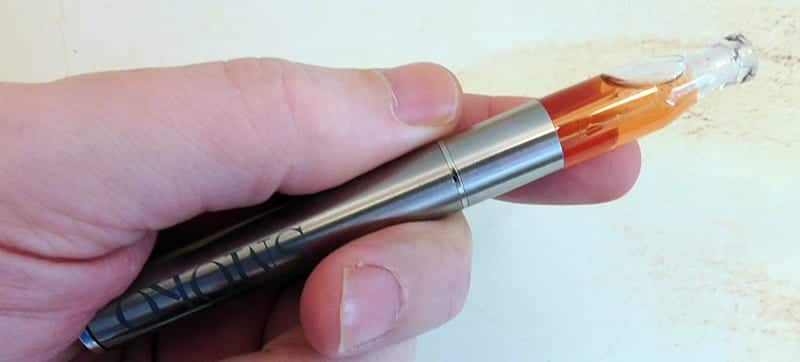 Design wise it is very smart to look at. Look it might be a pen style but that 'clearomizer' style tank/cartridge is very stylish. You can't remove the mouthpiece but it is extremely comfortable and the slight frosting only adds to the elegance.
I have to admit the seal between the e-liquid and the drip-tip had me worried for a second as its seamless if that makes sense making me initially think juice was simply going to pour into my mouth or leak everywhere…it doesn't 😉
It really does look good and not even the SMOKO logo on the side is overbearing.
How Does the Smoko VAPE E Cig Starter Kit Perform?
Given this is very old school in every way and as basic as it gets I wasn't expecting much.
However.
Had this kit been around when I first started on my vaping journey all those years ago I may have quit completely sooner. Yup it's that good.
This is without doubt one of the better vape starter kits I've had the pleasure of reviewing. A no fuss no frills device wrapped up in a classy looking shell that does exactly what it should do.
I'm finding little difference between the throat hit in the 18mg or 20mg because the tank/clearomizer, call it what you will, really delivers a great hit with just the right amount of restriction for a decent – OK good – MTL vape. I can't find the resistance of the 'coil' so let's assume it's around 1.0ohm – whatever it is it certainly has a kick!
One criticism is the lack of battery level indicator – you really don't know when it's about to go flat – there's not even a dip in vapour or flavour to give you a clue instead it just begins flashing red.
Maybe in future models they could add a yellow battery half empty indicator – just a minor niggle 😉 Luckily I was supplied with a spare battery which I kept in a silicone case so was able to switch whilst out and about.
BTW battery life is decent enough – I took this out at 11am and was home by 6pm and had to swap the battery literally once I sat down and that was steady vaping.
Vapour is very good too and the flavour off the 6 cartridges I was sent I'll talk about now.
SMOKO Vape Refill E-Liquid Flavours
Original
Meant to taste like a 'straight' cigarette as I call it or as the experts say 'filter tipped'.
Obviously that's a generic tobacco taste that is I have to say slightly on the mild side. The flavour is very good and the aroma is almost chocolate – but it certainly doesn't taste like chocolate!
Those of you on say Marlboro Lights will really enjoy this one.
Havana
As regulars know I still enjoy a really good cigar and Smoko has almost nailed this one.
Very rich and deep with a real dry throat hit with an aroma straight out of a packet of Henry Wintermans…I love it.
Raspberry
One of my favourite fruits and definitely my choice of e-liquid and this one doesn't disappoint. Maybe a tad on the sweet side for my palate but only just and that tartness is just about there.
Once again the aroma off this one is bloody gorgeous and will fill your room with lovely sweet smelling clouds…very moreish and very tasty.
Fruit Burst
Think fruity chews rather than fruit bowl of tanginess. Again almost too sweet for me but just about on my palate and yup once again the smells from the impressive vapour is divine…yum!
Mint Breeze
Yeah I don't do menthol however this is not too bad. It's not gonna blow your socks off and neither is it a weak kind of menthol…think chewing gum rather than extra strong mints. Not for me but definitely one if you like a mild to medium menthol vape/smoke.
Virginia Rolling
As someone who vapes tobacco flavours every day hand on heart this is pretty dam good. I have the 20mg cartridges and that throat hit is bloody brilliant with that slightly harsh yet mellow smokiness I used to enjoy in my roll ups.
It's just missing the merest hint of smoky sweetness but it's definitely one I'd buy.
Pros
Dead easy to use
Great flavour
Great throat hit
Great vapour
2 hour charging
Decent battery life
Vape whilst charging [sort of see below!]
Well built
Classy design
Great packaging
British made 😉
Fantastic price
FREE shipping
Cons
Lack of battery level indicator
Sealed cartridges [though reasonably priced]
Ridiculously short USB cable!
Final Review Verdict
I'm actually blown away by this little MTL/starter kit.
By using 18/20mg pre-filled tanks SMOKO has made a set-up that even the most befuddled anti-technology man or woman can just pick up and puff on. It's in a nutshell absolutely perfect for those of you looking to quit at a fantastic price.
Christ I'm sounding more like a promoter than a reviewer lol…but you should know me by now – gush fests ain't my thing. Instead I give credit where it's due and this one is very good indeed.
Its simplicity is key but so is the packaging and the design. It's contemporary with a really classy look to it suiting men and women – more sexism Neil tsk tsk – I meant the gender fluid non binary types out there of course 😉
Seriously though it vapes like a dream and as a regular MTL vaper it gives me that throat hit I still desire and those flavours only add to the whole vaping experience.
Trust me this is ideal for the person in your life looking to quit the stinkies – especially dare I say the older or as I call them the 'grey vapers' out there.
I do think the USB charge cable is ridiculously short – I mean look at it lol – but that's a minor niggle! However I've been able to use a longer one and you can vape whilst it's charging – bonus!
Would I recommend the SMOKO Vape E Cigarette? Yes of course I would – hands down one of the best starter kits around that I've reviewed.