The Squid Industries Peacemaker 25mm single coil RTA is from Los Angeles based Eric Buss, a former US Navy veteran who has overcome numerous personal struggles, both during and after combat.
Over five years he dedicated his time to other war veterans, helping them regain their health and personally achieved a BA degree in psychology along the way. During this period he fell in love with the vaping community and Squid Industries was born.
So why the name Squid Industries? Why name an RTA Peacemaker?
"Navy vets are often called Squids. A Peacemaker is an old western gun. The centre portion (of the RTA) looks like a gun cylinder and being a company with a military theme most of our product names and designs are related to ballistics" – Eric Buss
What can we expect from The PeaceMaker 25mm single coil RTA by Squid Industries?
Described as both innovative and inventive the Peacemaker 25 single coil RTA features a dual bottom airflow design with an elevated and postless build deck with large juice capacity.
It is made of acrylic and stainless steel for increased durability and offers reliability as a rebuildable tank with superb flavour and cloud production.
This RTA is designed to be used with a single coil, thus we can expect extended battery performance with the possibility of compromised cloud and flavour production against traditional dual coil setups.
As always, expectations run high but the facts and figures are what I'm all about so do you get quid for your squid or is this just another damp squib?
NOTE: This is a non TPD compliant product.
This product has been sent to me free of charge by Heaven Gifts (Thank you). All views and opinions are based solely on my own, unbiased experiences. What you read is what I get. So please, read on.

What's In The Box
Peacemaker 25mm RTA (4ml capacity).
810 honeycomb (Goon fit) drip tip.
Spare 8ml Glass extension tube.
Bag of spares. (Screwdriver, spare O rings, two ceramic post clamps, 510 pin and two
prebuilt coils).
Specifications/Features
25mm deck with gold plated protruding 510 pin.
SIX acrylic/pyrex windows encased into body of tank.
Tough stainless steel finish.
Wide dual cycloptic bottom airflow slots.
Knurled threaded top cap.
Wide Kidney shaped juice fill ports.
Strengthened ceramic post clamp system.
Raised postless deck.
Honeycomb style angled airflow intake built into deck.
Sizeable, chunky O rings.
The Peacemaker 25mm RTA by Squid Industries is available in either black or stainless steel. I got the latter.
Design & Build Quality
I squid you not! The Squid Industries Peacemaker 25mm is one incredibly well designed RTA.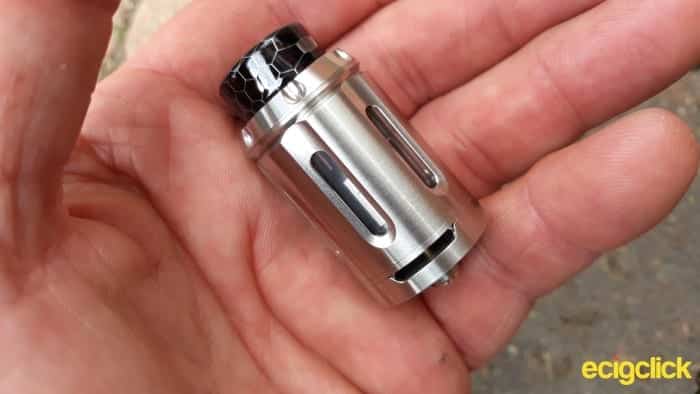 It's one of the most immaculately machined tanks I've ever had the chance to get my hands on. The stainless steel finishing is flawless together with the threading and beefy O rings that provide just the right amount of tolerances when tightening down.
Airflow
The PeaceMaker 25mm features two banks of three airflow slots on the deck that are angled to ensure coils sized between 2mm – 3.5mm inner diameter receive maximum cooling during use.
A domed inner chimney provides enough restriction to concentrate the flavour on its journey to your vape.
The airflow control ring is also silky smooth during use although curiously the closed position stops a tad further than it needs to.
Put that down to me, nit picking as usual!
The two massive cycloptic airflow ports can be adjusted to provide both a restrictive draw for increased flavour or with the setting wide open an incredible amount of cloud production.
The airflow ring itself can be removed when closed off by forcing it downwards allowing for general maintenance cleaning.
O Rings and tolerances
The sizeable O rings ensure a very snug, tight seal for both the top cap and the base of the deck. They look built to last.
There's also a significantly sized O ring placed within the top cap providing a strong grip for the included 810 Goon style honeycomb pattern drip tip and one that I think compliments the stainless steel body perfectly.
By spinning the AFC clockwise you are able to release the deck from the tank and once again I witnessed that buttery smooth machining to the threading ably assisted by that perfectly sized O ring. I did encounter a few squeaks on the final few turns before releasing the deck but feel sure that with regular use and juice lubrication is something that will cease to occur.
Ceramic post clamp
A heat resistant ceramic post clamp is included that can be raised by unscrewing the gold plated Phillips head screw allowing easy insertion of coil legs and consequent clipping.
Inner Chimney
The stainless steel inner chimney is domed at the top and specifically designed to both boost and concentrate the flavour experience.
Knurling
Generous knurling points on the top cap make unscrewing a walk in the park and reveal those massive twin kidney shaped fill ports. You will have no problem dispensing any kind of nib variant into this powerhouse of a tank.
510 Pin
Finally we have a protruding gold plated 510 pin that looks capable of use with a hybrid mod/mech mod but that's down to individual preference and something I wouldn't necessarily use.
How Does The PeaceMaker 25mm Single Coil RTA perform?
The Tank That's Built Like A Tank
So. The design and build quality looks fantastic and overlooking a few squeaky squids here and there the PeaceMaker appears to be pretty damn impressive.
Let's take a look at actually building what is hopefully, a tank of a tank.
I'm using the SX Mini SL class for means of testing the PeaceMaker 25mm RTA because it is a single 18650 battery mod that is tailor made for single coil attys, and a 3mm inner diameter Wotofo Framed Stapled Clapton coil weighing in at a conservative 0.34ohm.
Cuttwood Boss Reserve has been a staple of mine for the last four years so I will be looking for three or four distinctive flavour notes to really shine through.
Coil Placement
Unscrew deck clockwise from the tank.
Partially unscrew gold plated flat head screw from ceramic clamp.
Lift/raise clamp and insert coil legs underneath.
Position coil 2mm above the six honeycomb air intake ports.
Tighten down ceramic clamp until secure. Avoid over tightening.
Trim excess of coil legs flush to ceramic clamp.
Pulse coil and remove hotspots. Ensure coil glows evenly.
Wicking Placement
Cut a piece of cotton to size, twist and pinch.
Feed through inner coil ensuring a snug but not tight movement.
Trim excessive cotton to the sides of the build deck.
(Rake out any inconsistency to the cotton thickness).
Prime both coil and cotton with e juice. Ensure cotton is saturated.
Gently tuck the cotton into the raised juice flow ports, ensuring not to over stuff them.
Leave space between the raised deck and fill port.
With the base of the RTA still attached to the mod simply screw the tank back into place, unscrew the top cap and fill liquid into either of the two kidney size ports then replace top cap.
I generally give the tank a few dry pulls to help the initial wicking process and then let the juice soak for a few minutes but not everyone is as patient.
Flavour and cloud production
The PeaceMaker 25mm RTA has two very wide dual cycloptic airflow slots that should accommodate the most seasoned vaper out there so I ran three test settings.
Airflow 1/3rd Open
Delivered a restrictive lung draw while still retaining more than adequate cloud production.
I was able to pick out some nutty elements with a milky backnote from the Boss Reserve e-liquid and a sugary sweetness remained on the tongue long after that final exhale.
Airflow 2/3rd Open
The cloud production was becoming thicker and denser with minimum loss of flavour output and the banana content of Boss Reserve was more evident alongside that splash of milk.
Airflow Fully Open
The cereal content of Boss Reserve was rearing its head and although still packing flavour some elements of the juice were a little muddled and lost, possibly to an overload of cloud production. This RTA really chucks amazingly given its single coil heritage.
I'm more of a restrictive lung hitter myself, still enjoying those left over barren moments of my former smoking years and there were many!
Experiencing the same kind of pull from a cigarette is the cross I continue to bare but I also find it to be the most effective method of achieving the best flavour and amount of cloud production I require so by using the PeaceMakers airflow control at around one third open I was able to enjoy the best of both worlds from my chosen Ejuice.
Using The 8ml glass extension
The PeaceMaker comes with the 4ml stainless steel tank already installed so there's gonna be a few tweaks needed before tooting away on this massive 8ml juice capacity glass extension.
Unscrew deck clockwise from the tank.
Unscrew top cap from the tank.
Unscrew inner chimney from the body of the deck.
Firmly insert 8ml glass extension tube over the rubber seals of deck.
Screw down inner chimney inside glass extension and onto the body of deck.
Fill 8ml glass extension with e liquid via either fill port.
Screw down the top cap.
Flavour and cloud production
The cloud production from the glass extension was very much on par with that of its 4ml stainless steel counterpart but the flavour seemed to be that little bit cleaner.
The cereal and milk notes from Cuttwood Boss Reserve were mildly enhanced and in general this was a more saturated, enriched flavour experience.
I'm very much a vape virgin when it comes to glass extensions of this size so can only conclude that the material itself plays a pivotal role with this pronounced flavour experience.
Either way, I think the glass extension edges it for me. An impressive device has just become even more impressive!
Pros
Rugged and durable stainless steel finish.
Silky smooth threading.
Six tall vertical window slots on 4ml tank.
Two generous fill ports suitable for all nib variants.
Knurled top cap for ease of maintenance.
Ceramic clamp system makes coil placement very easy.
Great flavour production across all airflow settings (4ml tank)
Cleaner, more refined flavour production with 8ml glass extension.
Minimal leakage.
Cons
No Knurling on base of deck.
4ml stainless steel tank gets quite hot (subjective con).
Supplied screwdriver is not wide enough for post clamp screw.
Prone to leaking if not left in an upright position.
Difficult to alter airflow control ring using 8ml Glass extension.
Summary
So when all is said and written, is the PeaceMaker 25ml single coil atty a tank I would buy?
Without a doubt yes!
This has to be one of the best designed tanks I've had the pleasure to get my hands on.
The finishing and threading is superb and the angled airflow slots on the deck and reduced inner chimney combine to produce an incredibly rich vape experience both in cloud and flavour production.
Very few single coil RTA's are able to mimick the quality of a more power hungry dual coil tank but somehow the PeaceMaker achieves it. With ease.
Leakage was kept to a bare minimum and only really occurred if the tank was left at a fourty five degree angle for a period of time which is inherent of many bottom feed designs or if the top cap was over tightened after filling.
The 8ml glass extension improves flavour quality by subtle measure and being a single coil won't guzzle liquid like there's no tomorrow.
I managed to get a good few hours of moderate vape use out of the 4ml stainless steel tank and around half a day using the 8ml glass extension before needing a refill.
Neil wouldn't be Neil without a negative, even if there is only one!
Squid Industries aren't the only company to fall foul of this issue but it does have to be raised.
All bottom airflow tanks are prone to occasional leakage or in the best cases a few drops of liquid condensate.
It therefore pays to have some kind of knurling or grip provision when attempting to unscrew the deck from the tank itself. The PeaceMaker is devoid of such and being stainless steel makes it incredibly hard to untighten.
Combine this with the presence of juice and matters are only hindered. I found myself having to use a pair of pliers to do a job that should have been relatively straightforward.
That's it though.
No other issues other than being supplied with the obligatory blue screwdriver that's not up to anything other than stripping the gold plated Philips head screw of the ceramic clamp mechanism.
Final Verdict
The PeaceMaker 25mm single coil RTA is a tank that is built to last.
It's in it for the long run and because of its high quality steel finishing and recessed acrylic juice windows is able to stand up to much of the daily abuse our vaping apparel tends to face.
Flavour and cloud production very much mimics what you would expect to find from a dual coil atty and coil placement is as simple as it comes.
Would I Recommend The 25mm Peacemaker RTA?
If you're reading this and have had a few months experience with RTA's or RDA's then yes, most certainly. The PeaceMaker is likely to give you much less of a headache both in terms of building and wicking providing you don't cram the cotton down into the juice flow ports.
It will give you an incredible amount of airflow while retaining very good flavour.
Have you used or did you buy the Squid Industries Peacemaker 25mm Single Coil RTA? We would love to hear what you thought in the comments below.