The Rune RDA By Voopoo Previewed
The Voopoo Rune RDA is marketed as being "Epic Cloud Domination" – hehehehe – very modest there Voopoo!
The Rune RDA is designed to have a very open build deck in order to increase the juice well size. 
This is a 24.6 mm diameter RDA and is suitable for dual coil builds.
The coil legs fit into the upstanding posts and the screws are accessed from the side.
The kit includes a solid 510 connector pin to use this as an RDA but there is also a hollow bottom feed 510 connector pin so you can use this on a squonk mod. The squonking design is so that it kind of squirts the liquid to the side of the pin which supposedly prevents the over squonking of liquid.
An adjustable airflow system is used – the intakes are on the side of the barrel and these feed the outlets below the coils.
Rotate the barrel to adjust the amount of air coming into the RDA. The barrel also has a stop system which apparently "keeps the spinning angle in control, thus avoid disorderly spinning back". Yes the Voopoo website translations are really hard work!
Included in the kit is a matching resin 810 drip tip but there is also a 510 drip tip adaptor so you can change this.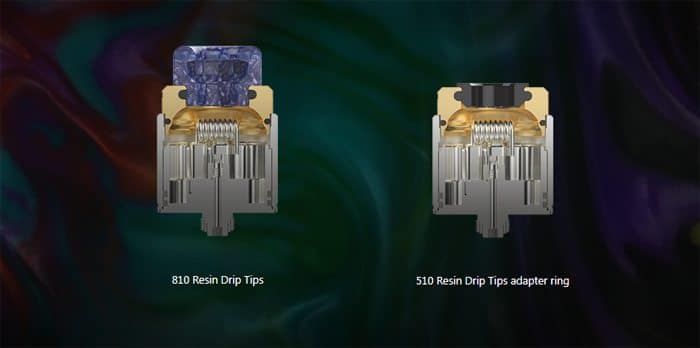 Apart from the Silver version – the other colours have a colourful band of graphics on the top cap. I think the Rainbow in particular carries this off well!
There are 6 colours available – Rainbow, Gold, Black, Silver/Black, Silver, Silver/Blue.

Kit Includes
Voopoo Rune RDA
510 drip tip adaptor
Seals
Screws
Screw drivers
User manual
Voopoo Rune RDA Specs
Size: 26×24.6mm
Material: Stainless steel
Thread: 510
Adjustable bottom airflow
810 and 510 drip tip compatible
Bottom feed squonk compatible – also solid 510 pin
The Voopoo Rune RDA looks to be a nice capacity for dripping and Squonking.
Price wise this is very reasonable however I am only seeing Pre-order deals at the moment.
Will you be buying the Voopoo Rune RDA? Let me know what you think in the comments below!