Today we're looking at the Aspire Typhon Revvo 100 kit, which pairs the popular Revvo tank (and its radial coils) with the Typhon 100: a 5000 mAh internal battery mod which powers up to 100 W as the name suggests.
You better like splatter paint jobs though, because that's what you're getting with this kit.
Aspire Typhon Revvo Kit
It comes in three variations (red, blue, and green), each one uniquely (and dare I say, artistically) strewn over a glossy black. For the purpose of this review, we'll be looking at the green on black.
Disclaimer: We received the Aspire Typhon 100 Revvo Kit for the purpose of this review. All opinions are based on my own experience and road testing.
What's in the box:
1 x Aspire Typhon Revvo mod
1 x Aspire Revvo tank
2 x coils (0.10 – 0.16 ohm)
Spare glass tank
Micro USB cable
User manual
Warranty card
Safety card
Protective silicon cap
Extra O-rings
Features

:
Typhon 100 mod:
Size: 88.5 x 52 x 26 mm
Battery: 5000 mAh Li-Po
Screen: 0.96-inch OLED
Output modes: VW | VV | Bypass | CPS | TC Ni | SS | Ti | TCR M1 | M2 | M3
Wattage range: 1 – 100 W
Voltage range: 0.1 – 9 V
Temperature: 200 – 600 F | 100 – 315 C
Resistance parameter:0.1 – 3.5 ohm
Continuous firing time:10 seconds
Charging: Via micro USB
Max USB charge: 2 A
510 connection: Spring loaded gold-plated 510 pin
Available colours: red splatter | green splatter | blue splatter
Revvo tank:
Height: 41 mm including drip tip
Diameter: 24 mm
Uses ARC (Aspire Radial Coils)
Coil resistance: 0.10 – 0.16 ohm
Coil wattage range: 50 – 100 W
Coil material: Kanthal
Adjustable 3-way top airflow
Integrated Delrin top cap and drip tip
Drip tip height: 11 mm
Inner drip tip diameter: 11.5 mm
Outer drip tip diameter: 17.5 mm at base; tapers up to 15 mm at opening
Capacity: 3.6 mL
Threading: gold-plated non-adjustable 510 pin
Unboxing
Truth be told, when I first saw the Aspire Typhon kit online, I thought it looked ugly. Fortunately, product pictures don't quite do this thing justice as I was pleasantly surprised opening the packet. The paintjob on no two mods is the same, and the colour run has a metallic sheen that is pleasing to the eye.
The Typhon 100 mod ships with the Revvo tank, which has been finished with the same colour scheme. Even the O-rings match! The kit also comes with spare tank glass, micro USB cable, two ARCs (Aspire Radial Coil), the usual instruction guides, and a protective silicon cap you can use to prevent leaking when you're on the road.
Typhon 100 Build Quality
The mod feels extremely lightweight – around the 200-gram mark. This is unusual for a mod with 5000 mAh battery capacity. I was expecting more of a brick. Ten venting holes are situated in a row on the underside of the mod, and T4 torx screws hold the frame together at the top and bottom.
On top we have a gold plated, spring loaded 510 pin with enough clearance to easily fit atomizers up to 25 mm in diameter. The front face of the mod features a 0.96-inch OLED display that is bright, and makes good use of screen space.
Directly above sit the Plus and Minus tab. The firing button protrudes slightly off the mod's surface opposite the 510 mount. All buttons have a very short throw, without being particularly clicky.
Charging occurs via the micro USB port, which is positioned curiously high, a mere drib and drab from the top of the mod. I'd hate to see e-liquid get into that port! It also means that charging the mod is easiest with it laying horizontal, a potential issue with a full tank attached.
Typhon 100 Hand Feel
My first association is of a hip flask or some kind of curved wedge. The design is ergonomic and fits comfortably in my hand. Although I'd posit that the body is made of metal, the finish makes the mod feel a bit like plastic. This impression is amplified by the lightness of the mod.
The layout of the mod (for a leftie) makes the fire button a natural thumb press, which also leaves the display visible. If you're right-handed and want to see the display, you'll likely need to fire with your forefinger.
Typhon 100 Feature Set
The Typhon 100's feature set is on par with most current mods out there at the moment. Temperature control for SS316L / Ti / Ni is covered, as is manual-input TCR values with three available memory slots. Variable wattage, voltage and Bypass modes are available, with the addition of three CPS (Custom Power Settings), customizable in half-second intervals over a ten second duration. The system firmware can also be upgraded via USB.
Menu Functionality and Firmware Upgrading
The menu interface is fairly standard, with just a few combinations that take a moment to figure out.
Five clicks to the Fire button turns the device on. While on, five clicks will lock the device. A long press will turn it off entirely.
Three clicks to the Fire button activates stealth mode. The screen will go black, and the Plus and Minus buttons are locked. Three more clicks to the Fire button deactivates it.
Pressing Fire and Minus simultaneously locks output in whatever output mode is being used.
Pressing Fire and Plus simultaneously toggles between VW, VV, Bypass, CPS, TC, and TCR modes.
To access sub-settings in CPS, TC and TCR modes, pressing the Fire button once will confirm the selection and take you to the next stage. Plus and Minus toggles through these menus too.
Pressing Plus and Minus simultaneously in TC, TCR and CPS modes allows you to edit specific parameters: Output wattage in TC modes, wattage and TCR value in TCR, and complete customization of the output curve in CPS modes.
Press the same combination once more to get out of these submenus.
Battery and Charging
A capacity of 5000 mAh feels decent for a modern box mod, but the 100 W output limit caps things a bit, especially if you like your low-resistance builds. Charging the device via USB, the screen interface shows current battery voltage and Amp rate, as well as time duration. I love this feature, as it gives me an accurate sense of where my battery's at and how long a single charge takes.
From empty to full, charge times have averaged just over two hours for me. That's with 2 Amp fast charging, which works best with the Typhon tethered to a wall socket.
I've noticed recently that a full charge hasn't resulted in a final output of 4.2 V. Perhaps this is a sign that the battery has begun to lose its edge. I normally prefer external battery mods, not only for the hardware longevity but also the higher power headroom. The compromise here is what you lose in max power, you gain in lightness.
Typhon 100 Aesthetics
As mentioned, the look of this mod in real life beats the product photos I'd seen by far. It feels made for me as a left hander, and I really appreciate the brightness of the display, which shows up clearly even under sunlight. I can't wait to match the Typhon 100 with a suitable green atty.
But before we get to that, let's take a look at the Revvo tank it comes with, shall we?
Revvo Tank Build Quality
Straight out of the box, all the O-rings and tolerances are fairly good on the Revvo tank, except for the tank glass reservoir, which is practically impossible to remove. This is down to the tightness of the O-rings holding it in place as well as the tank's base, which is very thin.
I can't see any sign the filling tube that feeds e-liquid into the reservoir is removable, and in any case there aren't spares for this part. The 510 pin is non-adjustable, and doesn't protrude enough to make this tank safe on a hybrid mechanical mod. Putting this tank on the Typhon mod I notice a gap. It's small, but it's there, and feels like an oversight on Aspire's part.
The mid-barrel has a removable AFC that feeds air in through three openings on the side. I like the fact that this piece is removable for easy cleaning. The openings are stopped at full open and closed, so this AFC won't slide around aimlessly.
The top of the tank features an all-in-one Delrin piece that is both topcap and drip tip.
Delrin threading on this piece screws onto metal threads on the inside of the mid-barrel, so watch out for potential stripping. There isn't a spare part for this, and it's irritating to see that standard 510 and 810 drip tips aren't catered for.
Some friction-fit 810 drip tips do fit into the opening, with varying degrees of success. I find the thinner Goon drip tips match the outer diameter at least, but be prepared for a tight fit indeed – and some pliers to get it out afterwards!
Revvo Tank – How It Works
The Revvo tank is basically a sub ohm tank with the appearance of an RDTA. It uses ARCs; thin radial coils shaped like disks that slot into the top of the tank reservoir. The heating element is Kanthal, and resistance fluctuates around the 0.1 – 0.16 ohm range. I haven't seen other resistances or materials available.
The coilhead is held in place via the mounting screw, which secures onto the filling tube, makes the negative connection, and doubles as a spitback guard and juice funnel. Without this screwed in place, your tank won't fire. Talk about smart design!
The broad surface area of the coilhead should have a positive impact on flavour, while the size of the chamber and the AFC slots will make for quite an airy vape.
Revvo Tank – How to Fill It
You can fill the tank completely assembled, or with the mid-barrel removed. Most bottles will work fine, but I've found droppers and thicker nozzled bottles to perform worst, while Chubby Gorilla bottles work best.
Simply apply a bit of pressure on the opening that leads into the reservoir and… squeeze. Pushing this opening allows e-liquid to feed through and fill the tank from the bottom. Excess liquid tends to get drawn back up into the bottle thanks to the capillary effect, and whatever's left pools on the coilhead surface.
Spitback is neutralized by the spitback guard almost entirely, unless you've flooded your coil.
Aspire recommends turning the tank upside down for two minutes and closing off the AFC to ensure the cotton gets thoroughly wet before you start vaping.
Coil Longevity
I'm not a massive fan of subtanks, but these radial coils have me impressed! They require very little break-in time, and flavour on a new coil is phenomenal, clean and very fresh. I've not noticed any major problems with dry or burnt hits. If the coil does start to taste slightly dry, a quick "Genny tilt" or turn upside-down remedies this.
Coil performance slowly worsens over a few weeks, depending of course on personal use and type of juice.
How To Re-Wick The Aspire Revvo Tank
Rewicking looks difficult, but it's not impossible. There are actually two layers of cotton, the lower one being softer and easier to remove with tweezers.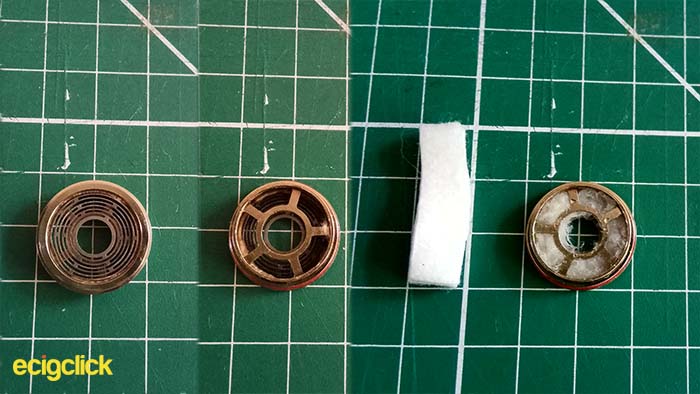 The upper layer closest to the coil requires some grafting, as it's held in place around the edges with an adhesive. The coil above this is quite thin and held in position by this upper layer. But if you want a clean taste when re-wicking, you'll want to get both layers out of the way without damaging the coil itself. It's also a good idea to clean the coil, as darker juices tend to gunk up the metal after prolonged use.
I've used a single piece of cotton padding about 3 cm x 1 cm with the top and bottom still intact to rewick. You need to get this spread out and covering the coil surface, while keeping the centre part free. I can barely notice any difference in the quality of the vape with my own rewick vs the original factory job.
But if you're not the hardcore DIY type, replacement coils sell in packs of three. They retail in the UK for between £7 – £9.
How Does The Apsire Typhon Kit Perform?
I really like this pairing – not only the attention to detail, but also performance-wise. I find the Revvo tank performs best around the 80 – 85 W mark, which is well within the limits of the Typhon 100.
Flavour on the Revvo tank is great, but I would have liked more airflow restriction. That's down to the AFC and the size of the chamber above the coils. Expect to be refilling the tank often, as 3.6 mL is nothing up against these thirsty coils.
Gunked-up coils lose their flavour within a week or two, and residue from thoroughly used cotton will drain back into the reservoir, discolouring your otherwise pristine juice.
However, replacement coils have a decent price point and rewicking is a cinch for the adventurous. You can't say that about all factory coilheads!
Recently, I've been using the Aspire Typhon 100 with a green Wotofo Nudge 24 RDA for the matchy-matchy. The 100W limit means you can't build too low, but I've been happy with a 0.2 ohm resistance and around 75 W output.
Either combo – the Revvo tank or an RDA – will see you needing to recharge before the day's out. But that 2 Amp fast charging means you won't be out of commission for more than a couple of hours at the most.
Pros

:
Revvo tank:
Innovative tank design
Coil longevity
Smart cap for reducing leaking
Typhon 100 Mod:
Very light mod for the battery capacity
Aesthetics and form factor
Full range of output options
Detailed charge information
Cons

:
Revvo tank:
Delrin threading on topcap-drip tip
Integrated top cap-drip tip piece
Chamber needs reduction for better flavour
Small capacity
Typhon 100 mod:
Menu interface has a lag when displaying secondary info (voltage/amperage draw)
Odd placement of the micro USB port
Internal battery (subjective)
Final Verdict
I went from being doubtful to convinced on the Aspire Typhon kit. The lightness of the mod, and the ingenuity of the tank design, are standout factors for me. The fact that I can easily re-wick my coils is a huge pro for someone used to working with rebuildables too.
There are a few factors that need to be tweaked to make the Revvo tank great, rather than just good. For a start, Aspire, I'd address the gap issue! The maximum output of the Typhon 100 makes this a mod better paired with subtanks and rebuildables with a slightly higher resistance for a longer-lasting all day vape.
But those factors aside, I'm newly converted to the paint splatter look – and this new step forward in coil design from Aspire. Recommended.