This time I'm going to be taking a look at one of Voopoo's latest additions to their Argus range of devices the Argus GT II.
This high wattage dual battery kit is paired with the updated Maat Tank New!
I was fortunate a couple of years ago to review the predecessor of this kit, however the GT II is a different animal entirely!
Voopoo were originally setup 2010 as a medical electronic research company based in China.
2016 they acquired Woody Vapes and so began their journey into the world of E-cigarettes!
Over the years Voopoo have given us many kits some of their ranges include – the Alpha Series, Drag series, the Vinci series and the Argus range!
What Can We Expect From the Voopoo Argus GT II?
The kit is available in 5 colours – Carbon Fibre, Graphite, Silver Grey, Lime Green and Dark Blue!
For me the original Maat Tank was probably the last best tank that Voopoo manufactured. The Maat Tank New has a leak proof design that they say stops condensation build-up for improved flavour!
The Argus GT II device is much more than its predecessor the Argus GT. This new version has a power output of 200W, 3A fast charging, and a physical locking switch. On top of all that this is an IP68 rated device, meaning the mod is water, dust and shockproof!
This sample kit was sent to me direct from Voopoo, for the purpose of review!
As always my views and thoughts are my own after considerable testing period.
In The Box
Voopoo Argus GT II Mod
Matt Tank New
User Manual
0.2Ω coil (TPP-DM2)
0.15Ω coil  (TPP-DM3)
USB Type C Cable
Features
Matt Tank New
Size: 26x52mm
Capacity: 6.5ml (TPD: 2ml)
Top filling
Bottom adjustable airflow
Compatible with TPP coil range
Argus GT II
Size: 90x54x29mm
Material: Leather & Zinc Alloy
User modes: VW (RBA), Smart, Turbo, TC
Output Power: 5-200W
Output Voltage: 0-12V
Resistance range: 0.05-3.0Ω
Charging voltage: 5V/3A
Battery: 2×18650 (Not included)
IP68 rating
GENE.TT 2.0 chipset
Locking switch
Design and Build Quality
Voopoo sent me a standard sample of the kit so my review is based on this, the colour sent they call Lime Green. The kit comes in a really nice tin box that has been moulded with several motifs!
Maat Tank New Overview
Is a sub ohm tank that delivers a great DTL vape; the tank measures in at 52mm tall with a base diameter of 26mm.
Materials and Parts
Being mainly made of Stainless Steel the Maat Tank New also includes Pyrex and Delrin. This tank dissembles into 5 parts; mouthpiece, fill cap, coil cover, base and the Pyrex glass.
The chunky 810 type mouthpiece is made of Delrin, it has 2 O-rings around the shaft and also has a metal band for decoration!
The cap is stainless steel and screws on and off with a ¼ turn and it is moulded with patterns to aid unscrewing and screwing back on.
The fill port, coil guide and chimney section are all one piece and made of stainless steel and the fill port has a white rubber membrane gasket fitted.
My tank came with a 6.5ml bubble glass installed but the TPD version is fitted with a 2ml tank!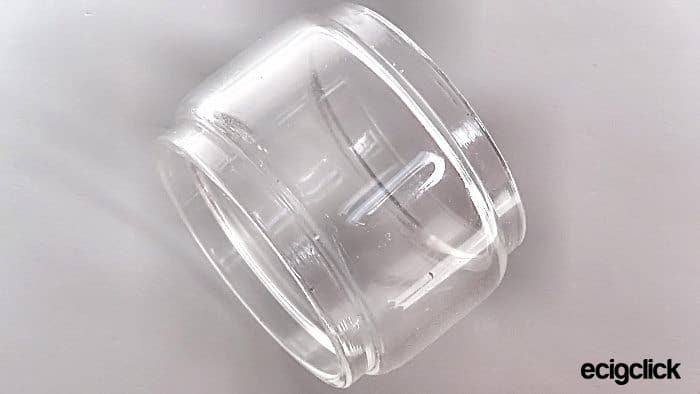 The base cap is screw on and off, inside are 3 gold sprung contact points. The dual bottom airflow inlets are controlled by unique slides.
On the bottom of the base you will see all the normally expected info!
The Maat Tank New is compatible with all current TPP coils, 2 of which are included in the kit for you to try.
TPP-DM2 0.2Ω 40 to 60W
TPP-DM3 0.15Ω 80 to 100W
Voopoo Argus GT II Overview
This quite a heavy device weighing 242g without batteries!
Measuring in at around 90mm tall, the width of this device is 29mm and has a depth of 54mm.
The GT II device has a zinc alloy and leather construction with rubber highlights top and bottom, it's also a shiny finger print magnet!
From the top
The GT II has the normal 510 connection with a gold plated spring loaded pin and a Type C fast charge 3A port, which has a plastic slide cover. Between the connection plate and the body is a layer of rubber!
Voopoo Argus GT II Body
This device has been rated IP68 for water, dust and shock protection.
The rounded back of the GT II has faux leather padding that serves for comfort, it has also been embossed with "Argus GT II".
You will note that like the Geekvape L200 this device has a metal cradle. This has been printed with one side of the device saying "Gene chip inside", which BTW is the Gene.TT 2.0 chipset.
On the other is printed with design information.
Voopoo Argus GT II Workface
Located on the front of the device below the type C charge port, you will see the 3 metal action buttons, a colour screen and a physical switch that Voopoo call a QS lock!
Voopoo Argus GT II Bottom
It has a battery flip door, push the slide backwards to open. This device takes two 18650 batteries and also has the safety marks printed on the door.
Inside the door and the battery compartment are gold contact points with battery orientation marks!
Even if it is somewhat a familiar design the whole kit has a great quality to it.
So How Does the Voopoo Argus GT II Kit Perform?
For the purpose of this review I will be using the TPP-DM3 0.15Ω coil in the Maat Tank New. I will be filling it up with "Fruit Gummies" hand crafted by Kwik Vape.
A Basic Quick Start Guide
Voopoo Maat Tank New
Choose one of the two coils which come with the kit.
Prime the coil with a few drops of e-liquid on all exposed cotton and press the coil into the tank.
Screw on the 510 base.
Remove the fill cap and locate a fill port within the silicone stopper and fill the tank with E-liquid.
Replace the cap and let the tank stand for about 3 minutes before firing so the cotton can soak up more liquid!
Screw the Maat Tank New on to the GT II and away you go!
Voopoo Argus GT II Device
Place two 18560 batteries into the device following the orientation guide.
You can charge the batteries via the type C 3A port, but as always I recommend external charging.
Functions
Click the fire button 5 times fast, to turn the device on and off.
To lock the device, toggle the switch at the bottom of the workface. You can still turn the device on and off.
Menu
To enter the interface menu press + and – together.
Modes
Smart – will read the resistance of your coil and set the appropriate wattage.
RBA (VW) – allows you to adjust your wattage to whatever you feel is right for you.
Turbo – adds a boost to your initial wattage for a few milliseconds then evens out to your desired wattage.
TC – will allow you to use temperature control features for SS, Ni and Ti coils. You can also setup pre-sets for these wires.
Other settings
Puff – reset the puff counter
Brightness – alter the screen brightness
Display time – can be set between 10s to 50s
About Device – Displays the chip Id and Level Code
This device has 8 built in protections.
Voopoo Argus GT II Kit – In Use
Man I love this kit, it feels just right in my hand and functions just as I would expect of an outdoor rugged mod!
The Maat Tank New
This is a fairly good tank, I am impressed with the flavour and vapour production I get from it. I've never seen an airflow operated with a slider before so I give credit to Voopoo for coming up with something new, at least to me!
However it is a very airy tank it makes some strange noises in use lol. When restricted to almost closed, the airflow gives off a whistle like effect and fully open it sounds like the Gruffalo would after a long run lol.
Argus GT II Device
I am impressed with the quality of this mod, it's very comfortable to hold and is just the right size and weight for my large hands.
Comparing the Geekvape L200 and the GT II side by side, the GT II is heavier and wider!
The only thing that irk's me slightly with this mod is the chipset, after the screen times out you have to push the fire button twice to carry on vaping!
I must say I do like the GT II screen it has a large wattage size which is great for my old man's eyes lol but sadly I still need my specs to read the rest of the screen info!
I have been using the 0.15Ω coil at 75/80W with the RBA (VW) mode the coil lasted me 4 days of semi constant use!
In RBA mode and 2 freshly charged 18650 batteries it lasted me 3.5hrs at 75W before needing a recharge.
Testing the IP68 it passed with flying colours!
I tested the shockproof qualities by dropping the mod several times on my desk and apart from the battery door coming open it didn't disrupt functionality!
Pros
Quality and Design
Great coil life
Good flavour and vapour production
Comfortable in hand
IP68 protection seems to work
Cons
Chipset timeout
Noisy tank
Final Review Verdict
This device is not for beginners, saying that it fits my style of vaping great, it is very comfortable in my hand. The only cons I have are that the tank produces some weird sounds and the screen timeout restart!
Would I recommend the Voopoo Argus GT II Kit?
For those that like a rugged heavy powerful device "Yes".
Would I buy this kit again due loss or damage?
"Yes" but I might leave the tank next time in favour of my original Maat tank!