The D-Salt Pod Kit By Dovpo Previewed
The Dovpo D-Salt Pod Kit is a new starter kit from the people who brought us the Dovpo Topside Dual Squonk Mod earlier this year.
As the name suggests the kit has been designed with Nicotine Salt e-liquid users in mind. However you should still be able to use standard Freebase Nicotine e-liquid in here.
Anyway the device itself comprises of a battery component and a removable tank (or pod) section.
The battery part contains a huge 1500mAh battery – bigger than a lot of pod mods on the market right now – and gives out a 26W output.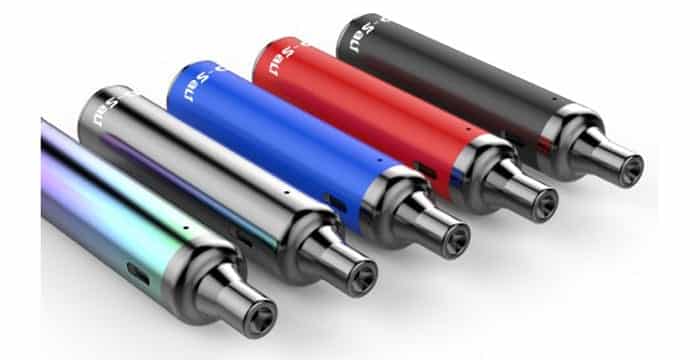 There is a LED indicator on the base below the USB charge port to inform you of the battery capacity remaining:
Green light = full charge
Blue light = 3.65-3.95V
Red light = less than 3.65V so recharge!
There are no buttons or adjustments simply inhale on the mouthpiece to activate the fire mechanism.
The pod component is where you add your own e-liquid via a fill port located on the top.
It will hold 2ml of liquid and has a 0.5ohm mesh coil pre-installed. When the coil is past its best you will need to replace the entire pod. Some say "wasteful" some say "easy and clean" – up to you really!
There are 5 colours to choose from: Black, Red, Blue, Gunmetal or Grey (which looks like rainbow though??).
Kit Includes
Dovpo D-Salt Device
Refillable pod
USB Cable
User manual
Dovpo D-Salt Pod Kit Specs
Size: 118×22.2mm
Pod capacity: 2ml refillable
Display: LED indicator
Output: 26W
Pod resistance: 0.5ohm mesh coil
Battery: 1500mAh (Internal)
Draw operated
Top fill
Yep another day and another pod system – sigh! This looks a nice easy to use kit and that battery should last a day or two!
Will you be getting your mitts on the Dovpo D-Salt Pod Kit? Let me know in the comments below!