Recently there has been a lot of discussion about a new kind of nicotine E-liquid.
What Are The Best Nic Salt Juice Flavours? Here Are Our Top Picks For 2020
If you know what nic salt are all about then we shall get stuck into our best brands. Keep on scrolling to learn more about why you should consider nic salts for vaping.
1. Apollo Salt Nic (Editors Choice)
We are a big fan of many of the e-liquid ranges Apollo have on offer and the good news is many of these have been made available in Nic Salt form. Apollo have a lot of history behind them in the world of vaping being one of the longest standing suppliers in the industry.
All of their e-liquids are made to the highest standards in their ISO 8 Certified cleanroom by their in house chemists using lab grade nicotine, USP Grade PG and VG and Food Safe Ingredients.
If you are looking for a tobacco/menthol/cigar/fruit flavoured nic salt then the Salt Nic options from Apollo have you covered.
All Salt nic uses a 50PG/50VG mix that is perfect for mouth to lung devices.

2. JAC Vapour SMOKING (Best Tobacco Flavour Nic Salt)
JAC Vapour offer a couple of great options for those looking for nicotine salt juice.
First is their SMOKING range, this is for vapers that are looking for a realistic tobacco or menthol flavour. Also great for new vapers making the switch.
The second is the PIC NIC range that is available in 45 different flavours. This offers the chance to mix your own juice (it's super easy) with the benefit being serious value for money. Simply choose your flavour and your salt nic strength (base), mix together in the supplied bottle and you have 50ml of ready to vape juice.

3. Pachamama Nic Salt (Best Fruit Flavour Nic Salt)
Pachamama are focused on fruit vapes and being part of the Charlie Chalk Dust empire they certainly have a stellar pedigree behind them.
The thing is, they know how to mix e juice. Their range of fruit flavours is superb across the board. Some of our favourites have been Fuji, Apple Tobacco and Icy Mango. Oh.. let's not forget Sorbet. Superb stuff.
If you are looking for fruit flavours that deliver what they say on the tin then these are some of the best.

4. JAC Vapour Nicotine Salt Base (Best Nic Salt Shot)
If you have a favourite short-fill eliquid flavour and you simply want to add nic salt then the JAC Vapour nic salt base offers a good option to top those nic levels up.
What we like is that unlike many, they offer 3 different nicotine strengths in their nic salt shots.

5. IVG Nic Salt (Best Alternative Flavour Salt Nic)
IVG are big on the UK vape scene and winners of the recent Ecigclick Vape Awards for Best E-Liquid Brand. So very popular indeed. We can certainly see why.
After recently testing their flavours they have come a long way in the last year with their new nic salt range leading the way!
We love the alternative flavour options such as Apple Berry Crumble, Pink Lemonade and Cola to name a few.
Excellent flavours. If these sound up your street then be sure to give them a go.

Nicotine Salts Guide
Called "Nicotine Salt" or "Nic Salts" for short these liquids promise a better absorption of the nicotine and promise to help those who are struggling with nicotine cravings.
As we know the addictive compound in cigarettes and tobacco is the substance Nicotine.
When giving up smoking you try to replace this nicotine by absorbing it in a safer manner – such as nicotine replacement therapy or through vaping E-liquid which contains nicotine.
We have a handy guide to beginner vape kits for anyone looking into starting vaping and the choices to make when purchasing.
Being someone who is still sadly smoking as well as vaping – I have become more and more interested in nicotine salt e liquids so thought it might be worth a bash to see if they can get me off the smokes forever.
Please also remember I am not an expert by any means so just giving my take on what I can interpret from various findings. Plus as you can imagine there are so many different interpretations so I have tried to draw my own conclusions from what I have read and experienced myself.
Pop on over to our E-Cigarette Research Page to read more articles de-bunking some of the scare stories around vaping to see how often it is difficult to find un-biased information.
Menu:
What Is Nicotine Salt E Liquid?
Basically in Nic Salt E-liquid the nicotine is present in a slightly different form.
Nicotine is Alkaline and in high concentrations unpleasant to vape. So Benzoic Acid is added to the process to lower the PH (reduce the alkalinity) to make this strength more palatable to vape.
Also this form of nicotine absorbs much quicker.
One of the Pioneers of Nicotine Salts and the holder of a Patent was PAX Labs, maker of the Juul Pod Mod Device.
In tests the Juul device was used and it showed a higher and quicker uptake of nicotine in the blood using the nic salt liquid than standard E-liquid.
When smoking a cigarette the nicotine is absorbed quickly and to a high level, whereas with standard nicotine e-liquid this is more gradual. You will probably notice when you chain vape you keep your nicotine level stable.
However if you haven't had nicotine for a few hours it can take a while to get your levels back up with standard e-liquid.
Nicotine Salts Vs Standard Nicotine E-Liquid.
In standard E-liquid, like these here, the nicotine is extracted and then processed. This is in general more suitable for easy vaporising. The nicotine is then mixed with a carrier liquid such as PG and/or VG for vaporising.
Standard nicotine is called "Freebase". High strength Freebase nic can be very unpleasant to vape with it being alkaline.
In Nic Salt juice the format of nicotine used is different. It is extracted in the same way as the standard freebase nicotine however it goes through an extra process to change the characteristics of the nicotine.
The salt form of Nicotine is absorbed better and quicker by the body than the standard "freebase" nic. So you will feel a quicker uptake of the nic in the salt version.
This also more stable form of nicotine which then allows it to be mixed with Benzoic acid to allow a better vape.
High strength nicotine in standard E-liquid is very harsh to vape. In nic salt e liquid the PH is reduced to make this easier to vape.
Are Nicotine Salts Safe?
Apart from one ingredient they contain the same formula as standard E-liquid.
However the grey area is the Benzoic Acid used in production to alter the PH of the liquid making it more pleasant to vape.
I have been reading through a study online based on the findings that there was a higher level of Benzoic acid found in the Juul device.
However the Juul is a fixed wattage device so the readings taken would be stable for the majority of time using this device.
With other devices running at different temperatures and wattages etc it's difficult to pin down the actual amounts of this absorbed.
The study did conclude that there is more Benzene exposure from just breathing air than there is from vaping 100ml of liquid per day.
Also when you consider Benzoic acid is one of the 1000s of chemicals that are found in tobacco cigarettes this feels less of a danger when compared to tobacco.
But I do understand if people want to wait for more research to take place on this.
I only intend to use the Nic Salts for the minimum amount of time I can. It is more expensive than my usual E-liquid and hopefully just getting into the habit of vaping and off the habit of smoking means I can go back to my normal Sub Ohm equipment and standard E-liquid soon.
So with all this in mind I have decided that Nic Salts is for me no worse than smoking tobacco and I will only be using it on lower powered equipment for a short period. That is my personal opinion.
Legality Of Nicotine Salts
In the EU we have the TPD regulations, limiting the quantity and strength of nicotine E-liquids.
If the nicotine content is below 20mg and the bottle is 10ml or smaller then it is legal.
Just be careful if importing from other countries as if found at customs you could lose your purchase or worse. While we have not had issues it needs to be considered.
Can We Use Sub Ohm Equipment With Nicotine Salts?
In general – if using Pre-mixed bottles of over 6mg nicotine strength I would say no.
Nicotine salt liquid is usually higher in PG which means the liquid will be thinner so in a lot of sub ohm equipment designed for thicker high VG E-liquid you could get leaks.
For more info about PG and VG in E-liquids read our guide.
Also using sub ohm equipment you will be getting a higher heat/warmer vape which heightens the nicotine hit further, resulting in overdoing the nicotine and making it pretty unpleasant to vape anyway.
Saying all this the brand "Element" nic salt liquid, can be high in VG and is not great to use with high resistance, low power MTL equipment – as I explain below!
Also of course if you use "Short fill" high VG e-liquid you can add nic salt shots and as long as what you mix up isn't much higher than 6mg nic strength you can use that in sub ohm gear!
Choosing Your Equipment to Vape nic Salt E Juice
Basically any equipment designed for MTL vaping and above 1ohm resistance should be good for nic salts.
MTL is Mouth To Lung style vaping – which is generally what most ex-smokers do by default when they start vaping.
Devices designed for MTL usually have a more restricted airflow to give the feeling of drawing on a cigarette and are often designed for higher nicotine strengths.
We have a guide to help you understand MTL and DTL vaping styles.
Some kits Are Available That are Ideally Suited for Nic Salt E-Juice
Vape Tanks For Nic Salt E-Liquid
Some tanks have also been designed specifically for high nic users including:

However I must urge caution. I have struggled with the equipment side of things.
Using the Elements Nicotine Salts E-liquid this was quite thick and some of my tanks could not cope with it at all. However other brands using a lower VG percentage were fine.
Upon nosing around the internet it appears this Elements liquid could be 80% VG which is possibly why!
I found the following did work…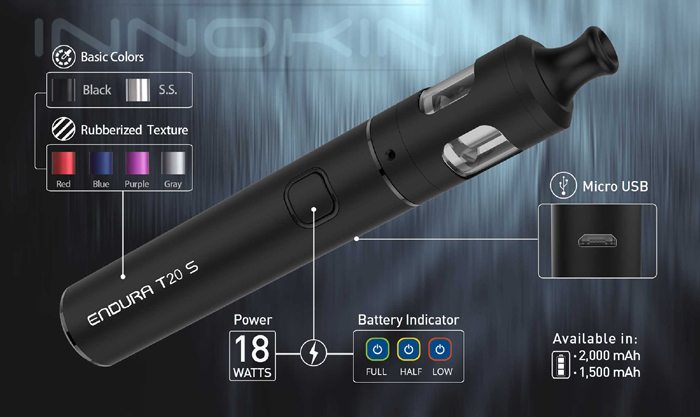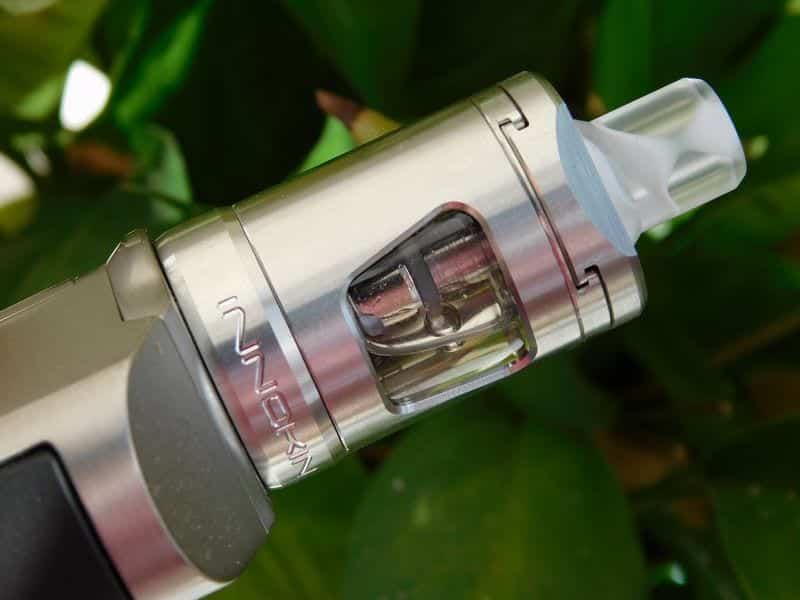 Nicotine Salts Pros:
Can be used at lower power levels
Can be used with starter kits
Quicker nic hit
Smoother throat hit than the equivalent nicotine strength freebase E-liquid
More efficient E-liquid use
Longer shelf life of liquid
Nicotine Salts Cons:
More expensive
Doubt over ingredient – Benzoic Acid
Restricted range of flavours
Can't generally use with sub ohm equipment
Some MTL equipment really struggles with high VG nic salt liquid giving dry hits.
My Experience With Nicotine Salt E-Liquid

As you may have read in my article Stoptober and Me I am struggling to finally let go of the ciggies.
I love vaping and really enjoy it.
However life has taken some very cruel turns over the last few months and I have relied on tobacco more.
Sat at home I chain vape and have little need or want for a cigarette.
However when I go to visit my mom I am unable to vape or smoke for a few hours. If I come out and vape I find I am not getting an instant hit and still craving a smoke.
I also find the first, last ciggies of the day and after meals really hard to let go of.
So with this in mind I have bought some nic salt liquid to see if this will help me.
Dr Salt Liquid With Innokin Jem/Goby
I purchased the Dr Salt e, Straw High 20mg nicotine liquid in a 10ml TPD bottle.
I have the Innokin Goby kit here (it is the US version of the Innokin Jem which Neil reviewed).
This is a beginners mouth to lung kit, low power, for high nicotine high PG e-liquid so this should be ideal.
This e-liquid is 50% PG/VG so should be ideal in this little kit!
Well first couple of vapes – it reminds me of the old school E-liquid many years ago with a slight chemically taste which put me off vaping the first time round – which is such a shame. But I will persevere.
Not a harsh throat hit and didn't make me cough.
Good vapour which was more than I expected – however I am taking it really easy as I can get the vaping voms on much lower nic liquids! This is a vaping side effect related to high nicotine strength.
So within a about a minute I am getting the rush – the first fag of the day rush! This is definitely working!
So far so good – this could finally be the answer to me booting out smoking for good!
Using High Strength Nicotine Salts
I do have to advise caution – this isn't going to kill you obviously but the vaping voms (too much nic at once) can make you feel pretty ropey.
So try not to go too mad to start with, this isn't still the instant hit you get from a ciggie it takes a minute or so to kick in and you could have already had a few extra vapes in that time and suddenly get too much.
So I would say 2-3 vapes then wait a couple of minutes.
I'm used to chain vaping on sub ohm tanks on 6mg nic and it takes a few hours to start to feel a bit sick however you can't chain vape this. So your style of vaping might change if you already vape. If you are a smoker you will only need a couple of vapes then sit and wait for the effects.
I am not sold on this flavour it really is chemically tasting – this might improve when the bottle has been open and exposed to air for a week or two.
Chatting online and had the Element e-liquid come well recommended so have ordered a bottle of that to see if the taste is better as the taste of this Dr Salt liquid isn't for me.
Element Designer Nic Salts Liquid
I have also got myself some Element Designer Nic Salt liquid in the Strawberry Whip flavour which is 20mg nic strength.
However I am really struggling to find out what the PG/VG ratio is of this. The VG is the first ingredient listed so must be at least 50% VG. I have seen on a few retailer sites this is possibly 80% VG which explains a lot! Elements own website does not say sadly.
After a day of use I have come to the conclusion that the Element liquid must be slightly thicker as I have been having a few dry hits with the Goby kit.
I also tried this liquid in my Joyetech Cubox AIO which usually copes fine with 80% VG E-liquid and this was struggling too – so many dry hits!
The taste of this is much better than the Dr Salt.
Day 3 Vaping Nic Salts
Well today the backy tin is empty. I am not buying any more as that will commit me to another week of smoking.
Last night I had a huge breakthrough.
I went to visit mom and didn't take my backy with me. It sounds simple but through the last few months of coping with mom in intensive care, on the brink of losing her and watching her suffer so much physically and mentally I have used smoking as a form of escape.
I have relied heavily on being able to run outside for a smoke to calm me and compose myself.
So last night I visited mom at the nursing home without taking any tobacco. Just my Eleaf iStick Melo which I use in the car and the little Innokin Goby with the nic salts in.
And I coped! I wasn't feeling deprived or lost or panicky. In fact the whole 4 hours I didn't even look for my backy tin.
I got home and didn't smoke again until the last cigarette worth of backy I had when I got up today.
I went to bed not craving, I was lying there thinking I was free and I had made such a breakthrough.
Not needing to smoke when visiting mom was what scared me the most and being able to handle that means being at home not smoking would be a piece of piss.
So onward and upwards.
I was also given some advice, keep your nicotine levels high. The worst that will happen is you will get the vaping voms and feel a bit sick. However when the levels drop too low you will start thinking about smoking, so try and keep your levels topped up.
Day 12
Well look at me! 9 days of no smoking! Yes finally I have kicked the tobacco and its all down to the nic salts. Honestly.
I am getting a good nic hit and keeping my nic levels up have worked really well. The only time I face cravings is when I awake from a long sleep due to the nic levels having dropped. A quick blast of the Nic Salt and within a few minutes all sorted.
I have got so fed up with trying to find equipment this Elements liquid is happy with that I have now ordered an Aspire Gusto and after watching our Dean The Devil Vaper's review there is a possibility the pods can be refilled which I will definitely be trying now.
Salt Nix Nicotine Salts
I have added this as I recently reviewed the Vladdin Pod Mod system and one of the flavours I really enjoyed was the Northern Tobacco Pod.
I have been looking online and this flavour was made by the brand "Salt Nix".
So I have bought a couple of bottles and it is beautiful! It is a 50/50 PG/VG mix so been ideal for use in my Innokin Jem/Goby and my Joyetech Exceed Edge. So I highly recommend this!
Apollo Nicotine Salt Range
I have to say this range have been amazing. In most cases I received the 50/50 Nic Salt liquid and the high VG version of the same flavour. The flavour in both versions was pretty close too. Hardly any chemical taste either.
Read some of my Apollo range reviews here:
Nicotine Salt E Liquid Conclusion
Nicotine Salts really work. I am now 4 months tobacco free!
I am a believer.
Make sure you experiment to find the liquid which suits you best for flavour and hit.
I found a lot of trouble having the right equipment to cope with the Elements liquid in particular. Other brands didn't pose the same problem.
This is a lot thicker than usual MTL equipment will cope with. However you can't really use this version in Sub Ohm equipment.
I ended up digging out some right old tanks – eventually settling on the Innokin T20 and the Joyetech Ego One (The Ego One kit won the Best Vape Pen 2015!).
My other MTL set ups could not cope with this E-liquid and kicked out dry hits.
I intend to now reduce my usage of the Nicotine Salts liquid because they are more expensive for me and I am limited to what equipment works with them.
So I am starting to use my standard Sub Ohm gear and 6mg liquid more.
Have you used Nicotine Salt e-liquid? Did you find it helped more in kicking cigarettes in to touch? Let us know in the comments below, we would love to hear your experience!