The Marquee Mod System by Limitless Previewed
The Limitless Marquee Mod System is a weird little sausage.
This wants to be 3 things at once…
I will try to explain.
This is marketed as a 3 in 1 device.
There is a concealed drop in all in one tank which fits inside the mod.
Use the 510 adaptor and you can attach any normal 510 connection tank.
Plus there will be a pod adaptor to enable this device to use the existing Limitless Pulse Pods!
The image below shows all three functions of the Limitless Marquee mod in action. Marquee mod with (Left to Right) Limitless Gold RTA, Pulse pod and with the standard drop in tank.

You can buy the Marquee mod in two colours – Black or Stainless Steel.

The included drop in concealed tank is 2ml capacity and uses an 0.6ohm resistance coil head.
The mod will output 80W max and is a regulated mod with a screen. The chip will allow a "Pod Mode" for using with the Limitless Pulse Mods.
If you are using the 510 adaptor you can use any tank up to 22mm and set this to By-pass mode.
The internal tank and 510 adaptor are apparently magnetic so you don't even have to screw these in.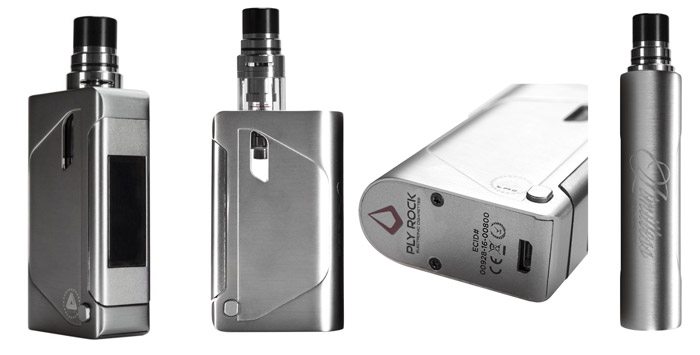 Kit Includes
Limitless Marquee Mod
Limitless Marquee Tank
510 Tank adaptor
Charging cable
2 x 0.6ohm coil heads
Limitless Marquee Mod System Specs
Battery: 1800mAh internal battery
Maximum power output: 80W
Size: 48x22x100mm
Included Internal Tank Specs
Capacity: 2ml
Material: stainless steel and glass
Connection: 510 thread
Included coils: 0.6ohm
I really am not sure about this.
As the saying goes "Jack of all trades. Master of none".
Is this trying to do too much? Is it sacrificing a quality vape in order to try and be versatile?
In theory if it can do all that is promised this is very clever.
However the power only being 80W has already limited its market, plus the Pod adaptor doesn't seem to exist yet. So already it has been reduced to a 2 in 1 kit.
This isn't stupidly expensive and if it does perform well it may be the buy of the year – but I will reserve judgement until I see it in action.
Do you think this would be a worthwhile purchase? Let me know in the comments below.