Can The IPV D3 Vape Mod Improve On The The Popular IPVD2
Pioneer4You scored a huge hit with the IPV D2, a small form factor 18650 unit that packed a lot of power inside! Hot on the heels of this release follows the IPV D3, which sports a chip looking to extract every last drop of power from your 18650 battery, and it also features an upgraded scratch resistant finish and brand new magnetic door cover.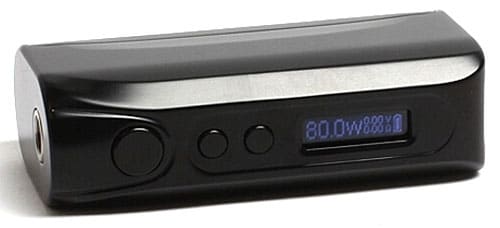 It also still has the same small form factor that made the IPV D2 a beloved device of many.
The IPV D2 was a roaring success, but will the IPV D3 enjoy the same level of success?
In The Box
Inside the IPV D3 packaging is-
One IPV D3 Device
One Micro USB Cable
User Manual
You'll notice no silicone sleeve is included this time, with the new scratch resistant paint coating coupled with the new magnetic battery door cover you don't actually need it! Of course, there will be third party wraps and mod sleeves available should you still want that extra protection.
Build Quality
It's ever so slightly larger than the IPV D2, a few mm wider and taller, but you would barely notice the difference unless examining it very closely. Looks wise, it's nigh on the same, however there's now a thicker paint coating on the IPV D3 that is designed to be scratch resistant.
Paint scratching off easily was a big issue with the IPV D2 so it's good to see Pioneer4You have taken steps to rectify this problem.
The buttons and OLED screen are all in the same place as they were with the IPV D2, the DC5V charging port is still in the same place as it was and you still have an excellent spring loaded 510 connector in place for a flush fit with your atomisers.
The IPV D3 still takes a single 18650 battery however the battery door cover is a world apart from the one featured with the IPV D2, which had a tendency to slide off if you didn't use the supplied silicone sleeve.
Now you have dual magnets present that hold the battery door in place allowing you quick access to the battery, and these hold firm so you don't need a silicone sleeve to ensure the battery door cover stays where it should be.
All in all this is a real solidly constructed little unit, with excellent build quality and outstanding form factor. It's incredibly comfortable in the hand and light too, and with its small size it's a very pocket friendly little vape mod as well!
Check out this video overview if the IPVD3 from the chaps at Pioneer4you.
Key Features
YiHi SX130H-V2 Chip
80W output power in wattage mode
Voltage step down integration
1.0 to 7.0V Output voltage range
10 to 75J output power in temperature control
0.15 to 3.0 ohms atomizer resistance range in wattage mode
Temperature Control with support for Ni200 and Titanium
0.05 to 0.5 ohm atomizer resistance range in temperature control mode
212 to 572 degrees fahrenheit (100-300C) temperature limit range
Improved build quality
OLED Display showing output wattage, output voltage, atomizer resistance and battery level
Revamped battery door, now using dual magnets
Low voltage/resistance protection
High Input Voltage Protection
Output Short Circuit Protection
Reverse battery polarity protection
Temperature Overheat protection
How Does The Pioneer4you IPV D3 Perform?
Housed inside the IPV D3 is the new Yihi SX130H-V2 chipset, which builds on the original SX130H chipset found in the D2 but adds a few performance tweaks.
The most obvious being that you now have 80w of output power in wattage mode, and 75J in temperature control mode, but possibly the biggest improvement to this chipset is the inclusion of voltage step down which many users of the IPV D2 bemoaned the absence of.
This means that battery life is even more efficient, and the chip can fire at voltages below the current battery voltage level. Essentially the voltage shown on screen is the true voltage being delivered, which makes for much more stable and accurate power output.
The menu system works in the exact same way as it did with the IPV D2, and pretty much all recent Pioneer4You releases.
It's easy to navigate, and Power is adjusted and resistance locked (in Temperature Control) from the home screen without needing the menu. 5 clicks of the power button will take you into the menu system, a press of the power button will cycle through the menu options, a press of + or – will allow you to adjust the selected setting.
From the menu you can switch the IPV D3 on or off, switch between Power (wattage) and Joule (temperature control) modes, change the temperature unit from Celsius to Fahrenheit, set the temperature limit and select whether you are using an Ni200 coil or Titanium coil in temperature control.
I would have liked to have seen support for Stainless Steel wire in temperature control mode, as this is fast becoming the wire of choice for temperature control users, however this is an emerging part of the market so perhaps we may see this included with the IPV D4!
Check out The IPV D3 In Action courtesy of Mike Vapes
As with all mods sporting a YiHi chip, when using temperature control resistance needs to be locked first, by ensuring you are using a compatible atomizer with an Ni200 or Titanium coil and having the correct mode selected. You need to ensure both the IPV D3 and the atomizer are at room temperature, then hold the + and – buttons down until resistance is displayed on screen.
You will notice that the resistance changes during use- this is because the IPV D3 reads the real time resistance whilst in temperature control mode. Your temperature limit is set through the menu system.
You have even more power this time around with a power output of 75J, this makes a huge difference when using Titanium wire as this requires more power and a higher temperature limit to get the most from it. Temperature control mode is just as accurate as it was with the IPV D2 and you get an excellent vape from it.
Power in wattage mode is now a maximum of 80w, which is about the absolute maximum you would want to get out of a single 18650 battery. Resistance is now supported down to 0.15ohm as well so you can get some serious cloud chasing done with this device.
Just bear in mind that at high power you aren't going to get much battery life from the IPV D3! Battery life is even better than the outstanding IPV D2, with an extra hour or two's battery life than on the IPV D2.
Final IPV D3 Review Verdict
The best single battery 18650 device just got even better! The IPV D2 was already a brilliant little device, and is still incredibly popular, however the IPV D3 just takes it to the next level.
You have a huge amount of power in such a small device, with 80w of power in wattage mode and 75J in temperature control, and an incredibly accurate chip regulating it. The build quality is better than on the IPV D2, the magnetic battery cover being a particular highlight, and despite it being a few mm taller and wider, the form factor is just as great as it was on the IPV D2.
Price point on this device is excellent, looking around at different retailers the IPV D3 is available around the same price point as it's predecessor was, which makes this vape mod a complete steal for such a good looking and great performing device. The IPV D3 is a unit I can't recommend highly enough!
The Good
80w of output power in wattage mode
75J of output power in temperature control mode
Voltage step down now included
Battery door now magnetic and far more stable than the IPV D2 version
Battery life even better with step down included
Fantastic price point
Superb form factor
Easy to use menu system
Very pocket friendly
Accurate, genuine Yihi chip
The Not So Good
Single 18650 battery means that high power usage drains battery life very quickly
No stainless steel wire support in temperature control
Firmware non upgrade-able
Still cannot charge via micro-USB