The Rincoe Jellybox Lite Kit is another "Jellybox" pod kit – to add to the rapidly growing range!
The range started initially with 2 Box Mods – the Jellybox and Jellybox Mini, and now there a are quite a few pod kits as well including the Jellybox W, Jellybox F, Jellybox Nano and Jellybox SE.
What To Expect From The Rincoe Jellybox Lite Kit…
Although the Jellybox Pod Kit range look very different they have one main thing in common.
They all use the "Jellybox Nano" mesh coils. Most of the kits are compatible with the 1ohm coil, but the Lite version is also compatible with the 0.5ohm coil. You get both of these in the kit!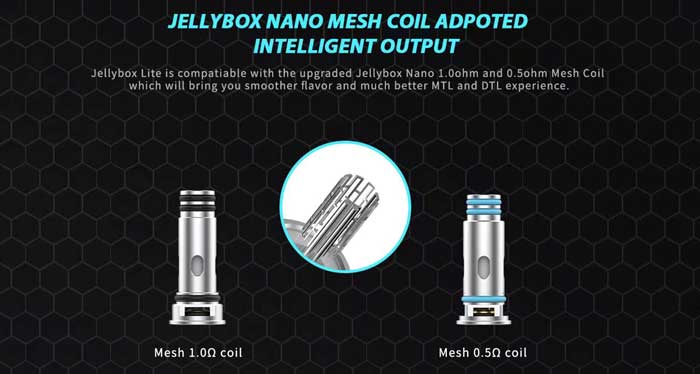 This kit is designed to please Mouth To Lung (MTL) and Direct To Lung (DTL) vapers – we tell you what these terms mean in our Guide To Vape Styles.
So in order to cater to very different resistance coils the device will adjust the output automatically to suit. The power range is specified as 10-26W.
Inside the main device is a 850mAh battery and this is charged via the USB Type C port at up to 0.8A charge rate.
On the main banner for this kit there is a mention of an "Air-flow control system" but I have not seen any details about this sadly.
Looking now at the pod section, this is refillable with up to 2.6ml of your own e-liquid – I have not seen a 2ml TPD compliant version listed though.
A bottom fill port is provided and you can replace the coils to keep the maintenance costs low.
There are 5 colour options to choose from: Yellow, Blue, Grey, White and Green.
Kit Includes
Rincoe Jellybox Lite device
1ohm coil
0.5ohm coil
Lanyard
Pod
USB Type C cable
User manual
Rincoe Jellybox Lite Kit Specs
Size: 25.5x98mm
Output: 10-26W – auto adjusts output
Battery: 850mAh (internal)
Display: LED indicator
Resistance range: 0.3-3ohm
USB Type C – 0.8A charge rate
Pods: Refillable, replaceable coils
Coils : 1ohm mesh, 0.5ohm mesh, Compatible with Jellybox Nano coil
Capacity: 2.6ml
Draw activated
Bottom fill port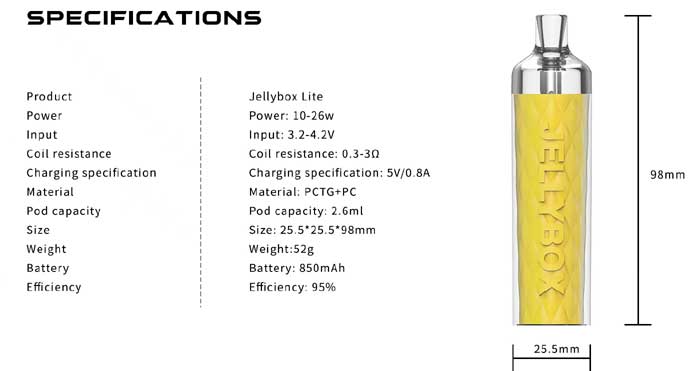 This seems to be the "top of the range" device in the Jellybox pod family with the bigger battery and higher output.
Let me know what you think of the Rincoe Jellybox Lite Kit in the comments below!