The Taggerz TC Kit By Smoant Previewed
The Smoant Taggerz TC kit consists of the Taggerz TC mod and the Taggerz Disposable Tank.
Starting with the mod – this is designed to be a super light weight and ergonomic mod.
Apparently according to Smoant the whole kit weighs the equivalent of two eggs. Further up the page it says it has a weight of 90g. I assume both of these weights don't include batteries?
After "Googling" egg weights it would appear to be correct. A Medium size Chicken egg weighs approximately 49g! 
Talking of batteries you will need 2×18650 batteries to power this and as usual they are not included in the kit.
The maximum output is 200W and you have various user modes including Variable Wattage, DVW (no idea??), Temperature control (Ti, Ni, SS316) and TCR.
On the front of the mod is the 0.96in OLED screen which seems like a bit of an afterthought shoved in the top left corner with plenty of space on the front going spare!
If you buy the full kit you get the Taggerz Disposable tank. There are quite a few of these lightweight throw away tanks in circulation now – the first was the VZone Preco. You cannot change the coils in these and simply discard the whole tank when the coil is past its best.
The tanks come in packs of 3 and will hold 2ml of e-liquid. You refill from the top by removing the bung.
Also you can adjust the airflow and there is a pre-installed 0.2ohm coil inside. The tank is rated for 10-50W but best at 40-45W. When you consider the accompanying mod will output up to 200W these seem a bit low powered really.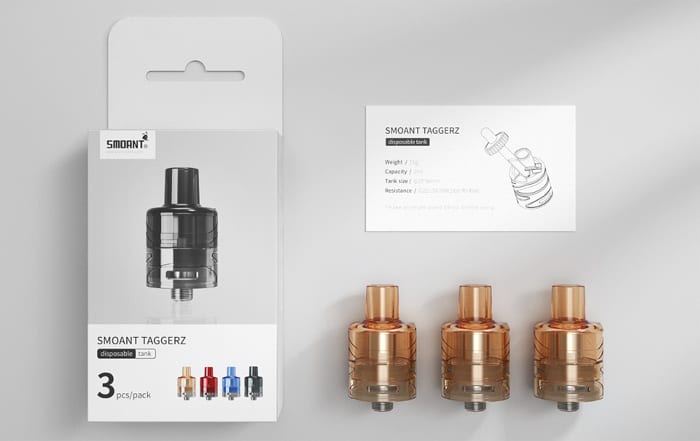 There are 6 colours to choose from – Black, Rose-gold, Grey, Red, Blue and Graffiti.
Kit Includes
Smoant Taggerz TC Mod
Smoant Taggerz Disposable Tank
USB cable
Spare parts pack
User manual
Smoant Taggerz TC 
Mod Specs
Size: 51x90x31.5mm
Output: 1-200W
Battery: 2×18650 (not included)
User modes: VW / DVW / TC (Ni, SS316, Ti) / TCR
Resistance limits: 0.05-3ohm (VW, DVW) / 0.05-2ohm (TC, TCR)
Display: 0.96in OLED
Lightweight construction
Smoant Taggerz Disposable Tank Specs
Size: 22x36mm
Capacity: 2ml
Top filling
Coil: 0.2ohm (10-50W – best 40-45W)
Bottom adjustable airflow control
The jury is out for me with this kit. It doesn't have the stunning looks of the Naboo, Charon Mini or the Cylon does it! I really don't like how it looks at all and the disposable tank stuff for me is a bit wasteful.
Anyway does the Smoant Taggerz TC Kit have the "Swaggerz" or is it simply a "Blaggerz"… Sorry…
Let me know what you think in the comments below!