The Smok Devilkin 225w vape kit comes topped with the TFV12 Prince sub ohm tank and is yet another release from the prolific vape company.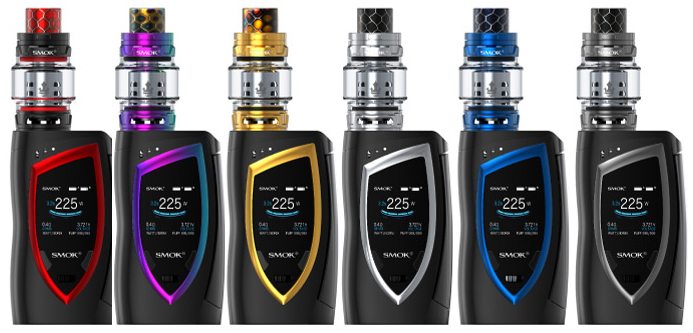 Sadly prolific hasn't meant quality with some recent releases not very well received by reviewers and the wider vaping community.
It seems Smok has been going through a strange phase recently with lots of tacky and over designed all singing all dancing LED light up everywhere devices that not only look poor but perform poorly too.
Not really since the Alien mod [and that had issues] has the company received its early accolades and with recent releases such as the Mag Baby kit getting a mauling from Deano and the Resa Stick getting an equally bad review from yours truly – Smok really needs to get its act together.
So What Can We Expect From the Smok Devilkin Kit?
The Devilkin kit includes the excellent TFV12 Prince tank, arguably one of the best in the TFV range. The mod itself is powered by dual 18650 batteries and, should you need it, can fire upto 225W
So has the Devilkin pulled their reputation out of the hell fire?
Let's take a closer look.
The Devilkin kit was sent to me free of charge for the purpose of this review and as always my thoughts and opinions are my own.
Incidentally I'm taking a close look at the mod and NOT the TFV12 Prince as Laura-ann has done an extremely detailed review already.

Inside the Box
The usual Smok packaging – remove the sleeve to find a sturdy black box with silver writing:
1 x Smok Devilkin Mod
1 x TFV12 Prince Tank
1 x V12 Prince Q4 0.4 Ohm Quadruple Coil (pre-installed)
1 x V12 T10 0.12 Ohm Decuple Coil
1 x USB Cable
1 x User Manual
1 x Spare Parts Bag
Devilkin Mod Features and Specs
225W Output
Dual 18650 Batteries Required (sold separately)
Variable Wattage / Temperature Control
1.3 Inch TFT HD Screen
Upgrade-able Firmware
TFV12 Prince Tank Features and Specs
2ml and 8ml Capacity
Cobra Drip Tip
Patented Locking Mechanism
Top Refill
Note: Full review of the TFV12 Prince Tank HERE.
Smok Devilkin Mod Quick Start Guide
Insert x2 18650 batteries into base of the mod
X5 clicks of the fire bar to turn on and off
Whilst on x3 clicks of fire bar to enter menu
Use fire bar to scroll through options
Use left and right buttons to scroll through sub menus
X3 clicks in menu mode takes you to On/Off option hit fire bar once to return to main screen
Various up + down buttons and fire bar combos including:
Up + Down locks device [x5 fast clicks to unlock]
Fire + down selects modes
Fire + up to select ramp up: norm/soft/hard
In memory mode press up and down to adjust wattage/temp
Note: Tank is top fill – full instructions HERE
Key Features
This is a dual 18650 battery mod with a max of 225w and the first thing of note is the very nice and crystal clear TFT 1.3 inch HD colour screen.
The device is a comfortable curved ergonomic design with the much loved side fire bar.
The options are typical Smok with choice of ramp up – screen colours – full temp control suite – puff counter and memory settings.
Smok has included plenty of protections including overheating – short circuit and 10 second vape cut-off plus more.
There's also what Smok is calling an 'intelligent atomizer recognition' which in effect prompts you if this is a new or old coil…
Design and Build Quality
The Devilkin looks like a cross between Smok ProColor and iconic Alien and is quite the looker.
And yeah I'm saying that even though I got the black and gold version – hey it's something those atties with gold banding and golden decks will look matchy matchy with lol.
It's not a device I would look at twice when vape shopping on line if I'm honest but in the flesh it's actually quite nice – though that cobra design on the back is a little loud for me.
The screen is an absolute joy – crystal clear and no issues reading it even in direct sunlight with the ability to change the colours a bonus.
It really is ergonomic too – if a touch heavy – the curve of the device sits nicely in the hand making the fire bar perfect for right or lefties – finger – thumb or grip firing.
Build wise I really can't fault it with a solid battery door with the merest amount of rattle [I had to strain when shaking it lol].
The fire bar has a lovely clicky action as do the perfectly placed up and down buttons.
The paint/finish feels rock solid too Smok having been mauled over the shocking job done on the original Alien mods.
Despite its seemingly wide body it just about takes the included 28mm TFV12 Prince tank.
Speaking of the tank I won't be reviewing that as I've already explained.
How Does the Smok Devilkin Mod Perform?
So will it hit 225w?
I doubt it – Smok has been proven [to be fair so have other companies] to be a little loose with their estimates lol.
That aside do you know what I've actually enjoyed using the Devilkin!
It is a little on the heavy side but fits nicely in the hand with pretty instantaneous fire time and has handled everything I've thrown at it.
The highest I've gone is 180w and trust me it felt as if it was making that no sweat.
My basic temp control test was shall we say a little worrying with a much darker banding than I've got off other devices but nothing to worry about because even after the third 5 second fire nothing caught alight.
The menu is a little clunky if that's the right word and it will take a few goes to get things sorted but once you're clear on what does what it's all good.
Battery life is actually very good indeed with a couple of 3000mAH 18650 giving me a solid day and a half vape time – and that's me using it as my go to mod.
Overall it's actually a solidly built solidly performing mod.
The full and extremely detailed review of the TFV12 prince tank can be read HERE.
Pros
Ergonomic indeed!
Good build quality
Solid side fire bar
Crystal clear colour screen with options
Tremendous battery life
Decent amount of vaping modes
Refreshing lack of LED lights
Firmware upgradeable
Included tank better than many stock tanks
Not a bad price
Cons
A little on the heavy side
Might be a bit blingy for some
Final Review Verdict
This is definitely a vape kit I'd probably scroll past while vape shopping on line but trust me in the flesh this one ain't half bad.
However whilst the TFV12 Prince is a pretty good stock coil sub ohm tank it's not to my taste and I kind of think it dwarfs the Devilkin looking slightly top heavy as a kit.
However popping on one of my atties with a bit of gold in them and the Devilkin certainly pops that bit more.
Obviously with a choice of colour combos the world's your oyster if like me you love a bit of matchy matchy lol.
I'm only looking at the mod in depth in this review and have to say I like this one – never thought I would from the photos – but it's a solid build and performer and really does feel great in the hand.
Nice one Smok though as to innovation – it's not really anything new design or chip wise…
If this was an end of school term report I'd use the immortal words "a start but still could do better" 😉
Have you used the Devilkin vape mod? Would love to hear your comments below.