The SMOK Nord 4 pod kit review, and for some reason they seem to have completely skipped version three!
Anyway, the Smok Nord series of pod systems is fairly well recognized – I don't have the statistics to back it up, but I speak with a lot of shop owners and a lot of them sing the praises of the Nord coils.
Is that because they burn out quick? Meaning repeat customers? or maybe, perhaps the Nord is hugely popular and I'm playing down the Nords' popularity?
Nonetheless – The pod game has changed! There are now a number of pod vape systems that are in the same bracket as this new iteration of the Nord.
The main one that comes to mind is the Vaporesso Luxe PM40 – And that device holds a special place in my heart.
And not just because I've sung a song about Vaporesso. But Vaporesso were kind enough to send all the Ecigclick writers a lovely Christmas Box, enclosed was a lovely voice message by Vaporesso along with some lovely music and a Luxe PM40 with 'Ecigclick' etched on the side.
Secondly, when Vaporesso released the Luxe PM40, they cleverly compared it, IN DETAIL to the Smok Nord 3 – and in my case – they sent out a Nord 3 Kit WITH the Luxe PM40 to allow me to directly compare their performance! Now that's cheeky!
Clearly however – They weren't aware Smok was working on the Nord 4! Well they are now! And even by looking at the specifications, you can see the Nord 4 offers a lot more than the Luxe PM40.
So we best see if Smok have out-done Vaporesso?
Gosh I'm so controversial!
What Can We Expect From the Smok Nord 4 ?
The SMOK Nord 4 takes small pod systems closer to a small sub-ohm kit system than I've ever seen.
The device itself is powered by a 200mAh internal battery and can fire up to EIGHTY watts.
Smok has ditched the 'Nord' name however when it comes to the pods and coils. Instead the kit comes with an RPM and an RPM2 Pod, and a coil for each pod.
Furthermore, the Nord 4 has a small display, and dual airflow adjustment wheels.
So let's crack on with the review and see what this kit is all about.
This kit was sent to me free of charge for the purpose of review.
All views and opinions are solely those of my own and do not necessarily reflect the opinion of others.
Inside the Box
1 x nord 4 Device
1 x RPM 2 Pod (4.5ml)
1 x RPM Pod (4.5ml
1 x RPM2 Mesh 0.16Ω Coil
1 x RPM Mesh 0.4Ω Coil
1 x USB-C Cable
1 x User Manual
Specs and Features
Size: 33.7 x 24.4 x 104.9mm
Battery: 2000mAh Built-In
E-Liquid Capacity: 4.5ml (TPD Version 2.0ml)
Output Wattage: 5-80w
Airflow – Dual Airflow Wheels
Charging: Via USB-C Port
Available colours: Too Many.
Design and Build Quality
The Smok Nord 4 is pretty much a Metal frame with two large, colourful panels on either side.
As much as I'm not the biggest fan of rainbow, I actually quite like this one, especially to photograph – the actual finish of the panels is really good, bright, vibrant and feels pretty nice.
But no leather on this one, so when it comes to grip, its a little slippy but due to its size, its not really an issue.
With the Nord 4, there are two independently adjusted airflow wheels right at the top of the device and below one of the wheels is a fire button, the wheels themselves are a little tricky to adjust.
They are knurled but its a bit tricky to grip and twist. There is also a little line indentation on the wheel which if you have nails, you can use to turn the wheel.
Personally, the wheels need to extrude from the device a little more so you can actually grip them easier. Flipping the device on one side is a small display and below that are two, very small adjustment buttons.
At the base of the device is a USB-C port for charging, which weirdly can charge at 1.1A and 1.4A with the leather series?
Why a slightly higher charging current with the leather series? Is it to do with heat?? I really don't know…weird.
The Smok Nord 4 Pods
Just like with other Smok pod systems, the SMOK Nord 4 comes with two pods which take different coils. The RPM2 Pod has a 4.5ml capacity and as the name says, uses RPM2 coils.
And of course, the RPM Pod makes use of RPM coils.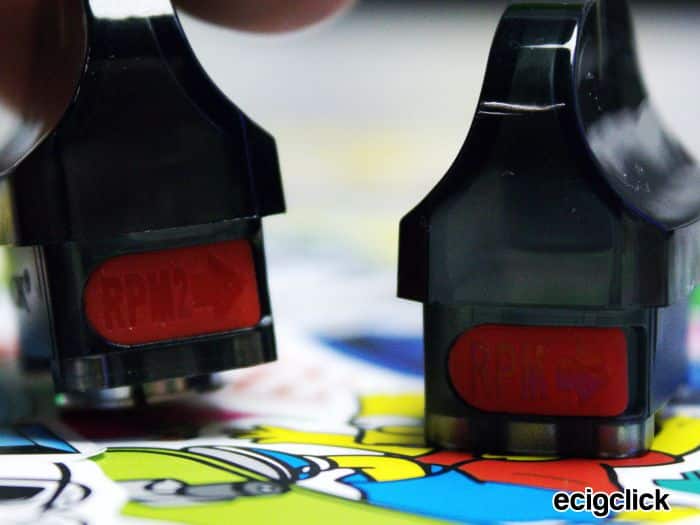 Both Pods lock into the device extremely snugly thanks to some serious quad magnets and have no wobble. The pods have the duck-billed shaped mouthpiece which I personally find quite comfortable.
The fill ports, which are red are located on the side of the pods but unfortunately you have to remove the pod from the device to fill with e-liquid.
Smok Nord 4 In the Hand
The Smok Nord 4 is small and portable, meaning it really isn't a chore to hold and use.
But its definitely on the larger scale of Pod Systems.
Considering its battery capacity, and the 4.5ml capacity its fairly weighty but its really not exactly going to make your joggers fall down if you stick it in your pocket. Its a Pod system at the end of the day.
Its certainly a lot larger than the Nord 2, its like the bigger brother than the Nord 2 in a number of ways.
How To fit the Coils and Fill the SMOK Nord 4
Here's how to fill the pod with e-liquid:
Remove the pod from the device
Gently open the Red bung
Fill with your desired eliquid
Re-fit the Red bung and leave to rest for 5 minutes.
Due to the width of the Pods, even with a High VG e-liquid, I found it very easy to fill the SMOK Nord 4 Pods.
The fill port is also fairly generously sized as well.
Smok Nord 4 Display Functions
The Smok Nord 4 has a very simple looking display, but there are a few functions to keep in mind.
The screen is small, and some of the text can be a little tricky if your eyesight isn't great.
But personally its large enough to see what you need to know.
Quick Start Guide
Here's how to operate the  Device:
Device On/Off – Press fire button 5 times in 2 seconds
Puff Reset – Number of puffs will reset when you reach 999
Wattage Adjustment – Up/Down Button
How Does the Smok Nord 4 Perform?
Because of the coils that come with the Smok Nord 4, I used this device primarily as a Direct To Lung device.
Both the RPM and the RPM2 coils that are included are fairly low-resistance so I went with fairly high VG/PG e-liquids to really test their performance.
Smok Nord 4 Pod System – Flavour and Clouds
I played around quite a bit with the two airflow wheels to see how much difference they made, but generally I enjoyed the SMOK Nord 4 most, with the airflow wide open, regardless of which pPod I used.
Smok Nord 4- the RPM 0.4Ω Mesh  Coil
Recommended at 25 watts and that's where I enjoyed it most.
The RPM coil does a good job with vapour production, and the favour is pretty good. A slightly warm dense inhale and a respectable cloud on the exhale.
I found with one of the airflow wheels fully closed, you get a fairly decent restriction and a slightly warmer vape, but didn't really notice much flavour improvement.
The RPM coil is decent, but nothing above average.
Smok Nord 4 – the RPM2 0.16Ω Mesh Coil
Recommended at 25-50 watts, but best at 40 watts, I found this coil average.
Oddly enough, after plenty of tinkering. I enjoyed this most at a monstrous 60 watts! But make sure your airflow wheels are open on both sides.
At 60 watts, the warmth comes through beautifully for a mesh coil and the flavour is decent. Still not the best but the sweeter notes really pop once you wack the wattage up.
Its just a shame 60 watts is on the higher output side of things for this pod kit.
SMOK Nord 4 Airflow
Firstly, as previously mentioned – the wheels are a pig to alter.
Smok should really make them stick out a little further than they do, however, once you find 'the knack' you'll be fine.
The SMOK Nord 4, even when the airflow is wide open, is fairly quiet and pretty darn smooth with no signs of whistle or turbulence.
And that goes for both the RPM and the RPM2 Pods.
The airflow adjustments do make a difference. With both wheels wide open its an airy draw but not super airy like a number of Smok Tanks.
Turning one wheel completely off, but leaving the other wheel wide open creates that nice slightly restrictive vape that a lot of people will enjoy.
Once you're down to one wheel, the adjustments start to make a much more noticeable difference.
However, if you close both wheels off completely, you can still get a Direct-Lung draw, if not a little too tight. But still possible.
That's a bit of a shame – of course a higher resistance coil would mean even more restriction of the airflow, but with the included coils, don't expect to be using this as a MTL device.
SMOK Nord 4 Battery Life & Charging
The 2000mAh SMOK Nord 4 is one of the larger capacity pod systems and if you're a fan of the RPM coils and vape at around 20-30 watts, you'll really appreciate the battery capacity as I've had 2 days out of the Nord 4.
Due to my keen interest in using the RPM2 coil at 60 watts, the Nord 4 lasts me until lunchtime before needing a bit of a charge.
When it comes to charging, even though its only a 1.1A Charge with this variant of the Nord 4 – it charges quite quickly.
In my experiences its taken 40 minutes to charge from 15% to full.
Why not from 0%? – well the Nord 4 doesn't like going below 15% as the power output drops off a cliff.
So its a bit painful continuing to vape on it down to 0% just to see how long it takes to fully charge from fully dead. And I expect you will experience the same.
Does the SMOK Nord 4 Leak?
Pulling the pods out from the device and having a look inside the pod housing surprised me to see zero leakage and only a tiny drop of condensation.
You will need to make sure you check this condensation build up regularly and clean it out.
But I've had no noticeable leaking from the Pod itself into the device.
Impressive.
Pros
Feels Solid and well built
Coils perform well
Airflow wheel adjustments make a difference
Simple to use and Adjust power
Respectable Battery Life
Cons
Pods are quite dark so tricky to see e-liquid level
Airflow wheels are tricky to adjust
Final Review Verdict
The Smok Nord 4 is certainly an upgrade in a number of ways over the Nord's that came before it.
However, its no longer a simple system for a new vaper.
Due to its use of the RPM and RPM2 coils, the SMOK Nord 4 is no longer a Mouth To Lung System which may appeal to someone quitting the ciggies and is now a Pocket Rocket, designed to chuck clouds and fit back in your man bag and charge up via your PlayStation in the evenings.
I think that's a bit of a shame, not the PlayStation bit. But the fact this is no longer a system I would recommend to a smoker.
The SMOK Nord 4 however, now opens its doors to people using sub-ohm kits as an alternative to carrying around a large device and sub-ohm tank.
The 4.5ml capacity is respectable for a pod system along with the fairly high battery capacity, meaning using this device at 4-50 watts should get you through a days work whilst chucking clouds like a pro.
Would this device be long lasting and still work 3, 6 or even 12 months from now?
I feel the SMOK Nord 4 is the best made Nord I've used.
It's well constructed and due to its larger size, its able to carry a larger capacity battery meaning if you maintain it well, you'll happily keep this device going for a long while.
Does this device deliver the flavour, vapour and general experience I require, in order to be enjoyed?
Its a shame this device is more aimed at Direct-Lung vapers than allowing more diversity to include Mouth To Lung Vapers – Because that would mean the general experience from this system would be further ranging.
The flavour could improve, but its not terrible and of course you're getting Smok Clouds but in compact form.
Is this device versatile to suit a new vaper, and an experienced one a like?
Smok has taken the Nord 4 into the restrictive direct to direct lung range, so its no longer an ideal system for a new vaper.
And for those who already enjoy a larger system for cloud chucking, then the Nord 4 probably wont take their fancy.
I'm not quite sure what type of vaper will buy this?
Maybe a major Smok Fan? Or someone who just wants a Pocket Rocket.
Have you bought the Smok Nord 4 kit?
Or have you given it a try?
Let me know your thoughts in the comments below.