The SMOK XCUBE 2 represents the most advanced and upgraded SMOK mod yet, featuring a brushed stainless steel finish, removable dual 18650 batteries, OLED display, Bluetooth 4.0 compatibility using the SMOK BEC app, customizable LED lights and a 160w output, plus temperature control mode which supports Nickel as well as Titanium builds too.
SMOK have really done their research and on paper have produced what could be described as one of the most advanced vape mods available yet!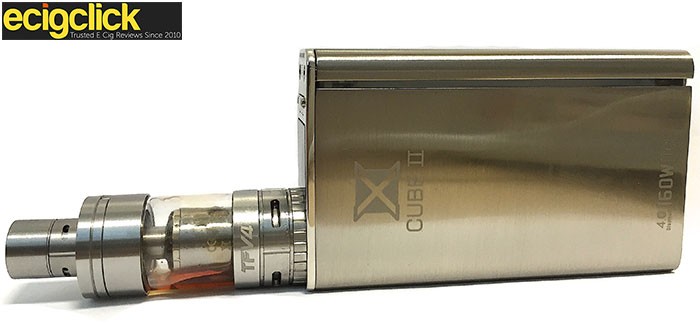 SMOK could have an absolute game changer on their hands here, there is a lot of buzz and anticipation around the XCUBE 2 given the features that it boasts, does it live up to the hype?
What's In The Box
1x SMOK XCUBE 2
1x Mod pouch
1x Micro USB cable (for firmware updates)
1x User manual
1x Warranty card
It is boxed in a very similar way to the SMOK TFV4 sub ohm tank we recently used, with the same colour schemes on the box design, no surprise there as the SMOK TFV4 was developed for intended use with the SMOK X CUBE 2!
SMOK XCube Battery/ Body/ Build
No more fixed LiPo batteries, as found previously with the SMOK M80 Plus, you have a magnetic removable battery door present on the XCUBE 2 which allows you easy access to your batteries, unfortunately I found this door to be very loose and it slid off quite freely in some instances, so perhaps it was a little too easy to access!
Build wise the XCUBE 2 is absolutely rock solid, ignoring the loose battery door, its one of the biggest and heaviest box mods I have ever laid my hands on, the brushed stainless steel finish looks fantastic, rounded edges of the box itself feel really smooth in your hand, and the spring loaded 510 connector has been absolutely perfect, making sure my atomisers sit totally flush on the X CUBE 2.
The plus and minus buttons, missing from the first version of the X CUBE, are a really welcome addition and are very clicky and responsive. It's 24.5mm wide, as it has been designed in conjunction with the new SMOK TFV4 tank atomiser, which boasts that sizeable width.
The fire button is now a fire bar down the side of the mod, and boasts customizable LED lights (through the mod itself and in more detail through the SMOK BEC app) so you can get a nice visual effect from these when firing the mod.
It looks really cool when firing the mod, especially as when using the SMOK BEC app you can customise this in fine detail! The fire bar itself I found to be a little sensitive, at times it seems to fire with very little pressure on it, so ensure you lock the mod with 5 clicks of the fire bar when not in use.
SMOK X Cube 2 Features
100mm height
60mm width
24.5mm depth
238.6 grams weight
Resistance Range: 0.08Ω – 3.0Ω
Wattage Range: 6W-160W
Voltage Output: 0.35V-8V
Temperature Control Technology: 200°F – 600°F
Intelligent OLED Display Screen: battery capacity, wattage, resistance
Output Mode:Temp Mode/Watt Mode/Memory Mode
Magnet-help battery cover
Short Circuit protection
Discharge protection
Constructed of high-quality Zinc Alloy and Stainless Steel
Wattage Memory Modes
Bluetooth 4.0 technology
Spring loaded 510 connector
Customizable LED colours (up to 16 million colors)
Smart BEC APP
As per the SMOK BT 50 and SMOK XCUBE you can pair the SMOK X CUBE II with your bluetooth 4.0 enabled smartphone through the SMART BEC app. Interestingly, you can customise the LED colours displayed on the fire bar, and there is endless possibilities with this, SMOK say there are around 16 million combinations you can come up with!
The SMART BEC app has almost taken on a social media style turn, with the Topic option, Location (which tracks where you vape and marks it on a map), Vaping Record where you can record how much you vape if you wish and you can adjust the settings and modes through the app too.
Selecting the Mode panel allows you to switch the XCUBE 2 into mechanical mod mode, variable voltage mode, custom voltage, variable wattage and custom power mode. Within settings mode, you can change the device name, set a new bluetooth password, change the temperature unit from Fahrenheit to Celsius, set a reminder to charge the X CUBE 2 when the power drops to a certain level, change the LED colour, set a time to close off the bluetooth connection and the LED display, and also upgrade the firmware through the app.
Now, the SMART BEC app becomes very important if you wish to use temperature control with the SMOK XCUBE 2 as you need to set the correct temperature coefficient for nickel (0.006) or for titanium (0.0038) depending on which build you use.
It is set at 0 by default, which will mean your temperature control builds will function incorrectly or not at all should the coefficient not be set through the app!
SMOK X Cube 2 Temperature Control Function
After selecting the correct temperature coefficient through the SMART BEC app, you can use the SMOK XCUBE 2 in temperature control with nickel or titanium builds. As described above, you absolutely must select the correct temperature coefficient through the SMART BEC app, I have not found a way that you can select the coefficient through the actual mod itself, so if you do not own a smartphone that is compatible with the SMART BEC app you will not be able to use the temperature control mode.
Update: SMOK have released an update via the App that allows TC through the device itself.
Temperature control mode functions far better on the XCUBE 2 than it did on the M80 Plus. The limit has been toned down from the ridiculous and unnecessary 900F found on the M80 Plus to 600F, which is too much for Nickel but handy when using Titanium builds in temperature control.
It's easy to change the temperature and power settings, and you also have a boost function available. With this function, you have normal mode available, but also soft mode which decreases the power output by 10% for two seconds, and hard mode which increases the power by 10% for two seconds to give that little extra kick!
Hoe Does The SMOK X Cube 2 perform?
You have a whopping 160w at your disposal in wattage mode, so in terms of sheer power the SMOK XCUBE outperforms a lot of other box mods around today! The SMOK TFV4 tanks works really well with this, you can take the power up to 140w with this tank which provides a very hot and cloudy vape!
I had to use an RDA to get up to 160w, which was really hot and very powerful, I had to go down to using zero nicotine at this power as it was so powerful!
The menu is accessed through 5 clicks of the power bar, and selecting which option you want to use means scrolling through the menu options using either the fire bar or the plus and minus buttons. You then select your option by leaving that on screen, and waiting for a couple of seconds. This does feel like ages sometimes, and it still is not the most user friendly or quickest way of scrolling through the options.
Battery life has been pretty good with dual 18650 batteries, I have had over a full days use when running the SMOK TFV4 tank at 80-90w which is pretty good, and with the removable battery cover you can access the batteries quickly when they need a change. Using the XCUBE 2 under 50w should give you a minimum of two days battery life, even with pretty heavy use.
Soft, normal and hard modes are also available when not using kanthal builds, you can take advantage of a little extra power boost or tone it down slightly if you want to when in wattage mode too. Selecting hard mode at 160w is really not for the faint hearted…
Final Thoughts
It's big, it's bulky, its beautiful yet powerful, and SMOK have a hit on their hands with the XCUBE 2! It has all the power you need, 160w is far more than most people will ever utilize, and a temperature control mode that functions very well once set up.
I think that having to download the app just in order to use temperature control mode is a bit of a downside and will put a few people off however.
Definitely the best mod that SMOK have released so far, and one of the best box mods around on the market in terms of performance!
The Good
One of the most powerful mods on the market
Temperature control works very well once set up
Packed full of features
Solidly built
Bluetooth app works really well with the XCUBE 2
Brushed finish is superb
Removable 18650 batteries
Spring loaded 510 connector works a treat
Customizable LED lights look really cool
The Not So Good
Loose battery door, it has slid off on me a number of times
It's a heavy old mod!
It's a very large one too!
Fire bar is a little oversensitive
Bit of a wait when selecting settings through the menu