TESIYI have been an established company since 2010 and they say they are dedicated to batteries and chargers and call themselves Vape Battery Master, quite a bold statement.

As well as batteries, chargers and power banks, they sell a selection of Vaporisers for CBD vape juice on their website.
What Are We Looking at With This Review?
This review is going to take a look at the Tesiya E2S dual battery charger and two power bank type chargers, the TESIYI T4 and T2 Mini Chargers.
How good are their chargers, power bank/chargers and batteries? We shall see.
My choice of charging devices are all Nitecore so it will be very interesting to see how well the E2S compares.
The TISIYI charger and power banks were sent to me direct for review, thank you. As always, I will give you my own, honest opinion of this product after a lengthy testing period.

In The Box
TESIYI E2S
1 x TESIYI E2S Charger
1 x USB Cable
1 x Instruction Manual
TESIYI T4 Mini Charger/Power Bank
1 x TESIYI T4 Mini Charger
1 x USB Cable
1 x Instruction Manual
TESIYI T2 Mini Charger/Power Bank
1 x TESIYI T2 Mini Charger
1 x USB Cable
1 x Instruction Manual
Features
TESIYI E2S Charger
Product Size: 117 x 62 x 30mm
Product Weight: 95g
Input Voltage: Micro USB 5V 2A (0.3A/0.5A/1.0A) x2
Output Voltage: Micro USB 5V 2A
Rated Output Current: 0.3A x2 / 0.5A x 2 / 1.0A x 2
Rated Power: 3W/7.3W/8.4W (max)
Compatible With: Ni-MH, Ni-Cd, AA, AAA, C Type.IMR/Li-ion – 10440, 10500, 14500, 16340, 17335, 17650, 18350, 18490, 18500, 18650, 26650, 20700 and 21700
TESIYI T4 Mini Charger/Power Bank
Product Size: 100 x 83.3 x 26.8mm
Input: Micro USB DC5V/1.8A
Output: DC5V/2A DC5V/1A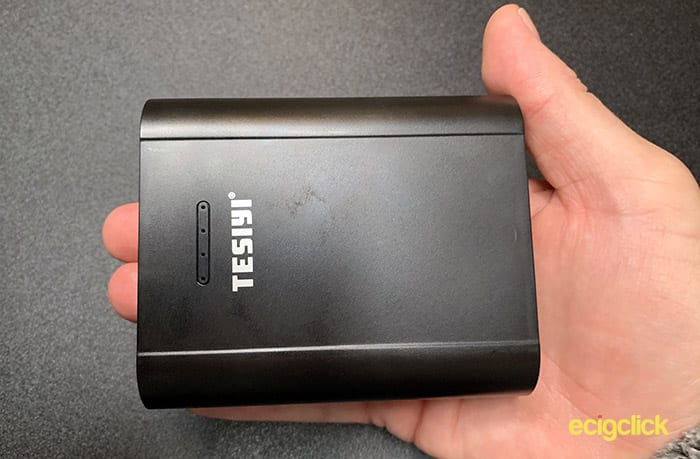 TESIYI T2 Mini Charger/Power Bank
Product Size: 100 x 48 x 26mm
Input: Micro USB DC5V/1.8A
Output: DC5V/2A DC5V/1A
Design and Build Quality
TESIYI E2S Charger
The TESIYI E2S charger is like your standard two bay chargers but unlike others of late can accommodate only 18650 cells.
It's made from plastic but very sturdy at the same time. The battery spring connectors are very robust, the metal that is used isn't flimsy and feels like it would last for quite some time.

TESIYI T4 Mini Charger
The TESIYI T4 is a very small and lightweight device for a four bay charger (18650) and power bank.
All the markings are clearly printed into the device so there's no dispute at which end is positive.
The power on/off button is nice and clicky and the USB sockets are tight but not too tight that you must force the cable in.
The only slight problem I did have with the T4 device was opening the bay door, it was a little stiff and needed a little gentle encouragement to release.
TESIYI T2 Mini Charger
As you would expect, the TESIYI T2 Mini Charger is pretty much in line with the T4 device though only 2 bays for 18650 batteries, I had no problem opening the bay door with this.

How Does The TESIYI E2S Perform?
To be honest, I'm not overly keen on using a USB charger as a main battery charger. All my other chargers are mains devices with proper mains plugs and leads. That's not saying the performance is much different because it's not, it's just a personal thing.
To charge the provided TESIYI IMR 18650 300mAh in my two bay Nitecore D2 charger took around 4 hours and 20 minutes.
To charge the same batteries in the TESIYI E2S charger, it took around 5 hours so there wasn't much difference compared to the two.

How does the TESIYI T4 and T2 Mini Chargers and Power Banks Perform?
Well, I will put the two mini chargers/power banks in the same category as they perform the same except one has two more batteries than the other.
As chargers, on the road as they are intended, via a car adaptor, the battery charge time was around 8 hours if I got my calculations correct, least to say it took a long time.
They are there to serve a purpose when you are out and about and if you really needed to use the mini chargers as an actual charger, it works.
I never had any battery overheating or safety issues at all.

As a power bank, they are good. Just pop your batteries of choice in there and away you go.
I have charged both my iPhone and my sons Android mobile phones without any issues at all. The power on off switch works a treat and you have both 5V-1A and 5V-2A USB outputs on both devices.

Pro's
TESIYI E2S
Lightweight
Sturdy
Quick Charge
Well marked polarity
Cons
Pro's
TESIYI T4 and T2
Portable
Lightweight
Mobile phone charging
On/Off switch
Cons
Final Review Verdict
I'm no expert on chargers or battery packs but the TESIYI E2S charged the provided batteries as well as my regular two bay charger or as near as damn it.
The mini chargers/battery packs, whilst they may not charge your batteries out on the road as quick as from the mains, they do charge and that's what counts especially when you are in a sticky situation.
As for power banks, they are great, very lightweight and portable and charged my mobile phones, keeping me on social media that little bit longer.