The Trump vape meeting went ahead yesterday and at times turned into a bit of a shout fest.
Vaping manufacturers – companies and both pro and anti-vape advocates gathered at the White House to allow President Trump to get a feel of the issue that is the US flavor ban.
There's still no idea what Trump will do and judging from the tempo of the meeting it's still unclear if a total flavor ban – except for tobacco and menthol – will go ahead or if it's still on the table!
At one point it looked like the president was pulling even further back from a complete ban and then it looked like he was thinking of banning flavours completely.
As always with "the Donald" things are never easy!
Watch the video of the full vape meeting.
The only consensus that seemed to be reached was an agreement of an age limit for buying vape gear of 21 and older – something the Vapor Technology Association [VTA] has been pushing for.
VTA executive director Tony Abboud was one of the few voices of reason at the Trump vape meeting and said:
…what was interesting was that other than raising the age to 21, the public health advocates were virtually silent.

This is the fundamental problem that we have.

They simply want a ban and nothing short of a ban and bans don't work.
Indeed.
Mitt Romney Worried About Vaping Children
Trump looks to have picked failed presidential candidate Mitt Romney as point man for the great vape debate.
He spent the whole session screeching the tired old line 'we have to protect the kids' at every opportunity he got.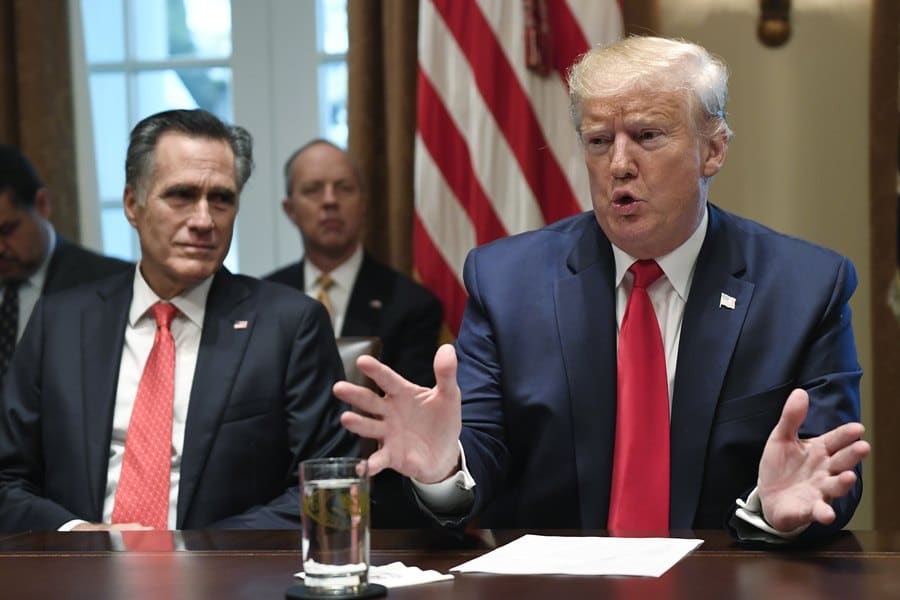 He also was quite happy to throw 10,000 vape shops and their employees away if it meant 'protecting the children'.
After the meeting he said:

While I hope the Administration will act without further delay on its prior proposal to ban flavors that appeal to kids, I will also continue to push for my legislation that bans flavors, ensures that vaping cartridges are tamper-proof, and bans e-cigarettes from schools.
Hopefully voters will remember that shocking virtue signalling nonsense next time they're asked to vote.
Romney is the wrong guy for sure for this job, given he is co sponsoring the Ending New Nicotine Dependencies, or ENND, Act.
This delightful piece of legislation would ban all flavours except tobacco and slap huge taxes on what's left of the US vape industry.
Add to that he's a devout Mormon – a religion that forbids all vape products as un-godly – and he's hardly the most open minded US politician when it comes to vaping.
He seemed a little 'out there' and grinned inanely seemingly throughout the meeting and at one point was heard mumbling:
…unicorn poop…
I shit you not 🙂
Ummm have you taken your medication Mitt?
JUUL Sucks Up To Trump And Shafts Vaping…again
One thing is clear and that's JUUL has once again thrown vaping under the bus.
I wrote back in October JUUL was kissing Trump's ass in a bid to stay in business, and they were at it again.
They agreed wholeheartedly with a complete flavour ban – leaving just tobacco and menthol flavours on sale.
Of course they would do that given they are the only flavours the company is selling in the US at the moment…
It was totally expected – read my article from back in October as to why: JUUL Dumps Flavoured Pods In A Desperate Bid To Kiss Trump's Ass.
I'm guessing the guy from JUUL at the Trump vape meet was the new CEO and Big Tobacco wunderkind K.C. Crosthwaite.
This guy was so far up Trump's ass I'm pretty sure he could have polished the president's dentures.
BTW there's no truth in the rumour K.C in his spare time fronts the funk band KC and the Sunshine Gang – though I felt sure had the president asked him to drop to his knees, he'd have gladly blown Trump's horn…ahem…
Trump was clearly impressed with JUUL being the USA's largest vape company – but clearly puzzled as to how they were surviving given they've removed all flavoured pods from sale apart from tobacco and menthol.
Money is the obvious answer – those guys are sitting it out and are ready to pounce should tobacco and menthol be the only flavours left standing.
It would be pure karma if all pod systems were banned from sale in USA gas stations and convenience stores leaving them only to be sold inside vape shops.
I wouldn't imagine many bricks and mortar vape stores in the US would consider stocking the brand given the complete selfish disdain they've shown…
Final Thoughts On the Trump Vaping Meeting
Despite sterling work from the VTA – Greg Conely from the American Vaping Association and the guy from Njoy who was bloody awesome – the Trump vape meeting felt to top heavy with the anti-vape crowd.
Trump had to be impressed by, for instance, the American Lung Association and Indeed the American Cancer Society coming out strongly in favour of a total flavour ban.
Then of course we had those syrupy sickly virtue signalling anti vaping soccer moms.
They were there – not sure why as we needed facts not emotional claptrap – and were throwing out tearful platitudes with a dash of obviously fake stories of families being torn apart by youngsters vaping.
I have a feeling one of them was sat on a chaise lounge clutching her pearls and calling for smelling salts every time someone suggested vaping saved lives.
What these silly soccer moms should be doing is demanding parental classes for America – you know teach people how to be parents rather than expect the government to do their jobs for them.
Little Chuckie is vaping?
Take it off him – stop all allowances – ground him and if that don't work give him a clip around the ear…
Ooo get me becoming grumpy old grandad haha.
But you know what I mean – why should 13 million vapers and 38 million smokers in America be penalized for a few rebellious kids with awful parents?
Anyway the Trump vape meeting was at least a start, but I can't help feeling the future of vaping in the US is in the wrong hands.
Romney is a virtue signalling idiot – Conway has no idea what she's on about and US Health and Human Services Secretary Alex Azar looks way out of his depth.
As for Trump?
Who the hell knows…
We have no idea what will happen next and it could all be a waste of time anyway given the PMTA process is looming.
And trust me, unless something is done about that – vaping as we know it the USA will be over.
Of course as soon as Trump makes his "big announcement on vaping" we shall let you know 😉