The Uwell Valyrian Pod System is the latest pod release from a vape company well respected for its Caliburn series of pods, as well as stranger ones like the Amulet pod watch!
Of course we have previously seen the Valyrian name on some highly rated sub-ohm tanks from Uwell.
The original Valyrian was reviewed by Dean way back in 2017, and since then we have had the Valyrian 2 that Ken reviewed in 2019, and the Valyrian 2 Pro was announced at the back end of last year.

So there's a certain amount of expectation attached to the Uwell Valyrian Pod System, we shall see if it can deliver!
What Can We Expect From the Uwell Valyrian Pod System?
Pod kits are usually not the flashiest of things, but the Valyrian takes things to an even more minimal level, as Uwell says on its marketing:
Simplicity is the ultimate sophistication
Although it was Leonardo da Vinci who said it first!
And they're not kidding! It's a single button design, in a small unassuming box. The only decoration is the laser engraved VLRN on either side. I guess like HRVY in Strictly, we're taking the vowels out of everything!
The Valyrian name comes from George R.R. Martin's "Game of Thrones" series of books, describing the empire ruled by dragon lords, long before the events of the TV series.
It was a fitting name for the cloud chucking tanks that bore it, so we shall see if this pod system can live up to it's legacy!
This was sent over free of charge from Healthcabin for the purpose of review (thank you) as usual, this in no way affects my review, and I shall report back honestly with what I find.
Inside The Box
Uwell Valyrian Pod device
Pod
1.0Ω Valyrian MTL Pod Coil (Installed)
0.6 Ω Valyrian DTL Pod Coil
Micro USB Cable
User manual
Specs
Size: 92×37.3×17.2mm
Output: 25W max
Battery: 1250mAh (internal)
Display: LED indicator
E-liquid capacity: 3ml (Standard) / 2ml (TPD)
Pods: Refillable, replaceable coil
Coil options: Valyrian Pod coils – 1ohm / 0.6ohm
Side top fill port
Adjustable airflow
Design and Build Quality
The Valyrian pod comes in a choice of three colours, Black (which I received), Gold and Metallic Green.
Uwell Valyrian Pod System Body
The body of the device is made from aluminium alloy, and it's very lightweight in the hand.
At the base you have your usual regulatory marks, as well the name of the pod "Valyrian". This is also where your charging port is, which sadly is Micro USB rather than USB C. Obviously because it's on the bottom, you will have to lie it down to charge.
It does allow pass through charging though, so you can have it plugged in, and still vape on it.
On one of the thin edges you have your airflow hole at the top, with your fire button just below it. At the bottom is your LED indicator in a stylised V or wings.
The two larger sides have the letters VLRN, which look to be laser engraved with a very intricate font. It's surprisingly hard to show in photos, but the engraved sections have a shiny finish, compared to the matte of the rest of the device.
On the remaining thin edge, there is a cut out so you can see the end of your pod to check your e-liquid level.
It's quite dark, so you'll need to have a decent amount of light around to be able to see.
There is a small "Min" indicator, that is shown by the the more matte section of the window.
I often found it was easier to just remove the pod to check my e-liquid level, as this lets a lot more light through.
Uwell Valyrian Pod System the Pod
The pod is made from a dark translucent PCTG, I believe it uses magnets to stay in place.
They are fairly weak, but due to the walls of the device holding the pod in place, there's very little movement.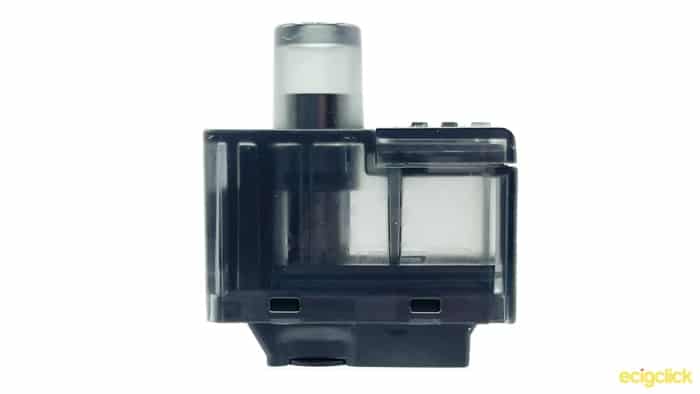 The drip tip is a non-removable sort, and is about the same size as a 510.
It has a decently wide bore, so it should be possible to manage a direct lung inhale through it.
Uwell Valyrian Pod System Airflow
On the thin edge nearest your drip tip is your airflow control, this is a small slider that you can push up (restrict the airflow) or down (open the airflow).
When the pod is in the device you can't adjust this, so you won't accidentally knock it.
There's a small hole in the front wall of the device that allows your air to come through, because it sits about 1 inch above the fire button, I never found myself accidentally covering it when vaping. So good placement there.
On the base of the pod you have regulatory marks, and the base of your coil.
Note the flat edge on the right hand side of your coil, this is important when it comes to changing coils later.
When you first receive it, there will be a piece of clear tape across the contacts which you will need to remove before using it.
How To Fill The Uwell Valyrian Pod System
Filling is an absolute dream on this pod due to the sliding cover on the top.
Push the cover away from the drip tip to access the refill port
Press your bottle tip through the silicone seal
Fill up your pod, keeping and eye on the level at the side
Slide the top closed
Remember to let it sit for 5-10 minutes to allow your coil to become fully saturated.
One thing to watch out for is that if you're a little too enthusiastic at filling, you will likely end up with a little bit of liquid coming out the top of the seal and collecting around the port.
To minimise this don't fill up to fast, and keep an eye on the side to see your e-liquid level, backing off a little as it gets close to full.
If you do have a hard time not overfilling it, a tip is to take the pod out of the device, as you can then see the e-liquid much more easily.
How To Change the Uwell Valyrian Pod System Coil
Remove your pod from the device
Turn it over and pull your coil out
Insert your new coil, making sure the flat edge lines up with the flat edge towards the middle of the pod
Fill with e-liquid and leave to sit for 10 minutes before vaping
One thing to note is that when you remove your coil, the pod must be almost totally empty. This is because one of the reasons the coil is so long, is because it's also forming the chimney above your coil.
For that reason, anything more than about 2mm of e-liquid left in the tank (when looking at it held upside down), is going to come straight out the drip tip when you remove the coil.
Uwell Valyrian Pod System Controls
With a single button control you are limited to 5x clicks On/Off. The resistance of the coil will be used by the BEIN chipset inside to set the wattage being supplied (maximum 25W).
There is an LED indicator which flashes to confirm you've switched it on or off, as well as being able to alert you if any of the safety features kick in.
Short circuit protection, over time protection, no coil detected and low battery.
It will also glow when vaping to indicate your remaining battery life.
Green – 60%
Blue – 30-60%
Red – 30%
There's no draw activation on this, you have to press the button to fire.
Not something that bothers me as I've never really got on with draw activation, but it may be something you miss.
How Does the Uwell Valyrian Pod System Perform?
I've been using the Valyrian pod system for a few weeks now, and I've tried it out with both 50/50 e-liquid (Berry Ice by SVC Labs) and 70/30 (Pomegranate Lemonade by Fizzle).
For something that has the Valyrian name on it, I was a little surprised at what I found!
1.0Ω Coil – Airflow and Cloud Production
The 1.0Ω coil is preinstalled, so it makes sense to start here.
It is definitely set up for mouth to lung vaping, rather than direct lung. Even fully open you will struggle to get a direct lung vape from it. On a 1 to 10 scale with 10 being fully unrestricted, this is a 4.5.
A direct lung vape is just about possible, but only by slipstreaming air past the mouth piece.
Because the coil is already minimising the amount of air that can come through, the airflow control on the pod doesn't take effect until you close it down a little over half way.
Uwell Valyrian Pod System 1.0Ω Coil – Flavour
Flavour is pretty good for a 1.0Ω coil. It's not the most punchy, but it's keeping up with other pod systems.
But after hearing all the rave reviews for Uwell's Caliburn series of pod systems, I was expecting more from this to be honest.
I wonder whether the length of the coil may have something to do with it.
0.6Ω Coil – Airflow and Cloud Production
There is definitely more airflow on this coil, but it is still quite restricted for something that is apparently aimed at direct lung vaping. On the 1-10 scale this is a 6.5.
So a relatively restrictive direct lung vape is definitely possible.
Cloud production has definitely stepped up a notch, though it is closer to what I would expect from a low ohm mouth to lung coil, than a full throated cloud machine.
Still, the airflow is nice and smooth, with no turbulence. If you want to, you can always restrict this coil down to behave more like a mouth to lung.
Uwell Valyrian Pod System 0.6Ω Coil – Flavour
Flavour is noticeably better on the 0.6Ω coil, and the fact that it can be restricted down so far makes me wonder why you would bother with the 1.0Ω coil.
This coil is perfectly capable of doing a restricted lung inhale and a flavourful mouth to lung. In fact I prefer it as a warm mouth to lung vape.
It's also far more capable of handling thicker e-liquid, with the 1.0Ω coil I felt like I needed 50/50 liquid to get as much flavour as possible. Whereas this coil copes absolutely fine with 70/30.
The coils are both Kanthal round wire coils, and I can't help but be left wondering how it might have fared with a mesh coil. Maybe in the future?
Uwell Valyrian Pod System Battery
A 1250mAh battery is a decent size for such a tiny little device, and certainly using the 1.0Ω coil I was happily getting a couple of days of use out of it.
Switching to the 0.6Ω, and I would still get a full day.
Charging time is reasonable at a little under 90 minutes from flat.
Uwell Valyrian Pod System – Any leaks?
Happily there's no leaking from this pod whatsoever, there's not even been any sign of condensation that often gets mistaken for leaking around the base of the pod.
One of the reasons for this is the path of the airflow. It comes in quite high up relative to the coil, then is funnelled down and into the base of the coil which is sealed with two o-rings.
Pros
Neat little device
0.6Ω coil is flexible for MTL or restricted DL
Cons
USB charge port is Micro USB not USB C and on the base
Anyone looking for big clouds will be disappointed
Flavour on the 1.0Ω coil is only "OK"
Final Review Verdict
So that was the Valyrian Pod System!
And the first thing I have to pick Uwell up on is the name. Vapers that have been around for a couple of years associate the Valyrian name with some extreme cloud chucking sub-ohm tanks.
The Valyrian pod system on the other hand, seems to be aimed far more at mouth to lung vapers.
Yes you can get a direct lung inhale with the 0.6Ω coil, but only just, and it's pretty restrictive.
Ignoring the expectations that the name sets up, it's a perfectly competent little pod system.
I found the 0.6Ω gave a nice warm mouth to lung vape, which definitely hit the spot for me.
It's a nicely put together kit, though I do feel that the window to check your liquid level is a little too dark, especially with the walls on either side blocking off light from the pod, as well as the solid plastic of the sliding top fill system.
So is this a pod kit you're using or thinking of buying?
Let me know your thoughts and opinions in the comments below…