The Vandy Vape Unicorn Pod Kit is a strange looking new pod kit release.
Of course most people have heard of Vandy Vape with a huge catalogue of kits including the Pyro range, the Kylin range of RTA and the Pulse range of Squonk kits.
What To Expect From The Vandy Vape Unicorn Pod Kit…
This reminds me of some of the recent Lost Vape kits such as the Ursa Mini, Ursa and Grus in its styling.

I have to say this is very odd looking with the strange textured panel which has the hidden adjustment buttons. Apparently the mod is super lightweight though.
The mod has an internal 1600mAh battery with a USB Type C charging port but the charge rate and time are not specified.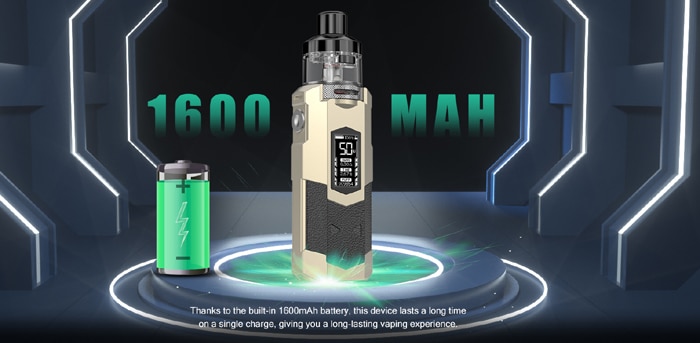 Output wise this is stated as 5-50W (3.2-4.2V) and I assume there is only a Variable Wattage user mode? An updated Vandy Chip provides the brains!
A screen is provided but the size and type are not specified – looking at the images it appears to be a black and white screen.
The top of the mod features the airflow control ring to adjust the airflow to your preference and apparently this should be suitable for MTL or DTL vapers. We tell you more about what these terms mean in our Guide to Vape Styles.
The pod sits in the top of the mod magnetically – this doesn't appear to have a 510 connector – so you can only use the included pod with this.
Capacity wise this will hold up to 4ml (Standard) of your own e-liquid – I have not seen a 2ml version as yet for sale in TPD Regulated areas.
Filling looks simple with a great pop up top cap to give access to the fill port.
This is compatible with the existing range of VVC coils which include 0.3ohm, 0.6ohm, 0.9ohm and 1.2ohm. Sadly the actual coils you get in the kit are not specified.
There are 5 colours to choose from: Black, Silver, Gunmetal, Bordeaux Red and Morandi Purple.
Kit Includes
Vandy Vape Unicorn Mod and pod
2x VVC coils
MTL drip tip
USB Type C cable
User manual
Vandy Vape Unicorn Pod Kit Specs
Size: 115x35x23mm (including pod)
Output: 5-50W (3.2-4.2V)
Modes: VW
Battery: 1600mAh (internal)
Display: Screen – size and type not specified
Capacity : 4ml
Coils : VVC coil range
USB Type C Port
Resistance range: 0.2-3ohm
Top flip filling
MTL and DTL drip tips included
Adjustable airflow
Upgraded Vandy Chip chipset
Another preview with a lot of missing info – wish the manufacturers would give all the info they can!
I am not impressed with the styling of this – but the purpley / pink one has caught my eye!
Let me know what you think of the Vandy Vape Unicorn Pod Kit in the comments below!