The Vaporesso Gen X Kit is the latest release in the popular "Gen" range of kits.
The original Gen mod had a lot of fans and this was soon followed by the Gen Nano and Gen S kits.
What Is New On The Vaporesso Gen X Kit?
The Gen X kit consists of the new Gen X mod and the existing NRG-S tank.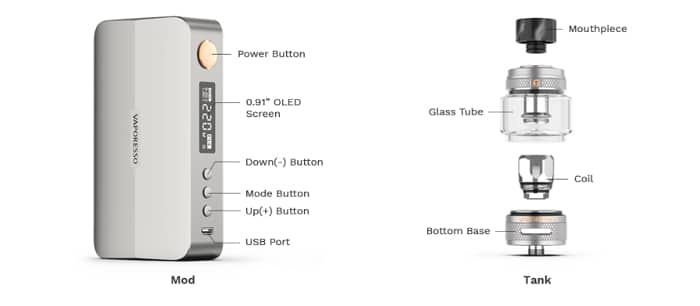 The NRG-S tank is also found in the Luxe 2 and Gen S kits and is the newest version of the NRG range of tanks.
You can use any of the existing GT coil range plus you get 2 coils in the kit:
GT Meshed Coil – 0.18ohm Kanthal Mesh
GT4 Meshed Coil – 0.15ohm Kanthal Mesh
At the base of the tank is the airflow adjustment ring and a slide top cap exposes the top fill ports.
Looking now at the new Gen X mod – this has an Aircraft Grade Aluminium housing which conceals the Axon chip.
The Axon chip has been very popular and has many modes to choose from:
Pulse Mode: this pulses the output in short bursts for a more stable output.
Eco: this improves battery life
Smart Temperature Control: the device senses if a TC compatible coil is installed
DIY: with this mode you have full control to choose from Variable Wattage, Variable Voltage, Custom Curve and Bypass modes.
The mod is powered by 2×18650 batteries which are not included. A USB port is provided which I think is Micro USB but with a 2.5A charge rate?
The output ranges from 5-220W and your settings are displayed on the 0.91in OLED screen.
There are 4 colours to choose from: Space Grey, Classic Black, Sapphire Blue and Matte Gold.
Kit Includes
Vaporesso Gen X Mod
NRG-S Tank
GT Meshed Coil (installed)
GT4 Meshed Coil
Spare drip tip
O-rings
Spare glass (Not in TPD Kit)
USB Cable
User manual
Vaporesso Gen X Mod Specs
Size: 27.6x49x93mm
Output: 5-220W
Battery: 2×18650 (not included)
Display: 0.91in OLED screen
Resistance limits: 0.03-5ohm
Type of USB is not mentioned – 2.5A charging rate
Axon chip
Aircraft Grade Aluminium body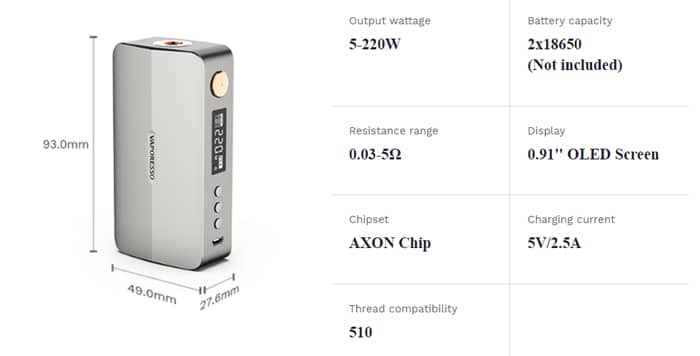 Vaporesso NRG-S Tank Specs
Size: 30x56mm (8ml version) / 22×47.5mm (Mini TPD version)
E-liquid capacity: 8ml (standard) / 2ml (TPD)
Adjustable airflow
Slide top fill cap
Coil options: GT coil range
This kit is pretty similar to the original Gen kit but the main difference is the Aluminium CNC machined body. The original Gen kit also included the SKRR-S tank instead of the NRG-S.
Let me know your thoughts on the Vaporesso Gen X Kit in the comments below!