The Aspire Rover 2 kit arrives as an update to the X30 Rover kit.
The latter featured A 30W Mod with a 2000mah internal battery, and sitting on top was the extremely popular Nautilus X tank with coils utilizing the "U-tech" technology.
The idea was to provide an unrivaled vape experience that oozed flavour and cloud production.
Aspire are very well known for combining their coils with the inner chimney, which in turn creates a larger surface area and improved flavour production.
We only have to look at the Aspire Cleito Pro tank and Aspire Cleito Pro 120 tank to show just how effectively it works.
The combination of chimney and coil can also be found in the Nautilus XS tank.
In fact the tank is backwards compatible with all Nautilus X coils.
What Can We Expect From The Aspire Rover 2 Kit?
The Rover has had something of an overhaul with this latest version of the kit.
With the new NX40 mod, we can expect an improvement in battery life over its predecessor, and an extra 10W also provides a slight boost in power.
While the 1.8ohm U Tech coil of the previous model is included, the kit also comes with a new XS sub ohm mesh coil.
With an enhanced adjustable top airflow system, we can expect both MTL and DTL vaping options.
Please note the following views and opinions are based solely on my own personal experiences, and therefore may vary from your own should you decide to purchase.
Inside the Box
NX40 Mod (2200mah internal battery)
Nautilus XS tank 2ml capacity
Nautilus X coil. XS mesh coil (pre installed).
Spare 2ml glass
6 spare O rings
Type C charging cable
User Manual
Warranty card
Aspire Rover 2 Kit – Specs And Features
The Aspire Rover 2 Kit comes in five fetching colour schemes.
Gunmetal, Champagne, Turquoise, Navy Blue and Ruby.
It's available as a non TPD version, featuring a 4ml glass tank and chimney extension – for those of us (currently) within the EU it can be purchased separately.
Tank Features
510 drip tip
Easy top filling system
2ml tank capacity
Adjustable top airflow
Nautilus XS mesh coil. Nautilus X coil
Dimensions (with drip tip) 22mm x 48mm
Mod Specifications
Built in battery (2200mah capacity)
Output wattage 1-40W
Output voltage range 0.5-8V
Recommended resistance 0.2-1.6ohm
Support resistance 0.2-3.5ohm
Continuous fire time 10sec
Screen display 1.13in OLED
Type C charging port
Output modes VW/VV/Bypass
Dimensions 36.5mm wide 24.5mm deep 65mm high
Design And Build Quality
NX40 Mod
I received the turquoise rendition. All colour schemes feature a 3D textured composite finish to the panels on either side.
A pleasant 3D ripple effect takes place across the panels when held in good lighting conditions.
The brushed silver anodized alloy running around the main body is clean, smooth to the touch and scratch free.
The top and bottom of the NX40 mod bulge out slightly providing some nice contouring, allowing the Nautilus XS tank to sit perfectly flush.
The gold plated 510 connector is spring loaded and has quite a lot of play.
The fire and menu control buttons have more of a sprayed silver appearance. It distracts a little from the smooth brushed effect of the main body, no doubt to highlight their presence, making them stand out more.
All three feel solid and responsive, especially the fire button.
The USB port has been sensibly placed on the side of the NX40 mod, so there's no need to lay it flat when charging.
This allows the tank to remain attached reducing the chance of leakage.
Although this mod is only capable of reaching 40W it's nice to see ample battery venting on the base.
On the subject of safety, it's that time again! lol
Aspire Rover 2 Kit Safety Features
Aspire have utilized their proprietary ASP chipset which comes with those all important safety features.
To protect against:
Short circuiting
Low voltage
Overcharging
Over heating
Low resistance
The mod will also cease to function after ten seconds of continuous inhale.
Aspire Rover 2 Kit – How To Use The NX40 Mod
The left (-) menu button functions to decrease power and the right (+) menu button works to increase power.
Press fire button five times to turn the device on.
In standby mode press the fire button five times to lock the device.
While locked hit the fire button five times to unlock.
While locked hold the fire button for two seconds to switch the device off.
In standby mode hit the fire button three times to enter / exit stealth mode.
Press the fire button and + to switch between VW / VV / Bypass mode.
When the device enters stealth mode it is still possible to vape, though the menu buttons are disabled.
Nautilus XS Tank
This is one of the most basic yet tidy looking tanks I've laid eyes on for quite some time.
The threading on the top cap is super smooth and very well machined, this extends to the detailing on the incorporated heat sink fins.
These radial fins are designed to dissipate the build up of heat during the vape, and to keep the drip tip cool and prevent liquid flavour from degrading inside the tank.
The drip tip itself is made of PEEK material making it very resistant to heat. It's interchangeable with 510's of your own but looks very well suited to MTL vaping.
There is just the right amount of tolerance when turning the adjustable airflow ring allowing for very fine dialing in of restriction.
A very sizeable (almost oversized) O ring sits at the base of the tank. This glass ain't going no where without force and that's very reassuring.
The 510 pin of the Nautilus XS tank is gold plated – matching the mod – so there should be some good conductivity between the two.
Aspire Rover 2 Kit – Fitting A Coil
It's the next best thing we've got to plug and play. You just need to take a bit more time to avoid cross threading. Gently does it!
Unscrew the top cap counter clockwise
Pull to remove the glass from the bottom O ring
Screw the coil clockwise into the base of the tank. Try not to over-tighten
Carefully replace the glass tube ensuring the O ring is secure
Replace the top cap clockwise until firmly in place. Try not to over-tighten
NB: It's not essential that you remove the glass section. I had no issues installing a coil with it "in situ".
Aspire Rover 2 Kit – How To Fill The Tank
These coils may not be plug and play but the filling method more than compensates with the Nautilus XS tank.
I'm a big fan of this "open tank" style of filling, smaller tank diameters really capitalize on the available space.
It also means you don't have to worry about bottle tip sizes!
Unscrew the top cap counter clockwise
Gently pour juice down the inside of the tank. Do not pour inside the coil!
Fill to a level below the top of the glass tube and above wicking ports
Replace the top cap clockwise until firmly in place
How Does The Aspire Rover 2 Kit Perform?
Nautilus XS Mesh Coil 0.7ohm Rated 18-22W
Dark Star Barrel Aged Tobacco was used to test the coil. It's a short fill topped up to freebase nicotine with a 70VG/30PG ratio.
I started at the lower end of the power scale at 18W (3.7V)
With airflow control wide open there seems to be an incredible amount of power.
Despite the minimum recommended output, this mesh coil was working hard!
I couldn't fault the flavour or cloud production.
Many of the tobacco notes were spilling from the vape during exhale, very pleasing stuff!
There were no issues with dry hits. It was easy to achieve pulls of over five seconds so the coils were wicking flawlessly, so an impressive performance.
Semi Restrictive Airflow
Without doubt this is my preferred airflow setting. It offered me just the right amount of restriction for my direct lung vaping style.
Here, the Nautilus XS Mesh coil really came to life. There was a further improvement to what was already a great flavour.
It provided a balanced and semi stealth like vape during exhale with a nice touch of warmth.
Restrictive Airflow
Something of a difficult affair when attempting a DTL vape. There was no noticeable difference to overall flavour and cloud.
It's certainly feasible to use this setting for a MTL experience although the draw is somewhat loose.
The nicotine content I was using provided a slight throat kick which I liked.
Pump Up The Volume (22W) 4.1V
Now with airflow once again wide open the creamy, dessert sub notes of the tobacco profile opened up.
Overall the flavour was now much broader.
Warmth was being generated on the surface of the tank but far from being uncomfortable.
Semi Restrictive Airflow
Peripheral tones of the e liquid remained in evidence along with increased sweetness.
It's the kind of sweetness that dances on the tongue – always an added bonus.
The flavour also started to linger more after the final exhale, and cloud production carried more volume and density.
Restrictive Airflow
When direct lunging the flavour does diminish somewhat, and again, it's possible to MTL.
Due to the higher output and increased restriction the vape becomes a bit too warm for my liking.
Summary
The fact the mesh coil fires instantly is super cool in my opinion.
Direct lung vaping is without doubt the intention, and higher wattage certainly allows the coil to work to full capabilities.
Overall I found it to be a "powerhouse" of a mesh coil, working effectively, efficiently and consistently at any wattage recommendation.
Cranking up the wattage presented me with the full spectrum of blended tobacco leaves.
The dessert sub notes pushed through and there was a satisfying linger to the flavour after the exhale.
I don't suggest using this coil for MTL vaping due to the increased heat generated, however, if you are partial, you may find flavour and cloud dilution during the heating process.
To put it another way, the 0.7ohm XS Mesh coil craves plenty of airflow.
70VG/30PG ratios worked perfectly with the coil – I will report back after testing 80VG/20PG but in all honesty I feel confident.
This coil kicks butt!
Nautilus X coil 1.8ohm Rated 12-16W
I tested this mouth to lung coil using a 50VG/50PG e liquid by Zeus Juice. It's a 10ml banana milkshake profile with freebase nicotine.
Beginning with the lowest recommended output of 12W.
Again this is a very lively and responsive coil, jumping instantly to life upon hitting the fire button.
With plenty of snap, crackle and pop I set the airflow wide open. It is possible to achieve a loose MTL vape but the flavour was more buoyant working as a restrictive lung hit.
The cloud production was superb for such low power consumption!
Semi Restrictive Airflow
The resistance reading was showing 1.96ohm while I adjusted the airflow setting.
You could sense an immediate change to the airflow restriction.
The flavour production improved while cloud production tapered slightly.
The Nautilus XS tank is certainly very quiet during a vape and I witnessed an overall very smooth, turbulent free inhale.
Restrictive Airflow
Move over, Neil let Rover take over!
The previous two airflow settings had offered a relatively comfortable and satisfying MTL vape.
With restrictions set to their max, the Nautilus X coil really shines in its intentions.
It displays a classic MTL vape that offers a slight throat kick from the nicotine. I got fantastic flavour and a stealthy amount of cloud production.
The cream content of the profile balanced perfectly with the candy sweet inspired banana.
Warmth generated from the restriction is ideal for a new vaper looking to mimic the experience of a cigarette.
Vaping At Highest Recommended Wattage (16W)
Attempting a direct lung hit with airflow wide open placed me close to dry hit territory. I was beginning to taste as much of the cotton as the flavour.
Despite the added warmth from the 16W of power, I wouldn't suggest taking long direct lung pulls using this setting.
Semi Restrictive Airflow
Although the flavour improved it still felt like 16W was pushing it.
Further proof of the coils MTL heritage.
Restrictive lung hits are not as forgiving as those found around 12-13W.
Restrictive Airflow
The Nautilus X coil comes to life using MTL. However the flavour is not as intense as that of lower wattage settings.
If you crave more heat from your vape though, this is the place to be.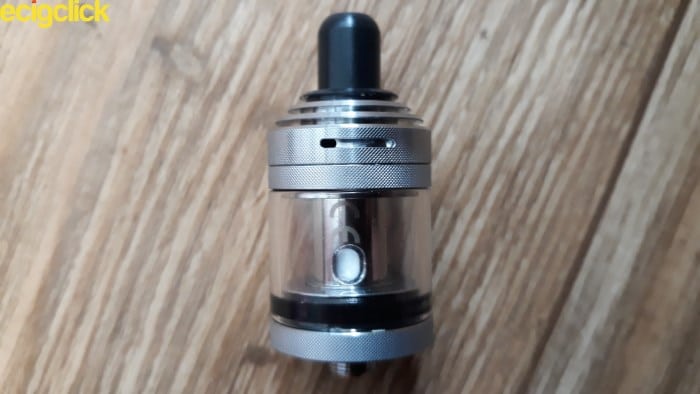 The taste of cotton was still present and failed to subside.
I honestly feel that 16W is pushing the envelope somewhat in terms of the capability of the Nautilus X coil.
Flavour is definitely compromised although cloud production is still good.
Aspire Rover 2 Kit – Summary
Without doubt I found the best results when vaping at 12-13W with airflow heavily restricted.
This is where the real value of the Nautilus X coil lies. A true mouth to lung experience providing fantastic, consistent flavour over shorter tugs.
There's just the right amount of warmth, and the stealth like cloud production will appeal to a wide audience.
Restrictive direct to lung vaping is possible around 12W under mid to full airflow settings, though this merely acts as a welcome bonus, in my opinion.
If you plan to use this coil at higher wattage it's best to vape in an MTL style. Anything else requiring longer pulls may possibly lead to dry hits.
I recommend using 50VG/50PG ratios. You may get away with 60VG/40PG but I haven't tested as yet.
Pros
Incredibly lightweight and pocket friendly
Immaculate design and build qualities
Bright, clear display
Leak proof tank
Superb cloud and flavour from both coils
Exemplary battery life featuring fast type C USB charging capability
Cons
Dirt accumulation around top cap knurling
Fingerprint magnet
Fire button prone to rattling
Tank doesn't sit completely flush with mod
Aspire Rover 2 Kit – Final Review Verdict
OK, there's a lot to unpack here and it's all good!
Starting with the display, and despite being monochrome, it's clear and tidy and holds up quite well in direct sunlight.
I like the way the screen times out after around ten seconds of inactivity, preserving battery life. The mod also powers down when fully charged.
You can adjust the wattage in .1 increments which is useful given the limited range of both coils. It's also possible to adjust in single watts by holding the appropriate menu button down.
The "round Robin" feature is also available. Once you hit 40W, a single press of the + menu button returns the mod to 1W.
Aspire Rover 2 Kit Battery Life
I tested battery life under various power settings with both coils. Moderate to heavy vaping patterns were employed.
In return I received a whacking 16 hours continuous use from the Nautilus X coil before plugging in the USB charger.
Unsurprisingly the 0.7ohm Nautilus XS mesh coil responded differently.
Certainly the more powerful of the two, I still managed a highly respectable 12 hours continuous vaping.
It takes only 90 minutes to bring an exhausted battery back to full strength. Big up that 'ole type C USB charging!
Aspire Rover 2 Kit – Coil Performance
The Nautilus X (1.8ohm) coil only began to run into trouble when vaping at the highest recommended wattage.
With airflow wide open restrictive direct lung hits were displaying signs of potential dry hits. Since this is a MTL coil, I couldn't afford the risk of burning the cotton.
At lower output settings and used as intended the coil was superb. In MTL mode with short tugs the flavour and cloud was excellent.
The Nautilus XS (0.7ohm) coil really does crave airflow.
Even with airflow wide open there's still a restriction in place. By carefully dialing in there's the potential for some extremely good flavour and cloud production.
Attempting a MTL vape only results in too much heat and a decrease in overall performance.
General Observations
There is slight rattle to the fire button but no biggie.
The colour panels can be something of a finger print magnet. The tight knurling around the top cap also gathers skin oil and dirt very quickly.
No leaking whatsoever, but do take care not to overfill the tank. Escaping air will cause liquid to gush over the side when replacing top cap.
The threading is immaculate, and the connection between tank and mod is seamless.
Screwing and unscrewing the top cap demonstrates a buttery smooth action.
The coils are also very easy to install.
I did notice that the tank doesn't screw all the way down onto the mod.
There's daylight visible between the two.
Although this may bug some "A" retentive vapers out there, it doesn't affect performance at all – again, no biggie!
The drip tip is comfortable and purposefully designed for the style of vaping -both MTL and restrictive DTL.
At no stage did it become too warm to vape on – the benefits of PEEK material.
The kit is very lightweight, portable and easily concealed in the hand when stealth vaping. Half the time I was unaware of even carrying the Aspire Rover 2, it was such a comfortable fit!
When Looks Are Everything
The coils fire instantly which is testament to the conductivity of the gold plated contact points. No doubt they played a role in the clean flavour quality.
It would be nice to see Aspire release a coil capable of 30-35W to maximize the potential of the mod.
That's merely me being greedy lol!
Finally, The Aspire Rover 2 Kit is an absolute stunner in terms of looks, design and build quality – I took to it like the proverbial duck to water.
There's just so little to fault having the versatility to vape in two different styles.
Totally without flaws of any relevance.
So, yeah! A flawless kit.
Are you already using the Rover 2 kit?
Planning to buy it?
Let me know in the comments below!