The Aspire Tigon is one of the latest 'hybrid' style stick vape devices that crosses a mouth to lung (MTL) starter kit with a Sub Ohm device in an attempt to appeal to a much wider audience. But does this make it a good fit for new vapers?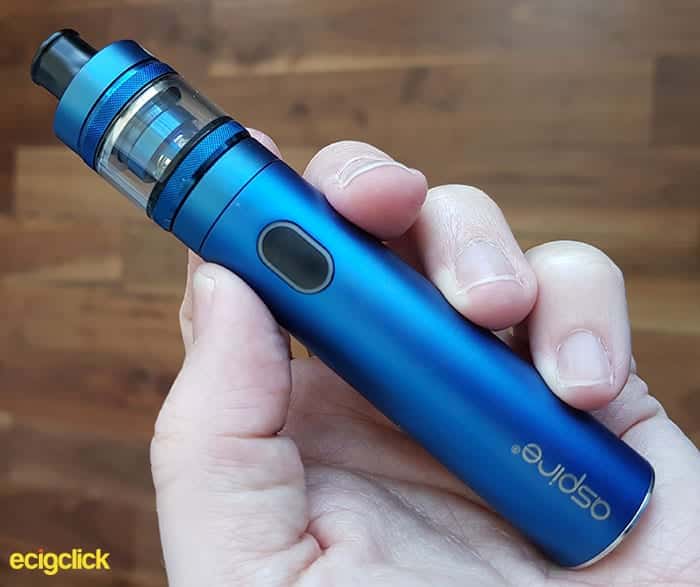 Aspire, for the uninitiated, are one of the longer standing vape brands that have, over the years, brought us some quality vape kits. Kits such as the K1 Stealth, Skystar Revvo and Zelos just a few that come to mind.
It is their tanks in particular where they really made a name for themselves. It seems the majority of those vaping for 2 years+ would, at some point, have had their hands on an Aspire Nautilus tank or Cleito.
What Can We Expect From The Tigon by Aspire?
The 'Tigon' is a hybrid cross between a Male tiger and a female lion.
In vape kit form it offers a respectable 1800mAh battery with two Nichrome coil options, 1.2Ohm mouth to lung (MTL) and 0.4Ohm Direct to Lung (DTL). This is all wrapped up in a battery/tank combo that looks the part.
This is also available in a standard edition for those not tied to TPD rulings, this a slightly bigger device overall (24.5mm x 142mm) featuring a 2600mAh battery and 3.5ml tank.
OK.. Let's pounce on this.
This device was sent for the purposes of review. As always my views are my own.

In The Box
Tigon Battery and tank
2 X Coils: 0.4ohm Coil (23-28W) | 1.2ohm Coil(10-12W)
Spare Glass tube
Two drip tips (Mouthpieces) – One For MTL & One For DTL
Spare 'O'rings
Screw adjustment tool
User Manual
Warranty Card
Features
Dimensions: 23mm x 123mm (2ml TPD edition)
Battery: Built-in 2600mAh (standard edition) | 1800mAh (TPD edition)
Output Voltage: 3.3-4.2V
Continuous Firing Time: 10s
Child lock safety function (TPD Edition)
Design and Build Quality
The intentions of Aspire become evident when opening the box with the inclusion of two Ni80 coils.
One being tailored to the mouth to lung user and the other designed for the direct to lung enthusiast.
There are also two drip tips to suit either style of vaping.
Read more: What is the difference between Mouth to Lung and Direct to Lung vaping?
The Aspire Tigon comes in a few colour options. Stainless steel, blue, rainbow and black.
The smooth paint finish (on the blue) is quality and this only adds to the comfort of the device in the hand. Solid build quality all over.
The Tigon Battery | Mod (The Lion)
The TPD edition Tigon mod/battery is comprised of an 1800mah internal battery that has a side mounted Micro USB connector allowing the device to be charged in an upright, vertical position.
On the opposite side, also located to the upper portion, is the raised plastic fire button that feels very tactile and responsive.
A subtle Aspire logo climbs up from the base of this 23mm diameter device.
It's the usual five clicks to power on and five clicks to power down with indicator lights showing battery life remaining:
Fully charged battery will illuminate
Mid strength displays blue.
Be ready to recharge when the indicator turns red.
Short circuit protection is provided and a maximum ten second draw can be achieved before the device cuts off automatically.
An overcharge protection feature is included to save battery life and prevent damage.
The tank itself is where most of the weight lies, being almost twice as heavy as the mod itself. Let's move on to that.
Tigon Tank (The Tiger)
The airflow control ring is at the heart of the tanks versatility offering between one and five pinholes for that restrictive mouth to lung (MTL) pull.
Or the cyclops style airflow opening best for use with the 0.4Ohm coil and wide bore drip tip for a restrictive Direct to Lung (DTL) vape.
Further Reading: What is the difference between mouth to lung (MTL) and direct to lung (DTL) vaping?
There are knurling bands above and below the glass tank itself and provide adequate grip during general maintenance and coil replacement.
Separating the tank from the base is achieved with an anti clockwise turn on the AFC ring which will expose the preinstalled " plug and play" 0.4ohm coil which sits snug and reassuringly inside the chimney.
Screw Adjustment Tool | Tank Disassembly
Aspire have included a screw adjustment tool and this is vital if you wish to clean or replace the glass tank.
It works by fully inserting it to the roof of the chimney and locating the screw positioned just under the base of the top cap. A counter clockwise turn will unlock the glass tank from the main body.
This screw also plays an important role during the filling procedure as it prevents the top cap from leaving the main body.
How To Fill With E-Liquid | Lift and Slide Top Cap
Aspire have utilised a lift and slide mechanic with the Tigon to ensure unnecessary wear and tear under normal operation.
To fill with e-liquid:
The top cap needs to be lifted and by placing a thumb against the drip symbol a gentle push will see the cap slide back to expose the e-liquid sealing system.
Push the nozzle through the rubber gasket and upon removal a seal is made preventing leakage. It's the Aspire Liquid Sealing Mechanism in full flow.
The top fill mechanism works well but there is a degree of stiffness on the slide rail that refuses to budge even where liquid is present. It's also best to operate it with both hands as I found it all too easy to inadvertently press the fire Button using a single handed motion.
Filling the tank is easy with the added knowledge that the rubber gasket is sealing the liquid inside.
Tipping the tank upside down with the top slide fully open only helps galvanise this reassurance.
How To Change The Coil
One very cool feature regarding plug and play is that I was able to swiftly change coils with a full tank of e-liquid. When the coil is removed a spring loaded sleeves shuts in place, I didn't spill a drop.
The coil can be swapped out in a few easy steps:
Turn tank upside down – Unscrew base
Pull used coil out of base
Replace with new coil
Screw base back on
Whenever you replace a coil leave for 10 minutes to allow the e-liquid to soak fully into the cotton.
Leaking
At times I encountered leaking issues during more intense/chain vaping sessions. It's one of those habits I've picked up and the excessive heat overload on the coils thinned the juice to such an extent that it effectively seeped out of the airflow openings.
So just go easy and you shouldn't have any issues.
No such leaking occurred when the Tigon was left to either stand or laid on its side.
How Does The Aspire Tigon Perform?
Flavour and Cloud
1.2ohm (Mtl coil)
Using a 70VG/30PG e-liquid ratio (Champ Sauce Title Shot – Cranberry, peach and blood orange blend) and the included 510 drip tip I achieved a gratifying pull from this stock coil.
Flavour was clean, sharp and intense with one of my favourite juice flavours, bringing out all the fruity tones I'm used to with the airflow set fully open in MTL configuration.
This coil is not suited to a direct lung inhale and I found both flavour and cloud diminished when attempted.
0.4ohm (Subohm, DTL coil)
Generous cloud production was achieved with the direct to lung airflow setting fully open and the shorter, wider bore 510 drip tip assisted in providing flavour that was very clean and consistent, offering a satisfying vape.
The mouth to lung option failed to deliver anything other than a single, flavourless puff of warm cloud. So stick to the 1.2Ohm coil for this style of vaping.
Thicker VG Blends
Further experimentation with a DIY 80VG blend and I found, unsurprisingly, the 1.2ohm coil struggling to keep up with wicking. The tank also tended to heat rapidly.
No such occurrences were evident on the 0.4ohm coil.
It's very clear that Aspire have tailored their coils to suit one style or the other so remember to select the right vape juice thickness for the job.
Recommended E-Liquid Ratios
50PG/50VG – 70VG/30PG will work best with the 1.2Ohm MTL coil. If using nic salt then this is the coil.
70VG/30PG – 80VG/20PG will be fine with the 0.4Ohm DTL coil.
There is also a Tigon Mesh coil (0.7Ohm) that we didn't get to try out but with the performance we are getting from mesh it's likely one to look out for.
Coil Life
After a week of moderate use I found the coil performance drop off slightly. No crazy burnt taste coming through though so if you don't mind that slight flavour drop you should get more out of them.
Of course, this will change for each individual as the coil life comes down to how much you vape and the type/flavour of vape juice you are using.
Battery Life | Charging
I gave up on charging the battery after a prolonged five hour period in which the indicator refused to change from blue to a fully charged pink.
The battery itself however, remained very cool to the touch. Subsequent charging took even longer.
One of those unexplainable phenomena of vape equipment or a genuine fault, either way eight hours is defeating the object, especially to a new vaper reliant on their regular nicotine hit.
This erratic charge cycle only managed to last four hours of moderate use under initial product testing.
Pros
Sturdy and compact design.
Top fill system prevents accident opening.
Drip tips to suit MTL and DTL vaping styles.
Raised tactile fire button for ease of locating.
Silky smooth threads.
Exceptional airflow control ring tolerance.
Plug and Play allows coil changing with tank full.
Cons
Could be easy to lose the chimney screw and adjustment tool – Subjective con as all it takes is to keep them in an easy to find place.
Top cap slide mechanism is stiff during operation.
Prone to leak on occasion for me.
Charge indicator difficult to read in direct sunlight.
Erratic battery charging.
Final Verdict
The Aspire Tigon has been designed with a degree of versatility and generally aimed at a user who is ready to take the jump from one style of vaping to another.
Aspire offer this in one of the subtlest ways imaginable and almost guide you gently forwards with a restrictive direct to lung experience that is in no way off putting.
In fact the Tigon encourages you to take that jump.
I'm very impressed with the plug and play coils. They offer plenty of versatility when changing without the need to drain or waste e-liquid.
The classic starter kit appearance is very much on show and the device is compact and sturdy with just enough weight to carry around in a shirt or trouser pocket.
The Tigon is perfectly suited to the vaper that already has experience with starter kits but doesn't want the extra weight of external batteries or knowledge of watts or voltage.
Put simply this is the ideal candidate for those wishing to move into the realms of sub ohm vaping without all the added fuss.
Have you used the Aspire Tigon? How did you find it? Let us know in the comments below!