Today I'm taking a look at the Aspire Zelos X Kit. There have been a few versions of the Zelos kit over the last few years, tracing back to the Zelos 50W kit.
It made use of the characteristically charming Nautilus tank in its second incarnation. The design always reminded of the port holes on a boat.
To this day the Nautilus 1.8ohm BVC coil is still revered and often dubbed as the king of coils.
The Zelos 50W kit was swiftly upgraded to V2 and featured the Nautilus 2S tank alongside a 0.4ohm BVC coil. This meant restrictive DTL vapers could now get in on the act.
The Zelos 3 and Zelos Nano were classed as starter kits, both aimed at the new vaper. Again the new Nautilus 3 tank offered fully adjustable MTL options powered by the latest 1.0ohm mesh coil.
We tell you what the terms MTL (Mouth To Lung) and DTL (Direct To Lung) mean in our Guide To Vape Styles.
If it ain't broke don't try to fix it.
The Aspire Zelos X doesn't break any rules and that's a very good thing. All the coils in the Nautilus series are compatible and the myriad of airflow options remain as before.
I think it's time we took a closer look.
Aspire Zelos X Kit – What Can We Expect?
The first thing we can expect is a slight change of design. It's the first time the Zelos has made use of an external 18650 battery and the appearance reflects this.
As with the Aspire Zelos 3 Kit we still get the same maximum output of 80W. The various vaping modes have also been ported across. Even the same number of MTL airflow options are included with the revised Nautilus 322 tank.
The ever reliable top fill slider mechanic makes a welcome return as does the 0.96in TFT colour screen.
Two new mesh coils are included with the Aspire Zelos X kit.
The fire and menu buttons have a different shape and the display is radically different from the Zelos 3 kit too.
Type C USB charging has been relegated to the underside of the Mod.
..Maybe that's a clever tactic to encourage the use of a dedicated external charger.
Given the relative power limitations of the coils expect a single 18650 battery to last anything up to a few days.
A wealth of airflow options will assure versatility when it comes to either a MTL or Restricted DTL vape.
I'm also expecting to achieve a decent semi restrictive lung hit complete with bountiful vapour production.
Aspire Zelos X Kit – Inside the Box
It's the usual well thought out packaging from Aspire. I'm a big fan of the left and right thumb cut outs because removing an outer carton has never been easier.
It should be mandatory by now!
Zelos X Mod
Nautilus 322 2ml tank
Mesh coil 0.3ohm
Mesh coil 1.0ohm
Spare drip tip (MTL)
Spare O-rings
Type C USB charging cable
User manual
Key Features – Aspire Zelos X Kit
The Aspire Zelos X has a slim and compact design which demonstrates a rugged yet sleek appearance.
The Mod includes a smart ASP chipset supporting multiple output settings such as Variable Wattage, Voltage, Bypass and Temperature Control modes.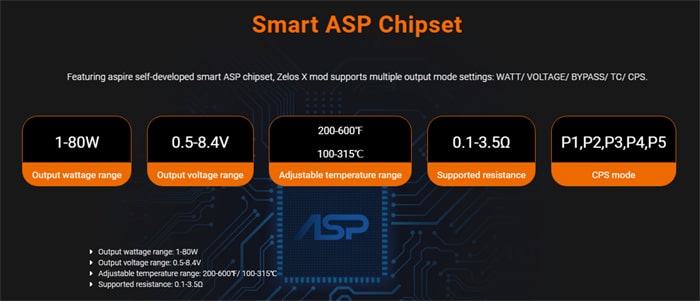 The chipset is also responsible for accurate, intuitive and easy settings via the 0.96in TFT colour screen display. All the relevant information is clearly laid out to facilitate the perfect vape depending on user requirements.
It's even possible to adjust the brightness of the screen depending on weather or general lighting conditions.
The 18650 battery can be charged internally via the type C USB charging port in case of emergencies or when it's running low.
The Nautilus coils now make use of an innovative press fit system. This makes them super easy to install or replace.
Auto shut off valves inside the tank prevent the loss of any e-liquid while replacing or removing a coil.
The Aspire Zelos X is compatible with all existing Nautilus coils.
Aspire Zelos X Kit – Specifications
Nautilus 322 Tank
Size: 22 x 53.5mm
Capacity: 2ml (TPD) / 3ml (Standard)
Coil: Nautilus coil range
Coil parameters: 0.3ohm (23-28W) 1.0ohm (13-15W)
Top fill system
Bottom adjustable airflow
Replaceable 510 drip tip
Press fit coil installation
Liquid shut off valves when removing / replacing coil
Aspire Zelos X Mod
Size: 37.5 x 24.5 x 83mm
510 connector
Powered by single 18650 battery
Modes: Watt/Voltage/Bypass/TC/CPS
Output range: 1-80W
Voltage range: 0.5-8.4V
Adjustable temperature range: 200-600°F/100-315°C
Supported resistance: 0.1-3.5ohm
Continuous fire time: 10s
0.96in TFT colour screen
Type C USB charging port
The TPD and standard (3ml) versions of the Nautilus 322 tank are also available in CRC (child resistant container) format. The top slider of the CRC version cannot be used while the drip tip is in place.
A total of eight colours are available. Choose from Full Black, Black, Gunmetal, Red, Pink, Aqua Blue, Blue and Metallic Silver (under review). Full black features an exclusive black Nautilus 322 tank – My scheme of choice!
Aspire Zelos X Kit – Design and Build Quality
Nautilus 322 Tank
It can be picked up separately in Gunmetal, Black or Stainless Steel. However, I have it on good authority it won't be reaching UK shores.
Drip Tip, Top Cap and Slider
The tank uses 510 drip tips, each with their own embedded O-rings and spares are included. The bore is slightly narrower on the taller 'top hat' style MTL drip tip.

The Steel top cap has a flattened dome appearance complete with rivet style knurling. Since it uses a 'slide to open' system it's more of an aesthetical decision than anything else.
Sliding is super easy. Push forward on the red arrow to reveal the 7mm fill port opening. It should accommodate most bottle nozzles, that's because none of it is obscured by the top cap.
Full kudos to Aspire.
The 510 Pin, Deck and Airflow Adjustment
Focusing attention on the underside of the tank, the gold plated 510 pin is surrounded by peak insulation. It doesn't protrude and doesn't need to. Don't use the Aspire Nautilus 322 on a mechanical mod.
Micro knurling sweeps around the base of the deck ensuring adequate grip when unscrewing.
To remove the deck, turn it in a clockwise direction. The threading is silky smooth with the absence of crunching or chirpy bird song effects!
The deck uses a single fixed 3mm diameter airflow port. The turning tolerance on the airflow control ring is extremely good. Not too loose and not too tight.
The options range from 0.8, 1.0, 1.2, 1.5, 1.8, 2.5 and 3.0mm airflow inlet sizes.
There's limited doming on the inner chimney of the tank. That suggests flavour intensity will be more reliant on the airflow control system itself.
Press Fit System with All Compatible Nautilus Coils
Although the included coils are threaded for backwards compatibility, the Nautilus 322 tank uses a press fit system.
The O-ring compresses down to seat the coil into position. Outer threading on the deck ensures both tank and coil make a firm connection.
As the deck screws back into place four valves open inside the tank to allow juice flow to the coil. When the coil is removed the valves automatically close, preventing the loss of any e-juice.
Aspire Zelos X Mod Section
The Mod is made of Zinc and Aluminium alloy. As well as being relatively light it's also very slim.
The Nautilus 322 tank is front loaded on the Mod. To avoid overhang when using your own tanks make sure they don't exceed 24mm diameter.
The Mod takes on the shape of two cylinders, merging at the centre. It doesn't look like Aspire have wasted any space.
The display wraps around the front cylinder and hides behind the usual glossy black plastic viewing window. It's prone to the usual smudge marks and finger prints too.
Above the screen area a 10mm fire button protrudes which feels a bit hollow when pressed.
An up and down menu rocker switch sits directly beneath the screen.
With a circumference of 20.8mm the battery retaining disc is quite small so be careful not to lose it. Release it by unscrewing in an anti-clockwise motion. Insert a 18650 battery with the positive end facing down.
Threading is more than adequate and takes around 4-5 turns to screw or unscrew.
I didn't notice any battery rattle but a loose fitting fire button and menu rocker more than made up for that. Disappointing.

The underside of the Mod is also home to a recessed type C USB charging port. If you're going to use this (suggested in emergencies only) remove the Nautilus 322 tank before doing so.
This will prevent potential leaking or dry hits caused by resting it in a horizontal position.
Aspire Zelos X Kit – How To Operate The Mod
No smart coil detection is available with the Aspire Zelos X Mod. Remember to always adjust wattage, voltage or TC to levels that are suitable for a brand new coil before you vape, not after!
To do this simply press and hold the down button to rapidly decrease power values. In wattage mode for example, they can be increased or decreased in 0.5W increments. The opposite is also true to increase the value simply press the up button.
Aspire Zelos X Kit – Menu Functions
Press and hold the up and down buttons together to lock/unlock the adjustment buttons.
Press the fire button three times to lock/unlock the device.
Hold the fire and down button to adjust screen brightness.
Hold the fire and up button to enter the menu – then press the fire button to confirm your choice. There appears to be an error in the manual as it states to press the fire button 5 times to enter the menu – but this will result in turning the mod off!
When the selected mode is flashing, press the up or down button to alter other parameters such as puff counter and wattage values.
The Smart ASP chip has all the usual safety features. These include vaping overtime protection, open and short circuit safeguards and prevention against overcharging and overheating.
Almost forgot!
Press the fire button five times repeatedly to turn the device on or off
..silly me! lol
Aspire Zelos X Kit – How Does It Perform?
Ok! Time to 'fess up!
I managed to fry the 1.0ohm mesh coil whilst testing menu functionality. Note to self – Don't mess around with temperature control in the presence of delicate MTL mesh coils..
In my defence it's one of the reasons I never use temperature control. That's my excuse, anyway and I'm sticking to it lol.
Nautilus 0.3ohm mesh coil (23-28W)
I carried out initial tests running the Mod in standard wattage mode at 25W. Bake 'n' vape Salted Caramel Fudge Doughnut was the flavour of choice. It has a juice ratio of 50VG/50PG. We tell you what PG and VG mean in our Guide To E-liquid.
This coil is suited to a loose MTL or restrictive DTL vape so I decided to use the widest airflow setting of 3mm.

There's a humongous level of cloud production created on the widest airflow setting. It doesn't take much of an inhale to achieve either which super impressed me.
However it's far from the quietest of vapes despite any noticeable signs of airflow turbulence. The vape is very cool at 25W which has an impact on overall flavour richness and tone.
The Fudge and Doughnut ingredients are recognisable but the Caramel lacks richness and tastes more like Vanilla. I think it needs a bit more warmth to help create that dessert style vibe.
That would provide the extra dimension this e-juice needs. All that aside, it still delivers enough flavour to satisfy.
Voltage Mode
I swapped the dessert profile for a fruit one to see how the kit responded. I used Melon Twist Fruit by Frumist, a 10mg nic salt e-liquid with a 50VG/50PG ratio.
As you can see by the picture, the display switches to the wattage equivalent in real time.
Don't worry! I reduced the voltage to a sensible 3.7V before carrying out any tests.
It didn't take long for the melon to kick in and neither was there any flavour 'hangover' to note.
The airflow was reduced by half to a 1.5mm setting. This stifled any attempts at a restrictive lung hit. It was still possible but just didn't feel natural so I reverted to a MTL vape.
I was stuck between a rock and a vape place. There was still too much airflow for a successful MTL pull. The drip tip also became hot and uncomfortable even when reducing voltage.
However, when reducing the airflow further to 0.8mm things changed drastically. The vape was certainly in MTL territory and the 1.0mm setting was pitched perfect for just such a vape.
3.4V gave me a very comfortable vape and flavour replication was very good. The melon and creamy textures were all present, holding throughout the duration of the exhale.
Bypass Mode
The Mod fired an initial 3.72V with a new 18650 battery installed. This pushed the coil to maximum wattage parameters and the vape was very punchy, lively and chucking clouds like there was no tomorrow.
Just make sure the wicking ports are submerged or use a full tank otherwise there will be the chance of a dry hit or two.
Bypass mode made for another effective vape and I thoroughly enjoyed the clout a new 18650 battery provided. The restrictive DTL vape was also at its best on the widest pinhole setting, pulling out some excellent flavour intensity across the board with fruit, menthol and beverage profiles.
Of course, effectiveness wains as the battery dies. I always switch back to the usual wattage mode at around 50% and make any necessary adjustments.
Pros
Good battery life
No leaking
Good all round flavour using the 0.3ohm mesh coil
Great vapour production
Instantaneous and very responsive fire button
Slim design makes it very comfortable to hold
Cons
Battery retaining disc can be fiddly and easy to lose
Fire and rocker buttons are loose and shake in their housing
Lips make contact with top cap when using RDTL drip tip (subjective)
Not the best display in direct sunlight even on highest setting
Aspire Zelos X Kit – Final Review Verdict
The seven adjustable airflow slots are no gimmick. Although I was only able to test the 0.3ohm mesh coil designed predominantly for a restrictive lung hit, I was still able to use it for a MTL vape.
That shows the versatility of the Nautilus coil.
Flavour replication was clean and quite tasty even with a dessert inspired profile but the Aspire Zelos X kit really shines with fruit, beverage and menthol e-juice categories.
I was blown away by vapour production – it created more than I was expecting. Again, this can be reduced using a MTL airflow setting for when discretion needs to be the better part of vapour.
Although I never used Temperature Control or customisable power settings (CPS) the Wattage, Voltage and Bypass modes worked very well.
The 0.3ohm Nautilus mesh coil favoured the higher end of its capabilities working most effectively for me with a restrictive DTL vape.
Use 50VG/50PG juice ratios with the 1.0ohm mesh coil and anything up to 70VG/30PG with the 0.3ohm alternative.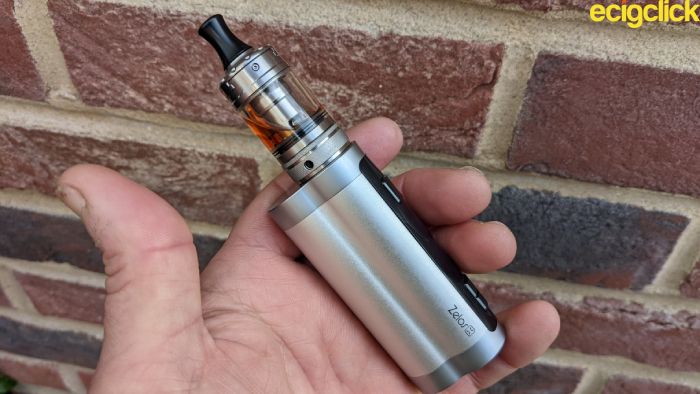 The Nautilus 322 tank is flawless. I love the simple but elegant design. It's built well and Aspire have even ensured that wider bottle nozzles will actually fit through the fill port of the perfectly functioning top cap.
The only cons are the usual negative, niggly Neil ones and they don't affect the functionality of the device.
I'm also chuffed that Aspire decided to think outside of the box by utilising press fit technology with their current and previous range of Nautilus coils. This means compatibility across the board while so many other manufacturers take the path of plug and play.
It's great to see the Nautilus coils holding onto their heritage.
Aspire Zelos X Kit – Who Is It Suited To?
The Aspire Zelos X kit doesn't really limit its appeal.
It's perfect for the new vaper already using a traditional starter pen and looking to upgrade their experiences with improved airflow patterns and broader flavour quality.
The convenient press fit system really helps with any transition.
The 'intermediate newbie' can make a short jump across into the world of restrictive lung vaping while also having the convenience of reverting to MTL should they choose.
Meanwhile, the kit also has enough going on to cater to the intermediate vaper. Someone that's learning more about battery safety and trying to understand the benefits of Bypass or Voltage mode.
Heck! There's even something for the advanced Temperature Control tinkerers out there.
The Aspire Zelos X Kit offers portability, reliability, functionality as well as a great flavour and cloud production.
Do you use this kit? Let us know your thoughts in the comments below!