The Coil Master V2 DIY kit is the new version of the original DIY kit provided by Coil Master.
This time around the DIY kit has had a few adjustments to it, with Coil Master intending for it to provide everything you need to rebuild your own coils and then some.
What Can We Expect From The DIY Kit Bag V2 By Coil Master?
A big new addition to the kit is the new version of the top selling Coil Master Coiling Kit V3, which allows you to wrap the perfect coil every time.
Let's have a look at the Coil Master V2 DIY Kit bag, see who it appeals to and whether it represents value for money.

What's In The Kit
1x Coil Master Kit Bag.
A zip up carry case that has individual slots cut out inside for easy storage of each item.
It would have perhaps been handy to have a handle included on the bag to make carrying it around easier, but it's not too much trouble to carry it around under your arm!
1x Coil Master Coiling Kit V3
This is the latest version of Coil Master's top selling coiling tool, and boy does this make wrapping your own coils easy.
You have 5 interchangeable poles included, that have 1mm, 1.5mm, 2mm, 2.5mm and 3mm diameters, so you can wrap anything from nano coils to thick, meaty coils for high wattage.
It's as simple as feeding a length of Kanthal through the slot and around the post, and twisting the top to wrap the coil. You can get perfect, tightly wrapped coils each and every time with this!
1x Ohm and Battery Voltage meter
First things first, you will need two AA batteries, which are sold separately! This will help you check the resistance of your build, and to ensure that it is stable with no shorts present, which is an incredibly important aspect of safe coil building.
Resistance is measured accurately from 0.01- 19.99ohm. You can also measure battery voltage, which comes in handy if you use mechanical mods, with voltage measured from 0.01-11.99v.
1x Diagonal Pliers
These are spring loaded and come with rubberized handles, diagonal pliers make it a whole lot easier to snip your wires.
1x Needle Nosed Pliers
Again these are spring loaded and have rubberised handles, they have a fine point allowing you to get into small gaps!
1x Stainless Steel Folding Scissors
These fold up nice and small, and are sharp too which makes cutting through cotton easy.
1x Pen Styled Crosshead Screwdriver
For adjusting cross head screws.
1x Pen Styled Flat Head Screwdriver
For adjusting flat head screws.
1x Ceramic Tweezers
A really handy bit of kit here. These allow you to squeeze and pinch your coils whilst firing them, allowing you to make really fine adjustments to your build and nice, tight, pretty coils.
1x Elbow Tweezers
These have a very fine point on them so that you can finely adjust each individual coil wrap, or pull your wicking material through the coil without disturbing your coil too much.
1x Pack of Organic Cotton Pads
Coil Master have generously included a pack of their very own organic cotton pads, I must say these cotton pads wick juice very quickly and have a nice clean taste to them too!
There was initially a slight taste of cotton whilst the juice bedded into the wick but this subsided quickly. It's ideal for RDA's as well as it can hold a lot of e juice.
1x Spool of 24AWG Kanthal A1
You have a 10ft spool of 24AWG kanthal A1 wire included, to build your coils with. 24AWG kanthal A1 is 0.5mm kanthal A1, which is one of my preferred wires for my sub ohm RDA builds, due to its low resistance.
It's thick wire too, which allows you to build easily, just make sure you check your build on your ohms meter before using it!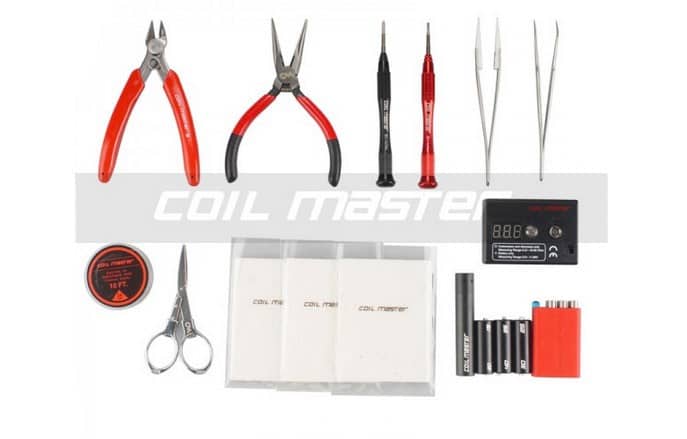 Who Is The Coil Master DIY Kit For?
I believe that this appeals to anyone who already rebuilds their own coils and anyone who may well be interested in rebuilding their own coils in the future. I can't think of a single item that Coil Master have missed from this kit!
Is It Value For Money?
The Coil Master V2 DIY Kit provides true value for money, especially when you consider that you would be looking at paying double the cost at least should you purchase each item individually.
The carry case provided is a great touch as well and each item has its own individual slot within the case, which makes storage a whole lot easier for you!
Final Coil Master DIY V2 Review Verdict
For anyone looking for an all in one kit, or anyone wondering what kit they need for rebuilding their own coils, the Coil Master V2 DIY Kit provides everything you need and then some!
Coil Master have spent months painstakingly researching coil building and the kit required to do so, and come up with a package that covers all of the bases.
The items are well manufactured too- this isn't some hurriedly thrown together DIY package comprised of bargain basement items sold at a massive mark up, it's top quality items that all have their own uses when it comes to putting your coils together.
The nice little touches such as including a pad of Japanese cotton and a spool of 24AWG Kanthal means that if you have got a re-buildable atomiser to hand, you can get going straight away.
Personally I love building my own coils and much prefer it to pre built coil heads, and this kit just makes everything that little bit easier, and I do believe this kit will help introduce others to the world of building your own.
The included Coiling Kit V3 means anyone can wrap the perfect coil every time within seconds, and being able to make fine adjustments to your coils whilst firing them with the ceramic tweezers makes for some really pretty looking coils too!
The folding scissors mean that you can cut your wick to the perfect length each time, and the elbow tweezers mean that you can pull your wick into your desired place without disturbing your coil placement. You'll find just from those examples that your re-buildable experience improves drastically!
Value wise it's absolutely superb, saving you a vast amount of money over buying each individual item separately, and the kit really does cover everything you need. At the price it's available for, it's true value for money, and it's the only kit I need to rebuild from now on!