The Digiflavor Drop Solo V1.5 RDA is the update to the original Drop Solo from 2018.
The Digiflavor Drop RDA was a huge success and there is even a V1.5 of that too! So will the V1.5 Solo be a beauty? Let's have a closer look!
What Is New For The Drop Solo V1.5 RDA?
As with the original this is a small 22mm diameter RDA.
You can clearly see the difference of top cap design – this time a curvy highly polished finish.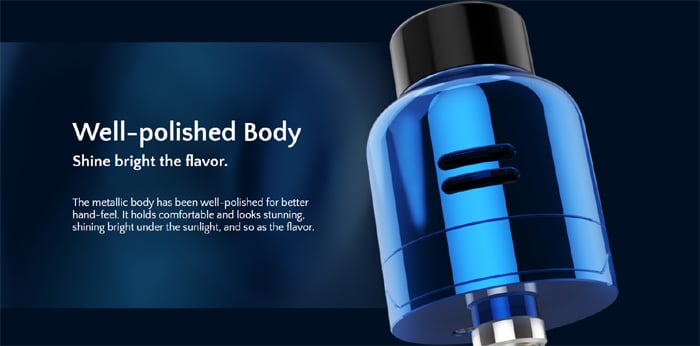 The deck as the name suggests is designed for single coil builds – and if I am honest it looks very similar to the original Solo deck.
The posts have wide clamping holes to accommodate more complex coil builds and the angles below the posts allow for easier coil leg trimming after installation.
You can adjust the incoming airflow by rotating the outer barrel and the airflow is designed to hit the coil from both sides.
Digiflavor say this RDA has a range of airflow adjustment to suit DTL (Direct to Lung) or RDL (restricted Direct to Lung) vaping styles. We tell you what these terms mean in our Guide.
As with the original this has also been created with Squonking in mind. In standard format this is for use as a dripper, but a 510 bottom feed squonk pin is also included.
There are 6 colours to choose from: Silver, Blue, Gunmetal, Black, Rainbow and Gold.

Kit Includes
Digiflavor Drop Solo V1.5 RDA
2x Feather cotton
Triangular tool
BF Squonk Pin
2x coils
Spare parts pack
User manual
Digiflavor Drop Solo V1.5 RDA Specs
Size: 22x36mm
810 drip tip
Single coil configuration
Two post deck with large clamp holes
Adjustable side airflow – RDL and DL
Bottom Feed Squonk pin included
So apart from the styling I can't see many changes for this version – even the deck looks similar.
Let me know what you think of the Digiflavor Drop Solo V1.5 RDA in the comments below!