The GeekVape Ammit MTL RTA is the latest in the series of tanks under the same name and brand.
As the title suggests this one is designed predominantly for the Mouth To Lung vapers out there of which I am one.
What Can We Expect From The Ammit MTL RTA by Geekvape
It's a 24mm single coil top filling tank that features the usual Ammit top to bottom 3D airflow and comes in both 4ml and TPD compliant 2ml packages and is available in a wide variety of colours including the stainless steel I received.
Myself and the Ammit family has had a kind of love hate relationship however once I'd cracked the tricky wicking on the Ammit 25mm RTA I bloody loved it as I did the Zeus RTA and Dual coil Zeus RTA. I was also fortunate enough to review the GeekVape Ammit RDA which I still use regularly.
OK, this is the first MTL RTA from GeekVape however the airflow control suggests this can give a decent if restricted direct to lung vape – we shall look at that later.
BTW an Ammit is an Ancient Egyptian mythical creature – a bit like the perfect MTL rebuildable…so will GeekVape go down in vaping legend?
This was sent to me free of charge for the purpose of this review – thank you – and as always my thoughts and opinions are my own and unswayed by freebies or brown envelopes stuffed with cash…if only lol.
Right let's see how this one performs – BTW isn't it good to see so many new true MTL RBAs on the market? Good to go back to your vaping roots sometimes 😉

Inside the Box
I received mine inside a plain reviewers box – retail versions come inside the regular GeekVape clear plastic clamshell box and inside you'll find:
1x Ammit MTL RTA
1x Spare Glass Tube
1x Drip Tip
2x 1.0ohm Coils
1x Allen Key
1x User Manual
1x Spare Parts Polybag
GeekVape Ammit MTL RTA Specs
Size: 24x 40mm
Drip tip diameter: 2mm/ 3mm
Top to bottom airflow
Leak-proof design
Professional MTL drip tip with two different diameters
12 airflow adjustment options for the perfect restriction
Innovative dual-layer chamber structure to provide outstanding heat dissipation effect
Key Features
Obviously this is marketed as a Mouth To Lung [MTL] RTA [rebuildable tank atomizer] however the 12 options of airflow really does mean this will also give you a restricted Direct To Lung [DTL] vape – more on that in the performance section and you can find out more about the two vaping styles HERE.
The airflow control ring as I've said offers a dozen options. Spin one way and you have 4 graduating sized single holes…spin the other way and you have 5 holes appearing through the Cyclops style slot – you can adjust those to suit your style. Again more on that in a mo!
It's a top to bottom airflow just like the other Ammit tanks with the air flowing down the sides – between the outer shell and chimney – hitting the base of the deck and pushing out in three places – both sides and bottom of your coil – hence the snazzy "3D airflow" description GeekVape puts on this design.
For a 'true MTL' vape that may sound like a lot of air – again I'll get onto that later.
This is a single coil RTA that by the size of the post holes will take smaller wires and really struggle with larger diameters – the included 1.0 ohm coils appear to be 3ml – as to what material they are made from there's no info.
As an aside I do wish more mainstream vape companies would let us know what coils are in the kits…aside over 😉
OK it's a simple top fill with two reasonably sized kidney juice ports and there is a 2ml capacity TPD version with the rest of the world getting 4ml. Sadly my sample pack didn't have the 2ml – I personally think the 2ml will make the overall profile look great.
There's a bit of doming going on in the top cap with as you might expect quite a narrow bore – both features suggesting this will be a flavour chasers dream…we shall see.
It comes with two drip tips that screw into the top cap – in my box I really couldn't tell the difference in size of bore holes but I'm assured in the retail packs there is a 2mm and a 3mm giving a tighter or slightly looser draw…other 510 tips do fit directly into the top cap if you remove the housing for the proprietary ones.
BTW both drip tips are black so the anti Ultem brigade will be happy 😉
It's a 24mm tank – it's not exactly dainty to look at compared to some MTL RTAs on the market – however the deck is tiny with an almost finesse feel to it. With two thin posts and tiny cross-head screws – the post holes are equally tiny so no crazy builds in this one – not that you would given it's predominantly an MTL device for lower power.
Design and Build Quality
I've alluded to the Geekvape Ammit MTL RTA being a little shall we say 'chunky' to look at compared to some other MTL RTA's out there but sitting pretty on my JAC Vapour DNA 75 Sandstorm I'll take that back – match made in Heaven especially I would imagine with the 2ml glass…nice.
I did however remove the awful orangey / red O ring from the top of the tank and replaced it with a clear one after the review – just my personal taste as I thought the coloured one cheapened the look a little.
I do like the overall look of the Geekvape Ammit MTL RTA – the knurling is just enough to do the job without being in you face and the lack of logos everywhere is always refreshing. The Ammit logo etched on one side of the chimney section is just muted enough to not overpower.
As to the build quality the machining is very good indeed with even the internal of the chimney polished and free of scratches or blemishes – indeed all the metal parts on mine are wonderfully clean and mark free.
The whole thing comes apart beautifully with even the initial dry O rings being just strong enough and the threads whilst a little screechy at first get much better over time.
So the look has grown on me and as is the norm with GeekVape products its built well…so does all that air wash away the flavour?
Let's see how this one vapes.
How Does the Geekvape Ammit MTL RTA Perform?
First up building on this is a cinch even for newcomers to RBAs. One look at the deck will show you how to pop your coil in…you just need to centre it slightly above the bottom airflow and so the side air ports can caress your coil from all sides…ooer matron lol.
Wicking is a doddle too – I cut the legs in the classic bow-tie fashion using the side of the tank as my marker. This is a genesis style deck meaning it's slightly raised and the juice ports are pretty generous though you really don't need to be stuffing cotton in there.
I found thinning the legs out by about a third – snipping off the edges and teasing them into the ports leaving just a touch poking through was the way to go. Given this is a top to bottom airflow you shouldn't have to worry too much about bad wicking leading to leaking – it shouldn't – but too much cotton can and will choke the deck leading to dry hits.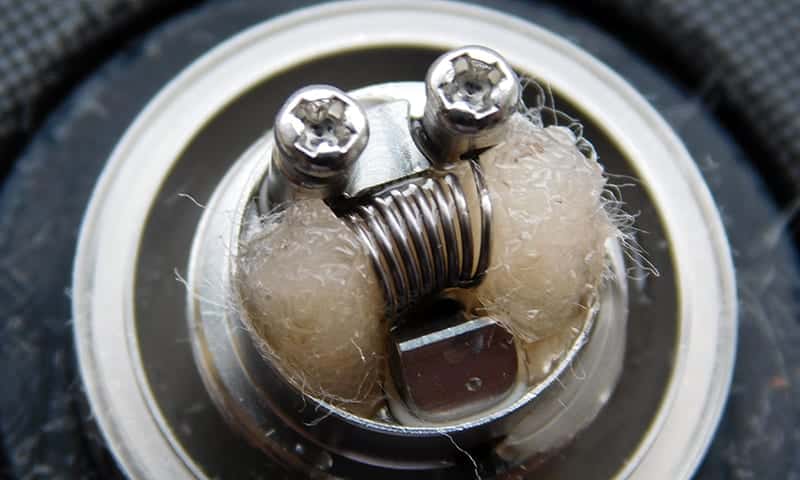 Ooo get me Mr Professional Reviewer giving you advice and stuff lol.
Air Flow on the Ammit MTL RTA
The 12 options are very good indeed and you will find your sweet spot with a choice from a true sucking a hedgehog through a hosepipe [please don't try that at home…it's spiky]to a looser yet restricted direct to lung hit.
So yeah despite all that air around the coil this can be called a 'proper MTL' vape.
Flavour From The Ammit MTL RTA
I'm a dual vaper – both DTL and MTL and with the latter I tend to stick with certain tobacco e-liquid flavours only and have come to know them well.
So vaping on my 12mg tobacco at 50 PG 50 VG that I've used regularly on the Savour RTA and indeed the Ammit MTL RDA – I was absolutely blown away by the flavour off this!
I began at 15w at 0.9ohm with the tank airflow set to its tightest and wow this was indeed tight – tighter than a regular cigarette put it that way – but wow was that flavour intense!
Using the larger single hole airflow I found my happy medium given I like a looser draw and there was no real discernible dip in flavour at all.
I popped in my go to higher VG e-liquid and switched to the Cyclops style airflow. Again pretty much closed off the draw was too tight for me but fully opened I was able to take a lung hit – not too restrictive either – and the flavour was again on par and it coped admirably with the higher viscosity.
My sweet spot for MTL was the largest single airflow hole coming out at 0.9ohm at 21w – perfect for me and very tasty.
The flavour off this is impressive to say the least – even with the max amount of air setting and certainly matches and maybe exceeds my go to Savour MTL RTA and maybe even takes on its little brother the Ammit RDA.
As for clouds – very good indeed – so if you're thinking of using this for those sneaky stealthy toots be careful – whilst it's not a cloud chucker the vapour is impressive!
Pros
Superb machining
Good materials
Good design
Simple to build on
Easy to wick
Fantastic airflow options
Stunning flavour
Great clouds
No leakage!
Cons
Errrm…struggling here…
Maybe the orange o ring but that's about all.
OK a touch noisy maybe on some airflow settings – but that's really nitpicking lol
Proprietary drip tips are plastic threads on metal which may wear after time
Final Verdict
As we've already established despite enjoying chucking a few clouds I am at heart an old school MTL vaper certainly in the mornings – indeed I still regularly use the Innokin T20s tank when out and about – it's on my desk right now.
I've never been able to get my hands on [read afford] one of those high end rebuildable tanks such as the Rose or the awesome looking ESG Skyline…I can dream haha – but if they're anywhere as good as the Savour and this little beauty I would be seriously impressed.
The first MTL RBA I bought was the Berserker MTL RTA [not the Mini – the original] and to be honest I wasn't that impressed – bit leaky for me. However the GeekVape MTL RDA really did open my eyes and had been my go to until the Savour MTL came along – that blew me away to say the least!
So has the GeekVape become my go to? Simply put yes it has but in rotation! It's matching the Savour to say the least and for me that's one of the best tanks in my collection so that says something.
The Geekvape Ammit MTL RTA is a no fuss, simple to build and wick tank – gives astounding flavour and very good clouds.
The clever airflow means you can get your restricted sub ohm vape on OR get the tightest of tight draws for a true MTL vape.
So yeah I absolutely recommend this little beauty…go buy one 😉