The Cube Mini Kit By OBS Previewed
The OBS Cube Mini Kit as you can probably guess is the smaller version of the existing OBS Cube Kit.
The Cube mod originally was a handy sized mod with an 80W max output, adjustable wattage and an excellent 3000mAh internal battery. 
The Mini version seems to be even smaller but you do sacrifice a lot sadly.
This has a constant 3.5V low output which you cannot adjust. You also no longer have a screen and have to instead just make do with an LED light to tell you the battery level.
Even worse than that is the fact that the battery capacity has now been reduced to 1500mAh in the Mini.
If you buy the full kit you get the Cube Mini tank. 
There are 2 coils included in the kit. The N1 coil is apparently designed for Nic salts and is 1.2ohm. The other coil in the kit is the S1 0.6ohm Mesh – which you might be able to use with Nic Salt but might be more suited to higher VG / lower nicotine E-liquid.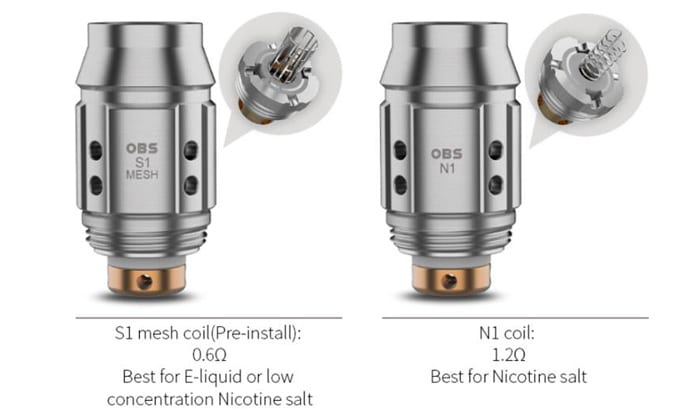 When using the N1 coil you may want a more restricted airflow – so the airflow adjustment caters for this with 4 small holes. However if you continue to adjust the airflow there is also a larger slot for the S1 coil to give a less restricted airflow.
The tank has a slide open top to make filling easier.
There are 4 colours to choose from – Poppy, Aurora, Elf, Starry and Sunset.
Kit Includes
OBS Cube Mini Mod
OBS Cube Mini Tank (including S1 Mesh Coil)
Spare glass
N1 Coil Head
USB cable
User manual
OBS Cube Mini 
Mod Specs
Size: 71x26x26mm
Material: Stainless Steel with resin finish
Battery: 1500mAh (internal)
LED battery life indicator
Output: 3.5V
OBS Cube Mini Tank Specs
Size: 21x42mm
Capacity: 3ml / 2ml
Top filling
Coils: S1 Mesh / N1 Coil
Bottom adjustable airflow control – Slot or hole inlets
So this is a smaller kit with a lot less functions and battery capacity than the original Cube. But this might appeal to those who want something very simple to use.
Does the OBS Cube Mini Kit measure up to your demands? Let me know in the comments below!