The Smok Pozz Pro Kit is an update to the earlier Smok Pozz X pod kit.
There are billions of Smok kits to choose from and recent Pod kits include the Novo 2S, Nord Pro, Solus and Thiner.
What Is New For The Smok Pozz Pro Kit?
Comparing the Pozz Pro with the earlier Pozz X there are a few changes.
For a start the Pro version actually has a smaller battery at 1100mAh compared to the Pozz X at 1400mAh.
There is a USB Type C port for charging which has a 0.98A max current rating and Smok say this can be fully charged in 90 minutes.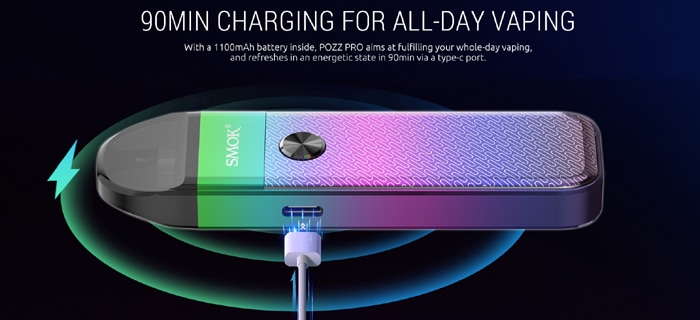 The output on the Pro is lower too it is stated as 5-25W variable wattage, whereas the previous version was 5-40W.
Another downgrade is the screen – the original had a 0.96in colour TFT display whereas the Pro has only a 0.69in OLED screen. But this should still do the trick!
You can use the fire button or the auto draw feature will allow you to inhale on the mouthpiece and the device will automatically fire itself.
A great upgrade though is the airflow adjustment – on the X it was located on the base of the coil however now you have a slider lever on the actual mod itself.
Pod wise this uses the LP1 range of coils which are removable and replaceable.
You get 2 of the LP1 Meshed 0.9ohm coils in the kit – one of them is already installed.
This is refillable via the side fill port with up to 2.6ml (standard) or 2ml (TPD) of your own e-liquid.
There are 8 colour options to choose from: Silver Black Alloy, Silver Red Alloy, Green Blue Alloy, 7-colour Alloy, Black Alloy, Red Stabilising Wood, Fluid Black Grey and Fluid 7-colour.
Kit Includes
Smok Pozz Pro device
Pozz Pro LP1 pod
LP1 meshed 0.9 coil x2 (1 installed)
USB Type C cable
User manual
Smok Pozz Pro Kit Specs
Size: 106.5x29x12.5mm
Output: 5-25W (VW)
Battery: 1000mAh (internal)
Display: 0.69in OLED screen
Resistance limits: 0.6-2.5ohm
E-liquid capacity: 2.6ml (standard) / 2ml (TPD)
USB Type C Charging – 0.98A max charge rate – 90 mins charge time
Pods: Refillable, replaceable coil
Coils: LP1 coils
Adjustable airflow
Draw or button activation
Side fill port
This looks a great kit and I loved the LP coils in the RPM 4 kit so should be tasty too!
Let me know what you think of the Smok Pozz Pro Kit in the comments below!

What Is New For The Smok Pozz Pro Kit?