The Smok Vape Pen V2 takes me back to the original vape pen that was quite a popular device.
Like the rest, it's a simple, easy to use pen styled mod and tank with a seamless look and fairly decent battery capacity.
Of course since those days, Smok has gone wild with mods and tanks, but its pen-style range continued to evolve.
To name a few, the Stick Prince, Stick M17, Stick X8, Stick AIO, Stick V8 (and V8 Baby) and the Vape Pen 22.
So the Smok Vape Pen V2 comes from a long breed of Smok pen style systems.
As a 'never tried' Smok Pen user – I want to know what all the fuss is about.
So let's crack on with the review and see what this kit is all about.
What Can We Expect From the Smok Vape Pen V2?
The Smok Vape Pen V2 contains a 1600mAh battery, Micro USB Port for charging and what you could basically call a generic version of any of the TFV tanks that Smok has released.
But unlike the usual tank and mod combo kits, the Smok Vape Pen V2 does not have the usual 510 connection up top to connect the tank to the mod.
The tank itself can hold 3ml of e-liquid (2ml TPD) and comes with 2 0.15Ω Mesh Coils.
This kit was sent to me free of charge for the purpose of review.
All views and opinions are solely those of my own and do not necessarily reflect the opinion of others.
Inside the Box
1 x Vape Pen V2
2 x Vape Pen Meshed V2 Coils (0.15)
1 x Micro USB Cable
1 x User Guide
Specs and Features
Size: 117.7×22.0x94.5
Battery: 1600mAh Internal
E-Liquid Capacity: 3ml (TPD Version 2.0ml)
Output Wattage: 60w Max
Suitable Resistance: 0.14Ω-3.0Ω
Airflow – Adjustable Airflow Ring
Charging: Via Micro USB
Available colours: Red | Rainbow | Black | Silver | Blue | Gold | Gun Metal
Design and Build Quality
The 22mm Diameter Tube style kit by Smok is made of a materials I cannot confirm.
My guess is aluminium alloy, or perhaps zinc alloy.
Nonetheless this is a very simply styled device.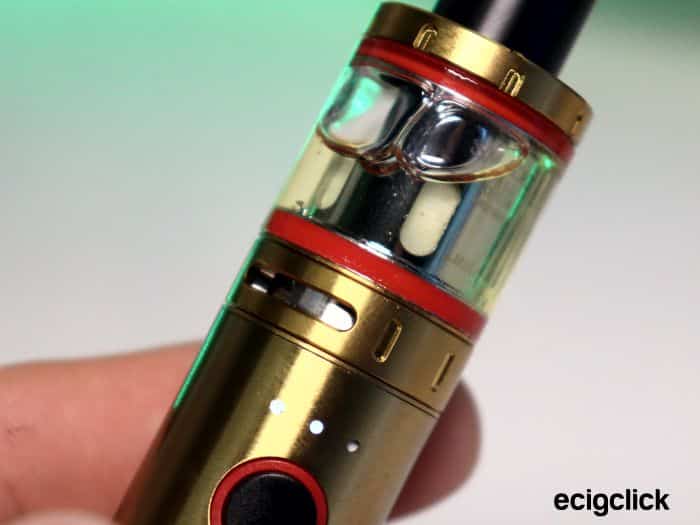 I received the Gold colour variant of the Smok Vape Pen V2, and even thought I'm not a big fan of gold kits, I really can't fault the build quality and finish of this kit.
On the face of the device is a large round, slightly spongy fire button and just above that are 3 small LED indicators to display battery life.
On the other side is the Micro USB Port for charging the device.
Smok Vape Pen V2 – the Tank
The tank itself is not removable as such.
In simple terms, the base of the tank is built into the device itself meaning there is no 510 connection so you wont be able to make use of the 1600mAh battery with another tank.
Up top is a non-removable drip tip that I would almost put down as a slim-line 810 style drip tip, but it is also screwed into the top of the tank which needs to be unscrewed, in order to fill the tank.
The coil screws into the device from the top with the top-section then screwing down onto the coil which then makes the glass seal in position.
At the top of the device, or base of the tank – whichever way you like it, is a nice airflow adjustment ring which has a stopper so it does not spin freely.
Smok Vape Pen V2 In the Hand
The Smok Vape Pen V2 is really no bother to hold and carry.
Being only 22mm in diameter and 117mm in height, its very lightweight and nice in the hand.
The fire button is also very nicely placed for a very comfortable thumb fire but when using as a finger firer, I find it a little uncomfortable.
How To Fill the Smok Vape Pen V2
Here's how to fill the Smok Vape Pen V2 with e-liquid:
Unscrew the drip tip Anti-Clockwise
Fill with your desired e-liquid
Re-fit the drip-tip cap clockwise
Allow the e-liquid to saturate the coil for around 5-10minutes
Smok Vape Pen V2 Functions
There really isn't much to learn when operating this piece of machinery.
Here's all you need:
5 Clicks of Fire Button – Device On/Off
2 Clicks of Fire Button – Check Battery Life
How Does the Smok Vape Pen V2 Perform?
I was using a high VG (80VG-20PG) variant of Code Red by Darkstar to really give these coils a bit of work to do.
Read more: VG VS PG In E Liquid: All You Need To Know
Smok Vape Pen V2 – Flavour and Clouds
The Smok Vape Pen V2 has no option to adjust the wattage, So I gather there is some magic in this device which will automatically adjust the wattage to the recommended, depending on which coil is installed.
However because only 2 of the same coils are included in the kit, I'm unable to test this logic.
Smok Vape Pen V2 – the 0.15Ω Meshed Coil (30-50w)
Regardless of where you set the airflow, I've been impressed with the flavour from these coils.
For me, they work better with fruits than they do with desert style e-liquids.
They just seem better at bringing out the sweeter, tropical flavours in comparison to the custards and the cakes.
The Smok Vape Pen V2 is a fairly cool vape until you close the airflow down below half open, at which point you can enjoy a slightly warm vape, but there are some drawbacks to restricting the airflow that much…. See below…
Smok Vape Pen V2 Airflow
I'm going to have to break this category into two, the first is how the restriction changes, the second is how the noise changes!
With regards to restriction – When wide open, the Smok Vape Pen V2 offers a very loose Direct-Lung Vape in typical Smok style, however, it's not TOO much, it's just very loose.
Knocking that airflow half way – there is a slight restriction which is very comfortable and maybe a little increase in flavour.
Knocking down again to quarter open – a nice restrictive direct lung vape.
Now, onto the noise…In simple terms…
All the way open – fairly quiet, nice and smooth.
Half way open – slightly noisy, and almost feels a little rough with regards to its smoothness.
Quarter open – still just slightly noisy, but also a little whistle and still rough with regards to smoothness.
Smok Vape Pen V2 AirflowBattery Life
Considering the 2 main factors… A 1600mAh battery, and the 0.15Ω coils included.
The Smok Vape Pen V2 does a fairly good job.
Day to day, I've enjoyed an average of around 8 hours battery life but to be honest, I feel with these coils in particular the Vape Pen V2 doesn't last long enough.
There are a few other coils available however, a 0.6Ω, 0.3Ω and a 0.25Ω which will all probably do a better job of preserving battery life.
Charging the device, is fairly slow. I've found its taken over an hour to charge
This device could really do with a 2A USB Type C Charge port allowing for a fast charge.
Pros
Decent flavour
Simple and easy to use
Good build quality
Cons
Small tank capacity
A little noisy
Battery life not the best
Charges fairly slowly
No Wattage Adjustment
Final Review Verdict
As much as the Smok Vape Pen V2 dishes out good flavour, I'm a little disappointed.
Now maybe I'm asking too much, maybe its simplicity and minimal features are what people want?
But I just feel the device is a little outdated with a Micro USB Port and no wattage adjustment. The tank also has a low e-liquid capacity and is a little 'Old Skool' to fill.
But again, if its convenience, portability and simplicity you desire, the Smoke Vape Pen V2 does a good job of ticking those boxes.
So if you're not to fussed about the other stuff then the Smok Vape Pen V2 may be an option.
Just don't expect to be able to tailor your vape to exactly how you like it. You get what you're given and that's that.
Does this device deliver the flavour, vapour and general experience I require, in order to be enjoyed?
With regards to flavour, Yep. Decent flavour and a nice little cloud chucker.
The general vape experience is what it is and there is very little you can do about it apart from adjusting the airflow.
Is this device versatile to suit a new vaper, and an experienced one a like?
I would say this device is probably only for one type of vaper – someone that just needs simple on-the-go vaping with no faff.
If you're new to vaping, this may get you going but certainly not if you're looking to match a lit cigarette-like experience.
Have you bought this vape kit, or likely to?
Or have you given it a try?
Let me know your thoughts in the comments below.