The EcigClick Team Tell Their Personal Vaping Stories – Part One
As part of our own Stoptober campaign we thought we'd share with you our own 'vaping journeys' to show you that if we can quit smoking then you can too.
Vaping isn't the magic bullet to quitting – you will still need willpower and where possible support – but as the NHS is now saying e-cigarettes are among the most effective methods to quit those cancer sticks.
Many of us in vaping and a ton of health professionals would argue it is the BEST way to quit – but we can't really say that yet – though I'm pretty sure that day is coming 😉
However of great significance is the NHS's decision to feature e-cigs in their yearly stop smoking campaign – a definite step in the right direction to say the least.
OK in the first part we'll look at the personal quit smoking stories from Michelle – Laura-ann – me and site admin Jonny.
Next week we'll be looking at the rest of the team's stories so keep an eye out for that post!
I hope from reading these – and if you're a dual user – still a smoker – or considering quitting using e-cigs you'll get inspired to give it a go!
Laura-ann Burgess – First Cigarette at 10-Years-Old!
I had my first cigarette before I was 10 years old, no lie.
At 30, my lungs were killing me, I couldn't jog for breathlessness and I literally felt guilty every time I smoked because I knew that with my health…I was killing myself.
I'd been through the roll your own stage for years but now my lungs were so bad I had switch to tiny vogues with menthol to mask the tobacco flavor which I no longer liked.
But I just couldn't give up. My first vape was on a Twisp, an SA brand I think…their liquids are high PG and their devices less than decent.
It put me off vaping and sadly, I returned to fags.
Then, when I noticed bigger devices on the market I researched, learning about lower resistances and VG/PG ratios as well.
I realized I was PG intolerant and decided to try an Eleaf iStick with a higher VG liquid (I'd first tried a cigalike!) and it was Amazeballs!!!! I've since dedicated myself to reviewing because I don't want people to try the wrong device, like I did and end up returning to smoke and possibly get very, very sick!
I started with insanely high, 18mg nic. liquid but from there I went to 6mg within 2 bottles time. After that I cut out nicotine completely, although I still have it on occasion, like when I'm exhausted and could use a wake up.
I found nicotine so easy to cut out once I was vaping. I found the transition incredibly easy because I was REALLY concerned about my health and determined.
Michelle – Dual User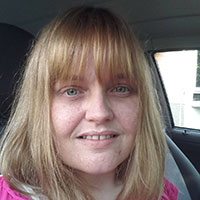 Well I'm the rotten apple in the barrel as I am still smoking!
However in the last 4 months I have come down to about a third of the tobacco I used to use. Which when you read my smoking history is pretty incredible – and with vaping I have found it very very easy to cut down.
I have tried to give up – half-heartedly – many times in the past, tried all the usual methods, Zyban, Champix, Inhalators, patches, lozenges.
All helped but in my heart I really didn't want to give up – I was making myself. Needless to say none of these methods were successful and the tablets made me quite poorly too.
Being asthmatic and having various health conditions it really would be in my best interests to stop – but the honest truth is I like smoking, and making myself not smoke would make me very depressed and therefore more at risk of picking up a ciggie again.
Many years ago I was vaping using Tornado tanks and EGO VV batteries – this set up cost me around £80 then! However I was struggling to find a tobacco liquid I liked – and ended up on menthol but a whole day of menthol was a struggle for me. There wasn't a huge range of flavours then and the liquid was like £10 for a small bottle and I couldn't afford to keep buying different ones. I kind of lost interest in vaping then and sold all my gear. How crazy is that – now £80 could buy you something really incredible!
I found a few years ago VIP E-cigs and loved their tobacco liquid and started getting back into vaping – but was getting so fed up with underperforming tanks I lost interest again.
Vaping CBD Oil Made Me Think About Quitting Again!
I started vaping again about 4 months ago because I started trying CBD oil for my illnesses and I enjoyed it so much I thought about trying vaping again!
So I got out my old VIP E-cig Photon kit, and really got into high VG Heizen and 50/50 Heizen 12mg. Because my CBD liquid was High VG and didn't make me cough like some of the older high PG liquids I thought I would buy similar.
Then I bought a couple of mini Protank 3's and some GS Ego 2 batteries and enjoyed them even more.
Then went and bought a Pico mega and some Aerotanks!
Now using the icare 2 (which I still love!! – got 2 now)
The Pico Mega and Aerotanks (Plus just got a Tron Tank and a Doggy style to get going)
Plus the Cubox AIO I reviewed
Using mainly LiQuid Blackcurrant 50/50 12mg nicotine and one called "Delight" Ultimate High VG 6mg Nicotine.
Still clinging on to the first and last ciggy of the day and after meals – however rest of the time am vaping now woohooo!
I'm finding it hard to let go of the last few cigarettes I do smoke, but in-between them with vaping I don't miss them at all and even have backy sat right next to me at all times. I know if I stop buying backy I will feel deprived and crave it much more – whereas now it's a choice to pick up one of my vaping devices.
Perhaps for Stoptober I should focus on trying to get away from the Tobacco… you have got me thinking haha!
Neil H – Misses Cigars!
About 7 years ago I was at the Hay-on-Wye book festival and spotted a man using an e-cigarette and struck up conversation.
He was Dutch and after trying it out I was intrigued and my vape journey pretty much began then.
Like many people I'd toyed with giving up many times through patches – which itched – gums which tasted awful and those sprays all to no avail.
I bought a few of the early ego style kits online and at of all places car boot sales but none really did the trick – too leaky and awful taste!
I followed up with cig-a-likes but they proved expensive given I was at the time a dual user on 40 roll ups a day!
Just over 5 years ago I returned from India feeling awful after smoking myself silly on cheap strong cigarettes and decided to try to quit through vaping though I did dither a bit!
There still wasn't much on the market and certainly none that made me completely switch – so I was a 'dual user' for a while there!
After a bit of research which I'm pretty sure included visiting EcigClick I came across JAC Vapour and in particular their Series-E Version 2 Aero Tank Starter Kit – which I still have.
It was this device along with some heavy duty 18mg nicotine e-liquid that finally got me off the stinkies!
I have had a couple of relapses over the years which I regret and I do miss a good cigar – though at Christmas I do like to treat myself to one or two – I know slap my wrists but man do I like a good Cuban haha.
I am still a dual user – but in this case I mean MTL and DTL 🙂
I still miss a cigarette but mouth to lung vaping on high nicotine e-liquid stops any thoughts of slipping back in its tracks!
Hey if I can do it after 40+ years on Marlboros and roll-ups you can – just give it a try!
Jonny – 'E Cigs Are The Future Mate!'
Like many I tried my first cig at at a very young age although a late starter compared to most.
In the following years I never classed myself as a heavy smoker, from around the age or 16/17 I was smoking around 10 a day and chain smoking on a Friday/Saturday night with a beer in my hand.
It didn't help that smoking in pubs and restaurants was the norm. Anyone remember smoking between courses in restaurants and the smoking section on airplanes?! Seems crazy now..
I went on like this for many a year until 2009 when I noticed these e cig things popping up here and there. A gimmick for sure?
The first e cig I tried was a 3-piece cig-a-like. Was pretty rubbish and for the quality very expensive so carried on smoking.
Then in 2010 I found a few companies making cig-a-likes with just two parts, the cartomiser and the battery. This improved the experience massively. Both American companies where the shipping cost more than the device. If I remember correctly the brands were Safe Cig and Green Smoke. E-Lites and Sky-Cig were just appearing in the UK.
These, for me, were night and day ahead of what I had previously tried and what ultimately helped me stop smoking completely within a few months.
I remember one of my best mates rolling around in hysterics when I first used a cig-a-like at the pub. 'What the effin hell is that!' I got the piss taken out of me in a big way and I remember turning to him and saying 'These are the future mate!"….. as he stubbed his cig out and went to buy another round.
Almost 8 years later and that buddy of mine is now a vaper as well 🙂
Today, like Neil, I'm a dual MTL and DTL vapes. When I'm out I will vape MTL for prolonged battery life and at home I like to vape sub ohm.
The thing is now, smokers have a lot of choice when looking to switch to vaping, maybe too much. I can see how confusing it must be for anyone looking online for information on what device to buy.
Expect to go through a little trial and error. No device or tank is perfect. You will get leaks. You will get burnt coils. You will buy liquid that tastes like shit. It's normal.
If you stick with it though I can pretty much guarantee that you will find a device and e-liquid that works for you and helps you stay off the cigs for good and in my books it's certainly worth it in the long run.
Want to share your story on how you made the switch to vaping? We would love to hear it. Let us know in the comments below!