Vape News Headlines
More USA Vape Bans Imminent? | Did A UK Vaper Really Die From Vaping A Decade Ago? | India's Prime Minister Defends Vape Ban | Malaysia Brings In Tough Vape Laws | Great News For UK's Dinner Lady and 'Make America Smoke Again' Meme
USA Vape Bans Latest – Will Oregon Be Next?
There's been a little breathing space for beleaguered US vapers this past few days with no states jumping on the vape ban bandwagon.
However as you might expect with the current domino effect in full flow – there's been rumblings that others may follow.
As I reported last week, Washington State looks likely to be next to ban e-cigarettes. The emergency order will probably be rubber stamped at a meeting next Wednesday October 9th.
Despite the Centers For Disease Control and Prevention [CDC] publicly linking the spate of deaths and serious respiratory illnesses to contaminated cannabis cartridges bought from illegal street dealers, the Washington ban will include all nicotine based e-liquids too.
Governor Jay Inslee spoke absolute rubbish as to his reason for the vape ban and showed an extremely high level of ignorance saying:
The FDA does not know and review the contents of what's in the liquids.

Anything can be included in the mix.

It's the wild west and that's one reason we're having a health crisis.
Actually Gov – that's not the case when it comes to regulated e-liquids bought from reputable shops – the FDA has known and approved the ingredients since 2016!
But as always with the anti-vape brigade – they don't like letting the facts get in the way of a 'good' story.
Will Oregon Be the Next State To Ban Flavours?
The state of Oregon could be the next flavour ban domino to fall with the state's Health Authority suggesting a six month ban on all things vape.
That includes hardware, nicotine and none nicotine e-liquids and cannabis products.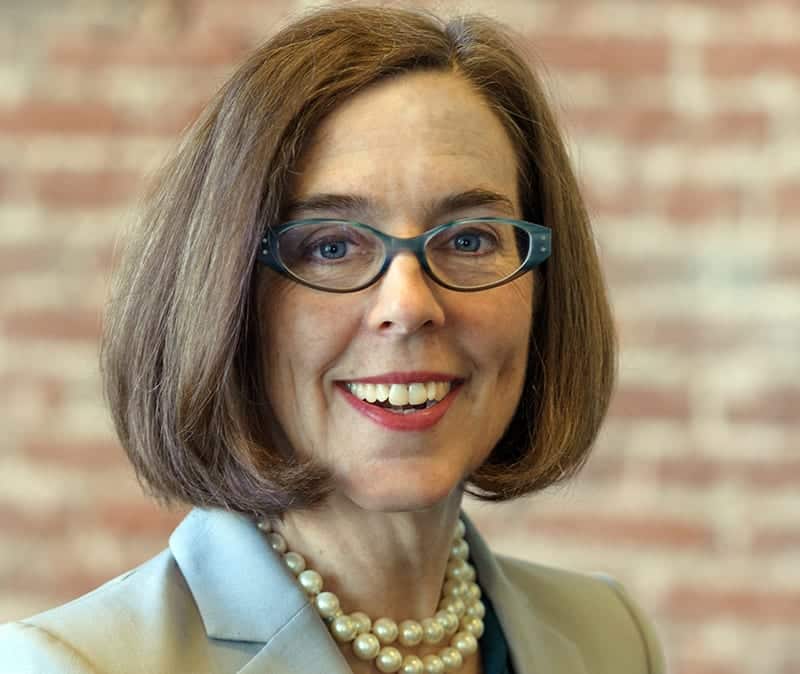 The authority has given Governor Kate Brown a six point plan in what they say will tackle the "deaths and injuries related to vaping".
8 people have been ill with 2 deaths believed to be related to contaminated THC cartridges, hence the Governor looking for answers.
A spokesman for the state said:
These options would require review, coordination and implementation assistance from the Oregon Department of Justice and other state agencies.
Hopefully those agencies will see sense and not order another of those anti-democratic Executive Orders…but don't hold your breath.
Ohio Governor Wants to Ban Vaping
Unlike other state governors who have brought in 'Executive Orders' to ban any form of vaping, Ohio Governor Mike DeWine needs the politicians to vote for one.
He reckons despite the CDC announcing in all probability it's those contaminated THC carts causing deaths and illness, he still believes vaping is a danger especially to kids telling the media his hands were tied:
I would love to, but we do not feel we have the authority to do that.

So we are going to the Legislature and ask them to take action

Nothing is more important than the safety of our children.

Their health and well-being, I believe, are clearly today at risk as tobacco and vaping companies target our kids with orchestrated efforts to get them hooked on nicotine, e-cigarettes and vaping products.
Yesterday saw a pro-vaping protest outside the Statehouse organized by the Ohio Vapor Trade Association with close to 300 protestors, including local vape shop owners attending.
James Jarvis, president of the OVTA said any future ban would shut down 600 stores adding:
It's an adult product, made by adults, to solve an adult issue.
No date has been set for any votes on a ban and as always we'll keep you informed.
Bid To Lift New York Flavour Ban Stumbles
A lawsuit brought by the Vapor Technology Association [VTA] to stop the flavour ban in New York has failed at the first step.
The suit is calling for the ban to be reversed and lawyers for the VTA were calling for a lifting of the flavour ban until the matter is settled.
However a judge turned down the order a decision idiotic Governor "So What" Cuomo applauded:
Make no mistake: this is a fight for the very future of this state and for the health of all New Yorkers, and we will continue using every tool at our disposal to protect young people from forming dangerous lifelong habits.
Tony Abboud, executive director of the VTA, said:
Not only will the State's arbitrary and misguided measure do nothing to address the marketing issues about which the State has complained, it is one of the worst examples of government overreach.
Obviously we'll keep you informed on any developments.
Has the UK Witnessed Its First Vape Related Death?
Despite the mainstream media screeching a man's death from over 9 years ago was caused by vaping, as always the truth is a little less sensational.
57-year-old British glass factory worker, Terry Miller, died in 2010 from lipoid pneumonia and doctors say his lungs were 'saturated' with oils.
His widow has appeared in the news this week attributing her husbands tragic death to vaping.
A inquest into his death in 2011 gave an open verdict, however based on the reported deaths in the US, she wants another one.
Mr Miller – who was a heavy smoker before taking up e-cigarettes – did have an underlying illness – fibrosis of the lungs – that despite treatment many patients can die within 5 years.
The oil found in Mr Miller's lungs is significant especially as vegetable glycerine is soluble – as in water based so it has to be something else that caused his lungs to fill with oil.
No one is saying just what Mr Miller was vaping on or even IF vaping contributed to his death, but as always the media does like to spin and sensationalize any anti-vape story no matter if the facts stand up.
John Dunne, UK Vaping Industry Association Director [UKVIA], said:
It is vitally important to keep these reports in context.

The MHRA themselves say that their yellow-card self-reporting system is not proof that the adverse effects were due to vaping, but a suspicion by people reporting ailments that they believe a vaping device may be the cause of.

Different people can suffer adverse effects from a wide variety of products, from paracetamol to food allergies.

The fact that less than 15 reports have been made in each of the last five years from the UK's 3.6 million vapers demonstrates the very high quality and standards that exist in the UK vaping market.

Smoking causes more than 200 premature deaths in England every single day, and vaping has been proven to make it more likely that people will make that potentially life changing switch.

As with all cases of this type, it's important to look at the facts and evidence to avoid knee-jerk reactions which could have seriously detrimental public health effects in the future, including achieving the Government's ambition for a smokefree future.

The link to vaping was not proven in the death of Mr Miller nearly ten years ago, when the regulatory regime in the UK was very different, and more research needs to be done to understand any potential link, both historic and with products on the market today.
Wise words as always from Mr Dunne.
India's Prime Minister Explains Countrywide Vape Ban
It was of course, all about protecting the children and nothing to do with the Governments closest of close ties with the lucrative lit tobacco industry.
And a court case to overturn the ban heard the Indian Government hastened the total vape ban because of the impending arrival of JUUL!
Lawyers looking to overturn the vape ban had asked for it to be lifted pending the case, however the judge said NO – but did halt the order that ALL vape products should be taken to the authorities for 'disposal!' That stands until the next hearing on November 14th 2019.
However it was PM Narendra Modi who defended the ban telling reporters:
We all know that tobacco addiction is very harmful for human health and coming out of this addiction is also very difficult.

People who consume tobacco in any form suffer problems like cancer, diabetes, blood pressure, among others.

The addiction for tobacco is primarily due to the presence of nicotine in it. For youth, nicotine is very harmful and can have drastic impact on mental growth.
He also says vape tricks are pretty bad too:
They are completely unaware of its danger and for this reason sometimes e-cigarettes sneak into the house out of sheer curiosity.

Kids at times pretending to be showing some magical trick, blow smoke in the presence of Peer Company or their parents, without lighting #cigarette or striking a match to light it! And as if a magic show is going on, the family members respond with applause!
Having visited India I can tell you pretty much everyone seems to smoke with kids as young as 5 puffing on harsh hand rolled tobacco.
As I keep saying in any article about India, the country is home to a staggering 120 million smokers with close to 1 million deaths per year from lit tobacco related disease.
And they still ban the safer alternative to smoking?
Malaysia To Bring In Strict Vape Regulations
The government of Malaysia is drawing up tough new laws regarding e-cigarettes.
The new legislation could come into force early next year and includes the banning of all advertising – a ban on vaping in 'public spaces' and age limits brought in to prevent minors from getting their hands on devices.
There's a round 5 million smokers in the country – many of them starting young.
The revised Tobacco Control and Smoking Act lumps vaping in with smoking.
Better to legislate than ban I suppose.
'Nice' News For Dinner Lady Pod
Vape Dinner Lady make some of the most loved e-liquids on the planet and their new pre-filled disposable pod kit will be rolled out to over 4,000 Nisa and Costcutter stores.
The Blackburn UK based e-liquid company is a multi-award winner and has seen a huge growth in sales and now distributes to 95 countries employing 150 people.
Vape Dinner Lady's chief marketing officer, John Taylor said:
We've had a hugely successful relationship with NISA and Costcutter to this point and this announcement comes on the back of recognition of our premium quality credentials.

We're delighted to partner with such market-leading convenience brands and are certain that, as first national stockists of our unique Disposable Pod, they will enjoy first mover advantage.
Great news indeed.
Vape Meme of the Week
I'll just leave this here as it sums up the current USA vaping ban madness perfectly:
Make America Smoke Again
Sad but true…
More vaping news on Sunday!