I have got my hands on the Vaptio Wall Crawler kit – and no I didn't have to catch it in a cup and throw it outside either!
This is a quirky little kit with a spidery themed mod and also includes the Vaptio Throne Tank.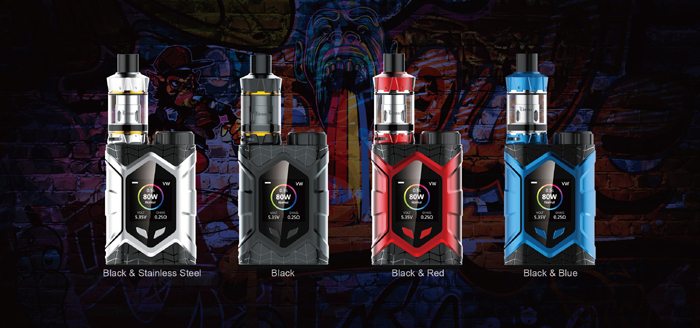 You can buy the Wall Crawler mod on its own, in this kit, or in another kit where the mod comes with the Vaptio Frogman XL tank.
The Wall Crawler Kit from Vaptio
The Vaptio website does lose a lot in translation and I can't help giggling at some of the wording on there. Sorry I just had to add a few of the quotes to illustrate what I mean… affectionate uncle…?!? Likely a reference to Spider-Man's Uncle Ben, not the rice variety.
The Wall Crawler mod – is a tiny little mod which uses a single 18650 battery and can reach up to 80W.
This also boasts a super quick firing time of 0.005 seconds (quicker than a Voopoo Drag?) and a lovely 1.3inch colour screen.
As for the firing speed – I will tell you more about that in the "Performance" section…
A pocket sized feral beast you say – and yes "RIGHT THE F NOW"!!
The Vaptio Throne tank has a 2ml capacity and an auto liquid close off when you open/close the top cap. This feature worked well on the Vaptio C2 kit I reviewed !
The kit comes with a 0.25ohm coil head for DTL vapers and a 1.2ohm coil to satisfy MTL vapers. For help understanding what DTL and MTL mean read our guide!
Can this little web covered kit keep everyone – including me happy? Let's see!

What's In The Box
Vaptio Wall Crawler Mod
Vaptio Throne Tank
User manuals
USB cable
Throne D1 coil head (0.25ohm)
Throne D2 coil head (1.2ohm)
Features
Size: 73x50x28.5mm
Max power output: 80W
Resistance range: 0.05-2.0ohm
Temperature control range: 200-600°F/ 100-300°C
Battery: 1x 18650 (Not included)
Thread: 510
Battery : 18650
1.3 inch colour screen
Fast fire up
Firmware upgradeable
Build Quality & Design
Vaptio Wall Crawler Mod
The first thing you notice when you see this is how tiny weeny it is! Ideal for those days when you just don't want to be a superhero…
It is basically an Eleaf Pico / SMOK AL85 style shape – with a screw cap for the battery compartment. But even the little cap seems small!
The body feels like it is mainly plastic, but it is super lightweight and thankfully Vaptio had the sense to put masking covers on the screen and back part of the mod to protect from scratches – bravo!
On the rear of the mod is a spider logo – and I will warn you it isn't a cute spider either! I haven't really an issue with spiders but even I think this one is looking sinister!

On the side of the mod is a huge fire button which just fits lovely into your hand and will save you having to keep looking where to press. Just below the fire button is the USB port.

The front panel is mainly taken up by that large colour screen which really is super clear. Below the screen are the adjustment buttons.
As you can see from most of my photos the screen is a fingerprint magnet!
The base of the mod has the usual CE compliance symbols and some battery vents.
I have given this a good shaking with and without the battery and not a single rattle.
The Black version was sent to me for review.
On the Vaptio website the info for this mod says there is a retaining collar on the mod 510 connection to save any e-liquid leaks entering the electrics. Good thinking Vaptio I needed a protective guardian…
The mod is designed to be able to use the Vaptio Frogman XL tank which is a massive 26.5mm diameter. I tested this as I have a couple of the Frogman XL tanks and its true it fits perfectly and not obstructed by the battery cap.

Vaptio Throne Tank
The Throne tank was included in the kit and this is equally beautiful. It is mainly black with gold accents.

When you unscrew the top cap to refill this closes up the liquid feed inside the tank. When you replace the top cap just make sure to keep turning until those holes open up fully.
The same "membrane" seal is present in the top of the tank as the C2 – which is to help prevent leaking if the tank tips over. You simply press it down when filling with liquid. I found the same system worked perfectly on the C2.
The Vaptio Throne tank has bottom adjustable airflow and this is super smooth to turn. The whole tank really has a quality feel. Whereas the mod feels more plasticky – not in a bad way though.
In The Hand
How Does the Vaptio Wall Crawler Kit Perform?
Basic operation
To turn on the mod press the fire button 5 times quickly.
The beautiful colour screen lights up and away you go!
I used this in Variable Wattage mode as this is what I am used to.
However there are Temperature Control modes on here for Ni200, Ti and SS316 if you do like to use that.
There is also a TCR mode and a By-pass mode which is "Dope"…
The USB port also doubles as a connection to a PC so you can upgrade the firmware. I have checked the Vaptio website and haven't seen any updates for the firmware yet. Was hoping there might be a few more themes!
To enter the various menus is pretty simple – press the fire button 3 times and the menu screen will appear. Then use the arrow buttons and fire to select the sub menu and item you want:

Mode Menu

VW (variable Wattage) – then taste mode – High, Soft or Normal
TC (Temperature Control)
CCW (Custom curves – wattage)
CCT (Custom curves – temperature) and
By-pass
Setting Menu

System – product info or Restore,
Smoke Time -maximum puff in seconds,
Sleep time – Screen off and Standby times,
Inner resistance – not sure what this is – something to do with testing battery?
Language
Theme Menu
Choose display theme – only one pre-installed – not sure if there will be an update?
How To Install And Charge The Battery
You will need a single 18650 battery to run this. Make sure to buy a well-known good brand, from a reputable seller as there are a lot of dangerous fakes about. If in any doubt refer to our guide to battery safety and recommendations.
I used a single Samsung 30Q in this.
The battery fits into a small compartment accessed by unscrewing the cap on the top of the mod.
If you look on the underside of the cap there is the "-" symbol to remind you the negative battery end needs to be facing the top.

Screw the cap back into position.
To charge it is really best to remove the battery and use a good quality external charger.
The menu also has an "inner resistance" test – which is apparently:
I haven't worked this out at all! When I enter this menu setting I am told there is a "Mismatch" and no other options to select! I think this is because my battery is not fully charged!
The battery life indicator is a bit temperamental too – when you press fire it jumps about and then shows a different capacity than before you pressed fire – sometimes more capacity?
Vaptio Throne Tank
The throne tank has adjustable airflow – you adjust by turning the ring on the base of the tank.
The drip tip is a 510 standard fitting. My drip tips all have O-rings on the base and fitted well in the tank. However the one supplied with the tank kept wobbling!
How To Fill The Vaptio Throne Tank
The tank has an automatic liquid feed closing mechanism. Basically as you unscrew the top cap to refill, the internal liquid chamber closes to prevent leakage. So when you install the top cap keep turning until you can see the tank chamber re-open – or else you will get a rancid dry hit!
Unscrew the top cap.
Push the membrane seal down and squeeze liquid into the tank.
Make sure the membrane pops back into position after filling.
Replace the top cap and keep turning until the chamber slots are open.
How To Change The Coil Head
The Throne tank has a very clever coil design called "Hot Swap".
You don't need to empty the tank or even remove the tank from the mod!

Unscrew the top cap.
Pull the coil from the top of the tank.
Apply some E-liquid to the cotton slots on the coil to help prime.
Push new coil into tank.
Make sure tank is full.
Leave to stand for 5-10 minutes.
Inhale on the mouthpiece without firing the mod to just suck the liquid through the coil.
If you find it is difficult to screw the top cap back on – the coil sometimes doesn't sit fully, if this is the case just rotate the coil and it will drop into its slot and the cap should go back on easily.
Flavour & Cloud Production
The Vaptio Wall Crawler kit with Throne tank includes 2 different coil heads.
The 0.25ohm is for DTL vapers and will need higher VG% E-liquid and less nicotine strength 0-6mg/ml.
The 1.2ohm coil is for MTL vapers, for this you will need at least 40%PG or more in your e-liquid and is for higher strength nicotine liquids – 9-20mg/ml.
Further Reading: What is PG and VG in E-liquid?
0.25ohm D1 Coil Head
This is a Ni/Cr coil head of 0.25ohms. The wattage range is 30-70W but for optimal performance Vaptio recommend 40-60W.
The E-liquid I used was 80%VG 6mg nicotine and I left to stand for 10 minutes.
I am loving this coil – it is excellent, at 60W this is perfect, good taste, vapour and throat hit.
I found it a bit weak below 60W but above 60W this is really excellent.
Sadly within a day I had burnt out the 0.25ohm coil – I know I am a total muppet.
Taking photos to illustrate the liquid flow chamber open and closed, I forgot to open the chamber back up – tried to have a few vapes and ran the coil dry – urgh – please don't do that!!
Am totally gutted as I was really really loving this coil!
1.2ohm D2 Coil Head
The 1.2ohm coil is made from FeCrAl and is rated for wattages 5-20W and optimum performance is stated at 10-15W.
I used a thinner E-liquid for this, the "So Good" E-liquid which is 50%PG/50%VG and is 11mg nicotine strength.
I started at 12W and knocked the airflow adjustment to a more closed setting.
This works perfectly, great throat hit – in fact a massive throat hit! Good flavour – not much vapour but I have just changed from 80%VG E-liquid so it will feel like a huge drop.
At 14W this was still great – not much improvement though so I would probably stick to 12W as this is great. Plus your battery at this wattage will last for days!
Battery Life
The battery life will vary according to the battery you choose and also what settings and coil resistances you have.
I can only report back on my battery life using the Samsung 30Q battery and running at 50W I got just under 6 hours.
Obviously running at lower power with the 1.2ohm coil or similar you will get a lot more battery life!
Mod Performance
Now this mod promises a super quick firing time of 0.005 seconds. I can't say that I noticed this much however there was a slight oddity!
I thought this was kicking out more power than was stated on the screen. So I popped other tanks on here which I usually use at 60W on many other mods. Only to find I was getting dry hits and burnt taste. I was having to scale the power down to 50W.
So I put the same tank on other mods and checked the voltage kicking out at 60W.
On the Wall Crawler – 60W on 0.26ohm coil (using the Innokin Riptide Crios tank) I tested this in the various taste modes. Sadly I had burnt out the included DTL coil for the Throne Tank.
"Soft" the mod is kicking out 3.6V at 60W which is slightly lower than other mods
"Normal" 60W it is 4.3V ish
"High" it is doing between 4.4-4.8V at 60W wow!
The same tank on my Wismec Sinuous P80 with the same battery at the same wattage was 3.8V. On my Wismec Sinous Ravage 230 at 60W the voltage was 3.87.
So this little mod in "Normal" and "High" taste modes is kicking out a lot more power than you would be used to. So if using a different tank on here I would start with a lower Wattage than normal if using those taste modes.
Pros
After installing the battery I had this up and running and set to my preference in less than a minute! So easy to use.
Small and super lightweight.
Beautiful screen.
Surprisingly powerful and the Taste modes do make a difference!
Lovely vapour and taste with 0.25ohm coil.
Easy to change coil.
Easy to fill.
Able to use tanks of up to 26.5mm diameter on this tiny mod!
Wattage adjustment is in 1W increments – so it's really quick to move through the wattages – not in 0.1 increments like most mods.
Cons
Wobbly drip tip on Throne Tank.
Instructions pretty vague.
Battery capacity display can be a bit erratic.
Not sure what the inner resistance test is meant to do as I couldn't get it to work – not a very "affectionate Uncle" huh!
Not a huge con – but the power output is weird and took a bit of adjusting to get it to suit tanks which I usually run at 60w on other mods.
Final Review Verdict
I have reviewed some Vaptio devices before, the C2 really impressed me and I think the Wall Crawler is actually even better!
The Vaptio Wall Crawler mod itself simple to use, full of functions, very cute, smaller than you would think and that screen is a joy.
The Throne tank really impressed me – the vape is as good as the C2 which I also loved. I had just a few niggles in using it.
I cannot stress this enough – make sure that the liquid chamber holes are open before vaping – I knew all about this in the C2 kit, however even I forgot and burnt out the 0.25ohm coil by accidentally leaving the holes closed. Grrrrrr!
Because of the having to rotate the coils to install them and having to make sure the liquid chamber is open before vaping I have had to drop a few marks in the ease of use category – sorry! I am pretty experienced vaper and even I forgot to open the liquid chamber so I'm sure it's likely others will too. Then your coil is ruined and you will cry!
In the first 10 minutes of using the mod I already felt at home with it, it was easy to set up and just worked how I wanted it to!
The styling isn't going to be everyone's cup of tea I understand but in the black the web motif isn't that obvious.
You can fit some of the larger tanks on this – which is a shock when you see how tiny it is, the Frogman XL is 26.5mm diameter and fitted fine!