The Aspire Nautilus GT Mini is in for review and I'm hoping this follows in the company's tradition of releasing great MTL tanks – especially designed for brand new vapers.
The Nautilus series of tanks has been around for a long time in the vaping world, with the original Nautilus coming out way back at the end of 2013! In fact a Nautilus 2 was my first proper tank.
What's even nicer is that the Aspire has continued to use the same design of coils, so an Aspire Nautilus BVC coil has become one of the most common coils around, and you can almost always find them in a vape shop!
What Can We Expect From The Nautilus GT Mini by Aspire?
Firstly I should point out that this is a collaboration with Smoker Store if you don't recognize the name, they are the brand behind the highly regarded Taifun series of tanks.
Taifun have long been known for their high end rebuildable tanks, easily costing 3 times the price of this tank.
This is actually the second collaboration with SmokerStore, there first one was the slightly larger Nautilus GT.
Harley reviewed this with the Glint mod back in May, and rated it quite highly!
So the Nautilus GT Mini is the latest in a long line of Nautilus tanks, and we've reviewed most of them here. The original Nautilus, the Nautilus Mini, the Nautilus X the Nautilus 2, the Nautilus 2S, and most recently the Nautilus GT in the form of the Glint Kit.
With such a strong past, does the GT Mini do enough to stand shoulder to shoulder with it's brothers?
On to the review!
This was sent over free of charge for the purpose of review from Aspire – thank you – and as usual, my thoughts are my own and I shall report back honestly with what I find.
Inside The Box
Nautilus Mini Tank
0.7Ω mesh coil (preinstalled)
1.6Ω coil
User manual
Spare O-rings
Spare glass (non-TPD version only)
Specs
Dimensions – 22mm x 54mm
Weight – 40g
Material – Stainless Steel and Pyrex Glass/Acrylic (TPD Version)
Capacity – 2.8ml/2ml (TPD) or 3.5ml with optional PSU Extension tube
Airflow – 5 Stops, 1mm – 2.5mm
Filling – Bayonet Style Top Fill
Design and Build Quality
Vape kits from Aspire always comes nicely presented, and their collaboration pieces are no exception.
It's quite a tall tank for a 22mm atomizer that only holds 2.8ml. This is very much in line with other Taifun tanks, but it might be a negative for some people.
Personally, I think on a side-by-side mod like the recently released Aspire Mixx, I think it looks pretty good.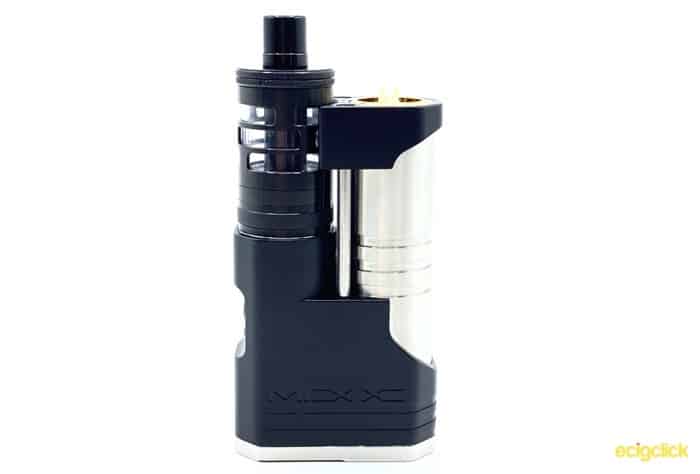 Aspire Nautilus GT Mini Colours
I received the black version of the Aspire Nautilus GT Mini to review, but it also comes in Gold, Blue and Stainless steel.
One interesting thing is that they haven't just coloured them all differently, they actually have slightly different materials to achieve the different colours.
The Black, Steel and Blue all use vacuum plating over the stainless steel (the earlier Aspire GT used DLC for the black), with the gold using gold plating.
Similarly the drip tips are slightly different, the gold uses PEI (ultem) the Steel uses PCTG, the Blue uses acrylic, and the Black uses POM (delrin).
Aspire Nautilus GT Mini Drip Tip
Starting at the top, the drip tip is a comfortable double o-ringed 510.
It has a metal base, and then one of the four different plastics (depending on colour) for the tip.
It's a relatively wide bore for a mouth to lung tank, but all of the restriction is controlled by the airflow.
Aspire Nautilus GT Mini Top Cap
The top cap has very fine knurling, so it's really easy to grip.
There's little dots on the top cap, which you line up to remove it for filling.
Interestingly the top cap has an ultem section at the bottom, which becomes part of the chimney when it's put together.
This should reduce liquid coming up into the mouthpiece.
Aspire Nautilus GT Mini Tank Section
The tank itself is made from Pyrex (2.8ml) or Acrylic (2ml) for the TPD markets.
This is contained within a very attractive stainless steel cage design, which should reduce the risk of cracking the glass if it falls over.
I've always been a fan of caged tank designs as I love how they look. This one very clearly takes a lot of cues from Taifun atomizers, but Aspire themselves have made a number of beautiful caged tanks, going back to the original Nautilus.
Base Section
It's a solid chunk of metal at the base and this serves two purposes.
Firstly it means that it's going to dissipate heat very quickly into the metal.
Secondly, as the airflow holes are cut straight through the solid metal, there's not any chance of losing airflow pressure by it disappearing into cracks and crevices within the base of the tank.
On the bottom of the tank you can see the name of the tank, as well as the two brand names Aspire and Taifun. also the regulatory marks.
Aspire Nautilus GT Mini Airflow Control
The airflow control ring is near the base of the tank, it has the same fine knurling as the top cap, so it's easy to grip.
There are 5 possible airflow options, 1, 1.2, 1.5, 1.8 and 2.5mm.
These all click into position very positively, and due to the size, it's clear that this is aimed primarily at Mouth to Lung vapers.
One thing to be aware of, is that you can turn the ring beyond the smallest hole, closing off the airflow completely. In this position there is absolutely no air going into the tank, so don't try to vape it like this.
It does make sense though, as it's a nice way of making sure you're not going to get any leaking. Also it means you can take a pull on it with no airflow, to help draw your e-liquid into your coil if you're in a hurry to get going on a new coil!
How To Fill The Aspire Natilus GT Mini Tank
Give the top cap a quarter turn, and the two dots will line up.
Then just remove the top cap and fill with your preferred e-liquid.
Be aware that the first time you do this, the internal o-ring from the main body may stick to the top cap.
This is just because it's dry, and after I replaced it where it should be, it never lifted up again.
How To Change The Aspire Nautilus GT Mini Coil
Turn over the tank and unscrew the base.
As there is a long chimney, you can do this whilst there is still e-liquid left in the tank.
Unscrew the old coil from the base, and replace it with the new coil.
If you want to, you can drip a few drops of liquid on the wick holes on the side, known as priming you coils.
Honestly I never remember to, and as long as you leave it to sit for a few minutes before vaping it, you'll be fine.
Screw the base back in, and you're good to go!
Aspire Nautilus GT Mini Coil Choice
You get two coils included with the tank, but that's certainly not your only option! In total you have 9 coils available.
0.15Ω – Triton mini Coil
0.4Ω – Nautilus Coil
0.7Ω – Nautilus Coil
0.7Ω – Nautilus Mesh Coil
1.2Ω – Triton mini Clapton Coil
1.6Ω – Nautilus Coil
1.8Ω – Triton mini Clapton Coil
1.8Ω – Nautilus Coil
1.8Ω – Nautilus NS Coil
Now some of these will definitely be easier to find than other these days, but the 0.7Ω and 1.6Ω that it comes with are widely available and give suitably different styles of vape.
How Does the Aspire Nautilus GT Mini Perform?
It's always interesting writing reviews about something like a Nautilus, because unless they have made some ridiculous mistakes (not much chance of that!), it's likely going to vape very similarly to the previous Natiluses!
Incidentally if you want another take on the coil performance, then I highly recommend Harley's review of it's bigger brother the Nautilus GT.

For these tests I used Berry Ice 50/50 VG PG from SVC Labs, as well as trying Fruity Flavour from El Cheapo at 70/30.
In my experience though, this tank does not get on well with thicker liquids, so I would definitely recommend sticking to 50/50.
Read more about PG/VG in liquids here.
0.7Ω Coil – Airflow and Cloud Production
Fully open you might feel that you can manage a direct lung vape. You can, but only just!
It's quite a restrictive DTL vape, on a scale of 1 to 10, where 1 is like sucking a golf ball through a garden hose, and 10 is totally unrestricted, it managers to hit a 5.5.
The moment you start to close down the airflow, you're definitely into Mouth to Lung territory! Closed all the way down, and it's a 1.5. Very tight!
In fact, even though I like a cheek sucking sort of vape, this was a little too tight for every day, and I found that I much preferred it open up one stop to 1.2mm.
Cloud production is never going to be huge from a mouth to lung tank, even using a mesh coil like this.
Opened up a little, and you can get some puffy little clouds, but this is a very different beast to a cloud chucker, so more of a stealth vape!
0.7Ω Coil – Flavour
Flavour is really punchy when you use 50/50 e-liquid. Plenty of flavour, and it really brings out the sweeter notes of an e-liquid.
The coil is rated best at 20-25W, and I'd say this is bang on the money. You can afford to push it a little higher with 50/50 e-liquid, and the wicking keeps up fine. Anything over about 30W is too much though.
Personally I found that it performed at it's best around 23W.
Using 70/30 e-liquid was a different story though, I just don't feel that you can push enough wattage through the coil to get a particularly satisfying vape.
I could also feel a dry hit looming when I set it a 25W.
1.6Ω Coil – Airflow and Cloud Production
There's noticeably less airflow on the 1.6 coil, as it's a much narrower bore. So this coil really is only for mouth to lung.
Cloud production is, as you would expect, pretty minimal. But it's definitely in line with what I would expect from a high ohm MTL coil.
1.6Ω Coil – Flavour
The coil is rated at 7-11w, but I found that there's not really much flavour until you hit about 10W.
Even then, it's fairly muted. It reminds me of what tanks were like when I started vaping a few years ago.
So I would say that this is one coil in the Nautilus range that isn't a top performer.
Aspire Nautilus GT Mini – Any Leaks?
Not a single leak from this in the couple of weeks I've been using it. I've seen a few drops of liquid collecting around the airflow, but nothing worse than this.
Pros
Great flavour
Striking design
Easy Refilling and Coil Replacing
Cons
Fairly tall tank (subjective con)
Final Review Verdict
Mouth to lung stock coil tanks is a segment of the market that we really haven't seen much innovation in for a long time.
Whilst there are lots of rebuildables MTL tanks coming out at the moment, stock coils seem to mostly big cloud chucking monsters.
So it's no surprise that I'm pretty confident calling the Aspire Nautilus GT mini one of the best of this particular style of tank.
It has all the features you need in a modern tank, easy coil changing and a nicely designed top-fill, added to this it's uses the cracking Nautilus BVC coils it looks the business.
I'm not the biggest fan of the 1.6 ohm coils, so I think they're a bit of an odd choice to include. They definitely give a different experience to the 0.7, but it's not a good experience. From memory, the 1.8 coils were a better vape.
I'd definitely stick with 50/50, or maybe 60/40 e-liquid, as the wicking holes are really tiny.
So long as you're OK with that, I would have no problem giving this tank a very high recommendation.
Is this a tank you're going to buy?
Have any questions?
Let me know in the comments below…