The new Aspire MIXX is another collaboration this time with Sunbox…looks like they like working 'side by side'…
I said on our Vaping Christmas update that what I was hoping for in 2020 was a return of the Side by Side mods.
Well, seems like someone at Aspire was listening to me, because they have partnered up with Sunbox to come out with Mixx.
In fact Side By Side mods seem to be making a bit of a comeback generally, proving once again that the vaping industry goes in cycles and what was old is new again!
What Can We Expect From The Aspire Mixx?
Aspire are a Chinese company formed in 2013, and whilst not as prolific as some vape companies, what they have produced has always tended to be quality.
Some of their most successful designs have been the Cleito range for sub-ohm vaping, starting with the original Cleito which Jonny gave full marks to in 2016.
Also the Nautilus range that was focused on mouth to lung vaping and still uses the same coil design many years later. Jonny also reviewed the original Nautilus way back in 2015!
More recently they've had some good feedback from Gaz for the Cloudflask, Neil who looked at the Rover 2 Kit and the Harley who reviewed the Nautilus GT Kit.
Like the Nautilus GT Kit, this is another collaboration, built by Aspire with a high end designer adding their flare!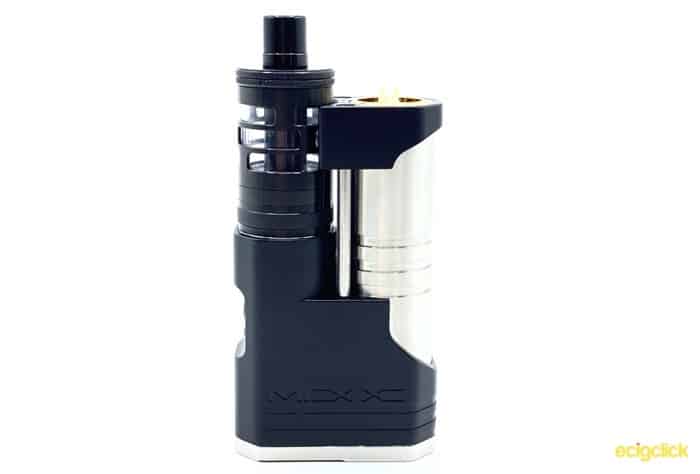 This time it's Sunbox, a mod maker from Italy. They're probably most well know for their side by side designs, so it's no surprise to see that this is the design that Aspire have gone for.
In fact this is the second collaboration Sunbox have done recently, they previously partnered with Ambition Mods for the Easy Side By Side.
The Aspire MIXX is a different beast though. Made of CNC aluminum and stainless steel, the Mixx is a very solid single battery box mod.
So does the "Mixx" of Aspire and Sunbox tick all the right boxes?
Let's find out!
This was sent over to me free of charge from Aspire (thank you). As usual this will not affect my review in any way, and I shall report back honestly on what I find.
Inside The Box
Mixx Mod
18650 Battery Tube (Preinstalled)
18350 Battery Tube
2x Screws
User Manual
Specs
Dimensions – 48mm x 24mm x 83mm/53mm (18650 mode/18350 mode)
Weight – 120g
Material – CNC Aluminium and Stainless Steel
Modes – VW/VV/Bypass
Screen – 0.91″ OLED
Power Output – 1-60W
Battery – Single 18650 or 18350
Design and Build Quality
Aspire MIXX Packaging
As is usual for Aspire, the packaging is top notch. With their collaborations, they show off even more, and this definitely has the feel of a high end piece when you remove the lid and see it sat there.

Aspire MIXX Colours
Aspire has created three colours for the Mixx:
Jet Black, Quick Silver and the one that I received, Tuxedo.
As you can see, the Tuxedo is a mix of the two, with the main body being black, the battery tube and the controls in silver, and weirdly the battery cap in… gold!
No, I have no idea why they went with gold for this one either!
Battery Cap
Now I know that some people don't like screw on battery caps, as they are certainly a little slower than a hinged door when it comes to changing your batteries.
On the plus side, with no spring to take up slack, you don't have any of the voltage drop a spring would introduce, and obviously you can totally eliminate battery rattle.
Aspire have done good work on the cap, and it's easy to get a grip on it to screw it in or out.
You can at least buy the battery cap separately, so if the gold irritates you, you can switch it out for a black or silver. Personally I think it would have looked a lot better as silver.
That's not the only colour oddity about the Tuxedo though.
The 510 plate on the Black or Silver is matched to the colour of the mod.
On the Tuxedo, it's silver on a black body. It's not a major thing, but you might notice if you use a small (22mm) black tank, as there will be a silver ring around the bottom.
These are only issues with the Tuxedo version, the other two are totally colour matched.
Aspire MIXX Body
"Solid" is the first word that comes to mind when you pick the mod up. The main body of it is CNC machined out of a solid block of aluminium.
Apparently this takes 30 minutes per mod!
This is not the first time aspire have used CNC, as well as the standard zinc alloy NX75, they also made a CNC aluminium model, and a stainless steel one.
As well as there CNC'ed block of aluminium that makes up the most of the mod, you also have a steel base plate, and a steel battery tube that rises up and has another piece of aluminium screwed on at the top.
Aspire MIXX Base
On the base is the "Designed by SunBox" and regulatory marks, and this is also where your screen is.
Aspire MIXX Battery Tubes
Now this is something you don't see that often!
As well as the battery tube for a standard 18650 battery, you also have a battery tube for the much smaller 18350 battery.
It's simple enough to switch between the two, but it does require the use of an Allen key.
Amazingly Aspire doesn't include one of these in the packaging, not an issue for me, but it would be irritating if you don't already own a large selection of different sized Allen keys!
To switch between the two you need to first unscrew the two long screws that are on the midline of the mod
Remove the top metal section
Unscrew the battery tube from the base
Screw in the new battery tube
Place the top section back
Use the smaller screws to screw this down to hold it in place
As you can see this is now a much smaller device!
Aspire Mixx Screen and Controls
It's a 3 button mod, with your fire button in a nicely shaped cut out on the front, and your plus and minus buttons (unmarked) on one side.
As with a lot of Sunbox mods, the screen is on the bottom. It's a bright 0.91″ OLED display and it shows all the information you need, the resistance of the coil, volts, amps being drawn, and battery life.
One slight criticism I have is that it only shows the volts and amps whilst you are pressing the fire button. Returning to 0 the moment you release it.
Especially with a bottom mounted screen, I wish it would remain displayed for a second or so afterwards so you could glance at it after vaping.
Aspire Mixx Vape Modes
You only have 3 different modes run by the Aspire ASP chip on this one: Variable Wattage, Variable Voltage, and Bypass.
I think that's enough personally, and I'm quite a fan of the bare bones approach!
Wattage ranges from 1-60W and scrolls in whole watt increments when you hold it down, or 0.1 increments for individual button presses.
How Does the Aspire Mixx Perform?
Atomizer Fit
Side by side mods always require some thought when it comes to what atomizer you're going to put on it.
Aspire say that it will accept up to a 24mm tank, however if you really want to, you can get a 25mm tank on.
What you need to do is remove the screws holding the top section of the mod on to the bottom and take the top section off totally.
This is not recommended, as you are relying on just the threading on the battery tube holding everything together, but it is possible.
As well as width, you also need to be aware of your atomizers height. If you're atomizer is too short, then the drip tip may well end up below the top of the 18650 battery tube.
30mm is the minimum you want from the base of your atomizer to the start of the drip tip. Though obviously if you use it in 18350 mode, you can get away with as short as you want.
Aspire Mixx Battery
The biggest possible change in battery life here is going to be whether you're using an 18350 or an 18650. Using an 18650, this would easily get me through a whole day of vaping around 20W.
In fact I'd go so far to say that it's a shade better than some other recent single battery 18650's, so Aspire has done good work with their ASP chip.
Switching down to an 18350, and you're obviously going to have a much shorter battery life. I tested it out a few times, and whilst it would last me through an afternoon, it couldn't carry on much longer.
As with all battery components on a removable battery mod, a lot of it is going to depend on other factors. Which batteries you're using, what wattage you're running at, etc.
But 18350 batteries rarely get much above 1,000mAh. Whereas an 18650 can easily be 2,500mAh or higher.
Controls in Use
There's a couple of things that I really appreciate with the control set up.
Firstly you can totally power off the mod, rather than just lock it, of course you can slightly unscrew the battery cap to cut the contact as well.
Secondly you can flip the screen. It might seem like a small thing, but it makes a real difference in use!
Firing seems to be pretty instantaneous, so absolutely no complaints on that front.
Pros
Beautifully constructed
Choice of 18650 or 18350
Cons
Slightly odd colour choices on the Tuxedo
No Allen key included to change battery tubes
Screen only displays amp load whilst being fired
Final Review Verdict
I'm really pleased to see the return of the side by side box mod.
It's a design of mod that I was worried we were going to see consigned to history (except for the uber expensive ones by high end modders).
Aspire has done a great job at taking a classic design and updating it.
Whereas most side by sides were limited to 22mm, by taking it up to 24 they've updated it to take a newer generation of tanks.
It's still a relatively basic piece of kit, no Temperature Control, no power curve, and no weird menu items.
However, it does what it sets out to do with aplomb.
Accurate and fast firing in Wattage, Voltage or Bypass, and with a maximum wattage of 60, it can handle a small sub-ohm tank quite happily.
Although I tested it extensively with the Aspire Nautilus GT Mini, I also tested it with the Aspire Nautilus GT.
And you know what? I think that's pretty much a perfect combo.
The stainless steel Nautilus GT has an ultem drip tip, which even makes some amount of sense with the gold battery cap!
Are you a fan of side by side mods?
Is this one you're keen to buy?
Any questions at all do fire away in the comments below.