Today we are going to take a look at the Ehpro Raptor tank. A newly released stock coil tank that has been designed and manufactured by Ehpro and distributed by Horizon Tech.
Ehpro was Est in 2011 and hails from China, in 8 years Ehpro has grown into a fairly well-known ecig manufacturer. They have an impressive back catalogue which include the Billow X RTA, Bachelor X RTA and recently the Kelpie RTA.
When it comes to box mods the superb Cold Steel 100 and its big brother the Cold Steel 200 stand out from the crowd.
What Can We Expect From the Rapor Tank from Ehpro?
Stock Tanks (atomisers that use pre-made coil heads) have been around for what seems forever.
It seems like vaping manufacturers are trying to update the technology which can only be good thing. Not everyone has the knowledge base or time to build coils and maintain RDA's or RTA's.
Most tanks these days have that something little extra in their design or manufacture that makes that tank stand out for whatever reason!
Because there are literally 1000's of stock coil tanks out there on the market the quality varies greatly. What that means is that it can be very hard finding the right tank to suit you!
It's either a case of pot luck or get a good recommendation to choose the best sub ohm tank first time around.
The Raptor tank is a solid atomizer that I would recommend highly as a mid level experience tank. It incorporates the world's first stock seagrass cotton fibre coil with a 360° airflow.
The flavour and cloud rivals some of the best RTA's out there, the tank is also handy top filler.
Although watch out for this one because teeth and claws ain't extinct LOL – let's go take a detailed look at the Raptor tank from Ehpro………………………….
This product was sent to us for the purpose of review.As always my thoughts and views are my own after a considerable testing period.
See the Raptor in Action With My Video Review
In The Box
EU 2ml Version
1 x Raptor Tank
1 x 6mL Replacement Glass (packaged separately)
1 x 0.15ohm EL1B-3 Single Mesh Coil
1 x 0.25ohm EL2B-3 Dual Mesh Coil
1 x 510 Drip Tip Adapter
4 x O-Rings
1 x 510 mouth piece adaptor
1 x User Manual
1 x Warranty Card
1 x Certification Card
Features
3 editions available – Standard, EU 2ml, EU 4ml
Available in Black, Stainless Steel, and Gunmetal
25mm Diameter
6mL Bubble Glass (separate packaging)
2mL Plastic tank
Superior Stainless Steel Chassis Construction
Sliding Top Fill System – Single Fill Port
Ehpro RAPTOR Coil Series
15Ω EL1B-3 Single Mesh Coil
25Ω EL2B-3 Dual Mesh Coil
Sea Grass Fibre Wicking Medium
Threaded Coil Installation
360° Coil Airflow
Dual Slotted Bottom Airflow Control Ring
Gold-Plated 510 Connection
Design and Build Quality
The Ehpro Raptor Tank comes in a card box with a paper over sleeve, the atomiser is made of stainless steel, with Plastic (Pyrex if you have the standard edition) and topped off with a resin mouthpiece.
The tank breaks into 5 parts including the coil, for easy cleaning.
Base
The base is made of stainless steel with all the normal info printed on the bottom which also includes a unique serial number.
The base has a bottom dual airflow ring. Whatever setting you have on one slot, is then duplicated with the other.
On either side of the base on the airflow ring (AFR) you have a tiny Velociraptor sitting on the word "Raptor" as decoration.
Coils
Mesh coils are becoming the norm in many stock coil tanks these days and are very popular with the flavour enthusiasts.
Ehpro have gone a step further and have included Sea Grass as a wicking material??
It's a material I hadn't heard much about until I obtained this tank, In the past I associated Sea Grass fibre with floor coverings like carpet or even ropes LOL.
I tried to do a bit of research into the coils I could not find much on the manufactured cotton. Although Sea Grass does seems to be strong and durable as well as eco-friendly!
Apparently it's also cheaper to manufacture than ordinary cotton, the cotton is not as densely packed into the coil head and that helps with better flavour apparently. We shall see!
Ehpro include 2 of coils with the kit,
0.15Ω EL1B-3 Single Mesh Coil – rated for 70W
0.25Ω EL2B-3 Dual Mesh Coil – rated for 80W
These coils are cross compatible with the Horizon Falcon Tank.
Tanks
I have the EU 2ml edition it is supplied with a plastic 2ml tank pre fitted; they also sent along in a separate little box with a 6ml Pyrex tank (jumps for joy lol).
The 2ml plastic tank can only be used with the single 0.15Ω coil.
You will not be able to use the dual 0.25Ω coil with the 2ml tank installed due to the size of the coil.
From the outside of the tank it looks like there isn't much room but this is an optical illusion looking into the tank there is plenty of room for liquid.
Cap, Fill Port and Chimney
The cap, fill port and chimney are made of SS and are one piece. Looking at the end of the chimney you will see threading this will screw directly into the coil.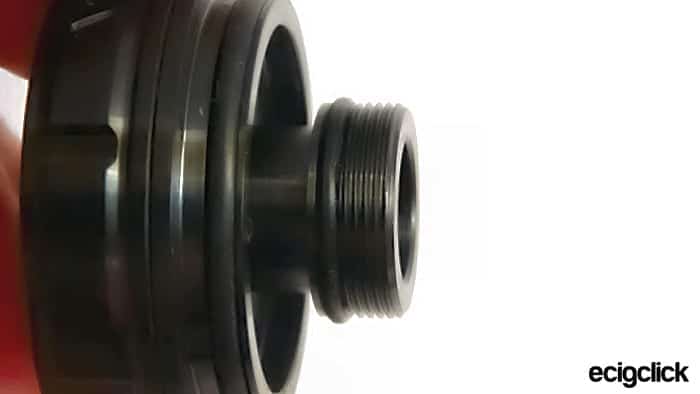 A small O'ring to stops the coil from being flooded. On the cap you will see a small arrow, push to open to reveal the fill port which is one kidney shaped port.
Mouthpiece
Only 1 drip tip is included with the kit, an 810 goon style tip. It's made of resin and has a marbled effect to it, you do however get a 510 adaptor in the spares bag.
Over all I would say that the tank is solid its well made with good quality and has been well designed.
How Does The Ehpro Raptor Perform?
For this example I will be using pre installed 0.15Ω coil with the 6ml glass attached and I have filled the Raptor with my DIY e-liquid which is a 3mg, 80/20 Coffee and Peppermint.
I will be testing the Raptor tank on my VooPoo Alpha Zip mod.
Basic Quick Start Guide
How To Replace the Raptor Coil
I recommend when changing coils you empty any liquid before hand or you will end up making a mess.
Unscrew the base of the tank and replace the coil with your choice of the 2 supplied. Don't forget to pre wick the coil by dampening the cotton with e-juice. At this time you can choose to change your tank if you own the bubble glass.
Reassemble the tank and close the airflow.
Open the slide fill port and fill the tank with your favourite e-liquid then close the fill port and place on your mod!
I suggest waiting for about 2 minutes before you toot on the Raptor tank to allow the cotton to soak up more liquid, don't forget to re open the airflow!
To say that I'm impressed with the Ehpro Raptor tank is an understatement and something of a minor miracle!
I have been using the tank for a week and will admit I was somewhat sceptical about the Sea Grass cotton, but so far I am getting good flavour and excellent vapour production.
30 to 50W
With the airflow cut to almost nothing at 30w you can get a passable MTL style draw that is very cool the vapour production is nothing to write home about but the flavour is good.
At 50w with the AF open to half the warmth is very good the flavour is great. The vapour production is much better with a direct to lung (DTL) draw no surprise there after all this is a sub ohm tank.
60 to 70w
At 60 and 70w with the AF open fully the resulting flavour and vapour production was extremely good.
The heat was a little too much for me at 70w so knocking it back to 65w was just right for me.
Coil/Airflow
The 360°  AF surrounding the coil does make for a very airy draw but by using the external control ring the tank can be dialled to suit your preference.
As previously mentioned both the coils supplied are compatible with the Horizon Tech Falcon Tank likewise the Falcon coils are compatible with the Raptor Tank. So a bonus for Falcon users!
Coil Life
I have been using the .15Ω coil exclusively for one week and at the time of writing this review at 65w, the flavour has not dropped at all.
In fact, looking into the used coil you can see hardly any degradation of either the coil or the Sea Grass Cotton, I am unsure how long the coil will last but it seems to be long lasting!
Pros
Good looking tank
Solid construction
6ml glass supplied
Sea Grass Cotton
Good flavour right from the start
Excellent vapour production
Cons
I've got no real big concerns with the Raptor Tank
Final Review Verdict
The Ehpro Raptor is a well build, solidly constructed Tank with the added benefit of the included 6ml bubble glass tank.
The coils containing Sea Grass Cotton did surprise me with good flavour and excellent vapour production. This tanks is not designed to be used as a MTL device but does deliver great flavour if the AF is set to almost closed.
Would I recommend the Raptor Tank?
Yes I would.
Would I personally buy the Ehpro Raptor tank again if I to lost or damaged it? Here's the thing, I'm not a stock coil tank user normally but yes I'd consider replacing it, if only for the flavour it produces.